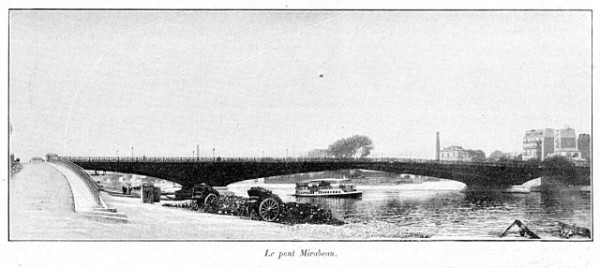 In 1912, the poet Guillaume Apollinaire published "Le Pont Mirabeau" in the journal Les Soirées de Paris; a year later the poem appeared in his collection Alcools. Even in Apollinaire's lifetime, the melancholy piece—which uses the image of the ornate bridge spanning the flowing Seine to explore love and the passage of time—was one of his best known. In the years since, its fame has only grown: it was set to music in a much-covered 1953 song by Léo Ferré, made into a choral arrangement by Lionel Daunais, and later interpreted by the Pogues. A plaque bearing the last lines can be found on the bridge's foot. 
In a rare recording, you can hear Apollinaire himself read "Le Pont Mirabeau":
In issue 202, the Paris Review staff contributed unsigned translations of ten Apollinaire poems. The following translation of "Le Pont Mirabeau" is by Frederick Seidel. 
Le Pont Mirabeau
Under Eads Bridge over the Mississippi at Saint Louis
Flows the Seine
And our past loves.
Do I really have to remember all that again
And remember
Joy came only after so much pain?
Hand in hand, face to face,
Let the belfry softly bong the late hour.
Nights go by. Days go by.
I'm alive. I'm here. I'm in flower.
The days go by. But I'm still here. In full flower.
Let night come. Let the hour chime on the mantel.
Love goes away the way this river flows away.
How violently flowers fade. How awfully slow life is.
How violently a flower fades. How violent our hopes are.
The days pass and the weeks pass.
The past does not return, nor do past loves.
Under the Pont Mirabeau flows the Seine.
Hand in hand, standing face to face,
Under the arch of the bridge our outstretched arms make
Flows our appetite for life away from us downstream,
And our dream
Of getting back our love of life again.
Under the Pont Mirabeau flows the Seine.