Living and dying by the NBA schedule; watching two New York teams face off.

In late summer, after the draft and free agency, as fans begin to foster new dreams or cold, hardening hopelessness about their team's prospects, the NBA releases its schedule for the upcoming season. Few things can shape one's future the way a new schedule shapes the future of a fan. Without even realizing it, you begin to move things around. That romantic getaway you'd planned to the Bay Area? Suddenly it promises a little more Curry, a little less Sausalito. You may consider forsaking your traditional Christmas dinner for a Chinese buffet. Maybe you tack on a day to that long business trip because you know your two favorite teams will be on their way there, too.
Of course, organizing the comings and goings of thirty teams in two conferences and six divisions, spread out across 3.8 million square miles, inevitably leads to some quirks. Less than halfway through the schedule, the Knicks have already completed their slate of four games against both the Hawks and the Bucks: they won't see them again for the rest of the regular season. And we had to sit through forty-four games before it had the chance to see the Spurs and Warriors face off. The Spurs had won thirty-eight of those, and for all the Warriors' unprecedented greatness, it was the Spurs who lead the league in average margin of victory, sporting unreal defensive numbers backed up by the third-best offense in the league. A five-time champion since 1999, the Spurs have been a model of success, a culture unto themselves—the epitome of selflessness in a sport poisoned by selfishness at just about every level. David West, their rugged power forward, turned down a $12.6 million player option on his contract with the Indiana Pacers to sign with the Spurs for the veteran minimum, a shade under $1.5 million.
We'll see how West's gamble turns out. The final story will be etched in gold in June. But when the Spurs and the Warriors finally met in the forty-fifth game of the season, the Warriors secured a thirty-point victory—they took everything the Spurs are good at, bundled it all up in a blue-and-gold satchel, dragged it out of the Oracle Arena, and drop-kicked it into San Leandro Bay. Barely a week ago, in the season's other most anticipated faceoff, the Warriors beat the Cavs by thirty-four points. By the end of their respective first quarters, both games felt like they were all but over.
These things happen in every sport, but basketball in particular has the tendency to fall out of focus in the harsh glare of a blowout. Fans feel it as much as anyone else: the schedule that sang to you in late summer comes back in the winter to eat out your heart. The contest you dreamed of blisters into a predictable meeting. Before you know it, the game is less agon and more a visual field of Vine-able moments that everyone can get to later. In late summer, you had plans. Winter reminds you that plans make the basketball gods laugh.
*
Two weeks ago, I woke up with one hell of a plan, and the basketball gods immediately moved to thwart me. The Knicks had squeezed past the Celtics, managing 120 points in a game where they'd lost Carmelo Anthony to an ankle injury and Kristaps Porzingis to a foul out: another small statement by a Knicks team that was beginning to put together quite a string of sentences, having won five of six, beating quality teams along the way, at home and on the road. Like a ship that's finally sighted land on the horizon, the Knicks had reached .500 for the season, and up next on the schedule was a Brooklyn Nets team that had just fired their coach, demoted their general manager, and lost their last home game by twenty-seven points, bringing their record to a dismal 10–28. If .500 was like land on the horizon, this next Nets game could be like a swath of lush, dense, fruit-bearing trees coming into view on that land. I needed to be there.
So off I went to Barclays Center, knowing I'd find plenty of Knicks fans there for that Wednesday night game. Sure enough, entire lower sections of Barclays were adorned in blue and orange. We had to turn out in droves. There was something here, a tale of two cities in one. And old-fashioned rivalry: back in 2010, the Nets's owner had rented the mammoth Eighth Avenue ad space facing the Garden only to plaster a picture of himself and Jay-Z on it, with a slogan boasting of "the blueprint for greatness."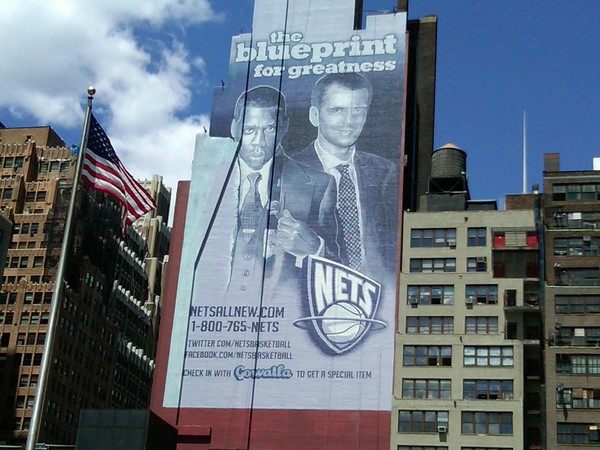 That blueprint had lasted about as long as the ad itself. I hoped, with the way both teams were playing, that the Knicks-Nets outcome might banish the Nets back to the swamps of New Jersey from whence they'd come. The Nets players would know what was coming, and with a new coach and an arena filled with people cheering for the opposition, they'd give it their best push—in Brook Lopez and Thaddeus Young, at least, they have two players capable of making a lot of trouble for the other team.
And trouble there was—the game was an abject disaster. The Knicks, their legs tired from last night's victory, played like they were running in sand; their shots thrummed off the front of the rim; you could see the laggard in the ball as it left their hands. The Nets, though outscored in the second and third quarters, ran away from the Knicks in the fourth. The final score, 110–104, would lead you to believe that it was a close, offensive game—but it was an eyesore, one of those pieces of gristle the schedule coughs up along the way.
It only took a few minutes after tip-off to realize that this was no tale of two cities. It was one of those games. The Nets's Bojan Bogdanovic, who at the start had gone three straight games without a three-pointer, hit three of them in a two-minute span. The twins Robin and Brook Lopez battled under the basket in a way that left little doubt who the older twin is: Brook and his twenty points, by one minute. You never knew what would happen next, but you knew it wouldn't flatter the game. In retrospect, I, of all people, should have known better. I felt shortchanged by my shortsightedness. How could I not have known, with Knicks sitting at last at .500, that this would be one of those games?
To counter the orange-and-blue masses, the Nets brought in Ethan Hawke, once a Knicks fan and now a Brooklyn resident; when the camera settled on him in the stands, he unbuttoned his shirt like Clark Kent to reveal a black Nets T-shirt. Six kids, maybe in their early teens, sat in the row in front of mine. They appeared to be brothers. One of them spent the entire game holding his smartphone up between his face and the court, watching the game going on right in front of him on a feed on his small screen. Next to him was another kid, thinner, in an orange Porzingis jersey, which, when the Knicks started to tank in the second half, he removed in favor of a blue Steph Curry T-shirt he was wearing underneath. A third kid wore a Carmelo Anthony jersey and a Miami Heat World Champions cap. I am old and they are innocent. They are consumers. They are the future. The schedule never lets them down.
Rowan Ricardo Phillips is the Daily's basketball columnist. His second book of poems, Heaven, was published earlier this year. He is the recipient of the 2013 PEN/Joyce Osterweil Award, a 2013 Whiting Writers' Award, and a 2015 Guggenheim Fellowship.