Visiting the altars for Dia de los Muertos.
Thirty miles from the city of Oaxaca is San Pablo Villa de Mitla, where, according to Mesoamerican lore, the dead go to rest. It's a small town surrounded by mountains and distinguished by an arid climate, which has preserved relics up to ten thousand years old and attracted archaeologists from all over the world. During the days around Dia de los Muertos, Mitla transforms into a gateway for the deceased lured by the town's many altars, built by their loved ones, still living here in this world.
The ornate displays are abundant with ofrendas, offerings of food and drink. Pyramids of fruit, bursting marigolds, packs of Marlboros—or Camels or Chesterfields, depending on one's preference—ripe plantains, candles of all sizes, meticulously decorated loaves of pan de muertos, and clay gourds of mescal and water (even the dead suffer from hangovers) comprise most offerings. Pictures of the deceased, typically unsmiling, feature in the center of the room, encircled by votives and depictions of different Catholic saints and apostates. The room often smells of woodsy black and white copal, an incense made from tree resin. 
Most of what I saw and tasted in Oaxaca was characterized by smoke: ascending black plumes from roadside fires, the taste of roasted chapulines or barbacoa taquitos, the charred ash rising from countless grills at the mercado and, of course, the mescal. Aficionados teach you to "kiss" the mescal, allowing a miniscule amount to grace your lips before taking in a bit more. The drink makes its way from your tongue to your chest to your stomach, all the while leaving a pleasant, fortifying burn, as if you've just sipped liquid fire. If you drink it with care and respect—or just slowly—there's no hangover.
Surveying the altares with mescal on your breath, you feel, if not the presence of the dead, the generosity of their spirits. I came to Mitla from Oaxaca with Fernando Lopez, Jr., one of the co-owner's of LA's Oaxacan restaurant Guelaguetza. He returns throughout the year to visit his parents, who've moved back to Oaxaca from LA, and to guide one of many assorted gringos through his birthplace. After a delicious meal of home-cooked mole rojo, he took me to visit some nearby homes, to see the altars and partake in the hospitality of the town—a hospitality so unconditional it apparently extends into the afterlife.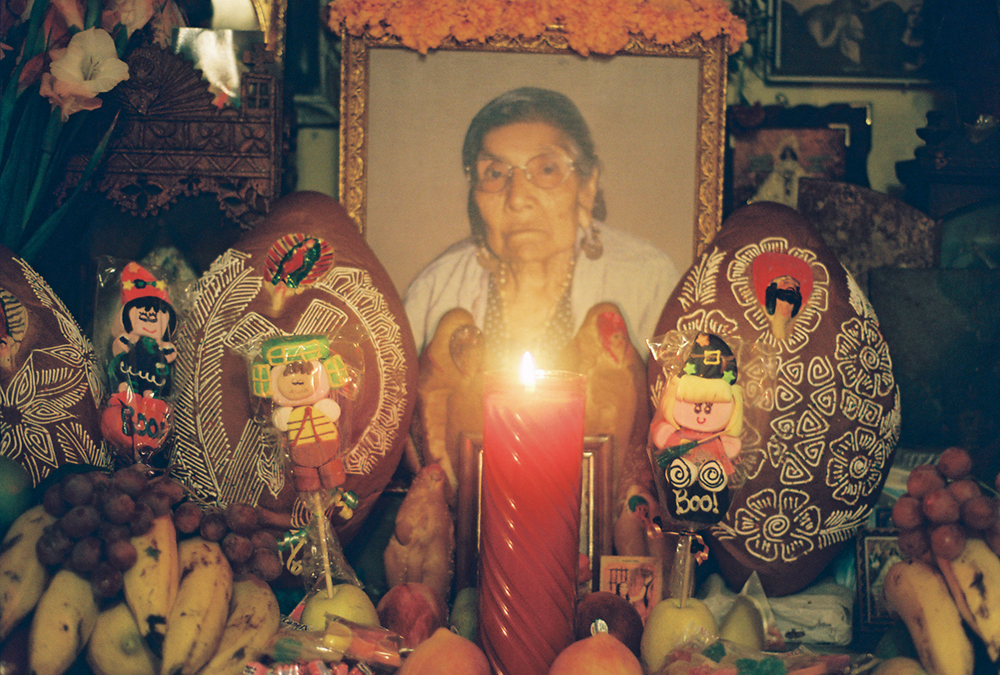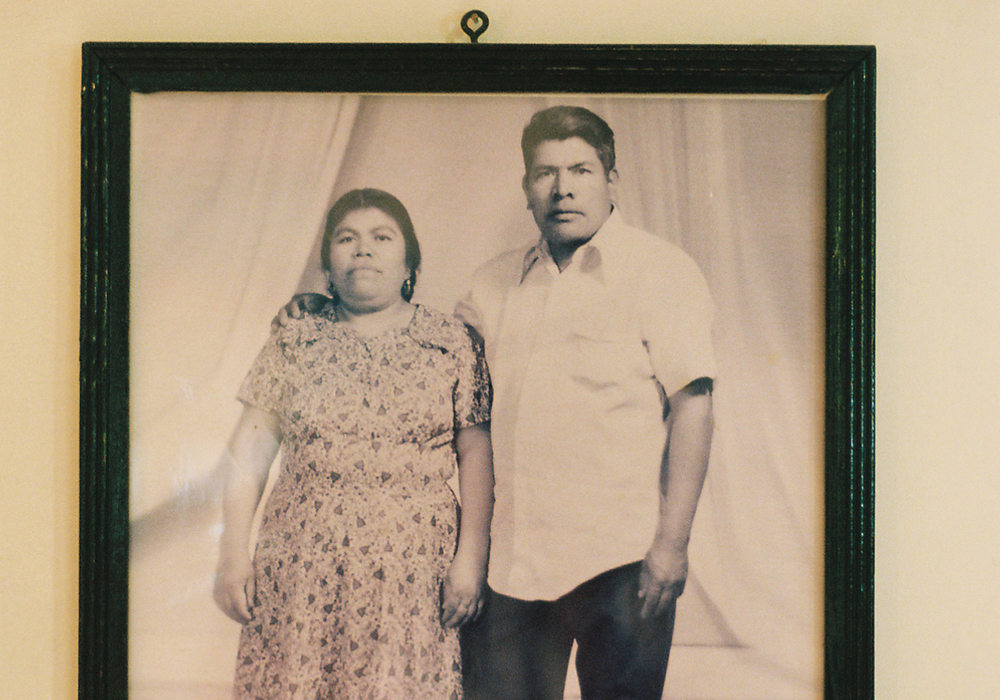 Our first visit was to the Queros family, who live in a modest rancho with panoramic views of the Tlacolula Valley. Livestock wandered around. A wall of artisan's tools, sawtooth blades, and crocheting supplies was mounted to the wall. We sat inside the house's "spiritual room," a concrete block housing a massive altar, one lone window and a few wooden chairs. Off to the side, an empty bench begged for attention—"in case we have company," said Gildardo Hernandez Quero, a textile artisan and the local historian.
The family had built this particular altar for Gildardo's mother, and the cheery, talkative Queros were sure to note—a little ominously, in my opinion—that I was welcome in their home both in life and death. They stared a while into my eyes and smiled, which I chose to interpret as a gesture of acceptance. What surprised me was their pragmatism concerning the cosmic significance of the altars. They said something I heard often in my altar visits: it's tradition, not superstition, that motivates them. I asked if they ever felt the presence of the dead.
"No. Well, maybe. But I'm not sure if it's psychological," Samuel Quero said. He clarified: "I'm not sure if I have the courage to see."
His mother, while she was still alive, had promised to make herself known in death. He recalled a night where, after drinking all day, he dreamed that his mother and an unknown woman came to the altar. With her back to him, his mother's fingers gently traced the mounds of fruit. He awoke the next day to find that a lime had been removed and placed in the center of the room. A considerable bit of mescal was gone, and one jicara, a small wooden drinking cup, was wet to the touch.
Having grown up in California, I'm no stranger to Mexican hospitality. But this was different: this was Oaxueño. The night before, we'd wandered the market at Miahuatlán, where hundreds of vendors offer all the accoutrements for a proper altar, and where we met up with Marco Ochoa, the co-owner of Oaxaca's Mezcaloteca, a conservatory/bar devoted to mescal. Marco invited us to his uncle's house, where we sat and talked and ate for hours, dipping moist pan de yema into the best coffee I've ever tasted, sampling enfrijoladas—tamales slathered in rich molé and steamed in banana leaves—and chewing on crunchy, garlick-y chapulines by the handful. Later Marco brought us to his own ranch, in a dusty field mere miles from a maximum-security prison. We listened to the boom of fireworks through the night. They say the noise helps the dead find their way home.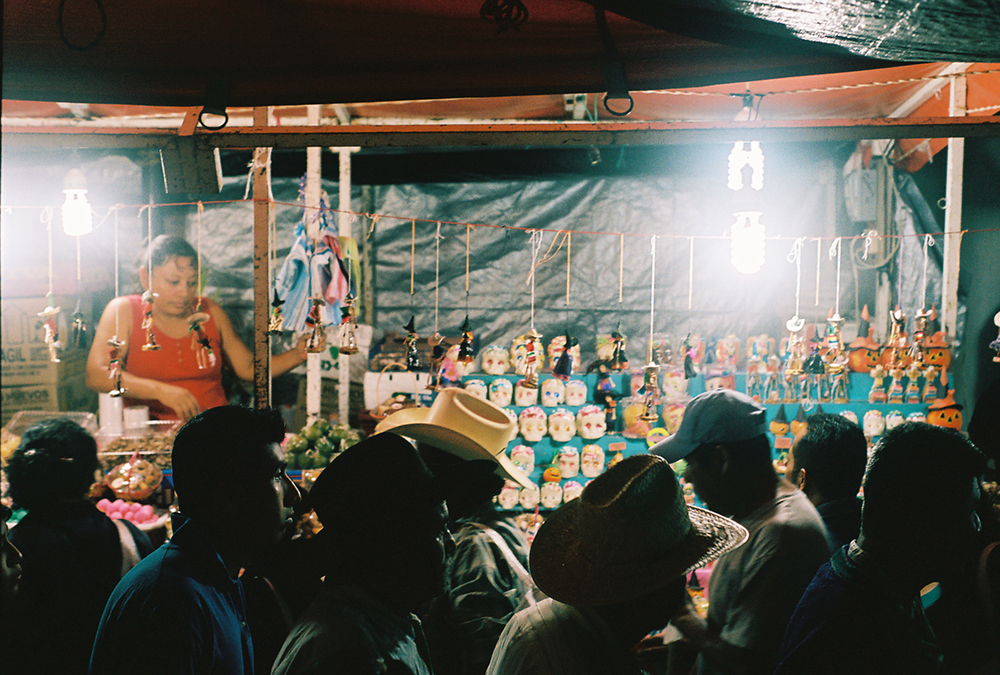 After visiting two more altars, we arrived at the home of Epifanio Luis Perez, a sixty-one-year-old artisan with a three-story collection of artifacts. In the courtyard, his cousin and wife prepared a beheaded turkey for dinner, dipping the carcass into a cauldron of steaming water and spices.
Epifano led us to his living room, where he poured everyone two shots of mescal, one made from jamaica flowers and the other infused with the leaves of a cedar tree. The green room, with its pell-mell arrangements of Mexican kitsch, began to expand and contract like a gently flickering flame.
A small, dark man with chiseled features and shiny, parted black hair, Epifano has been building this altar for his mother for the past thirty years. Like the Queros, he regards altares as a matter of tradition; he couldn't live with a clean conscience knowing that he may have disrespected or hurt his mother by neglecting her offerings, which include chichillo molé, her favorite.
As the mescal kicked in, I pressed Epifanio—surely he must feel, with his emporium of curiosities, something beyond simple sentimentality or tradición for his mother. Does he perceive something else, something in this casamayor once inhabited by his parents, in the town where his ancestors have lived for at least six generations, something that goes beyond logic?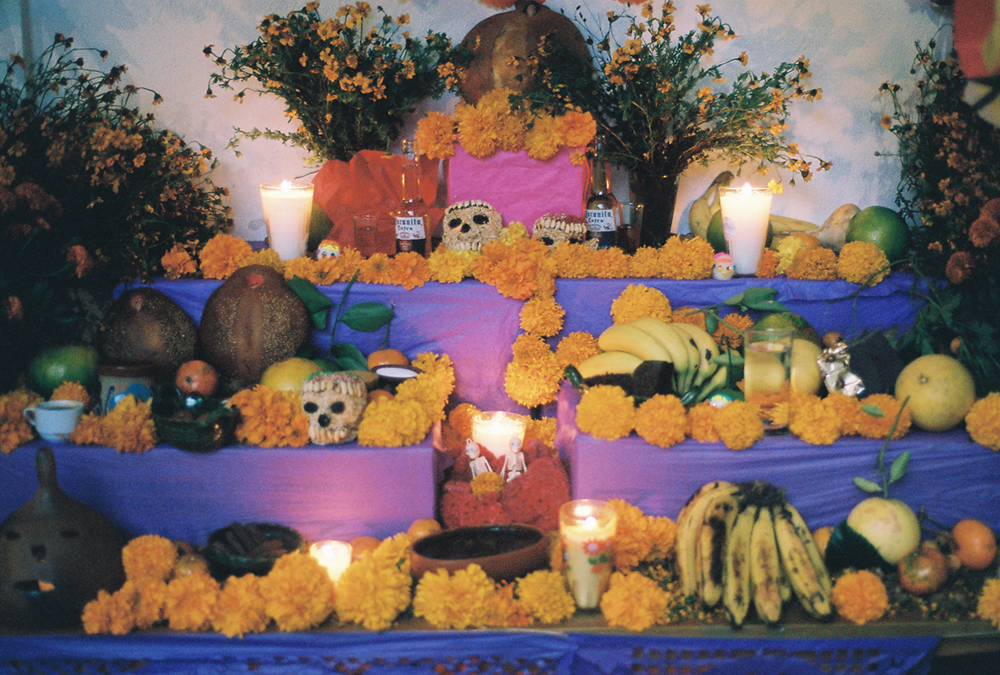 He looked at me sternly. "There are vibrations. Mitla is a magical place, of course," he said. "Mostly things fall," he continued. He lifted a glass shadow box with a patron saint inside. "Like this. I had placed it before a row of dolls, on the second level of this cupboard. The next morning I found that it had somehow leaped over the other dolls and moved itself to the floor. Or had been moved, I mean." He pointed to another doll: "This one is for my deceased wife. I gave it to her on one of our first dates. It fell, too."
Before we left, Epifano walked us through his "showrooms"—a few carefully curated rooms of artwork and furniture from nineteenth and early twentieth-century Mexico. Ex-votos, tableau-style paintings depicting acts of salvation, are spread over the walls like fridge magnets. Since I first spotted a few ex-votos in the home of a friend's very Catholic grandmother, I've become obsessed with them; they're tragic, spiritual, and often humorous. One painting showed a man in the middle of two high-heeled women, all standing at a bar, a bartender pouring shots between them. The inscription thanked San Juditas for this good fortune. Another showed a farmer nearly drowning in a river, thanking Santa Niño de Atocha for helping him grasp onto a rock and pull himself to shore.
Epifano noticed my interest and gingerly named a price; I bristled at his turn toward commerce. But when I decided I'd accept his offer, I was too late—he'd changed his mind. "Someday, when you need an offering, these will be there for you," he told me in his crackling, dulcet Spanish. "But always be willing to offer something of yourself, too."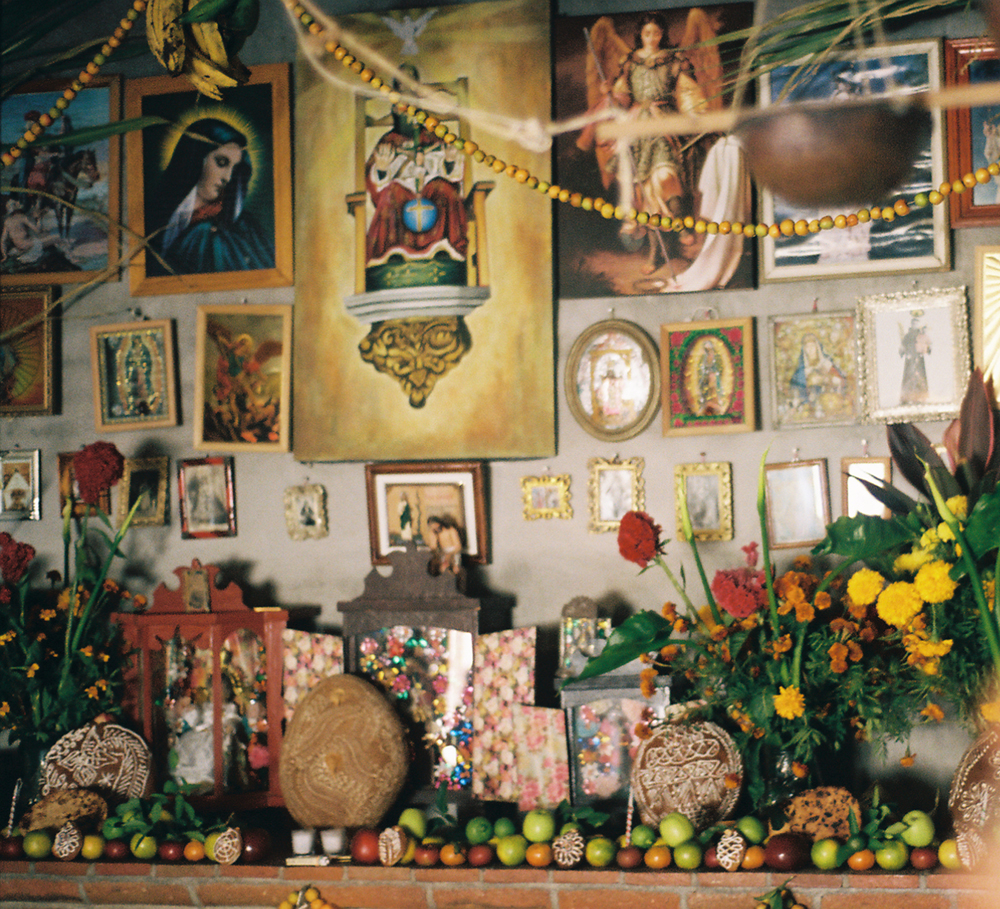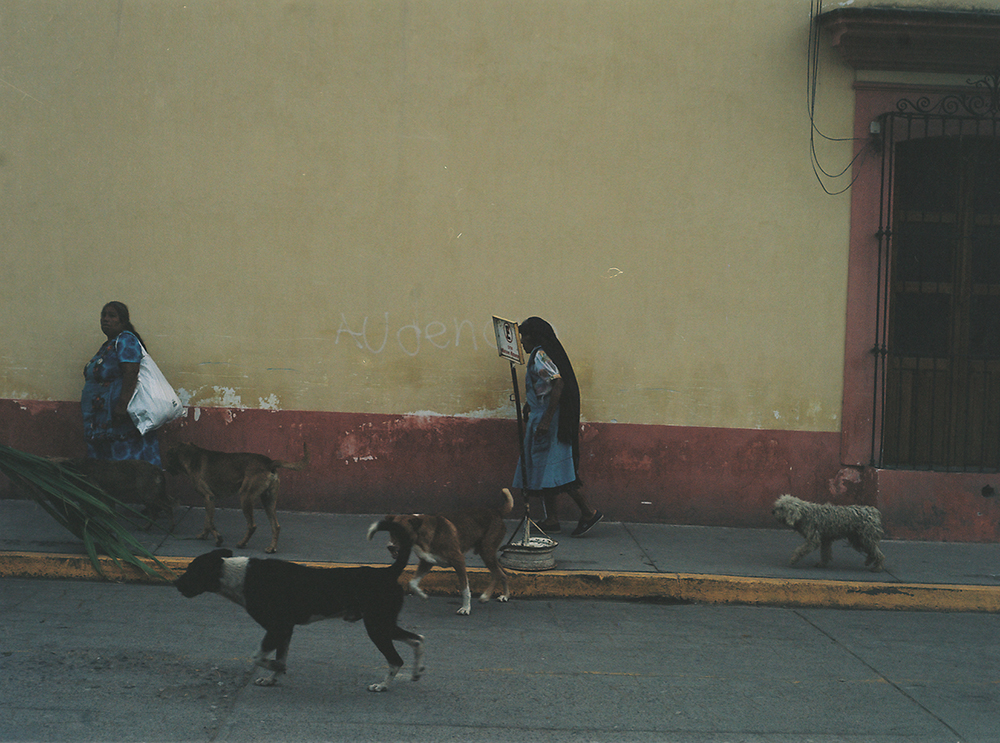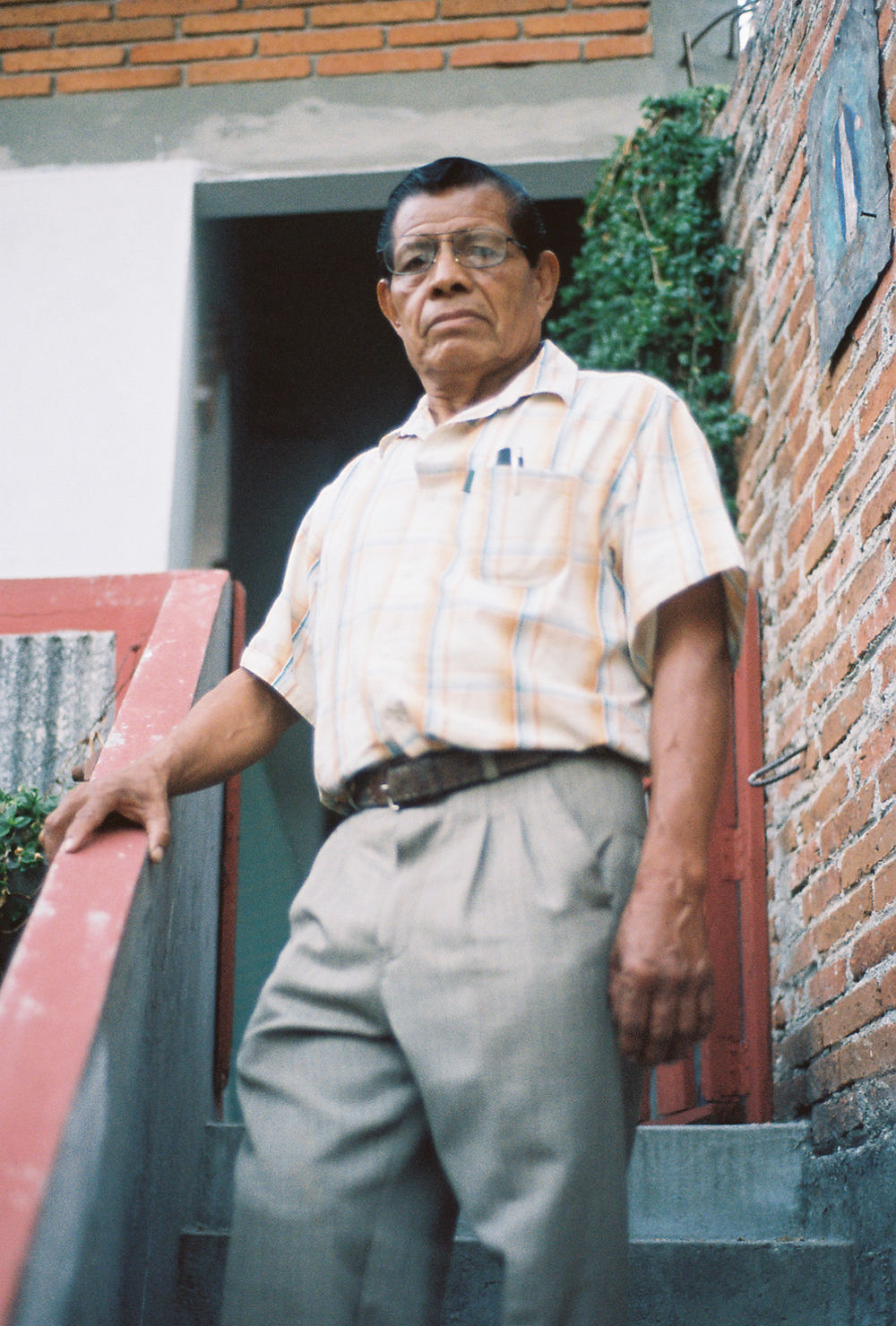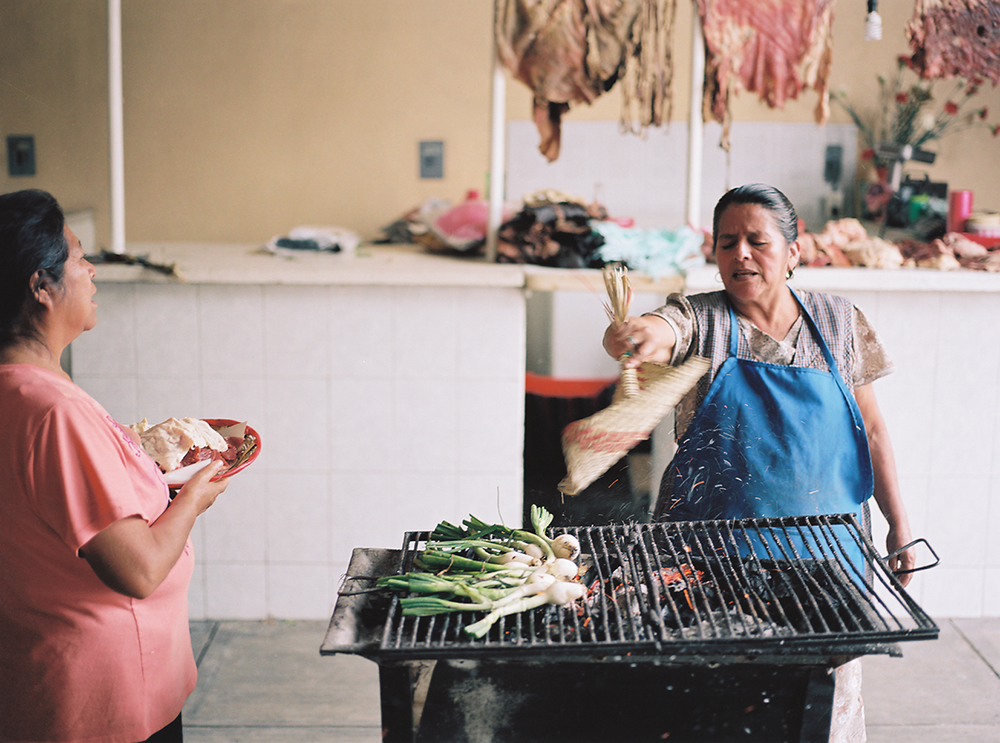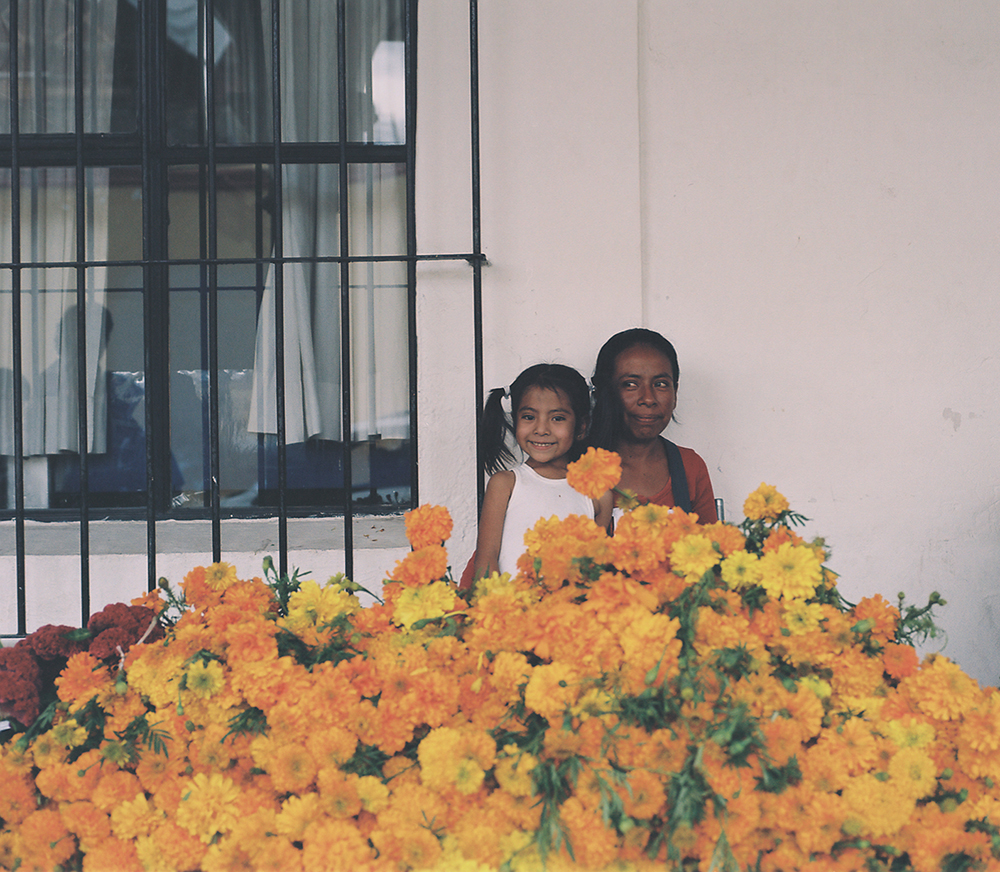 Shona Sanzgiri is a writer and photographer based in California. His writing has appeared or is forthcoming in ADULT, GQ, Vice, and Interview Magazine. His photography can be seen at Proof of Experience.