Dear Lorin,
Did I ever tell you about the thing I did with The Ice Plant? You know them—they make oddly compelling photography books. Last year they did one about some candid "found photos" of the Rolling Stones, pictures taken in the South that had somehow turned up at a flea market or estate sale out west. I wrote a piece to go with the book. But the book wound up getting squashed, or at least suppressed. There was some kind of legal problem—a photographer's estate claimed rights, saying their man had taken the pictures, but it couldn't be proved, and there were other claimants. At one point the book was embargoed on a container ship, I'm not inventing. Anyway it was all a shame because the book was beautiful to look at and would have been positive for all parties, and The Ice Plant's books are done for the love—if nobody's profiting, nobody's profiting off—but we are a people of the lawsuit, we like to own.
All of that is background, though, to the actual pictures (referring here only to those that have already been on the Web). There's something sweet and sad about them (a twenty-two-year-old Brian Jones flipping playfully into the pool … ), and something unglamorous that has postwar English childhoods in it, and at the edges maybe just a trace of eerie and autumnal pre–Altamont Apocalypse vibes. 
I went back to the cluster of shots that mainly show Mick and Charlie Watts wearing shades and sitting in plastic chaise chairs by the pool. If I'm not mistaken we think it's at the Fort Harrison Hotel in Clearwater, Florida, the day after their Clearwater show. At first I was interested in them because I'd become convinced that a reflection of the photographer might be preserved in the lenses of the dark glasses, an image that could then be blown up using advanced technology, but evidently there isn't enough to work with. Not enough pixels were preserved.
In staring at those particular pictures so much, I noticed there appears to be a young woman in a few of them. In one, the picture where Mick is holding a beer can in his hand and talking to someone (her), you can see her wrist in the bottom right corner. In another shot, that has a smiling Bill Wyman in the background, you see her straw-blonde hair and the curve of her knee and a few of her fingers as she holds up a hand to shade her eyes from the sun. Charlie is smoking and smiling at her. In one picture her shoulder blade and back are visible, and the strap of her bikini top slides down her arm. Finally it may be her in one of the (apparently) later pictures, from London, where Keith sits there looking magisterially stoned, and a girl's short blonde hair swishes against the side of her face as she spins in a blue jacket.
People have written that these pictures come from a time when the Stones were "on the brink of mega-stardom," but the overuse of that expression makes it hard to feel how uncannily apt it is here. If we can believe Keith Richards (whom else are we meant to believe?), these pictures—specifically the shots from Florida—were taken not only on the very day but during the very moments in which Mick wrote the lyrics to "Satisfaction," the song that would change everything for the band, take them from being "another mop-haired, British singing group," as the Florida papers had just described them, to one that might contest the Beatles' throne. In Life, his memoir, Richards writes: "Mick wrote the lyrics by the pool in Clearwater, Florida."
The Stones spent not even twenty-four hours in town on that tour. Arrived in the evening, played a show at a ballpark, and left the next afternoon. So there are just a few hours—between, say, eleven and two, on May 7, the day after the show—that Keith could have had in mind when he wrote "by the pool in Clearwater."
The previous night's show, in Jack Russell Stadium, had been a classic absurdist bust. It started at seven. Opening acts were the Roemans (a Florida garage band), the Legends (Milwaukee rock), the Catalinas (beach music from Charlotte), and the Intruders (Philly soul). When the Stones attempted to take the stage, the teenage fans rioted, overwhelming a barrier and a line of police. A somewhat scary picture of a few fans' faces appeared later in the St. Petersburg Times.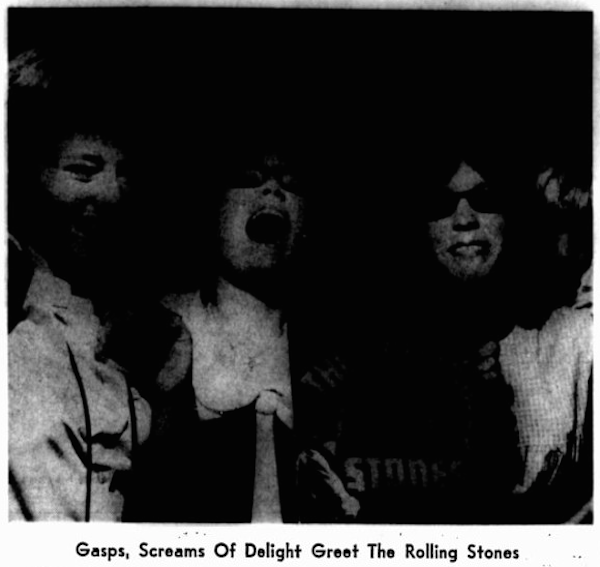 The band was instantly hustled into a white station-wagon and driven from the field. "There will never be another show like this as long as I am here," said the head of Clearwater's recreation department, Gary Garretson.
It was the next day, by the pool. Mick was drinking a Budweiser that had been brought to him by a middle-aged black man in a white dinner jacket. You can see the man in at least one of the pictures. Serving drinks to this unintelligible fruitcake. Mick has words running through his head. "I'm riding 'round the world …
And I'm doing this, and I'm signing that,
And I'm trying to make some girl,
Who tells me, 'Baby, better come back, maybe next week
Cause you see, I'm on a losing streak.'"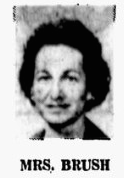 A couple of hours later and the band is again being hustled toward a waiting car. Out of the hotel, this time, and into the garage. A local reporter jogs along down the hallways, a woman from Tarpon Springs named Frances Brush.
According to Brush, "large groups of boys and girls" had "converged" on the hotel and "entered every available entrance in their efforts to get to the musical stars." But police and "hotel officials" had succeeded in keeping them away.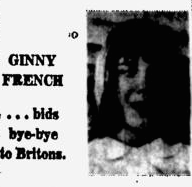 "Only one girl," Brush writes, had been able to "get to the 'rock men,' " and this girl was there for the good-bye when they left. Could it be the one from the pool? Brush describes her as an eighteen-year-old "pretty blonde," an English girl living in the States, who'd known "the boys" back in London. Her name was Ginny French. She'd been hanging out with them. Seems like it has to be her. If "Satisfaction" has a muse, her name is Ginny French.
Brush asks Ginny about the non-show from the night before, if the Stones had been frightened. "Ginny said the boys were not particularly disturbed by the incident that disrupted their show since 'this sort of thing happens all the time.' "
I couldn't find anything else about a girl named Ginny or Virginia French in connection with the Rolling Stones. Who knows how much longer French was her name, or if that was her real name. Presumably she's out there. Feel free to reach out, Ginny!
Before the band took off, Mrs. Brush asked Brian Jones (a bit condescendingly, and incorrectly it turns out, at least in the way she meant it), "What do you plan to do when this bubble bursts?"
Jones smiled and said, "We'll blow another bubble."
Wish I had more.
Yr. devoted,
JJ
John Jeremiah Sullivan is the Southern editor of The Paris Review.