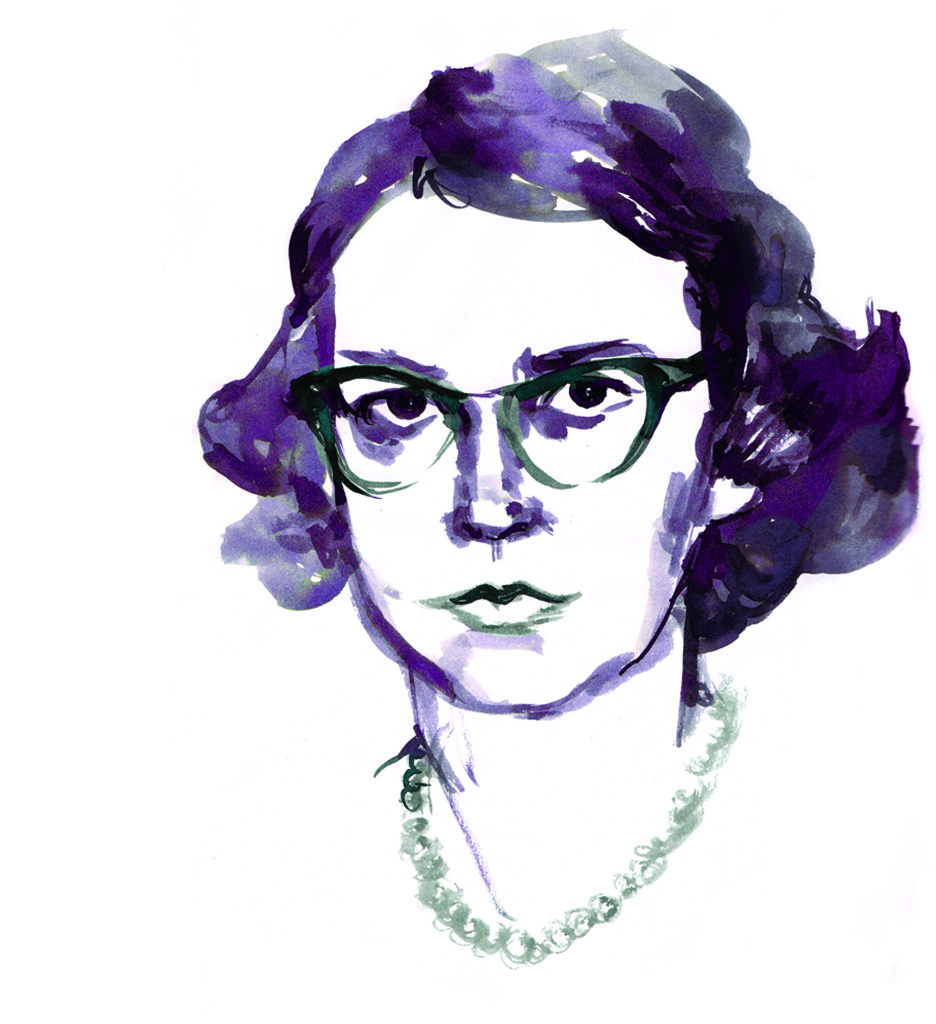 At the time of her death, at age thirty-nine, Flannery O'Connor had published only two novels, thirty-one short stories, and a small book's worth of literary criticism and critical essays. "In most English classes," she once wrote, "the short story has become a kind of literary specimen to be dissected." O'Connor, of course, was referring to her readers experiencing the work, not picking it apart in a writers' workshop. That same principle drove Charlotte Strick and June Glasson in their recent redesign of the covers of O'Connor's five books. Strick, the former art director of Farrar, Straus and Giroux and current coprinciple of the design firm Strick&Williams (as well as the art editor of The Paris Review), approached Glasson, an illustrator, about the project in 2013. Four of the five redesigned jackets have been released, with the last coming next month.
Glasson and Strick met through happenstance—a journey that began at a doctor's office. "Years ago," Strick says, "while absentmindedly flipping through a magazine in my doctor's waiting room, I serendipitously stumbled upon a piece about June. I thought her work had a strange, seductive and unique beauty all its own."
In 2012, Strick commissioned Glasson to create illustrations to accompany an essay by author Rich Cohen about French-American pirate Jean Lafitte and 1800s piracy in New Orleans, which appeared in The Paris Review no. 201. This collaboration triggered Strick's art-director instinct, and she returned to Glasson when it came time to reenvision O'Connor's works. "June is capable of imbuing her paintings with a curious maleficence," Strick told me. "She seemed up for the task of tackling O'Connor."
Book jackets are a more complicated affair, however, and require, as Strick says, "a grand leap of faith." "Choosing the right designer or artist for a project is purely instinctual," she explained. "If you believe they can do it, and you sense their mutual excitement for the assignment, then it's up to you to guide them toward the vision you have for the project. That's what makes for the best work. With the O'Connor, I never doubted my choice of Glasson. When it turned out that she was also a real O'Connor fan, I knew for certain we had the right artist on the job."
"I remember the stories vividly," Glasson recalls, "especially 'A Good Man is Hard To Find' and 'Good Country People.' They're dark, absurd, and comic, and bring her characters to such vivid life. I remember, in particular, the prosthetic-leg-stealing bible salesman from 'Good Country People.' "
O'Connor—and Carson McCullers before her—was a keen practitioner of the Southern grotesque, which she dosed with tales about faith and religion. "Flannery's characters occupy these dark Southern worlds," Glasson says. "She vividly portrays the spaces and landscapes her characters occupy. Visually, I think I imagined a dark hazy landscape, not an overly romantic Southern one, but one that is slightly off, faded, decaying, one that I've glimpsed on road trips through the South."
"I knew right away what medium I wanted to use," she adds. "I work a lot in inks and watercolors, and I knew that I wanted to try to use the loose, washy nature of the medium to capture the mood of her work."
As a jumping-off point, Strick sent Glasson a copy of Milton Glaser's famous Wise Blood paperback cover from the sixties. This served as a brainstorming exercise, and the inspiration for her entire catalog, starting with the award-winning Complete Stories collection.
"One afternoon," Strick says, "Sean McDonald [executive editor at FSG] showed up in my office door clutching a 1971 edition of O'Connor's Complete Stories with a jacket by Charles Skaggs. We knew that Glasson should also contemporize this vintage cover as well—while still keeping the hypnotic, sooty Glaser Wise Blood jacket in mind. In the process of re-creating The Complete Stories in June's own style, she and I saw how it could influence the others to come. We began sending one another ideas for other organic 'frames' that would be original to each title. This provided a template of sorts for four out of five of the covers."
"Once we had figured out The Complete Stories," Glasson continues, "we had an idea of how we wanted the other covers to look. For Everything That Rises Must Converge and The Violent Bear It Away, we discussed previous covers, and the books themselves."
"June and I worked on and off on these designs for most of a year," Strick says. "Every few months, between other projects, I'd reach out to her for more sketches. Our ideas for imagery tended to align. She was tireless, sending me scan after scan of inked studies and paintings."
"For Mystery and Manners," Glasson explains, "we riffed off the concept of the snake and fruit. I'd whip out some sketches and send them to Charlotte. She would send feedback and I'd tweak things or try something entirely new. During this period, we went back and forth a lot, and I did a lot of unsuccessful sketches—more than a hundred and fifty—but eventually we hit on the right concept, layout, and style that would stand on its own and complement the other covers."
"And finally, for Wise Blood," Glasson says, "we knew we wanted to pay homage to Milton Glaser's cover from the 1960s."
"McDonald and I," Strick explains, "were both enamored of Milton Glaser's 1967 FSG book jacket for O'Connor's first novel. The style of Glaser's sooty cover portrait reminded me so much of the way Glasson is able to control both form and mood with her colored ink washes. I felt sure she could achieve a similar stylistic result—while bringing her own voice to these covers."
"Each of the final covers represents the compilation of multiple paintings," Strick explains, "with me taking the best crows from one, the perfect flames or feathers from another—and then layering them digitally together in my Manhattan office in the same way that June works with a paintbrush on paper in her art studio in Laramie, Wyoming. June is primarily a fine artist, so I am grateful that she was open to working so collaboratively with me on this commercial project—allowing me to shape and reshape her paintings in this way.
"And lucky for me, she also has award-winning handwriting. After months of madly trying to marry different digital typefaces with these paintings, I thought to ask her to try painting the titles herself. Her loose, irregular letterforms ultimately make these covers so much more distinctive and really tie the five titles together."
J. C. Gabel is a writer, editor, and publisher living in Los Angeles.