Sixty-four years later, The Tales of Hoffmann continues to delight and perplex.
Lovers of the recherché have flocked to see Michael Powell and Emeric Pressburger's 1951 Tales of Hoffmann at Film Forum, where it's still showing for one more day. In a newly restored print, the film's fantastical mise-en-scène and extravagant polychrome glory assault viewers head on for a hundred and thirty-three minutes. At each screening, Martin Scorsese introduces Hoffmann in a videotaped homily, during which he confesses to an "obsession" with the film, having first fallen for it, strangely enough, when it aired in black-and-white on Million Dollar Movie. Most critics rave or rant, or both, about this odd work. The amiable William Germano, the author of a smart, slim volume about the film for the British Film Institute, spoke at the screening I attended, and his was one of the more measured, sanguine appreciations: "Whatever Hoffmann was, there had never been a cinematic creation quite like this one."
Why all the fuss? What is Tales of Hoffmann? Simply put, it's a film version of Jacques Offenbach's opera with dance added. But it's also a swerving, hyperornamental, terminally self-aware, grandly ambitious, experimental bag of tricks, at once dazzling and daze-inducing. The opera, which Offenbach didn't live to complete, is a collection of tales about a Romantic poet's frustrated love; the film also recounts Hoffmann's adventures in romantic disappointment, but they're framed within two larger narrative conceits, and it's here that things begin to go off the rails. The outermost frame is self-conscious in a classic filmic way—Hoffmann announces itself using title cards: I am a film of an opera set in Nuremberg. It ends with curtain calls by all the main performers and, after that, with a shot of a stamped leather binding that says "Made in England."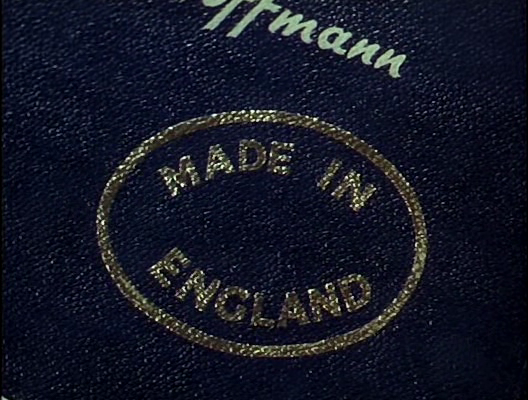 Within this, the story begins when Hoffmann, played by the English singer Richard Rounsavell, attends a theatrical performance of his beloved—the dancer Stella, portrayed by Moira Shearer. During intermission, he repairs to a local bierstube where he proceeds to relate—in song, as one does, to a gathering of German student and artist-types—three personal tales of romantic woe.
But wait: before we enter those sequences, we must look to the mantelpiece in the pub, where all the ceramic characters on a collection of German beer mugs suddenly spring to life and execute a mimed dance. The brief folktale enacted is that pop-medieval standard: a lovelorn jester and a haughty fair maid. Imagine, if you will, that the main characters from Gilbert and Sullivan's Yeomen of the Guard hopped out of ancestral portraits onto the stage, as happens in Ruddigore, and performed a burlesque entr'acte with costumes and sets from a Ziegfeid Follies number, but choreographed in a Mark Morris-like mode where the steps map directly onto the lyrics of a song. Yes, it's that trippy.
Now, and for the best part of two hours, we head into Hoffmann's three tales, referred to by the names of their heroines—Olympia, Giulietta, and Antonia. Archetypally speaking, you can read them as the three faces of woman: the idealized simulacrum, the avaricious whore, and the dying artist. Olympia is an automaton whose ownership is disputed by a mad scientist and a shyster. She dances up a storm, except she keeps winding down. Olympia entrances Hoffmann, who believes she's human, and becomes the toast of Gay Paree until, during a squabble, she's torn limb from wiry limb. Giulietta, pimped out to steal Hoffman's shadow in return for fancy jewels, snakes around the stage in a black leotard when she's not gliding in her gondola to Offenbach's famous barcarolle (this episode is set in Venice and contains a colorful bacchanal). Antonia is a consumptive singer who must choose between her art and her life. Needless to say, she sings herself to death amid the scenic ruins of a Greek temple on her personal Aegean isle. All three women are controlled by devious men who foil Hoffmann's bids for love. Once these are completed, a curtain comes down and the decoration on the curtain morphs back into the pub. Hoffmann by now has every sail to the wind. Enter Stella, his current love object, after her performance. She sees Hoffmann shitfaced, turns around, and leaves. Disappointed once again! Then we're back in the first performance frame, as conductor Sir Thomas Beecham—along with all the opera singers, most of them having performed off camera, and the dancers and actors who embodied their roles on screen, take bows.
Are you following me? That's what I thought. Would it help to think of a turducken? The turkey is the filmed opera performance of Tales of Hoffmann; the duck is Stella's dance performance and Hoffmann's binge in the beer hall; and the chicken is the three stories of unhappy love he relates. Tuck a bit of stuffing here, a garnish there, and we're cooking.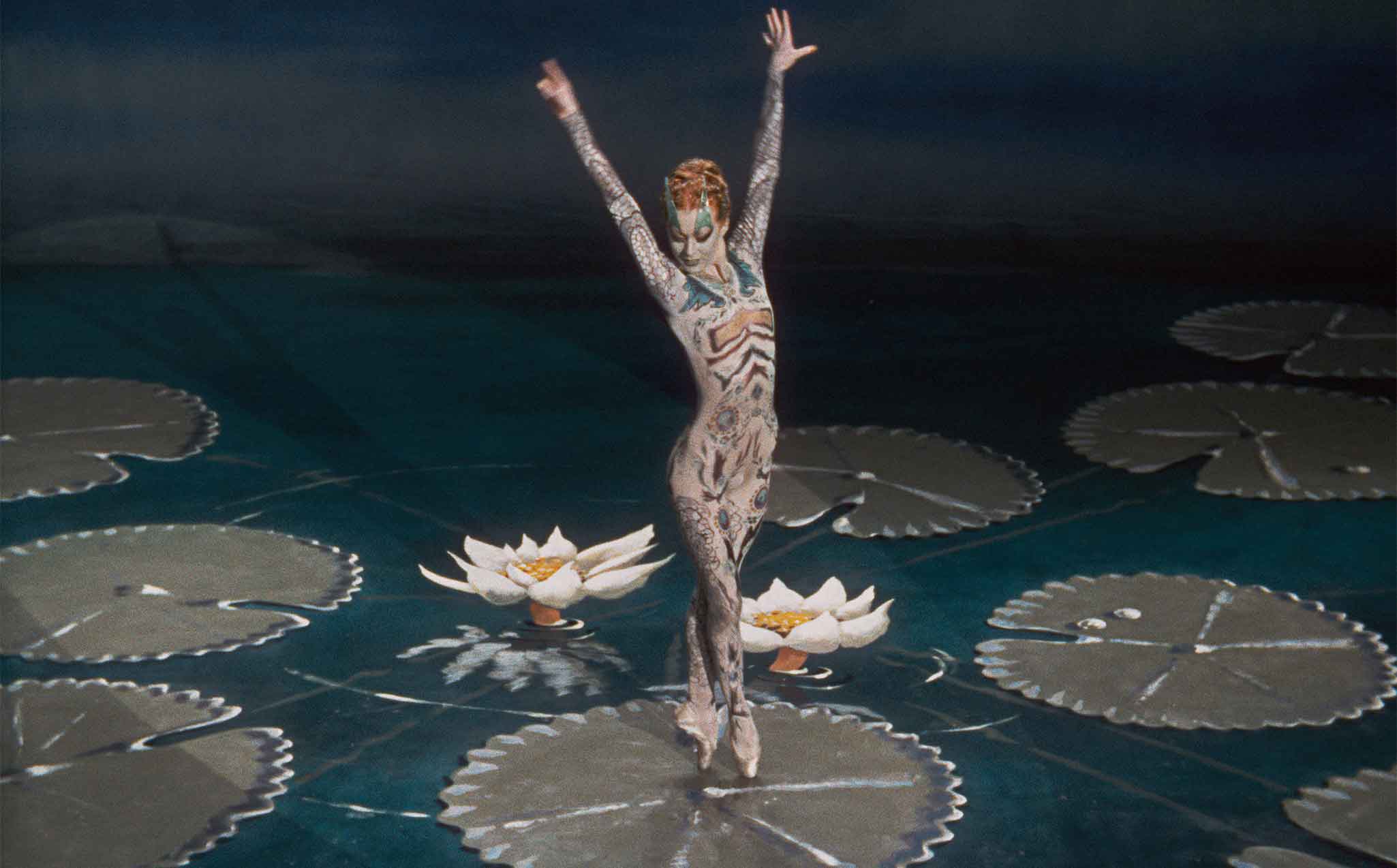 The film's fame, such as it is, depends not on this pretentious superstructure, but on its outstanding dance sequences, choreography, and performances, and its freakish, sensational art direction. Frederick Ashton, the choreographer, created dances for Shearer, himself, and two of his frenemies: Robert Helpmann, with whom he'd had a competitive relationship for many years within the Sadlers Wells Ballet, and Léonide Massine, the distinguished Ballets Russes alum who had been Ashton's first real dance teacher. Ashton called Shearer's dancing "brittle"; her adamantine, technically flawless executions in the "Enchanted Dragonfly Ballet" and as Olympia, the mechanical doll, are bloodless perfection. Helpmann, meanwhile, does more with two eyebrows and a cape than one could ever imagine—that's about all he does, but he wears four different sets of fake eyebrows and several capes from velvet to gauze. Massine, for his part, burns up the boards as he impersonates a society con man, a pimp, and a deaf servant. Ashton himself, as the motley fool in the beer-stein number, and in a second role as a sad puppeteer-cum-puppet in "Olympia," portrays the only characters in the film capable of stealing viewers' hearts. Along with the virtuosic solo he made on Shearer for the "Doll's Song" in this act, the dances Ashton created in this section—for dancers impersonating puppets impersonating society gents and ladies, all in beguilingly parodic costumes and make-up—turn "Olympia" into the film's one surefire masterwork. This despite aficionados who coo over Shearer's Dragonfly, surely to some degree because that sequence comes out of nowhere—it's the most entirely irrelevant and outlandish interpolation in a film brimming over with candidates for that crown.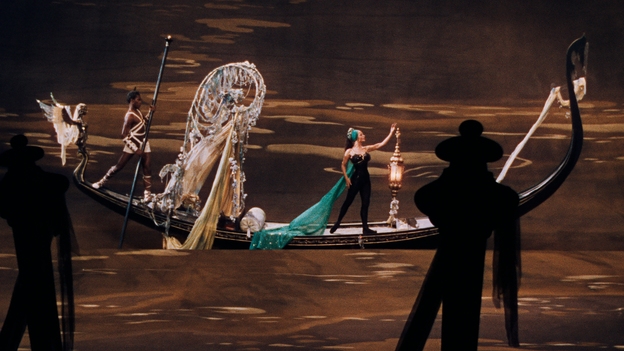 As for Hein Heckroth's art direction, it must be seen to be believed, and it's unquestionably the best reason to go. Its stylistic artifice exists somewhere on a spectrum between Hans Murnau, Busby Berkeley, and Ken Russell's far more successfully realized over-the-top rock opera of two decades later, Tommy, with perhaps a soupçon of Children of Paradise thrown in. (Russell is clearly the inheritor of the wacky gene mutation in British cinema Tales of Hoffman represents.) Its supersaturated palette of bold, synthetic colors could be viewed by the more jaded as a grand totem of the fifties; or, more sympathetically, as some kind of redress for the mandated austerities of postwar Britain.
For all its kitschy magnificence, painful convolutions, and foolish contrivances; its sophistications, both real and affected; and its every aspect implausibly, risibly, grotesquely overdone, it's hard not to view Hoffmann as an overcooked dish—high-art dreck. But it's not that, exactly. The film may be crazy and eccentric, but it's also sincere, and it took genuine, dedicated talent and imagination —lots of both—to pull it together. Whether and what's been pulled off are other questions, and despite all the talk, they seem to remain unanswered. Whatever Tales of Hoffmann is, one has the impression that everyone who has come out to wave a flag at this parade, including Scorsese, knows in his or her heart of hearts that its claim to posterity rests mainly in its extreme bizarrerie.
 Jeff Seroy is senior vice president at Farrar, Straus and Giroux.