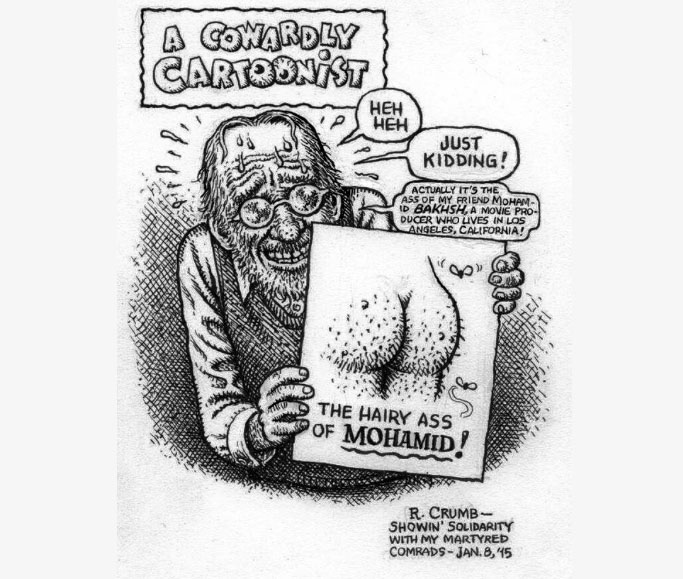 The New York Observer has an excellent new interview with Robert Crumb, whose response to the Charlie Hebdo attack appeared in Libération this weekend. Crumb has lived in France for a quarter of a century—in typical fashion, he was moved to respond not by any sort of ethical imperative but because he worried what people would say about him if he stayed quiet: "Where's Crumb? Why doesn't he come forward? What the hell's the matter with him?" And, as he makes clear in the interview, his aim was not to be controversial, but personal:
Libération called me and said, "Crumb, can you do a cartoon for us? About what you think about this, you know, you are a major cartoonist, and you live in France." So I thought about it. I spent a lot of time thinking about it. I'm doing the dishes, or whatever, I was thinking, "What should I do for that cartoon … " I had a lot of ideas. Other people come up with these, you know, clever cartoons that comment on it, like … This one guy did a cartoon showing a bloody dead body laying there, and a radical Muslim standing over him with a Kalashnikov, saying, "He drew first!" Stuff like that. That's good, that's clever, you know, I like that. But, me? I gotta like, you know, when I do something, it has to be more personal. I said, first: "I don't have the courage to make an insulting cartoon of Muhammed."

Then I thought, "OK, I'm the Cowardly Cartoonist … As a Cowardly Cartoonist, I can't make some glib comment like that, you know? I have to, like, make fun of myself.  So instead of drawing the face of Muhammed [laughs], I drew the ass of Muhammed.  [Laughs.] But then I had myself saying, in small lettering, "Actually, this is the ass of my friend of Mohamid Bakshi, who's a film director in Los Angeles, California." So if they come at me, I'm gonna say, "No, look, it's not Muhammed the Prophet, it's this guy, Mohamid Bakshi." So, you know.

[…] So, then Aline [Crumb's wife] had this idea for another cartoon, which we also sent to Libération, a collaboration, that's showing her looking at the drawing saying, "Oh, my God, they're going to come after us! This is terrible … I want to live to see my grandchildren!" And then she has me saying, "Well, it's not that bad. And, besides, they've killed enough cartoonists, maybe they've gotten it out of their system."
You can read the whole interview here. (Mohamid Bakshi, by the way, is a pointed reference to Ralph Bakshi, a director and animator with whom Crumb has feuded for some forty years over the rights to Crumb's iconic Fritz the Cat character.)
Crumb also gave the first interview in our Art of Comics series in 2010, in which he remarks on the reputation of cartoonists and comic-book artists, who in the not-so-distant past were not regarded as artists at all:
The earlier generations that drew comics didn't see themselves as artistes, you know. They were cigar-chomping newspaper men. A lot of them hung out at the newspaper offices, or even worked there. They were part of that world more than they were artists. They didn't care about what happened to the original art …

The comic industry had a kind of sleaze about it. The guys who ran it were not well-educated or refined individuals. Comics were somewhat disreputable; they were the lowest of the low in those days. Even other cartoonists, like The New Yorker cartoonists, really looked down on comic books: newspaper-strip artists considered comic books contemptible. The pay was really low. In those days, artists were embarrassed to admit that they worked in the comics industry.
Crumb's work has seen its share of controversy, too, despite its more personal nature. In the late sixties, he began to draw his sex fantasies and "foist them on the public," offending the countercultural readership that had come to adore him for LSD-inspired drawings like "Keep on Truckin' ":
The people who had loved my work before that, some of them were shocked and alienated by it—especially the women, of course. I lost all the women. I'm not antifeminist. I like strong, independent women, like the matriarchs of Genesis—they ordered the men around. The sex-fantasy thing was a whole other side of myself, and when that started coming out, I could no longer be America's best-loved hippie cartoonist. Also the racial stuff: the racist images that I used. That also shut a lot of people off about my work. The feminists despised me. I had a couple of defenders among them whose defense of my work was: He's just being totally honest about the male mentality. He's revealing the thoughts that most men are walking around harboring about women all the time. I have to agree with that. I just revealed myself.
For more of Crumb's distinctive brand of … "self-revelation," check out his self-portraits.
Dan Piepenbring is the web editor of The Paris Review.