The elephant in the discotheque: the Bee Gees.
The Bee Gees' dominance of the charts in the disco era was above and beyond Chic, Giorgio Moroder, even Donna Summer. Their sound track to Saturday Night Fever sold thirty million copies. They were responsible for writing and producing eight of 1978's number ones, something only Lennon and McCartney in 1963/64 could rival—and John and Paul hadn't been the producers, only the writers. Even given the task of writing a song called "Grease" ("Grease is the word, it's got groove, it's got a meaning," they claimed, hoping no one would ask, "Come again?"), they came up with a classic. At one point in March they were behind five singles in the American Top 10. In 1978 they accounted for 2 percent of the entire record industry's profits. The Bee Gees were a cultural phenomenon.
Three siblings from an isolated, slightly sinister island off the coast of northwest England, already in their late twenties by the time the Fever struck—how the hell did they manage this? Pinups in the late sixties, makers of the occasional keening ballad hit in the early seventies, the Bee Gees had no real contact with the zeitgeist until, inexplicably, they had hits like "Nights on Broadway," "Stayin' Alive," "Night Fever," and the zeitgeist suddenly seemed to emanate from them. This happened because they were blending white soul, R&B, and dance music in a way that suited pretty much every club, every radio station, every American citizen in 1978. They melded black and white influences into a more satisfying whole than anyone since Elvis. Simply, they were defining pop culture in 1978.
Like ABBA, there is a well of melancholic emotion, even paranoia, in the Bee Gees' music. Take "How Deep Is Your Love" (no. 1, '77), with its warm bath of Fender Rhodes keyboards and echoed harmonies that camouflage the cries of the lyric: "We're living in a world of fools, breaking us down, when they all should let us be … How deep is your love? I really need to learn." Or "Words," with its romantic but strangely seclusionist "This world has lost its glory. Let's start a brand-new story now, my love." Or "Night Fever," their '78 number one, with its super-mellow groove and air-pumped strings masking the high anxiety of Barry Gibb's vocal; the second verse is indecipherable, nothing but a piercing wail with the odd phrase—"I can't hide!"—peeking through the cracks. It is an extraordinary record.
Total pop domination can have fierce consequences. Elvis had been packed off to the army; the Beatles had received Ku Klux Klan death threats—the Bee Gees received the mother of all backlashes, taking the full brunt of the anti-disco movement. Radio stations announced "Bee Gee–free weekends"; a comedy record called "Meaningless Songs in Very High Voices" by the HeeBeeGeeBees became a UK radio hit. Their 1979 album Spirits Having Flown had sold sixteen million copies and spawned three number-one singles ("Too Much Heaven," "Tragedy," "Love You Inside Out"); the singles from 1981's Living Eyes—"He's a Liar" and the title track—reached thirty and forty-five on the chart respectively, and didn't chart in Britain at all. Almost overnight, nobody played Bee Gees records on the radio, and pretty much nobody bought them. The biggest group in the world at the end of 1978 went into enforced retirement three years later. Could they rise again? Of course they could.
* * *
In the beginning, there was big brother Barry and twins Robin and Maurice Gibb. They were born on the Isle of Man but moved to Manchester as children. And they were trouble, especially Robin, who loved setting fire to pretty much anything. He progressed quickly from bedclothes to billboards. One day a member of the Manchester constabulary came knocking and suggested to their parents that it was time to think about emigrating. Manchester's problem became Australia's, but the Gibbs started to channel their pyro activities into vocal harmonies—with no New York subway stations available, they practiced their art in public conveniences: "We always looked for the best toilets in town," said Maurice.
Encouraged by their bandleader father, the brothers became a child act at working-men's clubs, doing comedy routines and singing between races at the local speedway track. These were hard crowds to please. Bill Gates, a local DJ, began to promote them and they took their name from his and Barry Gibb's initials—the Bee Gees. By 1960 they were on TV, singing "My Old Man's a Dustman." Their mum made their stage clothes. None of this exactly screamed international success.
It's easy to forget that the Bee Gees were child performers, and that they grew up in such an odd, isolated way. Foraging, they found things they liked on the radio and absorbed them—the Everly Brothers, the Goons, Lonnie Donegan. Old Super 8 footage shows them goofing around, but you never see any other kids playing with them, just the three brothers. They only started playing in front of teenagers (who, sales figures suggest, were largely unimpressed) when they became teenagers themselves. This airtight upbringing informed their insularity, their prickly, defensive behavior, and many of their deeply strange early recordings: songs like "Holiday" (no. 11, '67) and "I Started a Joke" (no. 6, '68) suggest they were beamed down from another planet, aliens who had been given tiny scraps of information about what pop music was all about and were bravely trying to piece it together. By the time they left Australia, heading for the docks of Southampton in January 1967 to try to make a name for themselves back in Britain, they had released eleven singles, and none of them had meant very much at all. One of them, the admittedly excellent "Wine and Women," had made it as far as number nineteen in Australia, but only after the group gave two hundred dollars to their school friends to buy copies. That was it. They sent tapes of their latest songs to Brian Epstein. For a failed fraternal comedy act, you had to admire their nerve.
Then something odd happened. Midway through their three-week voyage they heard that their eleventh single, "Spicks and Specks," had gone to number one in New Zealand. And when they docked, they discovered that Brian Epstein's sidekick Robert Stigwood was very interested in their tape. The raffish Stigwood booked them into a basement rehearsal room and asked them to write a hit. This sudden run of good luck seemed to desert them when there was a power cut. Finding themselves with no electricity, stuck in darkness at the bottom of a lift shaft, they came up with "New York Mining Disaster 1941."
"Robin's voice … still makes me go cold when I listen to him," his mother once said, presumably meaning it as a compliment. There is something shivery as well as alien about the early Bee Gees records. As a child in the early seventies I had cassettes of the Beach Boys' Greatest Hits and the sixties-era Best of Bee Gees. The similarity in the bands' names led me to twin them, but musically and visually they were complete opposites. The Beach Boys, pictured smiling on a high-contrast bright white cover, sounded like the essence of summer; the Bee Gees, murkily shot on an old boat, no smiles, all shades of brown, were entirely autumnal. And what did their name mean? I wondered. It sounded like "Beach Boys" but drained of its meaning, mumbled, opaque—it suited the heaviness and obscurity of the music, rich in ninths and fully orchestrated, with hints of Celtic melancholy. So young, so sad.
In 1967 the Bee Gees were teenagers, literally straight off the boat, and Stigwood opened up the world to them. "The most significant new musical talent of 1967," he called them. He threw down the challenge, and they thrived under pressure. "New York Mining Disaster 1941" gave them a Top 20 hit straight off. Clearly they were storytellers, and their third single, "Massachusetts," about a weekend hippie trying to hitch a ride to San Francisco but ending up homesick and stranded, was number one in Britain and all over Europe by the end of '67. Quickly they were compared to the Beatles, but their love of soul, and Bill Shepherd's heavy-drape arrangements, gave them a distinctive and intense mournfulness. Stigwood asked them to write a song for Otis Redding—he had no intention of passing it on to Otis, but wanted to see what they were capable of. The result was "To Love Somebody," only a number-seventeen hit, but a hardy, blue-eyed soul perennial. There was an emotional depth to their songs that gave them a rare advantage over the Beatles. George Martin had also produced the Action, a Kentish Town group who had worked up anglicized, uptight versions of things like the Marvelettes' "I'll Keep Holding On" and Bob and Earl's "Harlem Shuffle"; the Bee Gees, in their own way, set themselves somewhere between the Beatles and the Action. Nobody else was staking out this territory. By late '68 they had released three albums, scored a second UK number one ("I've Gotta Get a Message to You," about a prisoner on death row, apparently written with Percy Sledge in mind), and a swathe of continental European number ones: "World," "Words," "I Started a Joke" ("which started the whole world crying"). Eighteen months after docking in Southampton, they were white pop's greatest hope.
Still, they were brothers, and cooped up together they started to fight. Barry loved pot, Robin loved pills, Maurice was always out boozing with Ringo Starr. (Who could blame him? Just months earlier he'd been a fifteen-year-old Beatles fan-club member.) This chemical imbalance led them to split after 1969's Odessa, a wildly ambitious double album housed in a red velvet sleeve. Robin, unmoored, more or less unhinged, quit the group and cut a solo single called "Saved by the Bell." Over a primitive drum machine he'd found in Soho, his ethereal vibrato sang a sad-spaniel song that made "New York Mining Disaster 1941" sound like "Surfin' USA." In short order, he cut two albums of similarly vast, equally downbeat material (Robin's Reign and the still unreleased Sing Slowly Sisters). Singing with closed eyes, a cupped hand over his ear, he may have seemed a delicate flower on stage, but he didn't lack ambition. He had "completed a book called On the Other Hand which is to be published soon," the NME reported. " 'I'm a great admirer of Dickens.' " In the few weeks between leaving the Bee Gees and hitting the chart with "Saved by the Bell," he wrote more than a hundred songs. "I'm also doing the musical score for a film called Henry the Eighth," he told Fabulous, "and I'm making my own film called Family Tree. It involves a man, John Family, whose grandfather is caught trying to blow up Trafalgar Square with a homemade bomb wrapped in underwear." In July '69 the NME announced that Robin was "fronting a 97-piece orchestra and a 60-piece choir in a recording of his latest composition 'To Heaven and Back,' which was inspired by the Apollo 11 moonshot. It is an entirely instrumental piece, with the choir being used for 'astral effects.' " Robin Gibb was still only nineteen years old.
With his solo career, Robin had tried to leave home but found he couldn't; the filial pull was too strong. When the Bee Gees first appeared in '67, the depth of their songs cut through on the radio like a beacon through fog. By 1970, though, they were the fog, lost in over-ambitious, undercooked records (Maurice and Barry both cut mopey, unreleased solo albums). Right at the end of the year, they got back together. Initially the reunion worked beyond anything they could have hoped for—the first two songs they came up with were "Lonely Days" and "How Can You Mend a Broken Heart," autobiographical, self-healing songs which reached number three and number one respectively. Their success led the Gibbs to abandon their sky-reaching, orchestrated pop, and they settled for an easy country-ballad sound which threw up the occasional gem ("Run to Me," no. 16, '72) but had entirely run itself into the ground by 1974. In a valley, they went back to soul, were paired with producer Arif Mardin, and came up with an exquisite album called Mr. Natural, whose title track and lead single, "Charade," were the best things they'd cut in years. They sounded contemporary again. For the follow-up, 1975's Main Course, Mardin took them to Criteria Studios in Miami. Barry picked up the rhythm of the car wheels as they crossed a rickety bridge to the studio; transcribed, the rhythm became "Jive Talkin'," their first number one in four years. Most significantly, Barry ad-libbed a falsetto while recording "Nights on Broadway." Mardin's ears pricked up—"Can you scream in tune?" he asked.
And with that question, Arif Mardin launched their second coming.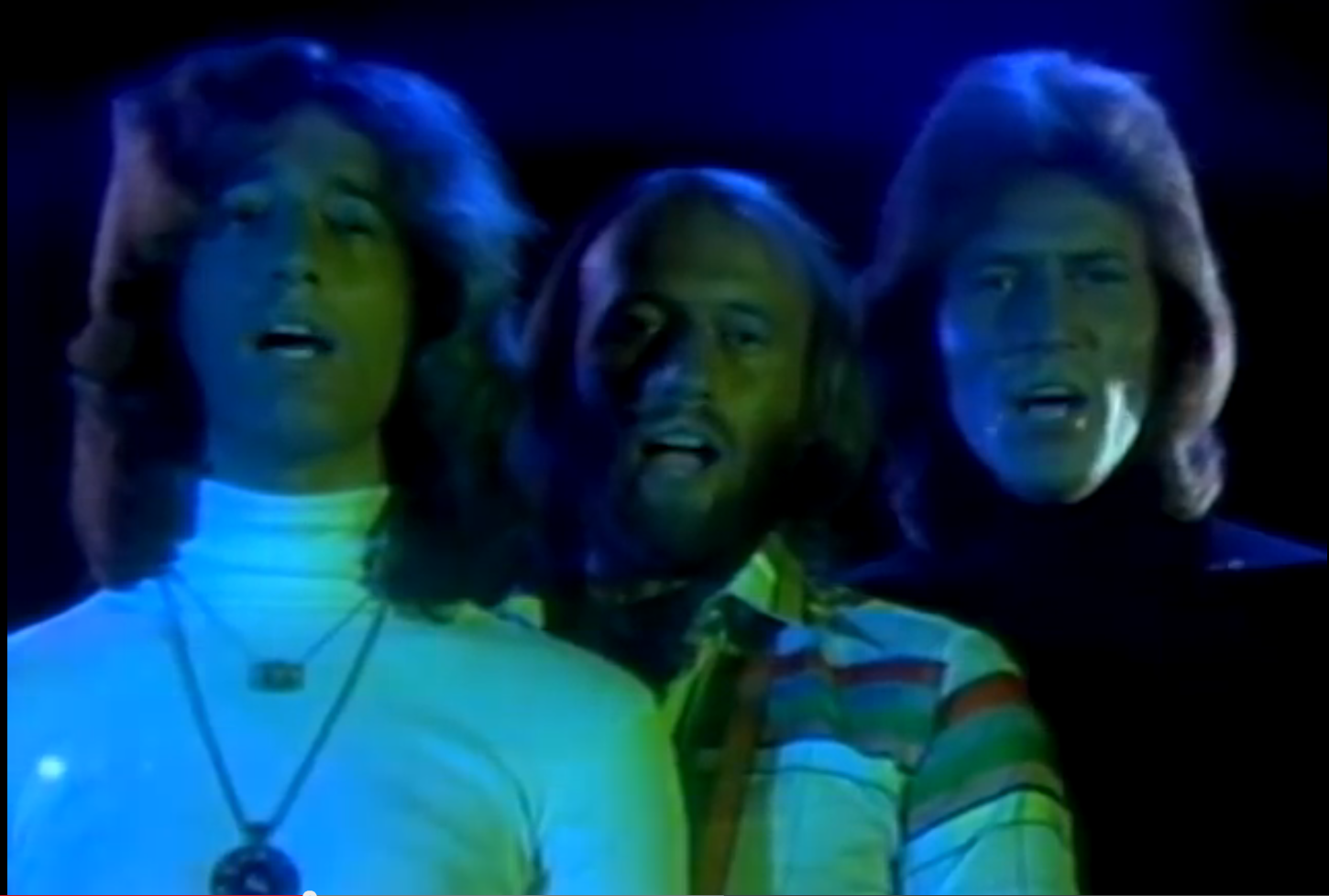 Five years of thrillingly urgent falsetto disco later, having crested the wave and crashed to the shore, they were unsalable. With no one buying records bearing the name "Bee Gees," they decided to work undercover, cutting records with Jimmy Ruffin ("Hold On to My Love," no. 10, '80), Barbra Streisand ("Woman in Love," no. 1, '80), Dionne Warwick ("Heartbreaker," no. 10, '82), Kenny Rogers and Dolly Parton ("Islands in the Stream," no. 1, '83), Diana Ross ("Chain Reaction," no. 1, '86). It was a pretty successful subterfuge.
Their fall had partly been their fault—by the time of Spirits Having Flown, their look (chest hair, teeth, medallions, teeth, horrid logo, more teeth) was preposterous and widely lampooned, and on "Tragedy" (a transatlantic no. 1 in '79) there was none of "Night Fever" 's subtlety or the emotional glide of 1975 single "Fanny (Be Tender with My Love)"; instead the Euro-bombast of acts like Boney M. was sneaking in. Still, Trevor Horn—soon to have his first number one with "Video Killed the Radio Star"—was probably taking notes. On the single's flip side was something else entirely. "Until" is almost too heartbreaking to listen to; the antithesis of the A-side, it curls upward over Manhattan in a balloon built solely out of Aero-bubble keyboards and Barry's orphaned vocal, gently drifting over the skyline and out of sight. It marked a farewell to their golden era.
By 1987, the dust had settled and the Bee Gees felt confident enough to make another record under their own name: "You Win Again"—which sounded like a Christmas carol created in a shipbuilding yard—was another UK number one. With this third breakthrough, the Bee Gees staked their claim as the most consistently successful and gently shapeshifting group of the modern pop era. When the most easygoing brother, Maurice, died in 2003, the group effectively ended. Through the nineties they had still scored the odd hit and their final, aptly titled, peek-over-the-shoulder single "This Is Where I Came In" reached the UK Top 20 in 2001. That's thirty-four years of hits. No wonder they felt underappreciated.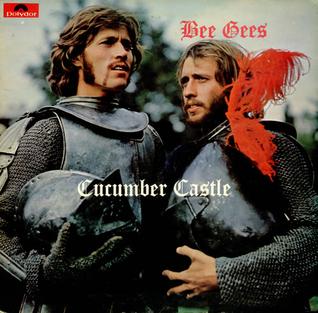 Through it all, they were never fashionable. They made some diabolical mistakes, so bad that you'd think it was some kind of cosmic joke. Take "Fanny (Be Tender with My Love)"—no one else could have come up with such an ugly title (why not "Annie," for God's sake?) for such a beautiful song. Then there were the celluloid disasters. Saturday Night Fever, which grossed three hundred and fifty million dollars, was followed by a musical adaptation of Sgt. Pepper's Lonely Hearts Club Band, a move so illogical (the Gibbs were famous for writing their own songs, and the Beatles were not exactly fashionable in post-punk '79) it may have all been a dream—as with Barry and Maurice's awful 1969 TV movie Cucumber Castle, Sgt. Pepper is buried so deep that even YouTube can't find it. And here's another Gibb peculiarity: they defined disco, yet released no twelve-inch singles until, paradoxically, their ill-advised rocker "He's a Liar" in '81.
None of this makes any sense until you remember their upbringing: cocooned, with extreme arrested development, they had no instincts for cool pop moves. With ill grace, they'd always point the finger when things went wrong, always be the first to build themselves up (on 1973's Life in a Tin Can—"the best thing we've ever done, we think, and everyone who's heard it agrees." No, it was entirely unmemorable), or chide a fellow act in decline (Maurice on John and Yoko: "They say 'power to the people' but charge enormous prices for seats at their concerts"). Blaming anyone but themselves. Blaming it all on the nights on Broadway. They would walk out of interviews on a regular basis and, until the end, found it hard to understand their place in history after the almighty eighties backlash. So they were childish and childlike. Forgive them. They wrote a dozen of the finest songs of the twentieth century. The Bee Gees were children of the world.
Bob Stanley has worked as a music journalist, DJ, and record-label owner, and is the cofounder of the band Saint Etienne. He lives in London.
Excerpted from Yeah! Yeah! Yeah! The Story of Pop Music from Bill Haley to Beyoncé by Bob Stanley. Copyright © 2014, 2013 by Bob Stanley. With permission of the publisher, W. W. Norton & Company, Inc. All rights reserved.