The World Cup begins now. Jonathan Wilson and Rowan Ricardo Phillips will write dispatches for The Daily; here, they introduce themselves and the games.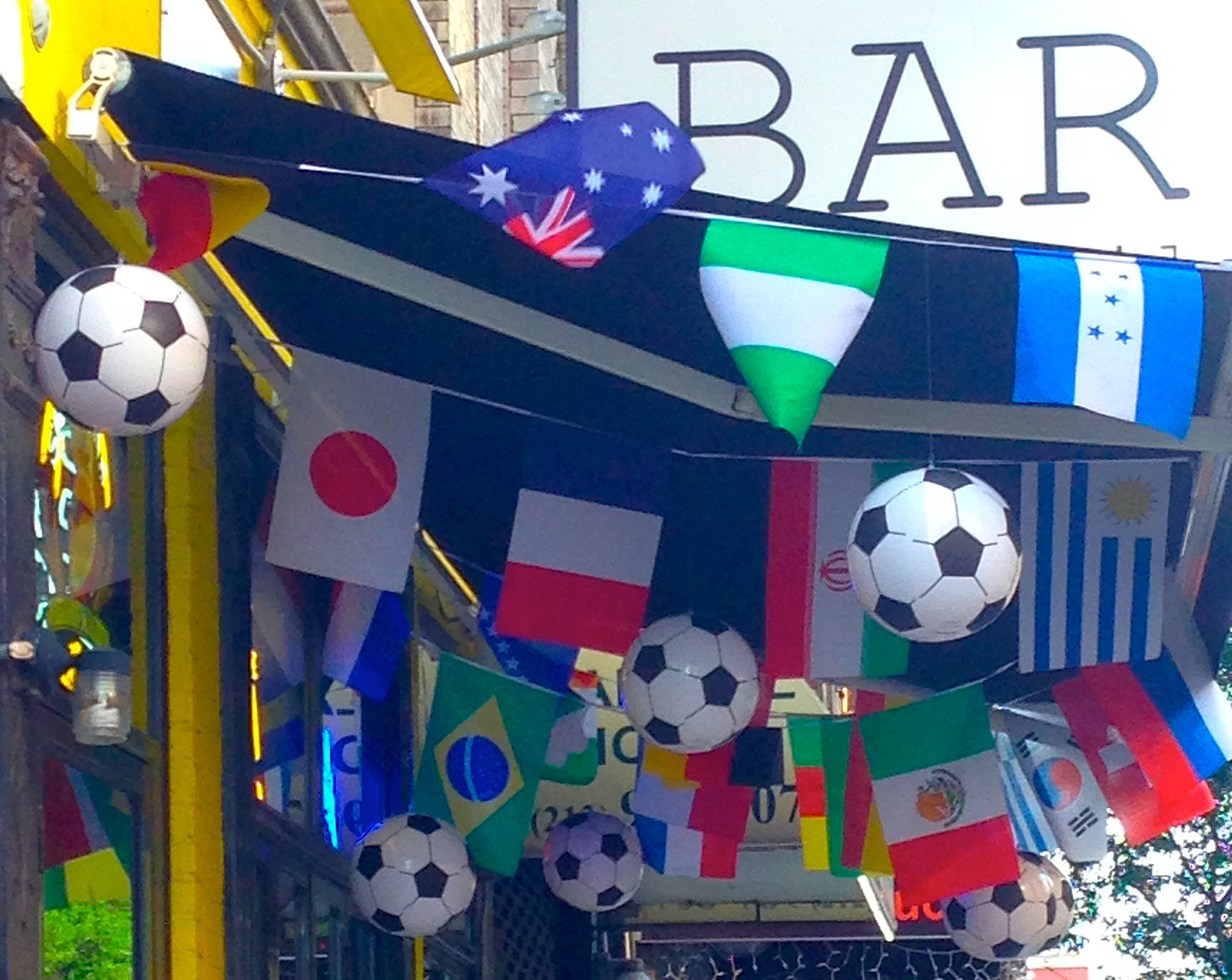 Jonathan Wilson, from London:
"All the new thinking is about loss. In this it resembles all the old thinking." That's Robert Hass, in the opening of his great poem "Meditation at Lagunitas." The lines resonate: earlier this week, before departing for the World Cup in Brazil, the U.S. national team coach Jurgen Klinsmann, who is German, asserted, "We cannot win the World Cup," and it didn't go down well. At least one pundit suggested that he should "get out of America."
In soccer-saturated London, where I arrived last week, Klinsmann's remarks might have elicited a more sympathetic response. England hasn't won the World Cup since 1966, and this year's team is generally considered transitional, unformed, untested. However, with the kind of twisted logic that applies to soccer supporters worldwide, the dominant "not a hope" take on England's chances has subtly transformed in recent days to a "well, there are no expectations, so the pressure's off, so in fact that could translate into improved performance, so hmm, well maybe, just maybe…"
England's manager, Roy Hodgson—who's a bit grumpy, has interesting hair, is undoubtedly the most literary figure England has ever employed (The Guardian reported that he read Laurent Binet's novel HHhH on the flight to Rio), and likes to rib the press about their obsessions with certain players and the hysterical pressure they exert on him to play them—recently succumbed to the dangerous new optimism. He announced that England was indeed capable of winning. Even so, (almost) all the new thinking is still about loss, and in this it resembles the thinking of populations in participating countries worldwide, unless you happen to be from Brazil or Argentina, or maybe Germany— although not so much now that their star midfielder, Marco Reus, has torn his ankle ligaments and is out for the duration.
This isn't to say that Brazil or Argentina must triumph, although no team from outside South America has ever won the World Cup when it has been played there, but simply that when it comes to international soccer, American over-optimism is rarely in evidence except for, as you might expect, in the minds and hearts of Americans. Nobody, of course, who knows anything at all about soccer, thinks that the U.S. can win the World Cup, and to compound matters the team is in a group of death with Ghana, Portugal, and Germany. In the furor over Klinsmann's remarks and his subsequent refusal to back down, I was reminded of the time that Ronald Reagan came on TV after he'd traded arms for hostages and announced that even though it looked like he'd done exactly that, in his heart he knew that he hadn't. American hearts can be frequently, powerfully, and touchingly resistant to reality.
England's first game is against Italy on June 14, and it takes place in Manaus, in the heart of the Amazonian rainforest. It's where Werner Herzog went to make Fitzcarraldo, a wildly improbable and troubled shoot documented in hallucinatory prose in his book Conquest of the Useless. But dragging a ship over a steep hill (the locus insanus of Fitzcarraldo) is as nothing compared to the efforts the Brazilian government made in creating the 42,000-seat Arena Amazonia: three men died during construction and the cost ran to $275 million. The tragic beauty of the enterprise has been lost on Roy Hodgson, who some time ago alienated the local population by mouthing off about the inhospitable heat and humidity of the city. In response, Manaus's mayor, Arthur Virgilio, let it be known that neither Hodgson nor his team was welcome in his bailiwick. Meanwhile, the Italian coach, Cesare Prandelli, wisely kept his thoughts to himself.
Here we are, ready to go. In recent days, John Oliver's rant slamming soccer's governing body, FIFA, has gone viral; the Sunday Times in the UK has exposed the way in which a certain Qatar official appears to have bribed a clear path for his country to host World Cup 2022; the New York Times has revealed that before World Cup 2010 in South Africa, a match-fixing syndicate headed by the Singaporean Wilson Raj Perumal got to some referees; there are burning tires and a strike in the streets of Sao Paulo; military police are patrolling the favelas in Rio; some of the showcase stadiums are still under construction. And yet the worldwide TV viewing audience for today's opening match between Brazil and Croatia is expected to be around two hundred million.
As Aristotle wisely noted, "Man is a goal-seeking animal."
* * *
Rowan Ricardo Phillips, from New York:
This World Cup will be the tenth of my lifetime, which is a far more pleasant way for me to face the fact that, barring a really bad turn of events, I'll turn forty this year. Byron had his yellow leaf—that "My days are in the yellow leaf" from his "On This Day I Complete My Thirty-Sixth Year"—which is an echo of Macbeth's "My way of life / Is fall'n into the sea, the yellow leaf"; and I have my World Cups, amassing like seasons, rejuvenating me but also bringing to light my age.
I won't lie to you: a World Cup to me is like a first day of snowfall, nothing more and nothing less. It's as grand and as meager, as regular in the world of sublime things. If the game of football isn't for you, if the World Cup is something you confuse with the World Series and think happens every year, no worries. But stick around, take a few minutes to kick back. Let's share a guilty pleasure or two.
I've seen six World Cups from New York City, one from Providence, and one from Barcelona. Each of these cities conditioned the experience more than did the places where the Cup was held. In 2006, I watched France hammer Brazil, 3-0, in the stunned silence of a Brazilian household in Rhode Island. I like to think I'm a respectful person—I wasn't going to walk into someone's house, eat his food, then outwardly root against his country—but I had been silently favoring France. As the halftime whistle blew and Brazil was down, the kind and always smiling professor I was staying with walked calmly over to his VCR. He pressed stop, carefully removed the tape from the machine, placed it on the floor, and jumped up and down on it with both feet as if it were a joyless trampoline. When the game ended, I left without saying good-bye, like people always seem to do on TV, just hanging up.
New York this year may not offer such an experience, but I hope it'll be close enough. Bars and restaurants have hung flags out front, some displaying the flags of every nation and others flying only one or two, trying to anticipate the preferences of their clientele. The Argentine restaurant near my house had large Brazilian and Argentine flags side-by-side under their main sign, a mind-blowing disappointment; I had to stop and take a picture. A line from The Inferno came into my head: "intrai per lo cammino alto e silvestro," roughly, "I entered on the deep and savage way." Many bars you thought you liked will betray you this month, but once the U.S. gets knocked out, everything will be the same, everything will be in its right place. In November, when I turn forty, a stadium in Manaus will shine untouched in the summer sun like a taut navel swimming in oil. In mid-July, after Brazil has won the Cup, the Hamptons will be the next thing to fall for.