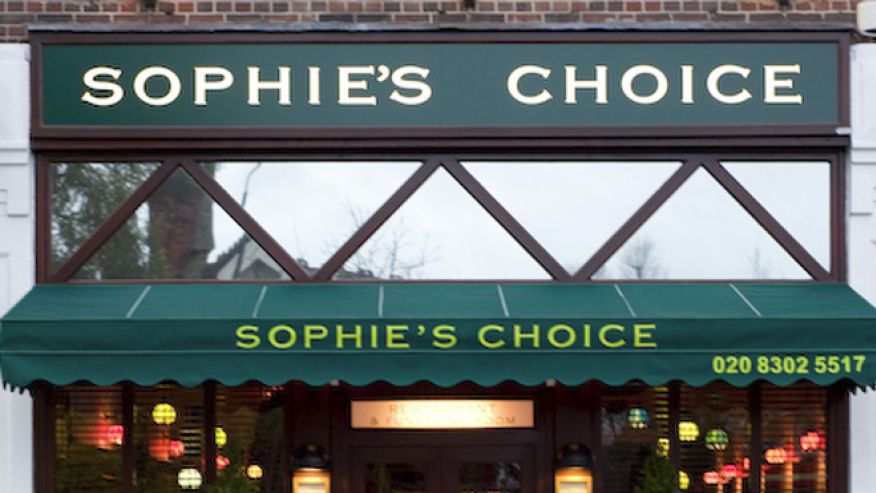 One measure of a book's influence is the mark it leaves on the vernacular. In this sense, many plaudits must go to William Styron, born today in 1925, who helped start The Paris Review and served as an advisory editor. His 1979 novel, Sophie's Choice, has ascended into idiom, as Wikipedia and Urban Dictionary have acknowledged. The latter defines a Sophie's Choice as "essentially a no-win situation … a choice between two unbearable options," and gives the following example:
The loan [sic] hiker's arm was wedged in a crevice when he slipped and fell. He didn't have the strength to release himself. Each movement wedged his arm more deeply into the crevice. After several days without food and water, he was left with a Sophie's Choice: continue to wait for help and possibly die, or use the serrated blade of his pocket knife to cut off his own arm and climb to safety before bleeding to death.
But some don't seem to grasp the finer points of the phrase's usage.
To wit: there has been, since 1984, a restaurant in England named Sophie's Choice. Yes, a center of fine dining, serving "modern European cuisine and a range of wines from around the world," which takes its name from a novel whose titular choice involves which of one's offspring will die in a concentration camp.
"Our emphasis on good service creates a relaxed and welcoming atmosphere," the proprietors write. Mains include roast breast of Barbary duck and char-grilled medallions of lamb rump with Cumberland sauce. They do weddings. 
Styron said in his second Art of Fiction interview,
Not long ago I received in the mail a doctoral thesis entitled "Sophie's Choice: A Jungian Perspective," which I sat down to read. It was quite a long document. In the first paragraph it said, In this thesis my point of reference throughout will be the Alan J. Pakula movie of Sophie's Choice. There was a footnote, which I swear to you said, Where the movie is obscure I will refer to William Styron's novel for clarification. This idiocy laid a pall over my life for a dark brief time because it brought back all these bugaboos we have about the written word.
One can imagine that this establishment was no better received, if the author was aware of it. And I hope he was not—this is a scenario in which ignorance is bliss. If you choose to celebrate his birth tonight, best to make your reservations elsewhere.