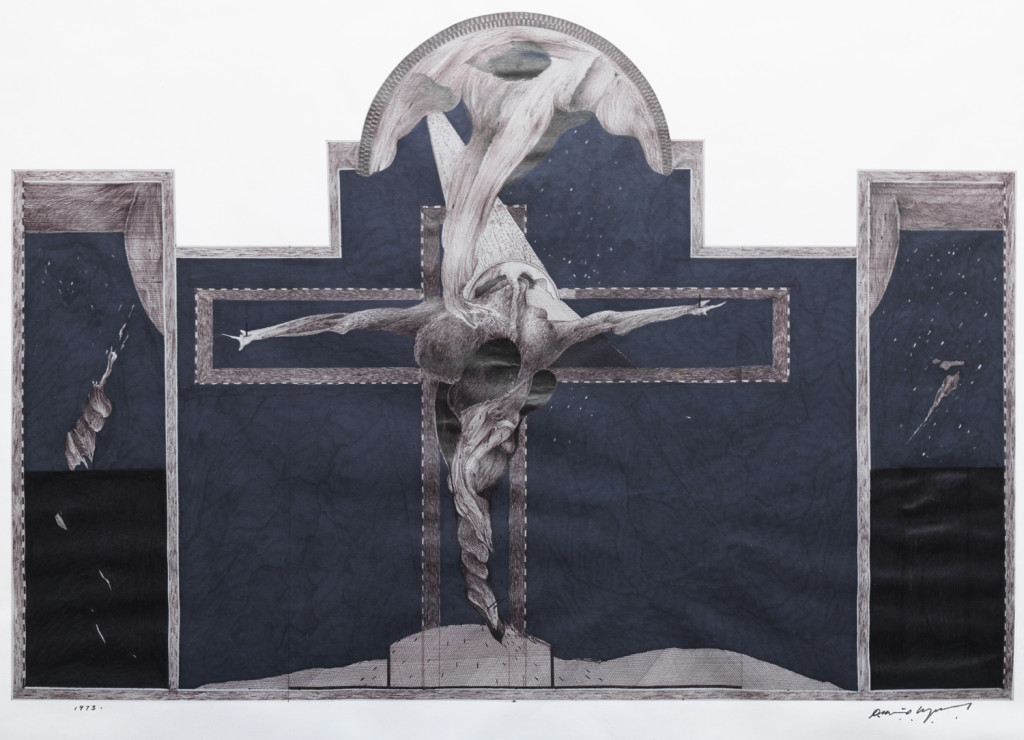 Millions of Americans heard the name Alan Splet (1940–1994) for the first time as a punch line on television. The occasion was the 1980 Academy Awards, where his sound design the previous year, on Carroll Ballard's The Black Stallion, had earned him a special Oscar. Citing prior commitments, Splet did not attend the ceremony. When the presenter held up the statuette and the honoree failed to appear to accept it, the evening's host, Johnny Carson, turned this perceived snub of Hollywood taste back on the truant. "It always happens," he deadpanned to the audience, "first George C. Scott doesn't show, then Marlon Brando, and now Alan Splet."
Splet deserves better. He was no joke. In fact, to an exclusive circle of independent filmmakers who know how much his collages of sound and musical refinement added to their movies from the late seventies to the early nineties, his name is still invoked with an affection verging on awe. Tributes can be found on YouTube from Ballard, Peter Weir, Caleb Deschanel, and Philip Kaufman, with whom Splet collaborated on three films. Splet's sound design and editing on The Unbearable Lightness of Being (1988) ranks among the most haunting and sophisticated of its day—or any day. Leoš Janáček's string and piano music is as ravishing as Sven Nykvist's cinematography, underlining not only the distinctly tart Czech melancholia of the novel, but also serving, notes Kaufman, to "supplant Kundera's voice as the narrator and give the film its drive."
No filmmaker in those years bonded more intensely or productively with Splet than David Lynch. The two met in 1970 when the writer-director needed a sound track for his short film The Grandmother. (Splet was then employed at a Philadelphia industrial film company, having bailed on a career in accounting.)
With no money to foster the visions Lynch had in his uncompromising young head, the pair spent twelve-hour days inventing effects on the cheap, recording human mewls and gurgles and hissing machine-made sounds. Not until their concoctions matched the images on the editing table and the pairing created an elusive "mood" (a key term for Lynch) were they satisfied. Thereafter, until Splet's death in 1994, he partnered with Lynch on every major film project, those that were completed (Elephant Man, Dune, Blue Velvet, Wild at Heart) and those that weren't (Ronnie Rocket).
In the opinion of some, however, their masterpiece of "audio surrealism" remains Eraserhead. Begun in Philadelphia and finished in Los Angeles, its atmosphere is as marked by the sooty poverty of the filmmakers as The Grandmother had been. It was during this time (around 1973) that Lynch, who could not afford paints, did two meticulous drawings in ballpoint pen: a crucifixion, in a style that combines Mattias Grünewald and Francis Bacon, and a resurrection, now lost. Hoping to raise money to finish the film, they had prints made, an enterprise that was rewarded with total failure.
That despondent result did not prevent Splet from buying the original of the crucifixion drawing, framing it, and hanging it over the mantelpiece in the Berkeley, California, house where he lived with his wife and fellow sonic explorer, Ann Kroeber. (Planning to auction it off, she has interviewed Lynch on film about the background of the piece and his friendship with her husband—watch an excerpt of that film below.)
My only relationship with Splet was over the phone, while I was writing several articles about Lynch in the early 1990s, as Twin Peaks was altering the sensory pathways of America's network-television audience. I proposed a piece about Lynch's unique conception of sound and image to the Village Voice; the editors liked what I wrote and then decided not to run it because they judged too many adulatory words were being published at the time about Lynch. (In addition to his TV and film projects, he was exhibiting his art at the Leo Castelli Gallery and teaming up with composer Angelo Badalamenti on a symphony at BAM.)
In asking the editors of The Paris Review if they might publish an article written more than twenty years ago, I couched the appeal as a way to revive interest in Splet. He died much too young, left an audible signature on every film he touched, and should be remembered as an artist of stubborn integrity, not as the butt of a Hollywood joke.
"It's too bad Ronnie Rocket never got made," says Alan R. Splet about one of several David Lynch scripts still tied to Dino De Laurentiis's bankruptcy. "There was lots of heavy electricity, amplified power in the script. It went back more toward the Eraserhead side of things. Maybe David feels he's moved beyond that."
Splet starts to laugh nervously, almost maniacally, as he recites all the kinds of electricity he could produce if called upon by Lynch. "There's snapping, humming, buzzing, banging, like lightning, shrieking, squealing …"
As the sound engineer who has worked with Lynch since The Grandmother, their AFI student film completed in 1969, Splet saves up noises that he thinks his friend will like and sends them along on cassettes for Lynch to use or enjoy.
"I remember for Dune I collected a bunch of things and then I flew down to Mexico City," he says. "One Sunday we set up a Nagra in his apartment and listened to sounds all afternoon. I just gave David a heavy arcing sound to use behind the logo on Twin Peaks. I haven't heard what he's done to it, but it's the kind of thing he likes. He tends to go for power effects."
No American filmmaker loves industrial sounds more than David Lynch. Eraserhead, Elephant Man, and Dune are filled with nostalgia for nineteenth-century steam and sparks—everything from the brute pounding of a drill press to the creaks and sighs of old elevator motors to the mood of a power plants on a cold night to the whirr of cranes and pulleys and winches to household short-outs. His films echo with the throbs and groans of doomed technology. Or, as he rather inadequately explains his reverence for this kind of sonic material, "The idea of man working with nature is just thrilling to me. I'd rather go to a factory any day than walk in the woods."
This wide-eyed ability to find a narrative vein in lonely places makes Lynch the Edward Hopper of American film. The power station in Eraserhead seems to be in the movie mainly because he likes how it looks and sounds: fenced in, deserted, humming, the behemoth that feeds the city from the dark side of town. But it also serves to dwarf and humiliate the main character; it's another menacing, noisy presence in the urban hellhole that deepens and mocks his passivity.
People tend to remember and talk about Lynch's potent imagery: the pathetic, mummified baby; oozing chickens; the hypodermic draining of Baron Harkonnen's puss-filled carbuncles; a close-up of ants and an ear in the grass.
But it's the eerie sound tracks, off-kilter dialogue, and the underwater pace of events that lifts his work beyond the gross-out, horror genre and into the realm of experimental film. Sound for Lynch is the key to mood; and mood, if not everything for Lynch, is at least half of the equation.
In Bobby Vinton's song "Blue Velvet," Lynch found a key to many of the elements in the movie: its lush color scheme, ballad tempo, unhealthy dwelling on the past, and obsessive relationship between a man and a woman. This Golden Oldie, the slow dance at many a senior prom in the early sixties, also turns out to be a psychotic's favorite material.
Working for Lynch seems to involve floating suggestions in front of him until he locks on to something he likes. Starting with atmosphere, with the hush of suburban streets in Blue Velvet or the emptiness of high school corridors in Twin Peaks, he tests situations and characters against some deep, inner tuning fork.
On location searches for Wild at Heart in New Orleans with his production designer Patricia Norris, he would stop at the sound of water dripping on tin in a back alley and say, "We have to come back and record that." He wears headphones for almost every shot, sometimes not even listening to the dialogue track but to some piece of music that he thinks describes the feeling of a scene. Often, it's not even the music he'll use in the film; it's as though sound helps him see what he wants on the screen more clearly.
He is open to all kinds of input from actors—Kyle MacLachlan's chicken walk in Blue Velvet was his own idea—but Lynch knows exactly what he wants. The opposite of an eclectic temper, he can be maddeningly specific for reasons that only he needs to understand. On Eraserhead Lynch drew two telephone wires for Splet, each line indicating four or five pitches he wanted. It was Splet's job to go find these sounds. When he played Lynch some Fats Waller pipe-organ numbers as possible sound-track material, the director honed in immediately. "I never listened to any other kind of music for the film," he says. "I knew that was it."
To some extent, Lynch stands on the shoulders of his older Hollywood colleagues. The generation of American filmmakers who came of age in the seventies—Coppola, Altman, Allen, Scorsese, De Palma, Lucas, Spielberg—had an unusual regard for the art of music and sound. The lush orchestral scoring in the Corleone gangster opera, the antiheroic musical New York, New York, Allen and Spielberg flexing their muscles by refusing to use music that would sell to the kids—these looked toward golden-age Hollywood traditions of sound craft, while the multivoice sound track of Nashville brought movie dialogue up to acid-head standards established by Sgt. Pepper's and Firesign Theatre.
The Conversation and Blow-Out—perhaps the only two dramatic films ever made about sound technicians—use eavesdropping, not voyeurism, as the trigger for political paranoia, while Apocalypse Now transformed Vietnam from a boxed-in, monaural war into a Dolby experience that gives the Doors the last word. Lucas serves the needs of all these filmmakers, having turned his techno-fetishism into the thriving business THX, which will install state-of-the-art sound systems in your local theater for a small fortune.
But the Lynch-Splet sound track for Eraserhead is of another order. The electric hum; soughing wind; ceaseless, industrial roar; and the array of noises that issue from the baby (chokes, coughs, gasps, gurgles, spit-ups, and that steady, inconsolable cry) are the product of a mind wired to sixties art experiments rather than Hollywood movies. To magnify his fantastic, minimalist storyline, Lynch treats sound as plastic material, in the spirit of Varèse, Cage, or Dziga Vertov's Enthusiasm. The closeness and exaggeration of household noise adds to the oppression that squeezes the couple from beyond the walls. Fats Waller reverberates as though Lynch-Splet had patched into a broadcast from a Depression-era skating rink. The sound is chilling, ancient, faraway, as though time itself had physically decayed.
Lynch had a motto in his early days: Picture Dictates Sound. But it also worked the other way around. As Splet remembers it, "We would take sounds, slow them down, and these would evoke images for David." Both are sworn to secrecy about the source of the baby's rich vocabulary. "Yeah, he's a busy guy," is about all anyone can get out of Lynch; Splet admits only that "all the baby's sounds were organic."
As he made bigger-budget films that told real stories—Elephant Man, Dune, Blue Velvet—Lynch devised less extravagant sound tracks. Apart from Brian Eno's prophesy theme and the industrial noises on Baron Harkonnen's planet—the leaking steam, clanging iron doors, thump of pumps, some good radio static—Dune is pretty dull, considering the budget. The music by Toto is not even wallpaper. Blue Velvet is more hyper-real than Eraserhead is surreal. Lynch used Splet's foghorns and train whistles to give Dorothy Vallens's apartment block a lonesome, ordinary dread. The thinness of her wooden door when knocked on lets us know how poorly the bosses at the Slow Club pay their singer.
That movie also began Lynch's association with composer Angelo Badalamenti, who coached Isabella Rossellini on her vocals. The song "Mysteries of Love," which closes the film on a blissful note, was written by Badalamenti after Lynch brought him the fragment of a lyric and some vague instructions. "He asked for something beautiful, cosmic, floating," says Badalamenti. "He just talks about moods. He wanted a Mideastern flavor on Blue Velvet, to make the streets feel foreign. He likes Shostakovich and he asked if I could write like that. That's how we do everything."
Badalamenti, who scored Lynch's famous public-service commercial for New York City's campaign against rats and his ad for Opium perfume (as well as Nightmare on Elm Street 3 and National Lampoon's Christmas Vacation) has written about a half dozen motifs for the characters on Twin Peaks. The score has a generic, synthesized, Wagner-on-quaaludes sound. "David asked if I could do a cool jazz but like a cool, dark jazz slightly off-center," he says. (Those who spend time with Lynch often end up talking like him.)
"Industrial Symphony No. 1," the operatic piece they did last year for BAM, was a return to full-blown sound experiments. The score included chain saws, sirens, electrical eruptions, power generators, and a phone call. The stage might have been an X-ray of Lynch's soul: one half-naked woman danced on top of an abandoned car and up and around a power tower while another floated on a trapeze above the scene in a chiffon dress, singing about love and darkness.
Much of this music came from Floating into the Night, the album sung by Julie Cruise to words by Lynch, which might be one of the slowest pop records ever made. Cruise was the woman on the trapeze, and she does a number in a roadhouse in Twin Peaks. Most of the lyrics approach self-parody—they're dark, vague, full of longing for love—and Cruise whispers and coos more than she sings. It's mood music taken to extremes: there's not much to it except teenage morbidity, creepy because it's completely heartfelt. Like so much of Lynch's work, it taps into adolescent eroticism rather than anything adult. But she says, "I'm not sure I've had that experience yet."
Asked to trace the course of his career, Lynch sums it up this way: "I used to like darkness and low-frequency sounds, and now I tend to go for lighter things and high-frequency sounds."
Lynch is alone among American filmmakers in his ability to maintain access to Hollywood and European cash while also making works that are almost avant-garde in their deep, personal abstraction. Despite his often inarticulate sense of how things should look and sound, he creates towns like Lumberton and Twin Peaks that most of us won't soon forget. The multiple storylines of the new television series, the dozens of characters whose mouths he fills with kooky dialogue, seem less important to him than the town itself, which is located somewhere television has never been before.
His new film Wild at Heart, a road picture scheduled to be released in the fall, has all kinds of music, from speed metal to Spanish-tinged slow blues, and sound cues abound throughout the script. It reads as darkly as anything he has ever done; and it opens with a spectacular motorcycle accident that hits a wide range of shattering metal-on-metal, metal-on-pavement, flesh-against-glass frequencies.
On the first page Lynch describes what he wants to hear on the sound track: "The motorcycle bounces off a black '66 Chevrolet and makes a sound like the end of the world." We'll know soon what the apocalypse sounds like in David Lynch's head.
Richard B. Woodward is an arts critic in New York City.