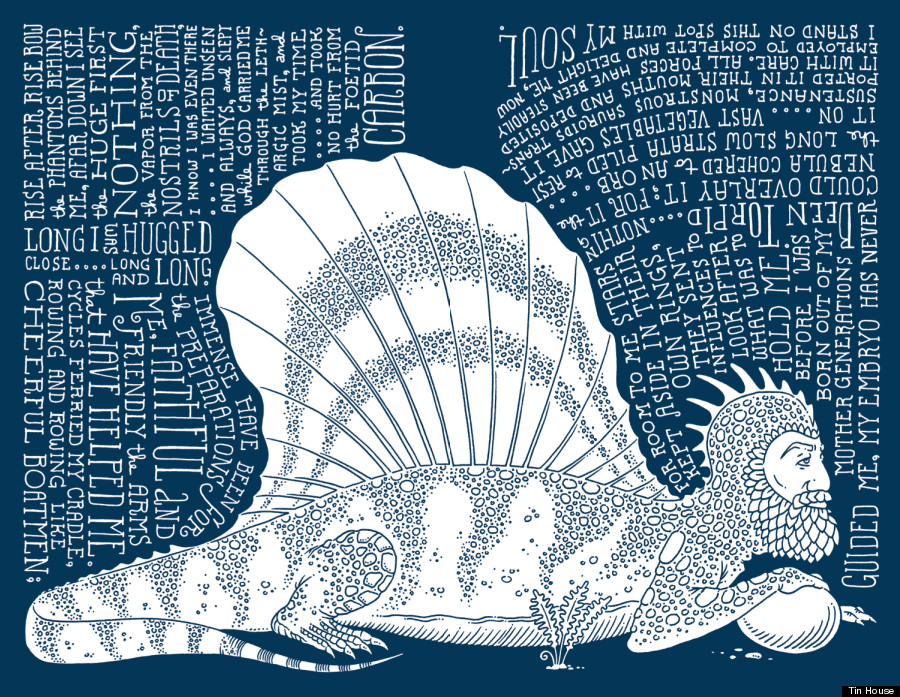 Beautiful/Decay has a striking selection of images from Allen Crawford's illustrated, hand-lettered new edition of Whitman's "Song of Myself," a long poem included in Leaves of Grass. Crawford writes in the introduction,
I've tried to make the vigor of "Song of Myself" tangible. I've attempted to liberate the words from their blocks of verse, and allow the lines to flow freely about the page, like a stream or a bustling city crowd. The text and imagery in this book are intended to be in keeping with Whitman's unfurnished sensibility … Whitman's verse concerns itself with epic sweeps and grand gestures, which means including nearly everything and everyone. Walt did indeed contain multitudes, and I had to follow his lead if I was going to properly serve his words. At times, this could prove exasperating: Keeping up with Whitman's torrents of people and places sometimes felt like riding a bee-stung bison down the aisle of a bus. I found that in order to add anything at all to Whitman's panorama of people and places, I had to add a dimension of my own. Events in my daily life affected my approach to each spread, and the Philadelphia of today seeped into the Philadelphia of Whitman's day. Thus, you'll find a variety of contemporary or near-contemporary images in this book. Not doing so would have been a disservice to Whitman's work, which attempts to create a new form of verse for The Here and The Now.
You can see more of his work here.