Saturday, February 28
We fly from our home in Los Angeles to York, Pennsylvania, so that my husband, the artist Wayne White, can begin building an art installation commissioned by York College of Pennsylvania. It will be constructed inside an historic former Fraternal Order of Eagles Hall in downtown York, now an organization called Marketview Arts. All of York is crazy historic, dating back to 1740! Temporary capital of the Continental Congress! Articles of Confederation drafted and adopted here! Home of the Underground Railroad! WHAT? This is a mind-blower for a history-loving girl from Southern California, where they tear down anything older than 1967 and replace it with a building made out of Popsicle sticks and Elmer's Glue.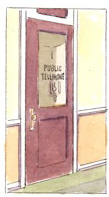 Our hotel, the Yorktowne, was built in 1926. And that's not even OLD here. But it's old-school enough that they still have actual room keys. And phone-booth rooms. And long spooky hallways. Three movies immediately come to mind: Barton Fink, The Shining, Groundhog Day. There is a tiny stuffed goat in the lobby.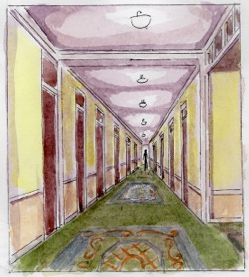 I discover York to be a veritable museum of architecture: everything from Colonial-era buildings to stodgy Victorians that look like mini-Smithsonians to glamorous Art Deco storefronts. It's simultaneously adorable and awe-inspiring and strange, since the place is kind of empty and mournful now, making me imagine I am in a graphic novel by the cartoonist Seth.
Sunday, March 1
York is not only OOZING with historic architecture but also once was a bustling mini-metropolis, presided over by titans, veritable TITANS, of industry. They used to make BIG HEAVY STUFF here! Air conditioning! Steam en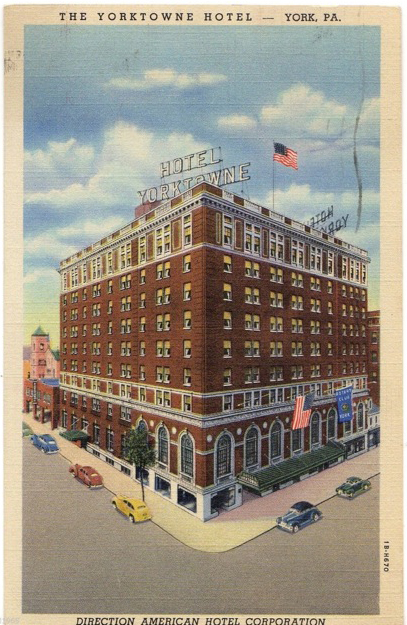 gines! Railroad manufacturing! Wrought iron! It reminds me that our nation was once a place where we MADE THINGS instead of a fourth-rate power that only produces reality television and fat people and crybabies. They still make enough things here—like potato chips and Harley-Davidson motorcycles and barbells—that they bill themselves as "the factory tour capital of America."
Yes, Hershey, Pennsylvania, is just down the road, and here's a tip for you dirty-minded folks: no one here seems to think it's funny when you ask if that's on the "Hershey Highway." I mean it. You'll get blank looks. Plus? The factory tour at Hershey is a fake factory tour because the real plants (nontourable!) of the Mighty Hershey are spread out ALL OVER THE WORLD. This means No. Chocolate. River. CRUSHING DISAPPOINTMENT!!!!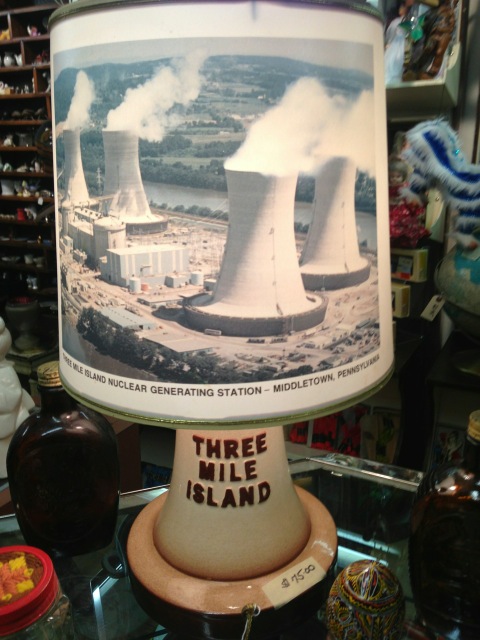 Thursday, March 6
One of the things I always do when in a new town is make a beeline to the the closest thrift store. At the one here, I find the ULTIMATE SOUVENIR, since Three Mile Island is only thirty-three miles from York.
Besides this sightseeing, Wayne and I have our noses to the grindstone. Wayne is from Chattanooga, Tennessee, and he always has the South in his back pocket. The galvanizing event for him here is that York was, in 1863, occupied by Confederate troops en route to Gettysburg—y'know, for that big do. General Jubal Early and his men held York hostage for three days, demanded a hundred thousand dollars, and finally settled for $28,000, some shoes, and food. It was a humiliating experience for the people of York at the time. So what is Wayne building inside the venerable Fraternal Order of Eagles Hall? GIANT CONFEDERATE CARDBOARD PUPPETS, of course. I joke and tell him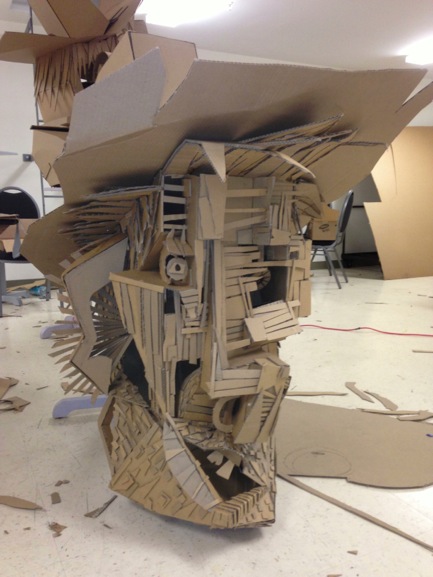 that now he's the Confederate general who has taken the town by storm and has requisitioned all the Yankees to do his bidding. Happily, the local Yankee art community here seems to have forgotten the trouble that General Early and his men put them through and flock to volunteer tirelessly and enthusiastically on Wayne's project. Me, I find a quiet corner to work on part two of my graphic novel, Over Easy. It is so much cozier to work by the light of a Three Mile Island lamp. And you don't even have to plug it in!
Friday, March 7
As if finding the lamp weren't exciting enough, tonight at our hotel there is a ballroom-dance competition. The first hint comes in the lobby, where they are selling gowns so sparkly and festooned they would make a drag queen blush. I have to rush up to the mezzanine-level ballroom to watch the spray-tanned, glittering dancers. It is breathtaking!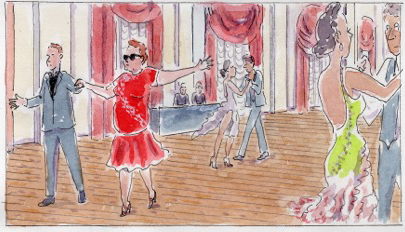 Saturday, March 8
When we leave the hotel this morning at 9:30 A.M., the dancers are either back at it, OR THEY'VE BEEN GOING ALL NIGHT. I like to think the latter.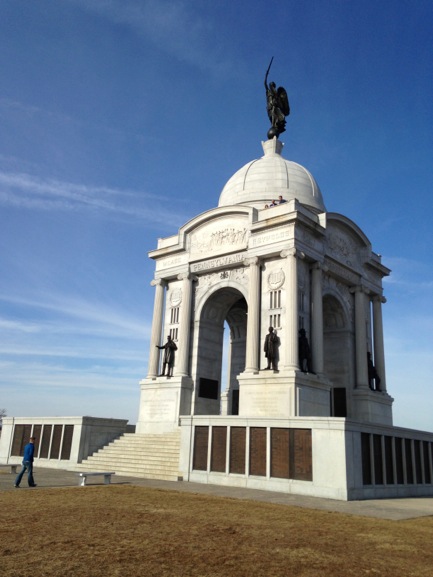 Sunday, March 9
On our first day off, Wayne and I head to Gettysburg, which is, for my husband, a kind of Mecca. (For me that would be a guided tour of all things relating to the Mitford Sisters or the Patty Hearst kidnapping, but never mind.) We take a bus tour of the battlefield. Interestingly enough, our tour guide is from THE OTHER SIDE—Atlanta—and has a decidedly Gomer Pyle–ish accent, but lordy does he knows his battles! The tour lasts two hours, with many stops at critical locations, describing in detail the troop movements of the three-day bloodbath, which I concentrate hard to picture in my mind: "So it's like a giant fishhook! General Gregg's troops are on top of the hill, that's like the top of the fishhook, looking down as Pickett's troops swing toward Round Top and the left flank, led by Stuart, accordions in and out, but it's too little and too late… " When he gets done with about a fifteen-minute blow-by-blow of this final, fatal choreography, my mind is spinning, and he gently asks, "Now, did y'all get that? Are yuh followin' me?" I can only nod yes because I do not want him to start over. Back at the visitor center, there is a museum that jams even more information into my overloaded brain, particularly about the gruesome cleanup of eight thousand dead guys by Gettysburg's beleaguered citizenry.
In the gift shop, you can buy just about anything Lincoln-related, from a classy bronze-ish bust to a T-shirt with his picture on it that says THAT IS SO 4 SCORE AND 7 YEARS AGO to a bobblehead Lincoln. Yes, I snark, but here's a little-known fact about me: any time I hear the Gettysburg Address recited, I burst into tears.
On the way out, we drive around in our own car to check out some of the fifteen hundred or so different monuments on this battlefield, of which three hundred or so are major. The daddy of them all is the one erected by Pennsylvania, which has a truly awe-inspiring scale—a scale that must have inspired things back in York, which I'll get to soon.
Monday, March 10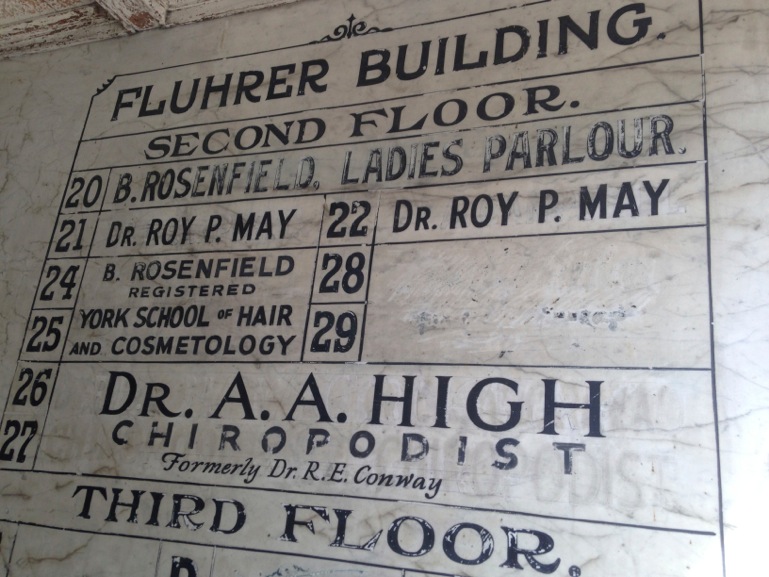 Just bopping around this town. I discover of all kinds of enchanting details, like this directory for the Fluhrer Building. I so desperately want to go to the Ladies Parlor!
Also in the Fluhrer Building is a model-train store, which is appropriate not only because York has a history of being a big railway hub, but also because the town itself resembles a toy-train town. The store is jammed with everything you could ever want for your toy-train town. Don't you need this bunny on your tracks?
Word on the street is that model-train buff number one, Mr. Neil Young, shops here!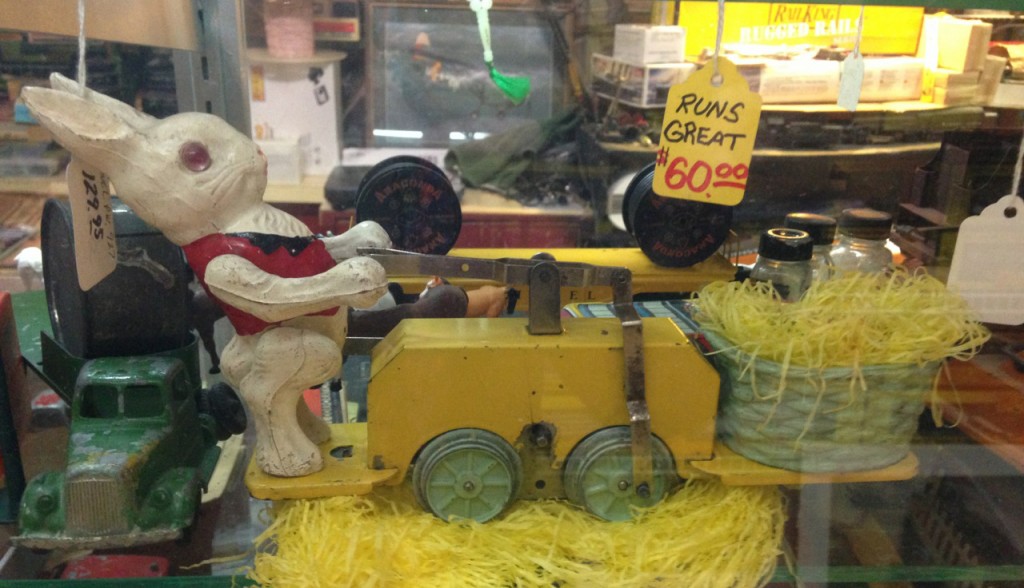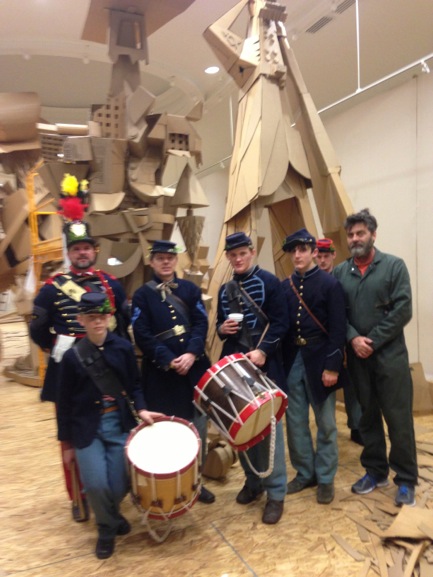 Saturday, March 15
It's time for York's St. Patrick's Day parade. Since Wayne and I lived in New York City for eight years, our St. Paddy's Day tradition is this: we don't leave the house. In this case, we work from nine to five at Marketview Arts, but one of the tireless volunteers goes out at lunch and brings back these people who were in the parade!

The Yankee reenactors took in Wayne's comic Confederate puppets with surprising good grace and even played a little fife-and-drum ditty for us!
Monday, March 17
Our eighteen-year-old daughter, Lulu, arrives in Lancaster on the train from New York. In the beautiful Lancaster train station I see an Amish man and his son waiting for the train. Somehow I know you're not supposed to take their picture so I don't, but I notice that the son is wearing contemporary sneakers and they have a regular modern wheeled suitcase, and this is disappointing. Shouldn't those be some nineteenth-century boots? Shouldn't that suitcase be wicker?
Wednesday, March 19
After spending one day being her father's cardboard slave, Lulu, who has been in the highly pressurized art chamber that is the Cooper Union School of Art, decides to beat it back to the relative safety of school. Next to the freeway in Hellam, going back to Lancaster, there is a giant shoe, only with windows, which is an old tourist attraction called—what else?—THE SHOE HOUSE. Later I google it, only to find that, tragically, it is only open in the summer months. I decide to draw it without actually visiting it because … because who wouldn't want to draw a giant shoe? This shoe, I note, is exactly the style of shoe that boys wore to go to the prom in 1973, when I graduated high school—only minus the windows.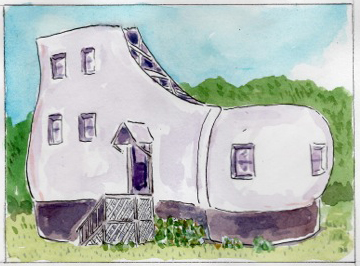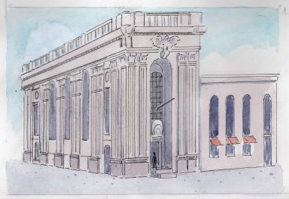 Thursday, March 20
I am introduced to some of the local movers and shakers who are fully invested in protecting and restoring the buildings in this town. When I remark to one of them, Patti Stirk, that a former bank building across the square looks like Scrooge McDuck's Money Vault she offers to show me two more buildings that prove this town used to have thoroughly outsize ideas of its place in the world.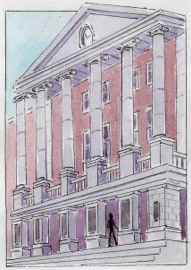 There are three courthouses. The first is the quaint, tiny, colonial courthouse, which is actually a replica of the original and is strictly a tourist attraction. The current and third courthouse is a giant, ugly, contemporary pile. But the second courthouse, right next door to the Yorktowne Hotel, is where Patti leads me. Currently, it houses administrative offices, but when trials really took place here, you know it was enough to make a perp poop his pants! In 1900, when it was built, the population was thirty-three thousand. For a town with fewer than fifty thousand residents, this place packs a big-city, we-mean-business, badass punch. And it's kind of hilarious that most of the insides are taken up with a vast corridor that makes you feel like you're in a Bruce McCall drawing.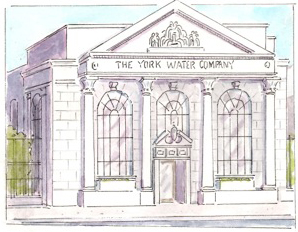 After this, Patti volunteers that her husband is the president and CEO of the York Water Company and do I want to see what that looks like? This is the upside of small towns: everybody knows everyone. (It's also the downside, I hear.) But hell yes! The York Water Company is a privately owned public utility that has, without interruption, paid dividends to its stockholders since 1814, even throughout that 1863 CONFEDERATE OCCUPATION. Wow! The marble lobby is a vast room the size of my entire house. Its ceiling and walls dazzle with elaborate, Italianate, gilded frescoes. And this is just a place you go to pay your water bill. It's all about the SCALE. THIS AIN'T NO STRIP MALL! THIS AIN'T NO DMV! THIS AIN'T NO FOOLIN' AROUND!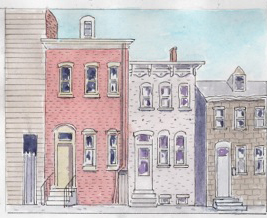 So, back in York's golden industrial era, these crazy, out-of-scale mammoth public buildings must have had an enormous effect on its population of worker bees. Think about it: most of the labor force lived in teeny-weeny row houses like these. Imagine their sense of shock and awe when they'd go to the bank or the water company or the courthouse. There are still block upon block of these early- to late-nineteenth-century houses. People still live in them like it's no big deal. I wonder if they're still impressed when they go pay their water bill?
Sunday, March 22
At the Yorktowne Hotel, they've hung some pictures of the place when it was in its heyday. I say heyday because, sadly, now is not the hotel's heyday. Now it's just us saying, Hey! We might be the only guests! Anyway, remember how I mentioned The Shining? If you think this picture features a large bottle-to-guest ratio, you aren't taking into consideration that these people are possibly stuck in this picture FOR ETERNITY. Wayne's incredible installation, called F.O.E., opens on April 4. On April 5, we will be going back to Los Angeles. But you might want to make a trip to the Yorktowne Hotel, check that picture, and make sure we're not in there.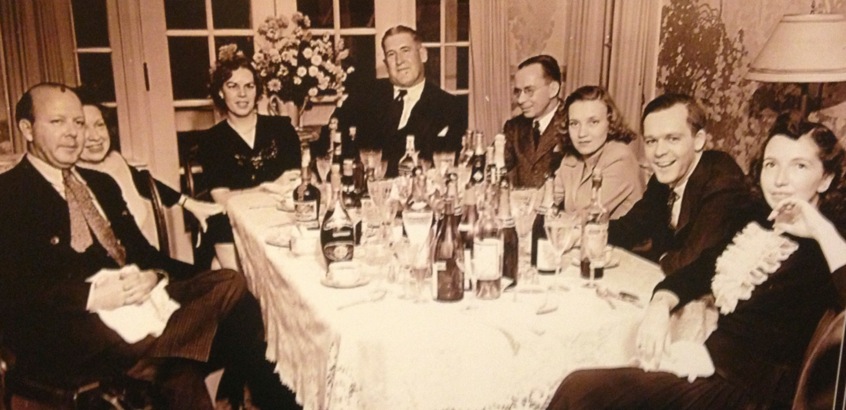 Follow Mimi on Instagram at mimipondovereasy and on Facebook at Mimi.Pond.Over.Easy.