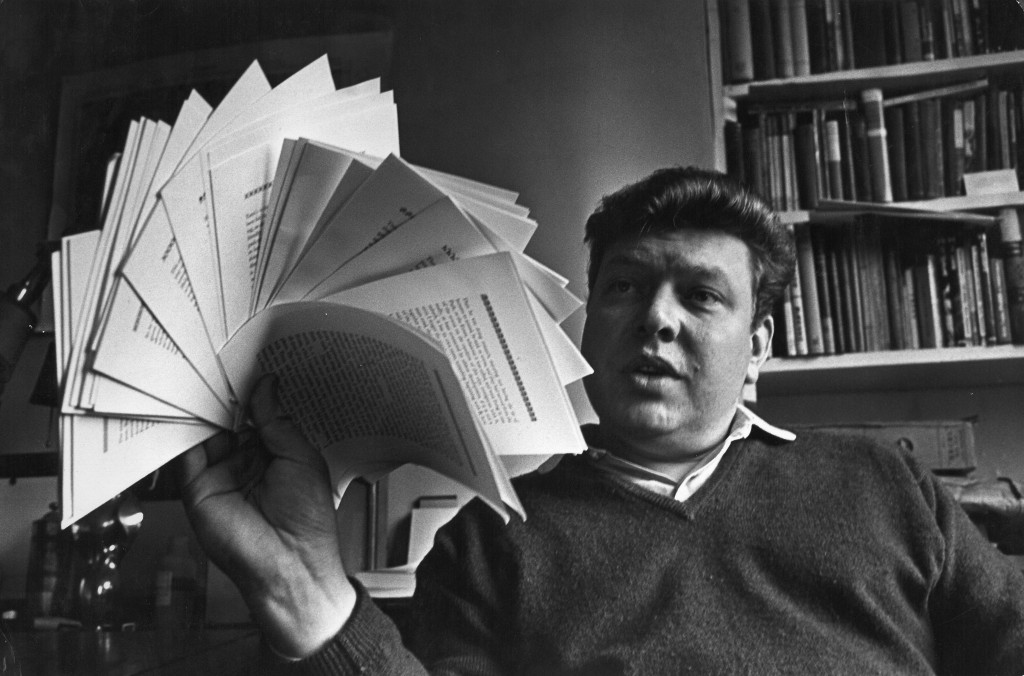 With all the hullabaloo surrounding the Burroughs centenary, we've been remiss in celebrating another writer, B. S. Johnson, who would have been eighty-one today. (The B. S. stands for Bryan Stanley; if those were your initials, you'd go by them, too.) Johnson was an English novelist—"experimental," or, if you'd prefer, formally innovative—who published seven novels, most of them in the sixties. I've read only The Unfortunates, from 1969, which was reissued a few years ago. It's a book in a box: its twenty-seven chapters were printed as pamphlets and are, with the exception of the first and the last, intended to be read in any order.
Today it's easy to shrug off such things as gimmickry, and yes, the format does make the reissue something of an art object, but make no mistake, it's worth actually opening the box and reading the book. Its plot is straightforward: a sportswriter goes to an unnamed city to report on a soccer match, and as he roams, he begins to meditate on the death of an old friend. Each of the chapters summons different memories, which unfurl in a steady, stately tour de force, in the vein of Beckett or Henry Green's Party Going. As Jonathan Coe writes in his introduction to the reissue, "Disintegration and frailty: these are the themes of The Unfortunates, and its tone is one of restless, enquiring melancholy." Oh, well, here, see for yourself—this, the opening paragraph, is something that springs to mind, morbidly, whenever I go to the dentist.
But I know this city! This green ticket-hall, the long office half-rounded at its ends, that ironic clerestory, brown glazed tiles, green below, the same, the decorative hammerbeams supporting nothing, above, of course! I know this city! How did I not realize when he said, Go and do City this week, that it was this city? Tony. His cheeks sallowed and collapsed round the insinuated bones, the gums shriveled, was it, or shrunken, his teeth now standing free of each other in the unnatural half yawn of his mouth, yes, the mouth that has been so full-fleshed, the whole face, too, now collapsed, derelict, the thick-framed glasses the only constant, the mouth held open as in a controlled scream, but no sound, the head moving only slightly, the white dried and sticky saliva, the last secretions of those harassed glands, cauterized into deficiency, his mouth closing only when he took water from a glass by his bed, that double bed, in his parents' house, bungalow, water or lemon he had to take frequently, because of what the treatment had done to his saliva glands, how it had finished them. Him.