Exactly 365 days ago, the poet Patricia Lockwood asked: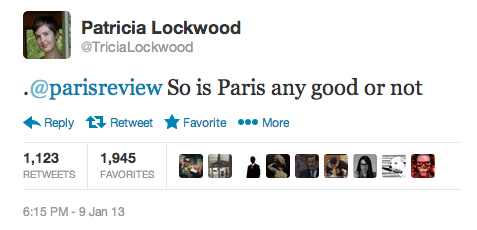 Rightfully, her query went on to enjoy more than a thousand retweets, landing on several best-of-2013 lists, and earning plaudits from all over—because it's a really good question. We were confounded. Despite our name and the dozens of interviews we've conducted in Paris, we had never really thought to assess the city's quality.
We put our top people on it. For the next 365 days, our agents combed the twenty arrondissements, an army of flaneurs with clipboards in hand, golf pencils tucked behind their ears. They took water samples, soil samples, croissant samples. Equipped with measuring tapes, Geiger counters, and elegant cravats, they scrutinized the city's every boulevard and metro station. They assessed the turbidity of the Seine; they carbon dated paintings, supped on the finest Bordeaux, and enjoyed the haute fare of Le Chateaubriand, Septime, and Benoit. They sent up weather balloons and infiltrated the fashion houses. They noted the Royale with Cheese. From Gentilly to Saint-Ouen, no stone was left unturned, no bichon frise unnuzzled. Then, having conducted such exhaustive research, they crunched the numbers, feeding the data into a series of world-class supercomputers with processing speeds in excess of thirty-three quadrillion floating-point operations per second. At last, they furnished a verdict:
It's pretty good!
Case closed.