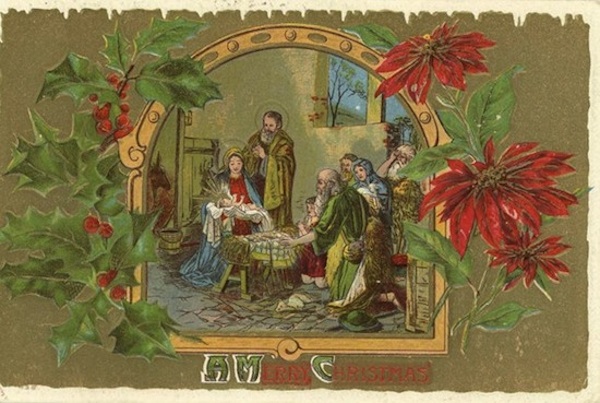 Mine is not a family given to ritual. We are too chaotic, too scatter-brained, too disorganized. Because my parents' marriage is "interfaith" (a word I have never once heard them use, and which seems to imply more faith than was in fact mingled), religious holidays were sketchy affairs and, beyond the six-foot hero that graced our Halloween open house and the Teeny-Bean jelly beans we ate at Easter, our year was not marked by a series of traditions.
The one exception was, and is, the Festival of Nine Lessons and Carols at Saint Thomas, the gray stone Episcopal bastion on Fifth Avenue. It has been many years since anyone but me has agreed to accompany my mother to the service (my brother never fails to voice scorn based on a long-ago middle school soccer game against the Saint Thomas Boys' Choir School) but maybe that is as it should be: she likes to claim that I, in fetus form, first kicked during the service. The New York iteration takes place the Sunday before Christmas, but it is of course based on the King's College Choir service which the BBC has broadcast on Christmas Eve from Cambridge since 1928.
Lessons and Carols as we know it today—which is to say, in the King's College mold, an alternating series of readings and corresponding carols—was created in 1918. If you are familiar with the program you know that, whatever else might be included (and there is generally some Benjamin Britten arrangement or something that causes my mother to whisper loudly, "I didn't care for that"), the service kicks off with "Once in Royal David's City."
One can only imagine the status associated with being the chosen soloist. Because the first verse is only the voice of one boy soprano, ethereal and pure, echoing through the church. At Saint Thomas, as in other churches, the choir starts in the back and processes forward; the rest of the choir joins in on the second verse. On the third, the whole congregation is singing, which is always a bit of a letdown, and then by the end the organist is completely out of control and the spell is well and truly broken. At least in my experience. But that first moment, and the collective hush of shared expectation, is undeniably magical. You can feel the same magic listening to the BBC broadcast.
Mrs. Cecil Alexander, who wrote the poem "Once in Royal David's City" in 1848, was a big deal in her day, the author not merely of this carol but "All Things Bright and Beautiful" and "There Is a Green Hill Far Away." Anyone in Victorian England would have heard of her Hymns for Little Children. (Lyrics like "Christian children all must be / Mild, obedient, good as He" are a none-too-subtle tipoff to the didactic intention.) It must be said that, while this is a lovely carol, the final lyric has got to be amongst the most anticlimactic in the English language:
Not in that poor lowly stable,
With the oxen standing by,
We shall see Him; but in heaven,
Set at God's right hand on high;
Where like stars His children crowned
All in white shall wait around.
After the service, my mother and I rush to La Bonne Soupe to beat the crowds and order fondue. Fellow congregants are recognizable by their programs and the occasional tie emblazoned with the seal of the Episcopal Church. For several years we ended up seated next to a table of WASPs in from Greenwich who, with the exception of one surly teenager, were all extremely jolly. Then one year he wasn't there and we were told he had gone to West Point. That was ten years ago now.
My mother always assumed that I kicked because I was so moved by the music, which strikes me as a fairly optimistic interpretation. But next Sunday, we will go and once again know that thrill of communal longing. It is a beautiful carol, but I don't listen to it other than during that service. Wikipedia informs us that Mrs. Alexander's words have been recorded by, among others, Mary Chapin Carpenter, the Chieftains, Petula Clark, and Jethro Tull. I don't imagine my mother would care for that at all.
Once in royal David's city
Stood a lowly cattle shed,
Where a mother laid her Baby
In a manger for His bed:
Mary was that mother mild,
Jesus Christ her little Child.

He came down to earth from heaven,
Who is God and Lord of all,
And His shelter was a stable,
And His cradle was a stall;
With the poor, and mean, and lowly,
Lived on earth our Savior holy.

And through all His wondrous childhood
He would honor and obey,
Love and watch the lowly maiden,
In whose gentle arms He lay:
Christian children all must be
Mild, obedient, good as He.

For he is our childhood's pattern;
Day by day, like us He grew;
He was little, weak and helpless,
Tears and smiles like us He knew;
And He feeleth for our sadness,
And He shareth in our gladness.

And our eyes at last shall see Him,
Through His own redeeming love;
For that Child so dear and gentle
Is our Lord in heaven above,
And He leads His children on
To the place where He is gone.

6. Not in that poor lowly stable,
With the oxen standing by,
We shall see Him; but in heaven,
Set at God's right hand on high;
Where like stars His children crowned
All in white shall wait around.