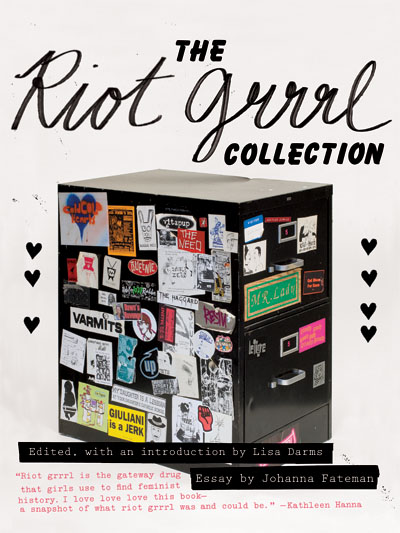 A few years ago, I started a collection at NYU's Fales Library & Special Collections to document the feminist Riot Grrrl movement in its formative and most active years, from 1989 to 1997. Originally a reaction against the failures of punk to extend its DIY model of empowerment to women, Riot Grrrl encouraged young women to form their own bands, self-publish personal stories and revolutionary agendas in zines, and carve out safe spaces in a violent, misogynist culture. Riot Grrrl was not a centralized movement, and many of the donors to the collection never called themselves "riot grrrls." I never did, even though I went to the shows, read the zines, and identified as a punk and a feminist. Looking back, I see Riot Grrrl as descriptive of a moment as much as a movement: one that many young people now seem to want to study, learn from, and revivify. This summer, the Feminist Press published The Riot Grrrl Collection, my book of almost 350 pages of selections from the collection. Below are a few of my favorites.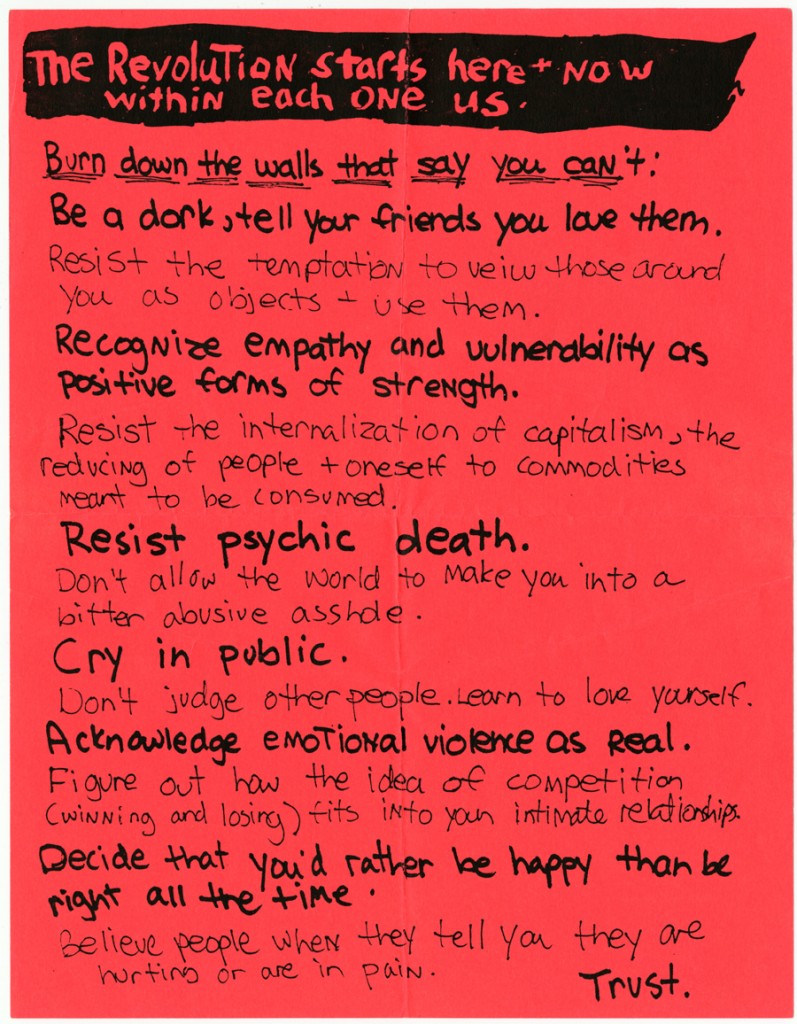 This flyer, a pre–Riot Grrrl "manifesto" that was later repurposed for the minizine Riot Grrrl, is the first image in the book. Kathleen told me she made it in 1989, when she was volunteering at Safeplace, Olympia's long-lived domestic-violence shelter and advocacy organization. Designed so that it could be folded up into a small rectangle with the word trust on top, this flyer was both a secret invitation and a public announcement, much like Riot Grrrl itself.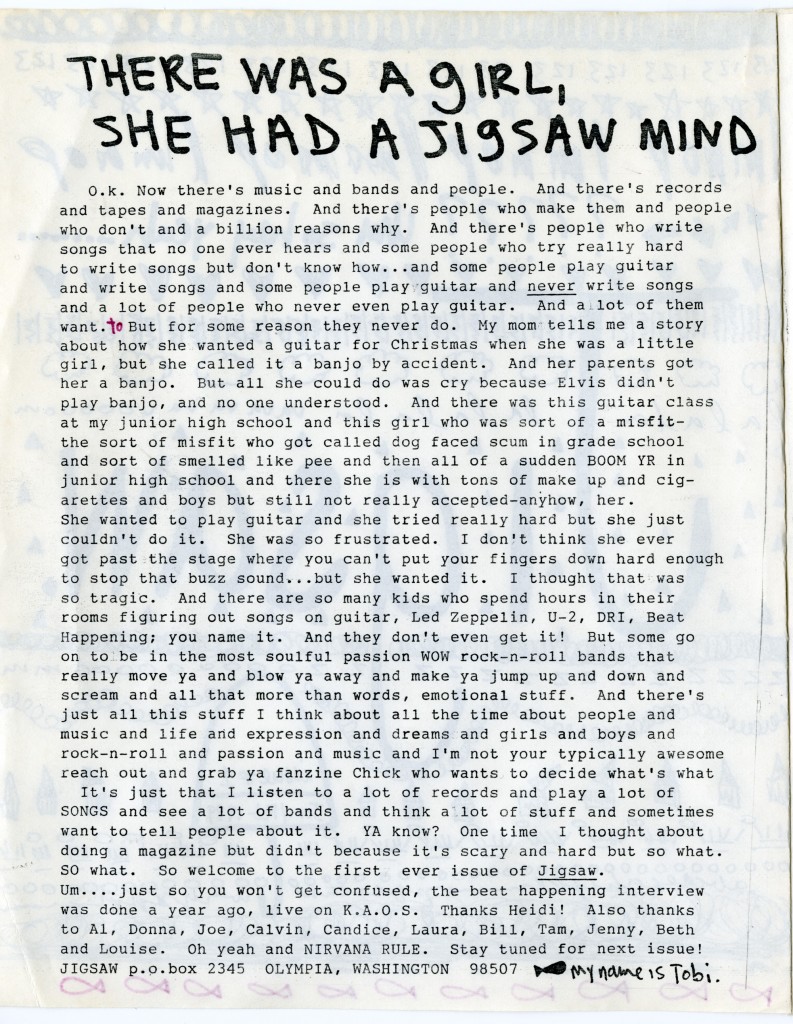 One of the great gaps in the collection is the lack of issues of Tobi Vail's phenomenal zine Jigsaw, from the prime Riot Grrrl years, 1991 to 1994. Thankfully, we do have this rare first issue. It still perplexes me that a zine that was so influential hasn't shown up in any of the collections that have been donated—perhaps people are just unwilling to part with it.
Issue one came out in 1989, the year Tobi turned twenty, well before the start of Riot Grrrl or her band Bikini Kill. As Tobi tells it, "By this time I'd been going to shows, playing in bands and doing a radio show for five or six years but was lacking a feminist community. I was afraid to articulate this because I anticipated a backlash. This anticipation manifested itself in my body. At times I found it physically impossible to speak. Like many teenage girls, I felt powerless and out of control. Making a zine helped me overcome this situation."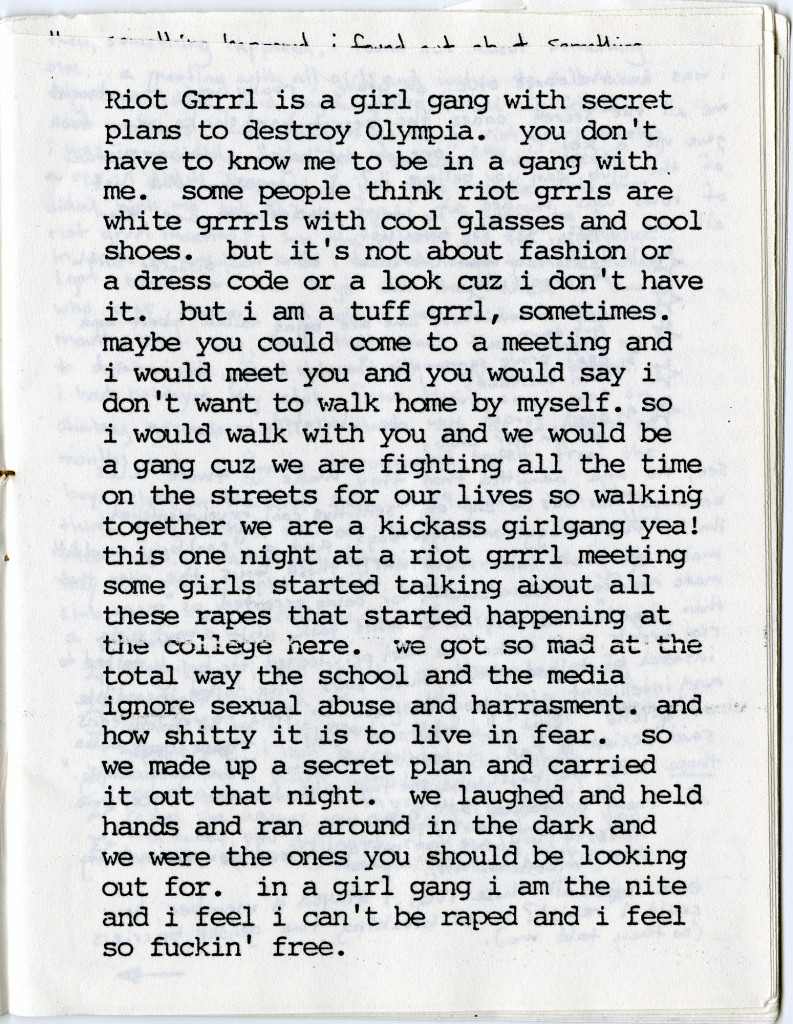 The collaborative minizine What Is Riot Grrrl, Anyway?, part of Excuse 17 musician and artist Becca Albee's collection, was made in Olympia in the fall of 1992. Becca remembers that it was a time when meetings had transitioned from intimate get-togethers in apartments to larger gatherings, with many new members, at the Evergreen State College. Becca told me that "there were no constraints, no guidelines, and the idea was that each individual could respond to the question." Some chose to be anonymous, like the author of this page, who (like many riot grrrls) identified with a fifties girl-gang trope repurposed for feminist vigilantism: "In a girl gang I am the nite and i feel i can't be raped and i feel so fuckin' free."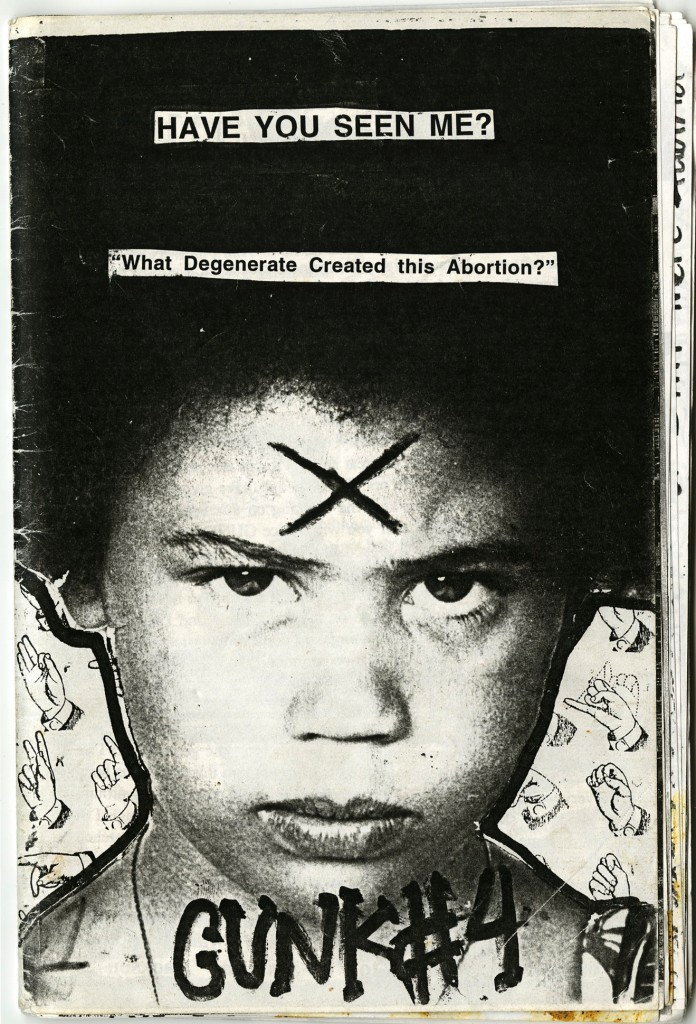 Ramdasha Bikceem started writing fanzines when she was fifteen years old and living in small-town New Jersey. At first, her zine GUNK mostly focused on her girl skater gang and band, but eventually she started writing about race, feminism, and general youth angst. Ramdasha was an early critic of Riot Grrrl's lack of diversity; in GUNK 4 she reported on the 1992 Riot Grrrl Conference in Washington, D.C., which both inspired and troubled her: "This sounds kinda snotty but I see Riot Grrrl growing very closed to a very chosen few i.e. white middle class punk girls. It's like some secret society, but then again there are some who feel that a secret society is what we need."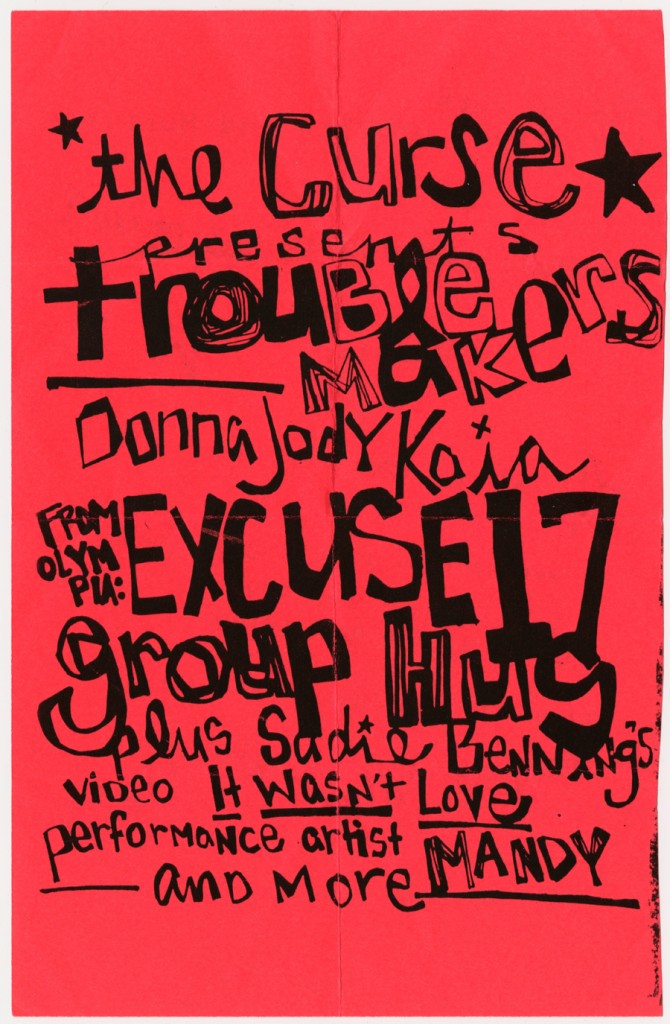 Johanna Fateman got the lease for the Portland, Oregon, punk house called the Curse in the summer of 1992. Four to nine girls lived there at any given time, including Kathleen Hanna, who resided in the attic, and Radio Sloan, who took over the living room (you had to crawl through a tunnel to get to it). The kitchen featured a kiddie whale ride stolen from a Fred Meyer store. "There was quite a bit of petty crime," Johanna remembers, "mainly outrageous pranks and strong messages of a political nature." Johanna also told me that, despite the fact that the Curse was sometimes referred to as a "separatist" house, "as an unruly group, ideologically and sexually, there were shifting and flexible ideas about regulating the presence of boys. The crucial thing to protect was the sense of feminist creative autonomy, as the house was a hotbed of artistic production—particularly experimental writing, feminist vandalism, and band development—and under no circumstances were boys to air their dreaded constructive criticism on the premises." Johanna remembers that, during the show this flyer advertises, Excuse 17's male drummer had to wait in the van when not onstage.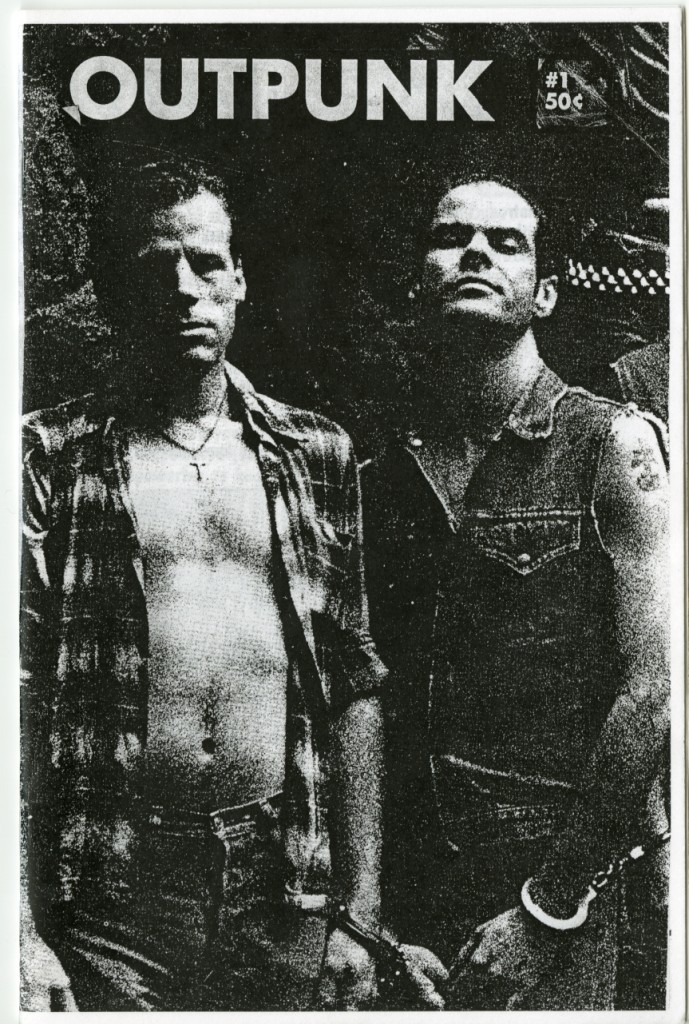 In the first issue of Outpunk, in 1992, Matt Wobensmith outlined his goals for his eponymous record label: "(a) To provide images, role models, information, support, and strength to isolated queer kids who need it. (b) To give queer kids the tools to cope with and/or change their environments. (c) To give queer kids options I never had!" Queercore zines and bands inspired early riot grrrls, and in turn Riot Grrrl inspired young queer kids like Matt, which is why he decided to place his archive at Fales.
Now the owner of the zine store Goteblüd, in San Francisco, Matt is someone I've had great conversations with about the private, intimate nature of zines. In a 1996 issue of Outpunk anthologizing texts from other zinesters, he wrote, "I think much of the beauty contained in the writing comes from someone who's unsure of the future, who's reaching out and saying something to an uncertain audience." In the process of asking for permission to reproduce zines and personal writings in The Riot Grrrl Collection, I found that not everyone was willing to have their youthful, uncertain writings made so public.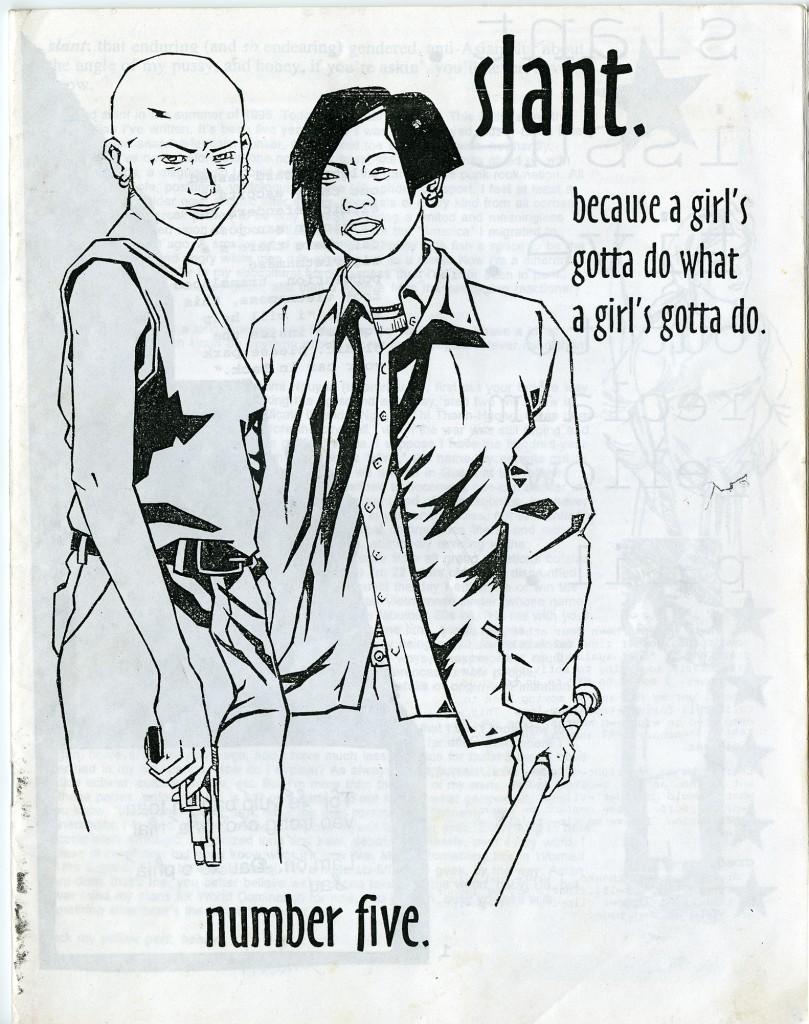 Slant started as an anarchist feminist zine that Mimi Thi Nguyen made with another woman. When they stopped collaborating, around 1993, Mimi decided to keep the name Slant, which she told me "signaled that the zine would focus on transnational and women of color feminisms, on analytics of race, gender, and sexuality." Slant was a response to a public argument Mimi had, when she was nineteen, with a Maximumrocknroll columnist who had joked about Asian women's "strange and inhuman genitals." This, in combination with a song he later wrote about wanting to rape her, inspired Mimi, in her Race Riot compilation zines, to "document and dialogue with other punks and girls of color about our presence in these scenes, and about race and racism in our lives." Of the cover of Slant 5, Mimi says, "It was clearly influenced by Los Bros Hernandez's Love and Rockets, and also my time as a Bay Area clinic defense organizer during that period in the late eighties and early nineties, when anti-abortion activists would terrorize women and clinic workers with acts of small and devastating violence. My co-organizers were mostly veterans of radical queer activism of the 1980s and nineties—Queer Nation, ACT UP, and the Lesbian Avengers—so these groups' confrontational style totally informed how we shaped our work for reproductive justice, and this illustration."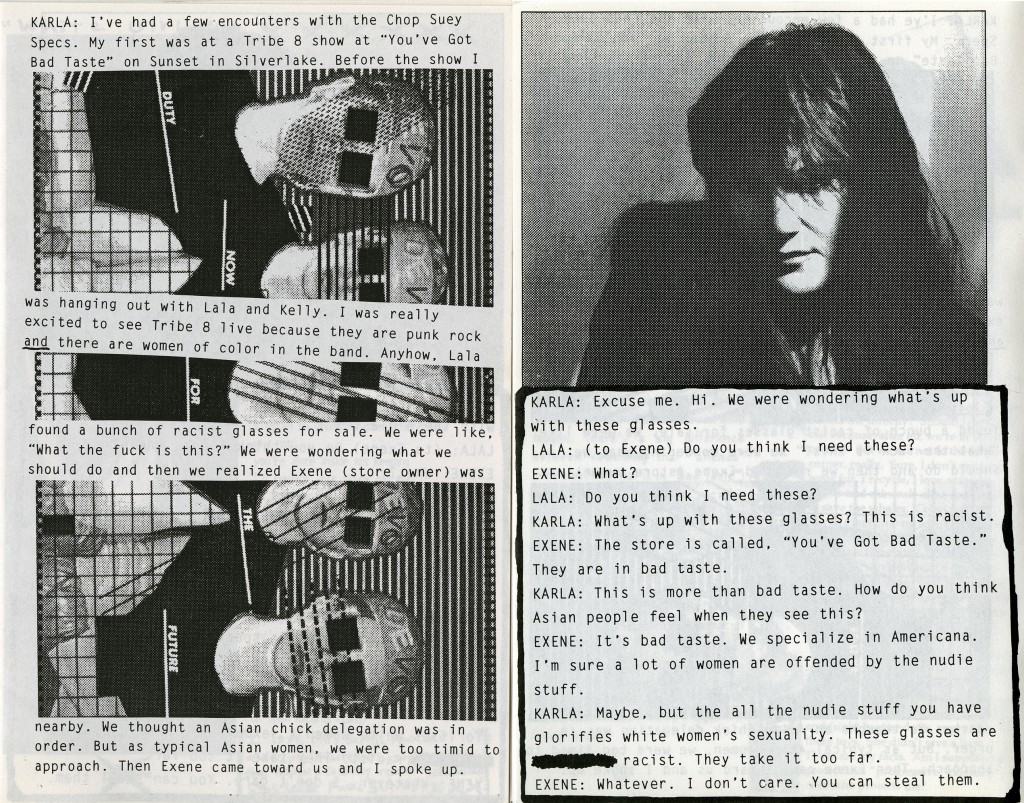 Chop Suey Spex was made in early 1997, at the very end of the period covered by The Riot Grrrl Collection. Riot Grrrl was petering out, a victim of reductive media attention, the maturing of its founders, and the failures of its early intentions to create an inclusive and diverse underground. This zine, which recounts (multiple times, from each girl's perspective) an encounter between the young Asian authors of the zine and punk icon Exene Cervenka, documents the punk underground's racisms in microcosm. The excerpt above speaks for itself.