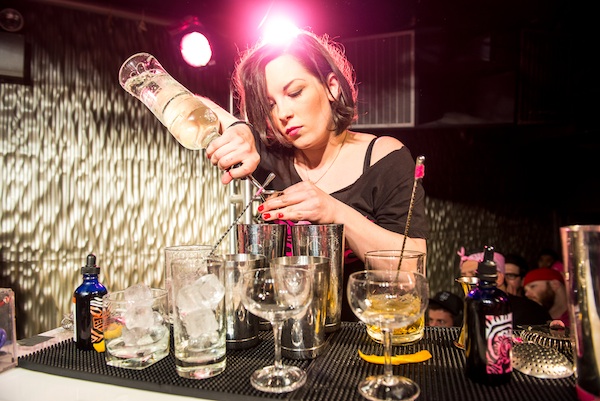 We live in a golden age of booze. I realized this a few weeks ago while doing shots of samogon at Speed Rack, a women's bartending contest that had been described earlier in the evening as the "March Madness of boobies and booze" and the "roller derby of cocktail competitions." While I swilled Russian moonshine across from a giant ice sculpture shaped like a bottle of Chartreuse, Jillian Webster, a dirty-blond Angeleno in a sleeveless Budweiser T-shirt, dueled with Eryn Reece, a dark-haired New Yorker wearing the black-and-pink-flame Speed Rack top. As they scooped and stirred to the sounds of Motörhead's "Ace of Spades," the 500-strong crowd roared its encouragement. With frenzy of pouring and a smack of the buzzer, Reece pulled ahead, winning first place, bartender's glory, and a trip for two to France.
Events like Speed Rack are proliferating, but you don't need a national bartending showdown to notice that cocktails have jumped some kind of evolutionary hurdle. Recently they were a retro trend; now they're kings of liquor land. Along with wine bars, beer bars, and whiskey bars, there are places that specialize in tequila, gin, or Italian amari, and even your neighborhood pub is likely to make a better Manhattan than it did a few years ago. Thanks to loosened regulations there is a booming craft distilling industry, which provides more ingredients to play with than ever before. Most important, there is a thriving cocktail subculture complete with elder statesmen and fresh young talent, traditionalists and an avant-garde. In the history of the world, there has never been a better time to be drinking.
Two days after winning Speed Rack, Reece was mixing drinks at Death and Co., a dimly lit bar in the East Village where she works a few nights a week. A small crowd had gathered to eat, drink and listen to shoptalk about life in the liquor business. The event, called "Tales From Behind the Bar," was one of dozens taking place that weekend as part of the Manhattan Cocktail Classic, a festival in its fourth year. It had kicked off Friday night with a black-tie gala at the New York Public Library and continued through Tuesday with tastings, tours, talks and the premier of a documentary called "Spirit Guides: The Return of Craft Bartending in New York." There was also an industry-only series of events featuring seminars on subjects like the similarities between vermouth and perfume, Nordic cocktails, and advanced ice techniques. Though the MCC isn't the only event of its kind — the most important, perhaps, is Tales of the Cocktail in New Orleans — it is New York's biggest to-do and a chance for the local scene to strut its stuff. For newcomers like me, it was a chance to discover what the hoopla is all about.
Technically speaking, a cocktail is a type of mixed drink containing spirits, sugar, water, and bitters. (The whiskey Old Fashioned is an archetypal example.) Now the word serves as a catchall term for any alcoholic mixed drink, but the cocktail was originally just one member of a family that included things like flips, nogs, daisies, cobblers, crustas, smashes, slings, sours, and the granddaddy of them all, punch. They flourished in the nineteenth century as a pastime of young men who hung out at horse races and boxing matches, with money to burn and livers to ruin. Given their alcoholic repertoire, it seems like drinking was the main sport.
The cascade of Gilded Age cocktails was enabled not just by wealthy alcoholics, but also by high-quality liquors in which they could indulge. (It's sometimes said that cocktails were invented as a way of covering up the taste of Prohibition-era moonshine, but in most cases that's not true.) Nineteenth-century drinks were usually based on rich liquors like brandy, rum, and sweet gin, mostly imported from Europe. Though ingredients may have come from abroad, the drinks themselves were pure American ingenuity. According to David Wondrich, Esquire drinking correspondent and author of the cocktail history Imbibe!, cocktails were "the first legitimate American culinary art" and "the first uniquely American cultural product to catch the world's imagination." They were also responsible for a new type of American hero: the celebrity bartender.
Enter Jerry P. Thomas, self-appointed "Jupiter Olympus of the bar" and author of the very first cocktail book, How to Mix Drinks, or the Bon Vivant's Companion, published in 1862. Thomas was born in Sackets Harbor, learned bartending in New Haven, worked as gold prospector and a minstrel show producer in San Francisco, and eventually opened a bar under Barnum's American Museum in Lower Manhattan. During his life he worked at establishments across the U.S., did a stint at New York's Metropolitan Hotel, and toured Europe, silver bar gear in tow. Wherever Thomas went he dazzled customers with his diamond-encrusted outfits and drinks like the blue blazer, which involved lighting whiskey on fire and tossing it from glass to glass. Through a combination of self-promotion and showmanship, Thomas succeeded in elevating the bartender to the status of performer, drink-maker, and entrepreneur, all in one.
Few people would remember Thomas, however, if not for Dale DeGroff. A handsome grey-haired man in his midsixties with the demeanor of a retired athlete, DeGroff is credited with starting the modern cocktail revival as we know it. On the third day of the MCC I went to hear him hold court at Macao Trading Co., an Asian-themed restaurant in Tribeca, where he was telling stories and playing jazz standards on his Gibson songbird guitar. While listeners drank era-appropriate drinks like the Absinthe Frappe (absinthe, water, and anisette over shaved ice) and the Major Bailey (gin, sugar, lemon juice, lime juice, and mint), DeGroffe recounted the history of colonial-era distilling, the nineteenth-century heyday of Jerry Thomas, and the dark years of Prohibition. Eventually he reached his own part of the story, starting with his arrival in New York, in 1969.
Like many newcomers to the city, DeGroff planned to become an actor, not a bartender. But after a few years pulling pints, fate intervened in the form of Joe Baum, a restaurateur who was in the middle of revolutionizing American cuisine. Baum had made his reputation with the Four Seasons, the first American restaurant to offer seasonal menus, and Windows on the World, which, at the time of its destruction on September 11, 2001, was the highest-grossing restaurant in the country. In 1985 Baum was in the process of opening a French restaurant in Midtown called Aurora, and he asked DeGroff, who had just moved back to New York after a stint at the Hotel Bel-Air in Los Angeles, to create a "classic cocktail program." For guidance Baum referred DeGroff to Thomas's The Bon-Vivant's Companion, not bothering to mention that the book was out of print and over 120 years old. After tracking down a copy from 1929, DeGroff succeeded at putting Thomas's recipes to work. A few years later he followed Baum to the restored Rainbow Room at the top of 30 Rock, which is where the cocktail revival got its real start.
Though DeGroff focused on recreating drinks from the classic age, as with any creative reinvention, they didn't stay classic for long. In the nineteenth century the availability of ice was enough to make a drink an occasion, and in the 1980s using fresh juice, rather than sour mix, was a revolutionary move. But ice and lemon isn't the thrill it once was, and since DeGroff's run at the Rainbow Room, bartenders have had to employ more elaborate tricks to distinguish themselves. In "Spirit Guides," a documentary by filmmaker Jesse White, we see Eben Freeman, "Director of Bar Operations and Innovation" at Altamarea Group, make a Melon Ball out of vodka-infused sheet gelatin, cantaloupe and foam. On the last night of the MCC, at an event called "Social Mixology: Unchained," drinks included a "nitro-muddled" cocktail using liquid nitrogen-pulverized basil; a duck sauce cocktail with a spring roll garnish, and a make-it-yourself station with flavors that could be added from eye-drop bottles. Even a relatively normal drink at a bar like Death and Co. might feature three kinds of rum, vermouth, grapefruit liquor, cherry eau-de-vie, maraschino liqueur and acid phosphate. Nick Charles himself couldn't whip up a recipe like that at home.
But these days, rococo drinks are the point. Kingsley Amis once wrote that "the best dry martini known to man is the one I make myself for myself," and most liquor hobbyists would agree. As Wondrich argued to me, bars now have to stay ahead of their customers, as well as their competition. Basic cocktails aren't more difficult to make than a good tuna fish sandwich, and obscure ingredients are no longer difficult to obtain. The last time I was at my favorite liquor store it had some sixty different types of gin, twenty-five of rye, and twenty-one of vermouth, not to mention all the vodka and bourbon and rum. Amor y Amargo, a "bitters tasting room" on Sixth Street, carries some sixty-eight types of bitters (at last count), along with bar gear like spoons, mixing glasses, julep cups, and molds for extra-large ice cubes. With a modest outlay you can create a cocktail den right in your own living room.
For me, that's the best part of this great liquor renaissance. Events like Speed Rack are exciting, and getting a complicated drink at a fancy bar is a nice luxury, if you don't mind shelling out the price of meal for it. But figuring out the best proportions of vermouth-to-rye in a Manhattan, or a new secret ingredient for a Bloody Mary, or what sort of drinks you might make with a bottle of ginger liqueur—that's the real fun. There isn't a lot of social value involved (though plenty of cocktail enthusiasts claim otherwise) and the whole thing might be, as Samuel Johnson wrote of whiskey, just "the art of making poison pleasant." But mixing drinks provides something other forms of liquor connoisseurship don't—the opportunity to turn a drink into a creative act. In a golden age of liquor, why drink something boring?
Ezra Glinter is the deputy arts editor of the Jewish Daily Forward. Follow him on Twitter at @EzraG.