Taksim Square and Gezi Park had been triumphantly peaceful since the weekend. But there'd been heavy action overnight in the nearby Beşiktaş and Dolmabahçe neighborhoods. Monday morning I left our apartment on the slope just below Taksim and walked down to Kabataş to get a glimpse of the damage. Kabataş lies right beneath on the Bosphorus; Dolmabahçe and then Beşiktaş are directly north from there along the shore. To our south rise the headland of old Constantinople, the minarets of Aya Sofya, and Blue Mosque.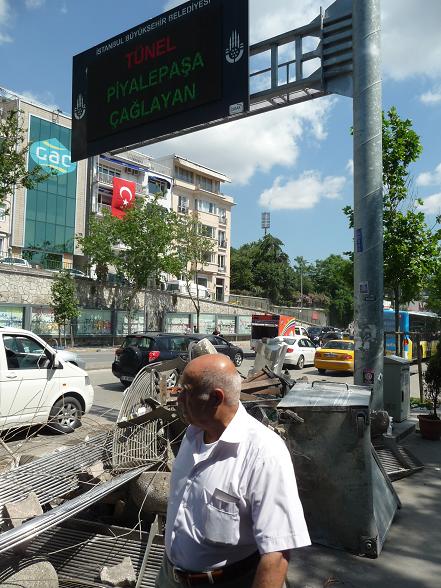 At Kabataş I started up the shore road. It's always jammed. But northward now, an almost inert standstill. There was debris from some of last night's blockades, brilliant in the sunshine.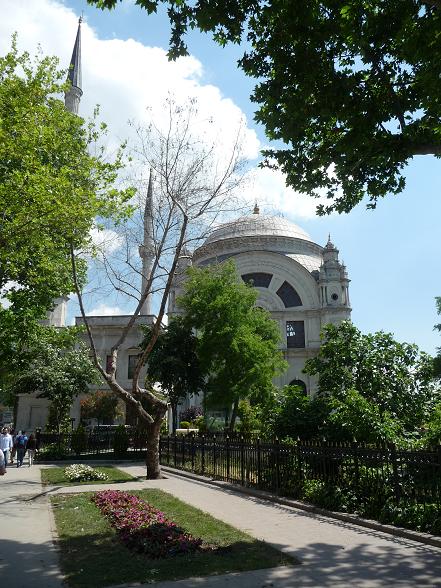 A couple hundred yards further, the iconic Dolmabahçe Mosque on the Bosphorus side. It was built in 1853 by the Armenian Balyan family dynasty of nineteenth-century architects.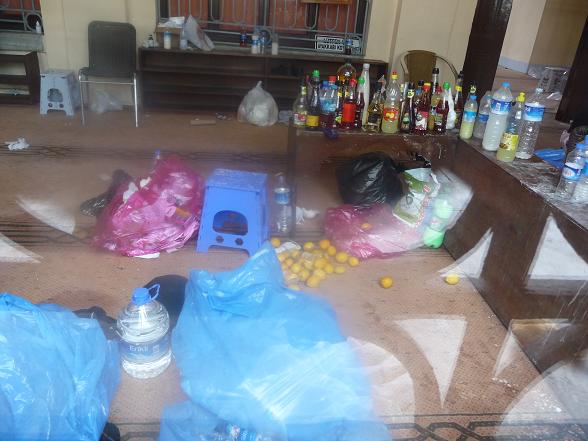 Through the window of the mosque, shut by police. Gas victims were treated here last night. Lemon is a common antidote. Directly across the road stands the stadium for Beşiktaş J. K., one of the great football clubs of Istanbul, and a common site of disturbance. So too last night. In May, police gassed the club supporters before the final match of the season. The stadium is being torn down and rebuilt.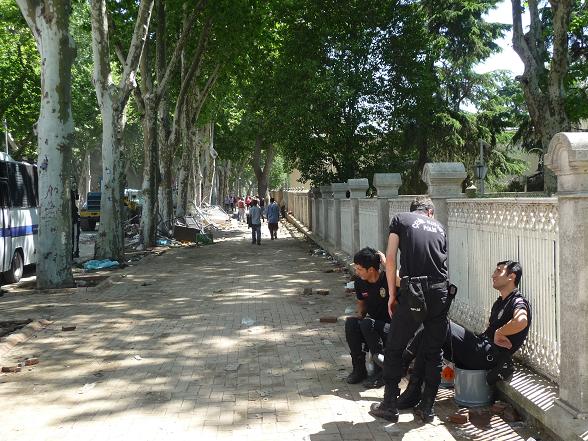 Riot cops were taking it easy by Dolmabahçe Palace next door, built also by a Balyan in the 1850s. Here the sultan moved from centuries at Topkapı Palace near Aya Sofya; here Atatürk died, in 1938.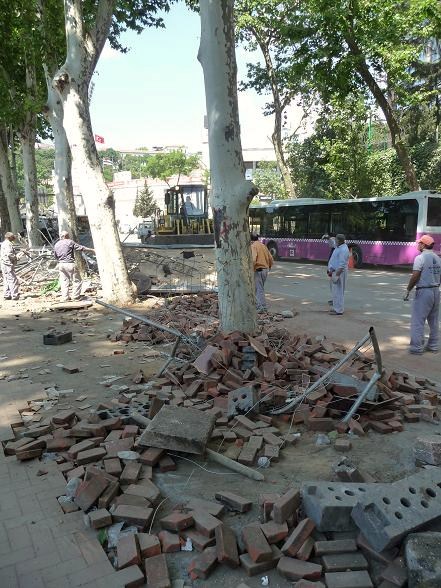 Looking back toward the white prominence of Beşiktaş's stadium. Sidewalk bricks all along here had been torn up—for throwing? Street blockading?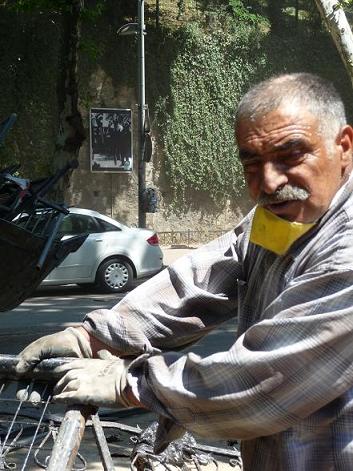 The road's landward wall is lined with giant photographs of Atatürk—like a procession of silent-movie stills. Most Turks have always loved and revered Atatürk, founder of modern Turkey. In recent years his image has exploded in popularity even more, as an icon of opposition to the Islamist party of Tayyip Erdoğan.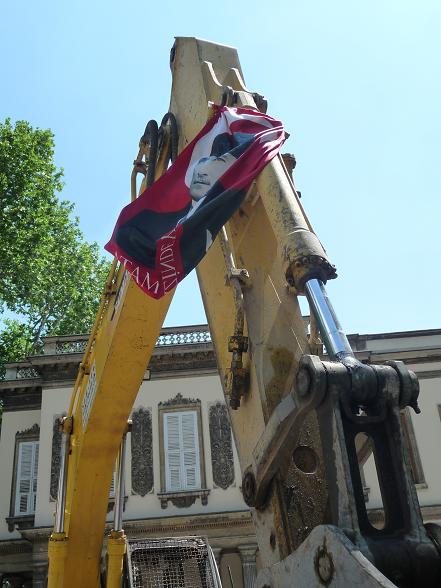 Atatürk watching from an earthmover by Dolmabahçe Palace.
Akaretler is a tony new development in Beşiktaş and it saw some of last night's heaviest action. On local TV coverage (of which there's been scandalously little) it was like watching a scene from the French Commune. Akaretler was originally a development of row houses for employees at Dolmabahçe Palace (designed, natch, by a Balyan). Now W Hotel, among others, is here. I snapped this picture near the W: a load of plain clothes cops stepping of a bus.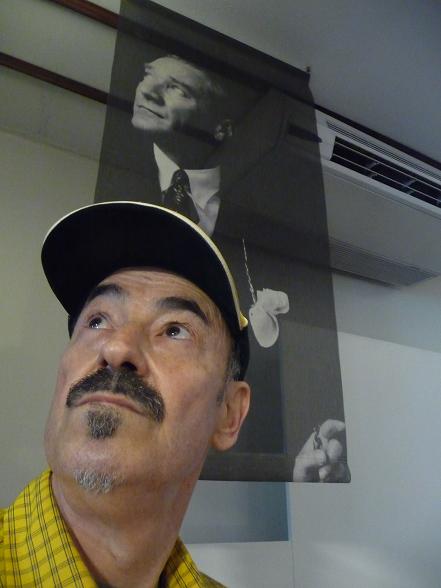 There's an Atatürk Museum in Akaretler, with a second-story window busted from last night. I had the place to myself. I took advantage.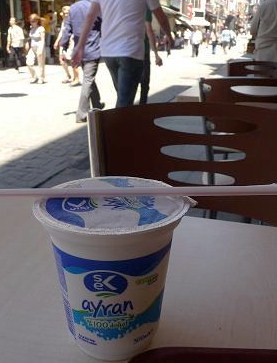 Had a quick cheap lahmacun for lunch in Beşiktaş, which is a market area of bustling alleys. (Its soccer ultras are called carsi, meaning market). Couldn't resist having ayran, the drink promoted by Erdoğan as alternative national beverage to rakı. I toasted with the great Occupy Gezi chant, Tayyip Istifa! Tayyip Resign!
Across the shore road from lunch, there's a brand new Shangri-La Hotel, whose sign had a hard night. The hotel is neighbor to Tayyip's office, which he's established ambitiously in a wing of Dolmabahçe Palace. Hitherto only used by sultans and Atatürk.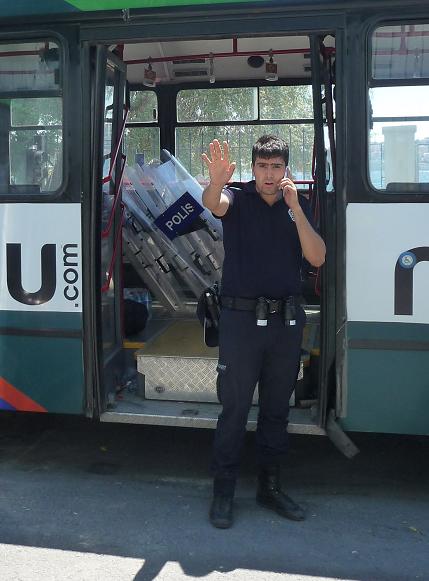 Thirty police buses now stand shield by Tayyip's Palace facilities. The following fairly jackass stunt by American writer with over-eager camera:
Writer, snapping away: (clumsy Turkish pidgin) Gazeteci America! (American journalist)

Riot Policeman, angrily signaling no: (clumsy English pidgin) TURKISH POLIS!!
End of photo op.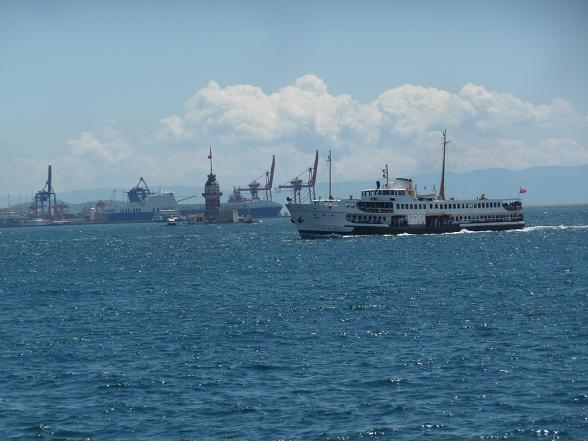 I wanted to head to Taksim now but the traffic was awful on the road going back. So I hopped a Bosphorus ferry to the Asian side, then a ferry back to the Kabataş pier, and then the underground funicular up the hill to Taksim. It was a brilliantly lovely day on the water.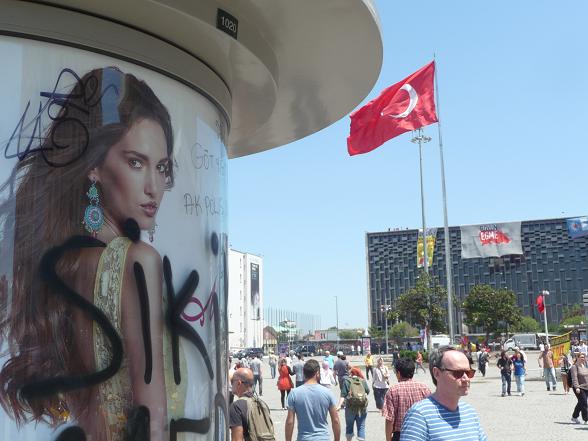 Taksim is surreally holiday-like. A holiday streaked with the scorch marks of fury. Globalization is a target of anger too. The building here is the Atatürk Cultural Center, site of the local opera.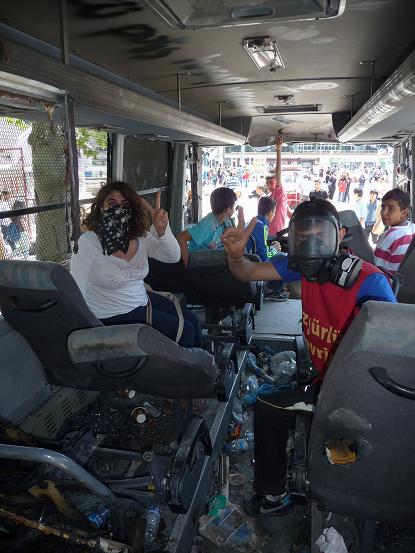 Young joyrides in a burned-out police bus in the square. They wanted to know where I was from as I climbed in among them.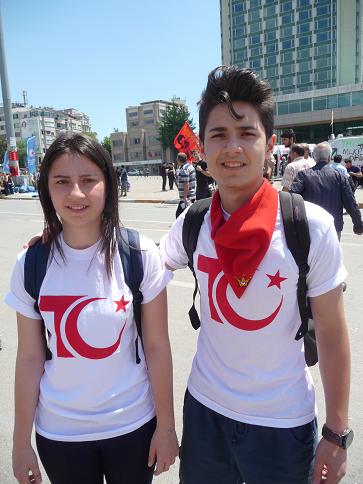 I snapped this in Taksim for my girlfriend, who was a child under Brezhnev. I presume they are young communists. Lots of lefty banners and flags on display all around, though by no means exclusively.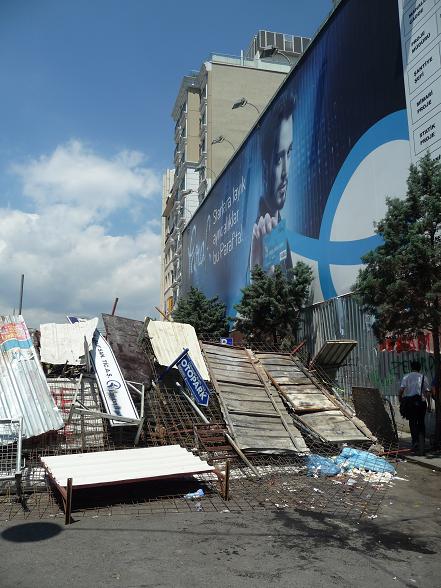 Sıraselviler is the main street parallel to İstiklal, the pedestrianized shopping thoroughfare. Completely blockaded.
Atatürk-pride from a seller of simit (the sesame-seeded bread ring) along Sıraselviler. I wanted desperately to show him by self-portrait with Atatürk—but couldn't find it in my bulging archive of the day's snaps. Nearby I bought artisanal goat yogurt from a butcher; it comes in a clay pot like a cazuela. It is fantastically tasty. So lumbering along home to our place in Findikli, halfway between Taksim and Kabataş.
I rested at home, then decided at twilight to go back down to Kabataş's stretch of Bosphorus-side park grass, to take a break from all the action and Twitter fever of the last week. I'd been tear- or pepper-gassed three times since arriving late April.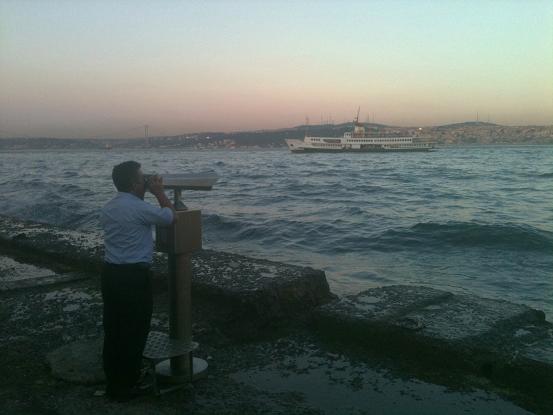 It was lovely by the water, with its milky sheen at that hour. My attention was then caught by what appeared to be the sight of people running south down the road … shouting, panicked, as if in a disaster film. "Ne var?" I cried to a woman rushing by, in a phrase I figured meant, "What's happening?"
"BIBER GAZ!!" PEPPER GAS!!
I took incredible action footage of the crowds haring from the advancing clouds. And had my finger over the iPhone lens! The unhindered footage above shows right after the hordes passed. Having thought I was taking a twilit break from the wildness, I found myself in a gas situation without anything to protect myself. I'd left my lemon at home. I scurried into the little roadside mosque for refuge.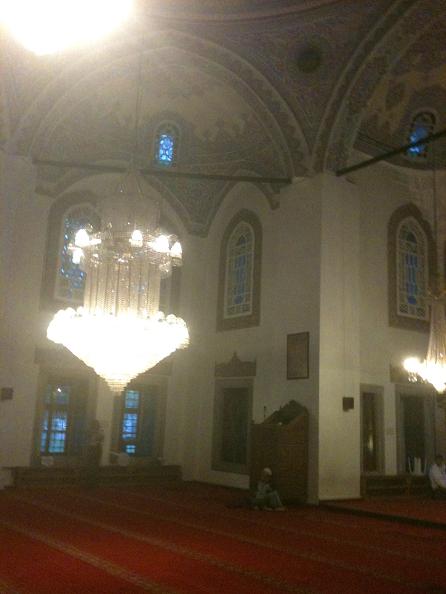 This is the Molla Çelebi Mosque, designed by the greatest mosque architect of them all, the Michelangelo of Ottoman mosque builders, Sinan. In 1563, when he was seventy-one years old. Taken with my treacherous iPhone.
Note how the inconvenienced drivers, who've been forced onto the tram tracks, nevertheless honk in support. And then a grace note: a group of youths (!) came along shortly and shoved the obstructions clear enough for one lane of traffic to pass. On this note, I headed back up to my place from my sunset stroll and was greeted by a louder grace note of the noisy camaraderie that's swept this city.
My building is the one of the right in the video above. At the top of my street, past the big yellow and red banner of Galatasaray  football club, this year's league champions, stands the second boyhood apartment home of Orhan Pamuk.
Finally, I plodded a hundred yards up toward Taksim, for more lahmacuns for dinner take-out. It was getting on after ten. Coming wearily out with my order, my eyes started to itch. I cursed, blinking and coughing, and hurried into a little shop for beer. (Which I shortly won't be able to buy at that hour, thanks to Erdoğan). The owner was blinking and coughing, too, as he lugged a crate of lemons to the front.
Me: "Biber gaz?"
He: "Biber gaz."
It was drifting down from another road into Taksim.
And so my girlfriend and I ate with the windows shut and the AC on, and a police helicopter circling overhead. A general strike by public employees was announced for Wednesday.