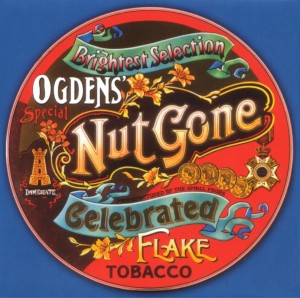 You may never have heard of the Small Faces—and that's perfectly acceptable. There's a terrible, thirty-minute documentary about the band that you can watch on YouTube, but I don't recommend it. However, any music fan will tell you that they were one of the greatest and most underrated bands in the history of rock and roll. At their loudest, the Small Faces could rumble and crash even better than the Who. At their slyest, they could preen and knowingly wink with the best of the Rolling Stones. And underneath it all was an intelligence and creative streak that was downright Beatles-esque.
Plus, they had Steve Marriott's lead vocals, which in the late sixties (before they were later wasted in Humble Pie) were perhaps the best and most evocative instrument in rock and roll this side of Jimi Hendrix's guitar. Needless to say, this all added up to quite a formidable group, one that was capable of making unique and memorable music, which is exactly what the Small Faces did in the spring of 1968 when they released their psychedelic masterpiece, Ogden's Nut Gone Flake.
May in New York is basically the land of milk and honey for the metropolitan set. The mornings and evenings are pleasantly cool, and the midday sun creates only the slightest bit of perspiration against the knee and shin. In places like Madison Square Park, overhanging branches, starting to droop under the weight of their growing flowers, hang in the slowly bronzing sunlight of the late afternoon. Streaks of white, light pink, and distant purple contrast against the firm green of the lawns and leaves, while patterns of shadow emerge on the stone walkways as the day turns into evening.
Ogden's Nut Gone Flake manages to capture this exact feeling of high spring within the bars of its music. Though the album was released basically a year after the summer of love, its brand of psychedelia feels the warmest and most varied (without leaning too far on exoticism) out of any of the landmark psychedelic albums from 1967–69. The titular track, which opens the album, is built around a swirling organ sound and the throbbing, popping bass of Ronnie Lane (perhaps the greatest unheralded rock musician of all time). It creates a soothing, almost narcotic effect that brings a listener in and sets the tone for the entire album, even as Marriott unleashes a fury of distorted psychedelic guitar at the two-minute mark.
One of the traits that set the Small Faces away from most of their contemporaries (aside from the Kinks) was their embrace of the more provincial elements of British life. That's why on the first side of the album you get the cockney one-two punch of "Rene" and "Lazy Sunday." The first is built on a slinky, Stones-y shuffle with Marriott cooing like Mick Jagger at his most seductive; however, the track soon breaks out into a seaside pub sing-along about a woman who works the docks and who'll "have your oars out" in no time. Meanwhile, "Lazy Sunday" is the lament of the average twentysomething Londoner who sings:
Wouldn't it be nice to get on with me neighbors
But they make it very clear
They've got no room for ravers
They stop me from groovin', they bang on me wall
They doing me crust in, it's no good at all
What young person living in a city on their own hasn't had the same issues? Who hasn't used their own slang to communicate this kind of youthful frustration? Yet the whole song is sung with bright British cheer and is filled with strumming guitars and "a-ree-de-dee-de-doo-dee"s that would make even Paul McCartney jealous.
However, the centerpiece of the album's first side is the track "Afterglow." Without hyperbole, this is quite simply one of the best rock songs of all time. Starting with Marriott doing his best Bing Crosby croon, the song erupts into a full-blown crunch of psychedelic soul that deserves to soundtrack at least one entire sunny day in every person's life. Kenney Jones was a fantastic drummer, but here he fills every bit of space with inspired playing; rolls and symbol crashes appear out of nowhere and then disappear into the warmth and aura of Ian McLagan's incessant building keyboards.
But it's Marriott who is the true MVP of "Afterglow." His golden voice roars in the choruses with a natural passion and infectiousness that Roger Daltry only grasped at in the Who. But in the verses he reins this soulful howl back into a pleading earnestness, which borders on a yelp, before unleashing its full power once more on yet another soaring chorus.
Some sample lyrics to fire your imagination:
Love, love is all around me
Everywhere
Love has come to touch my soul<
With someone who really cares
No one can deny us
People who once passed me by
Will turn their heads 'round

I'm happy just to be with you
And loving you the way I do, yeah
It's everything I need to know
Just resting in the afterglow of your love
If that doesn't make you want to leave work early and go sit with your boyfriend or girlfriend in the park, I'm not sure what else can be done for you.
These tracks (along with the two songs I have glossed over: the heavy, clever "Song of a Baker" and the pleasant "Long Agos and Worlds Apart") alone would be a satisfying twenty minutes of music, but the second side of the album is where much of Ogden's Nut Gone Flake's true charm lies.
The album's second side is made up of a psychedelic fairy tale complete with both songs and a narration delivered in cockney slang. The story is about a young boy named Happiness Stan, who, one evening, while looking up at the sky, notices that half of the moon is missing. So, Stan embarks on a journey to find out where the missing half of the moon went. Along the way, he feeds a starving fly that then grows to an enormous size and takes Stan (riding on the fly's back) to see a man named Mad John. Mad John is a mystical hermit who will undoubtedly know the location of the missing part of the moon. By the time Stan arrives at Mad John's cave, Mad John (who is revealed to be a merry cockney man) shows Stan that the moon is full again. Mad John then explains the phases of the moon to Stan and sings him a song about the meaning of life—which is that life is "nothing but a bowl of all-bran, you wake up every morning and it's there."
This is certainly a tale fit for the most avid LSD-ingester and psychedeliaphile. However, the fairytale helps to continue the album's warm, inclusive aesthetic. The story (narrated by legendary British comic Stanley Unwin) successfully conveys a sense of childlike wonder that pervaded much of the late-sixties cultural milieu. Its actions and lessons are simple: Stan learns how the moon works and then learns to appreciate the mundane joys of life itself. And, just like the album's first side, the songs are all great. "Rollin' Over" is brassy rock that presaged much of the Stones' work from Let it Bleed through Exile on Main Street; both the druggy "The Journey" and the mystical, folky "Mad John" touch on the best aspects of Syd Barrett's Pink Floyd; and "HappyDaysToyTown" is a song that would make Ray Davies smile to this day.
Ogden's Nut Gone Flake may not be as profound as some of the other psychedelic masterpieces of its era. It never reaches the transcendent heights of "A Day in the Life" or the underlying darkness of "It's Getting Better," nor does it contain the dazzling (albeit failed) manic genius of Brian Wilson's Smile as a project, or the haunting epiphany of "Surf's Up" as a song. However, the constancy of its warmth; its ability to incorporate jokes and regional accents; its willingness to embrace the simple and childish, all while delivering music with an acid haze, as well as the edge of rock and the tenderness of soul; make it an enduring work of its time that every music appreciator should listen to.
As a music appreciator, I've been listening to the album fairly nonstop over the past month. It's been more than five years since I last listened to it, and it still sounds as fresh to my ears at it ever did. As I listen to it now, it takes me back to a very specific spring in my life—the spring of my senior year of high school, which is when I first discovered the Small Faces. And I know it's just music and that we are in the middle of a very beautiful, high spring in New York City, but everything seems fresh and sharp and welcoming to me—all the highs of my youth streaming back for moments at a time. All my ambition and ruthless dreaming put on hold to enjoy the soothing afternoon air.
That may just be the spring, but I believe that part of it is Ogden's Nut Gone Flake. Either way, as of late I've been unable to concentrate and have been looking out the window of my office a lot more frequently.
Matt Domino loves the NBA and writes fiction in Brooklyn. His writing has appeared in various places, and he runs a blog called Puddles of Myself.