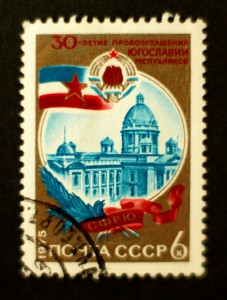 In March 1975, a couple of weeks after my twenty-fifth birthday, I accompanied my girlfriend Tina on a trip to Russia. At the time Tina was a graduate student at the University of Essex pursuing a thesis on "Dostoyevsky and the Russian Orthodox Church," under the benign supervision of the eminent scholar and translator Angela Livingstone. Londoners both, we had been living together for almost four years in the village of Wivenhoe near its estuary, close to the college campus, far from the big city and the disapproving glare of our respective widowed mothers.
My mother, a conscientious objector to interfaith relationships, had long ago banned Tina from visits to her home. "It's bad enough you have to go out with someone who isn't Jewish," she said, "but why did you have to pick a girl with Christ in her name?"
"Her name's Tina," I had replied.
"And what do you think that's short for, idiot?"
For her own part, Tina's mother, dressed always in Greek Orthodox widow's black, was opposed to our living together on moral grounds, which had, I could see, a superior logic.
Our workman's cottage in Wivenhoe featured no bathroom, a decidedly unpoetic outside toilet, and walls so thin that the neighbors' voices came through no softer than our own. The wife could be harsh. "Pick, pick pick," we heard her yell at her husband as we sat down to eat. "You stick your finger so far up your nose that you're gonna pick your bloody guts out one of these days." Our kitchen table doubled as a work desk, and was covered with books by obscure (to me) Russian saints and philosophers, Tikhon of Zadonsk and Vladimir Solovyov among them.
Angela Livingstone was already in Russia working on a translation project, and she invited Tina to come and visit her. I tagged along for the ride. We booked onto a group tour through Intourist, the Russian travel agency: it was not easy in those days to move without an official guide in the Soviet Union. We planned a few days in Leningrad, to be followed by a train journey to Moscow, where Angela would meet us at our hotel and, we hoped, spirit us away from our minders.
I had imagined, somehow, that the flight from London would take seventeen hours; all the enigma wrapped in pastry that surrounded the Soviet Union had permeated my consciousness as distance. Australia, whose sports teams, singers, and politics were daily features in British newspapers, seemed closer. Yet a quick churn though cloudy winter skies and we were in Leningrad, looking out from our hotel room toward the icy Neva and its moored memory of the revolution, the battleship Aurora.
I had been looking forward to having sex behind the Iron Curtain (or anywhere really) but soon after our arrival Tina developed a stomachache and sent me down to the bar to see if I could procure the Soviet equivalent of Coca-Cola. She thought that a carbonated drink would settle her queasiness. We had been warned not to drink the local water—the murky swamp on which Leningrad rested, and back into which it was slowly sinking, had somehow poisoned the wells—but Tina's ailment seemed premature. She hadn't even brushed her teeth yet.
I had been anticipating a throwback atmosphere for the hotel, although just how far back I wasn't sure. Certainly the women at the bar (hookers most likely), peroxide blondes with beehive hairdos and exemplary miniskirts, were predictably retro, but to my surprise the men, in expensive suits, shirts, ties, and shoes, with well-groomed hair and bright, scrubbed faces, looked as if they had stepped out of a high-end, prime-time, American soap opera. The reason for this, it turned out, is that they were American. Before I even had time to buy the soda, I was bear hugged by a friendly giant, a tipsy Jack Nicklaus look-alike who offered to buy me a drink, then let me know that he was part of a delegation of small-town U.S. mayors who, puckishly, had decided to hold their annual convention in the Communist stronghold. "Comrade," he said, "any time you want to visit Manhattan Beach we'll be glad to have you."
"I'd love to come to New York," I said. The beach was in California.
While the mayors were knocking back the vodka and preparing to fuck the hookers and have their pictures secretly taken by the KGB, I returned to our room with a bottle of "nature identical" soda water.
For three days we wandered after our guide through grey air and snowflakes in the direction of gold domes, churches of spilt blood, palaces, and the landmark homes of great and approved Russian writers. On the day that we were to depart for Moscow, the morning hours were designated as "free time." You could not buy a map of Leningrad, nor a guide to its transport system, but Tina persuaded Sveta, our cheerful Intourist guide, to help her make a pilgrimage to Dostoyevsky's tomb, in the Tihkvin cemetery. We went alone. The grave, when we arrived, turned out to be a not-too-impressive bust of the writer fronting a plinth headed by a large cross. Dostoyevsky was fenced off by wrought iron, there were no flowers—this was not Jim Morrison at Père Lachaise—and the bare branches of the surrounding trees advanced our sense of gloomy isolation. Then a boy appeared in a long coat and floppy-eared fur hat. He addressed us in English. He said his name was Dmitry and that he liked Pink Floyd. He asked if when we got back to England we would send him some LPs. We said we would. He gave us his address and then he left.
We were late getting back to the hotel and Sveta was angry with us. As punishment she withheld the sandwiches that had been distributed to our fellow travellers to sustain them during the seven-hour train ride to Moscow. Once we were in our carriage (we hadn't been that late), a kind-hearted American couple tried to slip us some of their bread and cheese, but Sveta spotted the transaction in progress and intervened. This was our gulag experience.
Angela, in a fur coat, her long, white hair untrammelled, was on the platform to meet us. Sveta did not want to give her prisoners up, but fortunately her jurisdiction ended in Moscow and before the new guide could come to replace her we were down in the Metro, that marvelous chandeliered Soviet tribute to the worker's state, the Winter Palace for commuters.
"We'll go to your hotel later," Angela said. "We have an invitation for dinner."
We travelled on the Zamoskvoretskaya line to Dinamo station, whose white and gray marble-tiled walls were interspersed with sport-themed bas-reliefs: a javelin thrower, a hurdler, a boxer. I was thrilled to be there. I knew that when we emerged onto Leningradsky Avenue we would see the great football stadium, home to Dynamo Moscow, where the world's greatest goalkeeper, Lev Yashin, had once stood between the sticks to parry and punch with his massive hands. Neither Tina nor Angela had any interest in football; their concentration was elsewhere—on Nabokov's haughtiness, or Bunin's dark avenues, or the poet whose lover in waiting wanted her to describe how she kissed and how men kissed her.
Our host for the evening was Zhenia Levitin, who was, Angela told us, an old friend of hers who worked for the Pushkin Museum of Fine Art; a specialist on Rembrandt, he had published a number of articles in journals and introductions to books. Zhenia's apartment was several floors up via a rickety old Muscovite elevator. He greeted us at the door, a small man with a solemn look, large, slightly bulging, intense eyes behind black-framed glasses. In his tiny kitchen he served us chicken and bread, then opened a bottle of wine. He went about his business of hospitality in a manner that was almost stern. I did not participate, of course, in the Russian conversation, but afterwards I learned that Zhenia had described how he had recently been refused an exit visa to visit Yugoslavia on the grounds that (a) he was a Jew, (b) he was not married, and (c) he was not a member of the Communist party; though whether these were the reasons officially given (to the extent that anything in those days was distinctly 'official' in the Soviet Union), or he just guessed that they were the operative reasons, Angela did not know. It was, I learned, a miserable fact of life for Zhenia that he could not go abroad. I don't know what Angela had told him about me but at one point when the conversation ebbed he stared hard at me and then asked, in English, if I had ever visited Israel.
"Yes," I replied, "I have."
These were the years when the Jewish refusenik movement was at its peak and the Soviet authorities practiced a cruel bait and switch. Some Jews, a trickle, were allowed to leave, but more often application for a visa resulted in persecution, a lost job, or a beating; active dissent frequently brought imprisonment. I knew that Jews from the West visiting Russia frequently held clandestine meetings with courageous protestors and passed on smuggled prayer books and other banned material. I was not of their number, and a felt a pang of guilt, a coward's remorse that my suitcase was clean for inspection. If Zhenia wanted to pursue our conversation he quickly thought better of it, nervous perhaps about the infamous listening devices in Soviet apartments. He never smiled throughout the evening, but he sang. At the end of our meal he began, slowly and firmly, a song that seemed to have many verses and which he sang to the end very solemnly.
In Moscow we saw Lenin in his mausoleum and visited the department store GUM, where one of the American women on our tour described the bra counter with its unadorned, uniform display of white cups as "like the Himalayas." On our last evening, when the cold felt like fifteen-pound lead weights on our heads and we regretted not having splurged on fur hats at one of the tourist Berioszka shops, Angela brought Tina and me to dinner with Yevgeny Borisovich Pasternak, son of the great novelist Boris Pasternak. I have to admit that at this point in my life I had not read Doctor Zhivago, and knew it only as a movie in which, horribly, Omar Sharif had found and then lost the love of his life, Julie Christie, and everything had ended in tears and a hydroelectric station. Angela was in the midst of translating Boris Pasternak's Safe Conduct into English and there were, it seemed, numerous obstacles in the path of publication. Yevgeny Pasternak, strikingly handsome, bore an uncanny resemblance to pictures that I had seen of his father. He was an engineer by trade, a branch line away from the occupations of his father and grandfather Leonid, whose portraits covered the walls of the apartment. Several guests arrived; a samovar appeared on the table. The atmosphere was convivial, with smoking and laughter, but the conversation was exclusively in Russian and I was a silent observer. Eventually one of the guests turned to me and asked in English who I preferred, Tolstoy or Dostoyevsky, and when I replied "Dostoyevsky" he said "Are you Jewish?" as if my answer had somehow predetermined that possibility. He went on to inform me that many Russian Orthodox priests in the city were in fact converted Jews, severely restricted in the practice of their first religion and searching for a spiritual outlet.
"The priests are rabbis," he said. Later in the evening the same guest whispered to me, "This country is shit."
*
Seventeen years later I was in Israel on a visit. My first book of short stories, Schoom, had recently come out in the U.K., and, as most of the tales were set in Jerusalem, I had been invited to give a reading in the city. My friend Gabriel Levin, a poet and translator, asked me if I wanted to go with him to meet a recent Russian immigrant whom he had been introduced to by a local artist, a Russian painter. The man had arrived in Israel a few months earlier, Gaby told me, and was living with his wife, a former student, in a depressing apartment in Gilo on the outskirts of the city, near Bethlehem. The man had been crippled by a stroke back in Moscow, and was confined to a wheelchair. He couldn't walk and had use of only one hand. He had been told that physical therapy could improve his condition, but he was resisting the treatment.
We took the bus to Gilo. I entered the room, and there was Zhenia. His wife, whose name, it turned out, was also Zhenia (Evgenia), stood next to the wheelchair. She was considerably younger than her husband, tall with pale blue eyes, high, Slavic cheeks with a touch of pink, and straight, straw-blonde hair. Later I learned that she had been first his student, then his lover, in Moscow. Zhenia stared at me with his bulging eyes.
"Zhenia!" I said, "I can't believe it's you. We met in Moscow many years ago. You asked me about Israel."
He looked at me for a long time, everyone in the room was silent, and then, with what seemed like an extraordinary effort to speak he said, "You came with beautiful Greek girl."
The afternoon progressed; blonde Zhenia was visibly devoted to her husband. She catered to his every need, and then, when he grew tired, lifted him from the wheelchair in her strong arms and carried him to a day bed set up by a window in the small room. The living conditions seemed not much different to what he had known in Russia. Apparently their earnings came from the piecemeal selling of the few drawings from Zhenia's private collection that he had managed to bring out of Russia. Zhenia was still at once strangely stern and delicate, fragile and serious as I had known him in Moscow in 1975. Blonde Zhenia told us that Nadezhda Mandelstam—whom they'd visited from time to time when in Moscow—used to call him "the little sparrow." Because of the odd affinity I felt with Zhenia, as if I had known him far, far better than I did, I took it upon myself to try to persuade him to pursue a course of physical therapy.
"Gaby tells me that if you did, you could really improve your health," I said.
Again, he stared at me before responding, "If you continue to talk to me like that I will begin not to like you."
The sun, having reached its zenith, collapsed into the room through shades as a tired warrior: dusty, impeached, as if it, and not Zhenia, hadn't done enough. Two years later he died following a massive second stroke.
Recently, when I began to write this fragment of a memoir, I contacted Angela to ask for her memories of Zhenia. She sent me a long, wonderful letter which included a description of taking the two Zhenias to the Spring Fair at Midsummer Common in Cambridge during his only visit to England, in 1989. There she persuaded Zhenia to ride on the merry-go-round.
"I looked round from my horseback to see that he was safe," Angela wrote, "and there he was, bouncing up and down on one of the painted gallopers, looking as serious and focused as if in the midst of giving a lecture."
 Jonathan Wilson is the author of several novels and story collections. His most recent book is a biography of Chagall (Schocken). He has recently completed a memoir Kick and Run: Memoir with Soccer Ball. He is Director of the Center for the Humanities at Tufts University.