Last Christmas, my brother, Charlie, gifted me with a piece of paper on which was scrawled, "Good for 1 tattoo." This was perhaps a slight improvement over his gift of the year before ("Good for one dinner with Charlie. On you") and arguably approaching his 2010 present-giving apex (autographed baby pictures of himself.) But it was still a pretty low-risk investment on his part; Charlie knew I was never going to break down and actually ink a permanent Dimples on my shoulder, something I'd flirted with through the years. "Just a small, classic Dimples," I would explain to my mother. "A tribute!" And she would say, "Munnie would be appalled. And so would Yumma."
As might be clear from the nomenclature, we have entered the Land of the WASP. Yumma, my grandmother (née Ruth Mary), was the daughter of Munnie (Margaret), whom I am said to, but do not, resemble. Munnie was a legendary figure, a mother of five who managed to render even the hardships of the Depression magical with her ingenuity, her creativity, her sense of fun. A hard worker who held things together after her husband died, she maintained a busy, cheerful existence until her death from cancer in her sixties.
Although Munnie died many years before I was born, she has always been a vivid presence to me, kept alive by Yumma's stories of cream-puff swans and Halloween parties, and by the Scrapbook. The Scrapbook is a remarkable thing: two volumes in which Munnie hand-copied every scrap of correspondence she and my grandmother ever exchanged and bound them, with photographs and newsclippings and tracings of any drawings, into two large volumes, each 300 pages long. Munnie made one of these for each of her five children. My father calls the resulting tomes the Least Jewish Thing Ever Created.
As a child, I was fascinated by the Scrapbook. I would beg my grandmother to let me look through it. Volume I, which contains only letters, was my favorite. (Volume II holds copies of the family's newspaper, the Benedict Gazette, plus much original Benedict family poetry and doggerel.) I liked the hundreds of pages filled with near-microscopic handwriting, and pictures of long-ago relatives frolicking in 1930s Maryland. But most of all, I liked Dimples.
Dimples is a little pen-and-ink girl with bent knees and a slight bouffant who, at some point, started appearing in the margins of my great-grandmother's letters. Her origins are murky, but from 1946 on, she is ubiquitous—cracking wise, heralding the changing seasons. After a time, my grandmother started drawing her too, and Dimples became a constant in the Munnie-Yumma correspondence.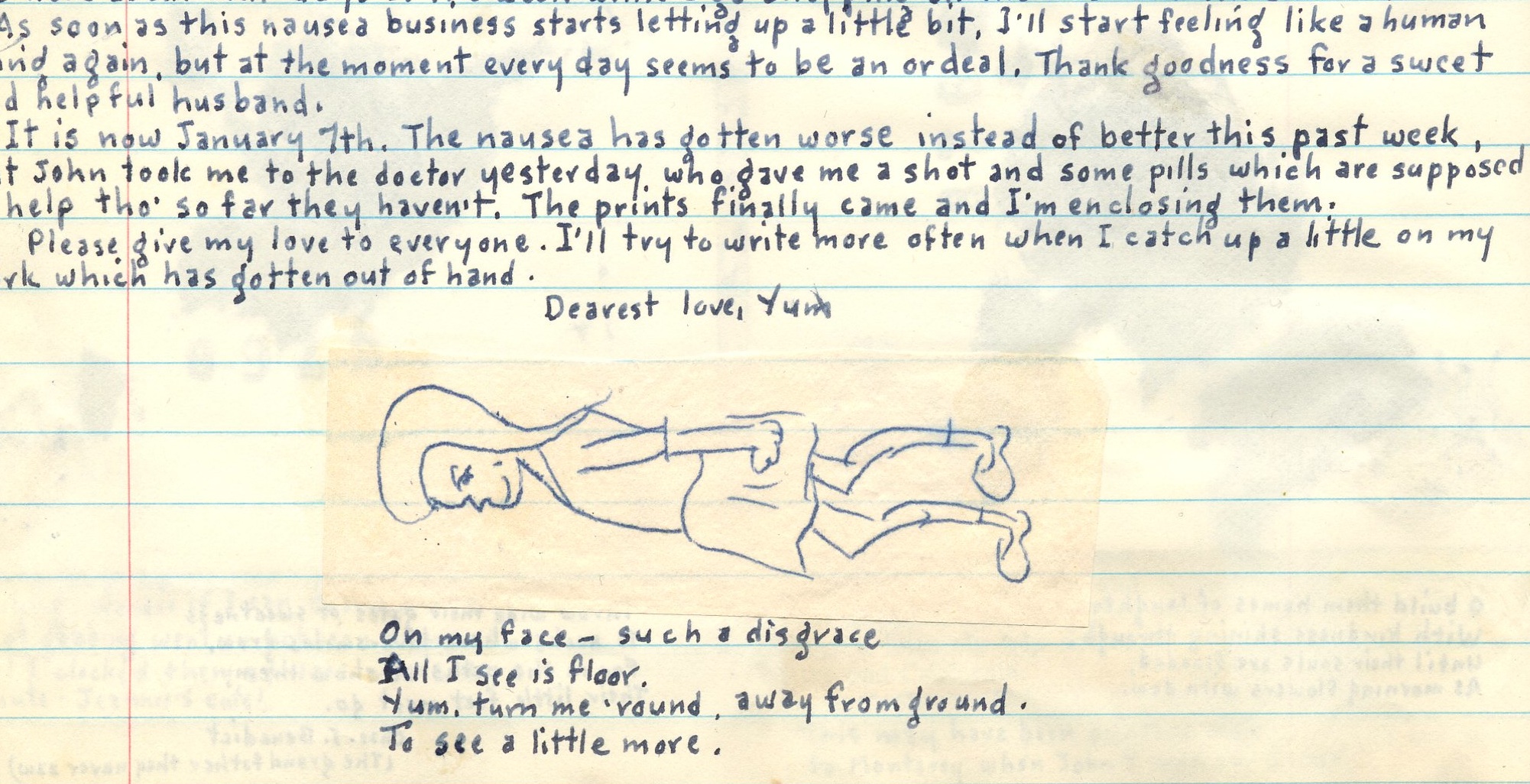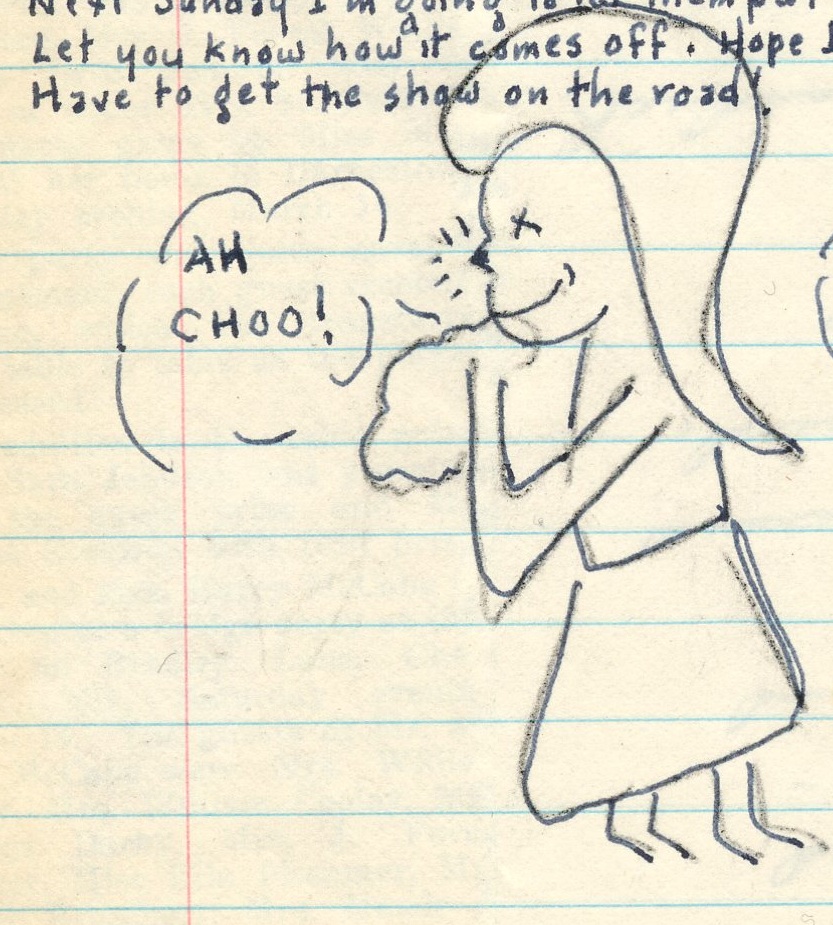 Dimples is a somewhat acerbic figure—far more so than either of the actual writers. In my grandmother's letters, Dimples is particularly caustic, frequently taking Yumma to task for being a poor correspondent, a sloppy writer, a disorganized housekeeper. On occasion, she says things her gentle author would not have.
Dimples is a constant in the letters: from the days of Yumma's honeymoon, through five kids, difficulties, challenges, health problems, and dramatically changing times. These are, of course, rarely mentioned. Which is not to say Dimples herself never varied. Indeed, some of her variations are downright alarming.
Her sixties incarnations, I feel, illuminate an entire older generation's attempt to make sense of changing times. 
It is not often you can read a whole life this way. And looking at it, I'm sure there are a lot of generalizations I could make: about women, about the time, about energy and ambition and creativity and happiness. Certainly a little something about reserve, and things left unsaid. And yet, I find I don't want to. Dimples says it all: plucky and strange and somehow gallant, with her perennially bent knees and somewhat wry smile.
After Yumma died, when I was twenty-four, I was given the Scrapbook, which has pride of place on my bookshelf. I look at it often, and marvel at the hundreds of hours of labor that went into it. I have, of course, tried to master drawing Dimples myself. I liked the idea of that quiet continuity, of a sort of ongoing correspondence with the women of my mother's family. But somehow I can't get it quite right; the hair is too high, the nose too sharp. It's harder than it looks.