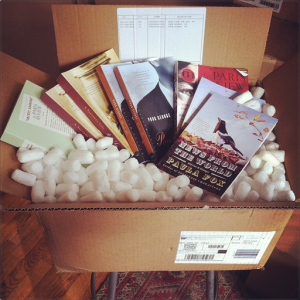 Here at 62 White Street, preparations for our Spring Revel are in full swing! Our office is brimming with loot for our guests: limited-edition Paris Review tote bags; archival copies of the magazine; our recent anthology of short stories, Object Lessons; loads of books by Paula Fox, the Revel's honoree and the recipient of this year's Hadada Award; and surprises yet to be revealed.
Variously described as "the best party in town" and "prom for New York intellectuals," the Spring Revel is legendary for a reason. Tuesday, April 9, join Paris Review readers, supporters, and writers at Cipriani 42nd Street for an always unforgettable evening of cocktails, dinner, and revelry. Writer hosts include Hilton Als, Michael Cunningham, James Fenton, Zoë Heller, Lewis Lapham, Katie Roiphe, Leanne Shapton, Wallace Shawn, Zadie Smith, Gay Talese, and many more.
Get your tickets here!