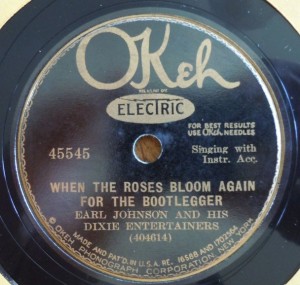 Ten years ago I was on the highway from Tennessee to Kentucky—can't even remember the reason for the trip—but I kept the car radio on the AM band, set to "Scan," because I'd noticed, over several years' driving around this part of the world, how almost every small town you pass has at least one little church that's broadcasting a low-wattage radio show, and you often hear fascinatingly crazy preaching on those transmissions and, less frequently, fine singing. That particular Sunday in January it was raining, and I was somewhere north of Memphis, passing depressing roadside storage buildings, when a remarkable live signal came across. The sound at first was like that of a giant wet towel rhythmically slapping on somebody's back. After a minute I realized it came from hundreds of rain-soaked shoes stomping in unison on a concrete floor. I tried to imagine the inside of the church. It must have been cavernous. Or maybe—more likely—it was a warehouse, where this Pentecostal group had been forced to convene. Slap … slap … midtempo, it filled the car, as the people chanted a single line, "If He sends me, I'll GO-oooo … If He sends me, I'll GO-oooo," a three-note melody, simple to the point of crudity, but with a strange elegance. Folks got up and started testifying. A woman thanked God because on Christmas Eve she'd gone to the welfare office to get food stamps, and there'd been something wrong with her forms—a paper she hadn't known was expired—"but the man give it to me anyway," she said. "God softened his heart."
I felt the peculiar mixed admiration that non-believers get in the presence of great religious music, equal parts awe and alienation. You're transported by the song, but you observe it from the outside—picturing the singers, their faces full of impenetrable faith. That congregation wasn't singing to me, except insofar as they hoped to save me, to save passing motorists who might dial in their program. Yet there was a feeling, on my end at least, of overlap. For two or three minutes we shared the sensation of reverence itself, of bowing before something magnificent. For me, the thing was the music alone. "If He sends me, I'll GO-ooooo …"
I indulge these thoughts mainly because they're my only way into the world of Don Wahle, the all-but-unknown Louisville man who collected most of the songs on the collection Work Hard, Play Hard, Pray Hard and kept them in moldy boxes until he died, not even providing instructions for their disposal. We can't say for certain that Wahle was not a Christian, of course. In some corner of his fantastically lonely seeming life, he may have clung to religion. But if so he left no signs, and it seems safer to assume that he listened with a version of the double-mindedness I've described to songs like "Where We'll Never Grow Old" by the Rev. Alfred G. Karnes, one of the first white folk-gospel records ever made and a jewel of Wahle's collection. Karnes was a traveling Baptist preacher from Corbin, Kentucky—on the edge of today's Daniel Boone National Forest—who drove south to Bristol, Tennessee, in 1927 and '28 to record for the Victor company. He, like many others, had spotted Victor's classified advertisement asking for musicians. The Carter Family and Jimmie Rodgers were first recorded at the same sessions. Karnes was a smaller but, in his own way, equally precious discovery. We hear the clear, confident tones in his singing and playing, which had made him popular at parties back home (supposedly he was among the few preachers who didn't mind if you danced some):
When our work here is done and the life crown is won,

And our troubles and trials are o'er,

All our sorrows will end and our voices will blend

With the loved ones who've gone on before.
Wahle didn't focus on sacred music, as a collector, preferring straight country. His choices in this area are idiosyncratic, even random-seeming. They suggest a level of irony to his tastes. Alongside a relatively straightforward spiritual classic like "Where We'll Never Grow Old," he had the Georgia Yellow Hammers' spelling-song "I'm S-A-V-E-D," a dance number that warns against dancing, and Gid Tanner's "Stop Drinking Shine," an anti-moonshine song that feels perhaps written on shine, and includes the helpful line, "They say the yellow corn makes the very best kind."
Then there's "Leave it There," a Charles Albert Tindley–penned chestnut, included in his influential 1916 hymnal New Songs of Paradise but performed here by a group he must never have imagined singing it, the mysterious '30s/'40s-era blackface duo Snowball and Sunshine. They were a husband-and-wife act, based in Atlanta, James and Mary Dodgen. The husband was a fairly well-known lawyer. Many of his clients came from Atlanta's underbelly; it's doubtful their cases paid much. Did he and Sunshine take up the routine to make extra dough? Their act started out as a radio show, heard every week in different parts of the South, showcasing "the comedy and pathos of a negro preacher and his thrifty wife." They cut some records, a few of which feature the "Reverend Snowball" giving little fake sermons. (Were they "fake"? Who can say in that kaleidoscopic pre-war world …) At one point, the pair briefly and inexplicably collaborated with a young black singer, herself from Atlanta, called the Georgia Peach, the still-underappreciated gospel great Sister Clara Hudman. Finally, in 1945, they starred in a short film, The Fall of the Parson, in which they were "assisted by a cast of sixty-five colored people." I don't think a copy survives, but it ran for at least one night in May, at the Erlanger Theater on Peachtree Street. Snowball and Sunshine—they baffle. We've lost access to the pop-cultural categories necessary for saying what they even were.
Among the most compelling tracks here, of those that belonged to Wahle, is the hard-to-hear, vocally droning "Beyond the Starry Plane," by the hyper-obscure Red Brush Singers, object of one of my favorite discographical notes (from Tony Russell's monolithic Country Music Records): "This group may be the same as, or associated with, the Fruit Jar Guzzlers." Look up the Fruit Jar Guzzlers: "One of the most mysterious old-time groups to ever record." Supposedly West Virginia connections exist. Not clear if there are two or three people playing. In places you half-hear a high, perhaps a woman's harmony. I understand hardly any of the words. From the abyss of the static come "dear Mother" and "no matter what I do" and "we shall meet again" and "Jesus is my God." I listen to this song and imagine Don Wahle listening to it, leaning forward to hear it better. An infinitesimal point of communion, a shared pause before the obliteration.
The idea that Wahle's records were headed for the Louisville dump when Nathan Salsburg heard about and salvaged them (how this project came about) leaves one with a sense of gratitude, yes, but equally of vertigo. The old songs are so easily lost. How many of them as you read this are disintegrating at the bottoms of dumps? They are barely more durable than the radio waves of that waterlogged church service I heard on the highway years ago. If this gathering of them is all that remains of Don Wahle, let nobody say he lived for nothing.