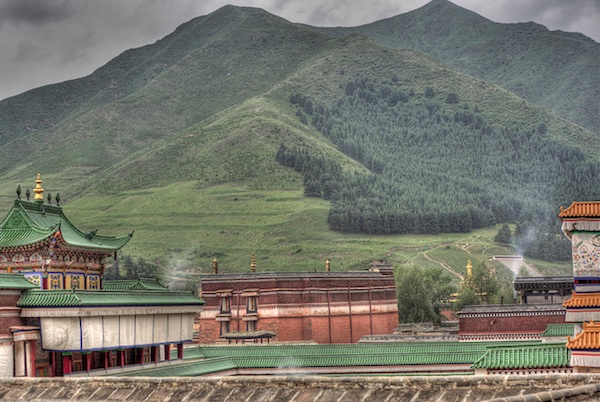 We were on our way to a small Tibetan colony in Himachal Pradesh. I lived there for about a year in 2008 and wanted to show it to my traveling companion, Clancy. Also the house where I stayed is very peaceful and nice, and I thought it would be a good place for Clancy to finish the book he is working on. We had about ten days to spend there and were in agreement: no cars, no roads.
I wrote to the manager of the house, which is called Old Labrang. It is a guesthouse, but you can't really stay there unless you get the okay from the manager. In the past when I stayed there, it was during the off-season. Since my last visit, the place had undergone major renovations and is now, by any standard, a desirable place to stop. Palazzo floors, an interior garden with flowers and orange trees. It costs eight dollars a night, and as a result I had a feeling that this time there would be a problem securing a room. I didn't want to sit down and write the request.
When I finally did, a few days went by before I got an answer. In it, the manager, Wyatt, who is twenty-six or so and has been a friend of mine for several years, said maybe. It depended on when this certain guest, whom he called Lopon would arrive. The next day, a second e-mail said Lopon was getting there early, and we couldn't stay.
I made a plea. I said Clancy and I could leave early. I explained we were nervous about finding a room.
Wyatt wrote back. He explained that we couldn't stay in the Old Labrang, now mentioning the new law that required visitors to the colony to get a Protected Area Permit. He said that we wouldn't need one for the local guesthouses.
We were staying about five hours from the colony when I read that e-mail. We gave up, drove to town, and pulled up in front of my favorite guesthouse in Bir—maybe my favorite guesthouse in the world—Chokling Guest House. It's a three-story place run by Chokling Monastery. It is white with an open stairwell. On the first floor, rooms are oversize with hardwood floors. They overlook a creek, so you sleep to the sound of running water. I thought, This is better than the Old Labrang. I should have come straight here and not fooled with that Wyatt business.
But all the old faces were gone. It was a loss. The old chef used to make a vegetable soup to order that I still crave in America. A very attractive young Tibetan couple stood behind the desk. The sight of us made them nervous.
"We are all booked after August first," they said. "Besides, you will need the permit."
"We are sick," Clancy said. "We've just gotten to town."
He is sly, so I was quiet. I'd seen him finesse similar minor interferences before. But the couple was firm. "We are booked. You need the PAP pass. You can get it in Dharamsala." They were proposing a two-and-a-half-hour drive. We'd been in the car for seven. Mountain roads. Switchbacks. Rock slides. The road washed over in places by waterfalls. Erratic driving.
Clancy said, "Can you suggest another guesthouse in the area?"
That one got them. He'd checkmated them with their own nice manners. They were quiet. Then they broke: one night.
I wrote to Wyatt a third time, pleading, even manipulating. He wrote back and explained that our room was taken by someone on the board. He said he was sorry about our situation, but the Old Labrang did give priority to board members. I heard or imagined injury in his tone. I said to Clancy, "I think he thinks I was arrogant."
The next day, the man from Chokling Guest House, Tenzin, went to a meeting on PAP passes in Dharamsala. The meeting went late so his wife—who seemed slightly older and wiser than Tenzin—said of course we were welcome a second night. Tenzin joined us that evening at dinner.
"I have been to the meeting," he said. "May I sit? It is very confusing. For Indian guesthouses, it's okay. You don't need a permit, but to walk around the colony, you need a permit. We have told the police commissioner, this makes no sense, and he has even agreed. I said to him, 'This is discrimination.' He agreed with me. He has said to me, 'Even I am confused about this law. I did not write it. It comes to me.' This permit makes no sense. I cannot see any reason in it at all."
Clancy and I tried not to smile at each other. At last, a bit of luck.
Tenzin paused, "So I think you better get it."
[tweetbutton]
[facebook_ilike]