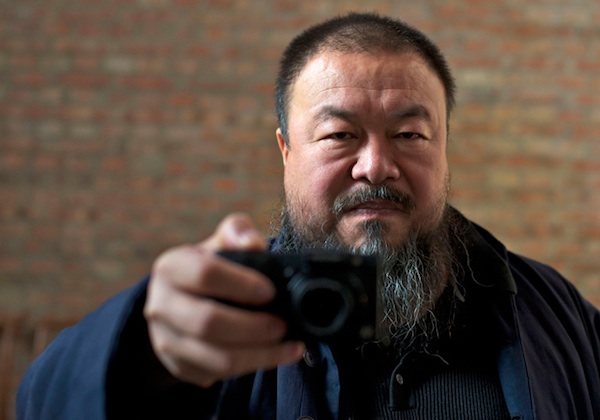 In November 2010, ArtReview magazine published its annual Power 100, a list of the most powerful people in the art world. The highest-ranked living artist, coming in at number thirteen, was the Chinese artist and activist Ai Weiwei. Two months later, the Chinese government demolished Ai's brand new, two-thousand-square-foot studio in Shanghai in one day—this despite the fact that officials had approved (and by some accounts invited) Ai's plans for the studio, which took a year and almost a million dollars to build. Then, in April 2011, Chinese authorities took Ai into custody. Without announcing charges against him or when he would be released, they held him in detention for eighty-one days, during which time guards watched him constantly, even when he went to the bathroom or slept. He was released in June and, a few months later, charged with "economic crimes" and an accompanying bill of $2.4 million.
Last year, ArtReview ranked Ai Weiwei number one on its Power 100 list. At the time, this pronouncement seemed hugely problematic, if not potentially idiotic. Ai, who had been an outspoken critic of the Chinese government since 2007, emerged from his detention visibly rattled—he refused to speak to the press and stopped using social media, on order from the authorities. Although he returned to Twitter and began giving interviews again soon after, questions lingered: Was this indeed a powerful man? What does it mean to have power when you're fighting an entity that has more? Can one be simultaneously powerful and powerless?
Yes would seem to be the answer to that last question, at least according to Alison Klayman's documentary, Ai Weiwei: Never Sorry. Klayman followed Ai for a crucial two-plus years of his life, starting in 2008, when his political activism began in earnest, and ending not long before his detention. Granted incredible access to the artist and his family and friends, and making use of Ai's own material, much of it digital (his documentaries, Twitter feed, blog posts, media interviews), Klayman constructs a compelling portrait of an immensely popular and provocative man who exists in a power limbo. Ai is forever on the edge, both touched and untouchable—a man who comes across as fearless but characterizes himself as fearful. "Maybe being powerful means being fragile," he tells a BBC interviewer.
Ai speaks like this throughout the film (in both English and Mandarin, his native language), frequently expressing thoughts in wise aphorisms. No wonder his fans and followers call him "teacher Ai." He inspires them, too, through his actions, which, importantly, often involve larger calls to action. After 2008's 7.9-magnitude earthquake in Sichuan Province, government officials refused to give Ai a list of the names of students who had died (they called it a "state secret"). This prompted him to found the investigatory Sichuan Earthquake Names Project, for which he collaborated with more than fifty volunteers and researchers. On the second anniversary of the quake, he launched an online project asking people to record themselves reading the names of victims aloud. And when the artist found out that his new Shanghai studio would be demolished, he decided to throw a giant party to celebrate the destruction, a river crab feast—in Chinese, the word for river crab, hexie, sounds like the word harmony, which, the Telegraph explains, is "the ideological buzzword of the current regime." At the last minute, the government placed Ai under house arrest and wouldn't let him attend, but hundreds of people showed up anyway to eat and document the event.
Combine wisdom-at-the-ready with these sorts of bold, provocative actions and you have the makings of a folk hero. And some of the fandom Ai generates does indeed carry a whiff of hero worship. At one point Klayman speaks with a young woman about her veneration of the artist. She giggles and tells the filmmaker, quite proudly, that she and the others are called "Ai fans."
Will these Ai fans risk their lives to change China? That's the question underlying Ai's peculiar brand of fame—and it is a brand, as, increasingly, Ai's face is plastered on posters and his name comes to stand for something more than the artist himself. Klayman asks Ai at one point if he thinks he's become a brand, and he responds in the affirmative. For what? "Liberal thinking and individualism."
It's impossible to miss the irony: branding by definition is about making things easily digestible. It's about encouraging people to follow and asking them to buy in. Branding is necessarily a reduction and a simplification—not exactly the best way to promote individualism.
Yet this contradiction reflects the way Ai has built up his reputation and gained a large following in China: first, via a personal blog and, after that was shut down (in May 2009), via Sina Weibo, a Chinese microblogging site, and Twitter. Ai has always made himself a—if not the—central element of his project. He doesn't pen political manifestos or organize protests; instead, he snaps a photograph of himself and local policemen in an elevator shortly after they beat him in his hotel room in Chengdu, and he posts it on Twitter. At one point in the film, Ai perfectly encapsulates this defining element of his political fight (and consequently his art and his life): "If it's not publicized, it's like it never happened, right?"
The brilliance of this tactic is that it undermines the surveillance that has long been the hallmark of the repressive state. Klayman returns time and again to the government cameras that surround and monitor Ai's studio and movements, vaguely ominous shots of them shifting and zooming around. But the most telling scene is less literal: Ai and some of his entourage are having dinner outside a restaurant in Chengdu, to which the artist has returned to file an official complaint about his beating. Ai had publicized the dinner on Twitter, leading some fans, and then the police, to show up. While one officer questions him about the group's plans ("When will you be done?"), another stands in the street filming the scene. Klayman leaves the dinner to focus her lens on the latter, and the two cameras become involved in a kind of filming standoff. Then Ai's videographer joins in and begins filming the police officer as well, standing less than a foot away from him and sticking the camera in the officer's face with deliberate intrusiveness. The moment is hilarious, but it's also a clever inversion of the workings of the police state: Ai has the same dirt on them as they have on him, and he's not afraid to share his with the world.
Given all this, it's not surprising that the artist has become a kind of celebrity activist (a term more often applied to people like Angelina Jolie). Whether or not this approach can create real change is another question. What is enlightening, however, and gratifying, is the artist's humanity and humility. In part, this is Klayman's doing: she avoids hagiography and devotional awe, making sure to show his complexity, not shying away, for instance, from the fact that he has a child with a woman who isn't his wife. But Ai also comes across as soft-spoken and, like so many admirable resistors, unassumingly determined, at times almost fatalistic. This is simply the way it has to be, he seems to say. "If they want to get me, they will," he says at one point to his mother. "There's nothing we can do about that."
In other words, Ai's art is his politics and, in turn, his life. "Are you doing any artwork?" someone asked him on Twitter this past May. "I am the artwork," he replied. Ai is by no means the first artist to tread this path, but the mainstream, largely commodity-based Western art world still can't seem to figure out what to do with it. Hence the grandiose titles, the need to categorize. "Ai's activities have allowed artists to move away from the idea that they work within a privileged zone limited by the walls of a gallery or museum," declared ArtReview when bestowing his power ranking. "In the process, Ai has promoted the notion that art's real context is not simply 'the market' or 'the institution,' but what's happening now, around us, in the real world."
This type of idealistic, simplistic language glosses over the truth, which is that much of the art world has little to no interest in—or perhaps the more apt phrase is knowledge of—the real world. Crowning Ai as most powerful may make sense in the context of the art bubble, where his work commands high-profile attention, exhibitions, and prices. But in the film you can feel the extreme disjunction between that world—Ai visiting Munich and London to install his exhibitions—and the one he lives in, China, where he seems to spend every day battling the police. In the latter, his influence is cemented, but his power is much more precarious.
Jillian Steinhauer is a Brooklyn-based writer and assistant editor of Hyperallergic.
[tweetbutton]
[facebook_ilike]