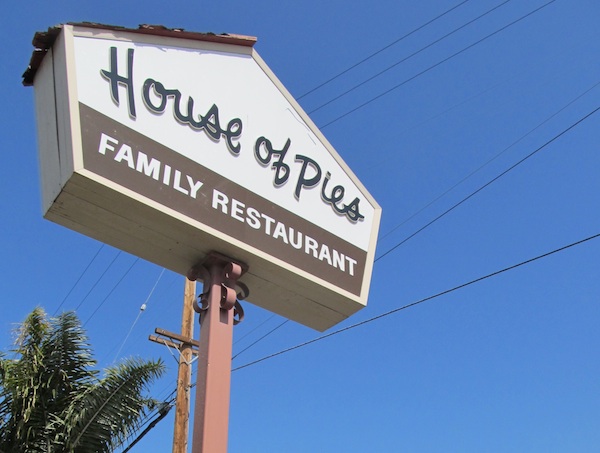 When the waitress set the slice of strawberry pie in front of me, I tried to contain my excitement. This moment was the culmination of two years' worth of waiting, two years of longing and imagining my order and relishing memories of the last time I ate here at the Original House of Pies. I had first learned of the place from a song.
There are no lyrics in the Friends of Dean Martinez's "House of Pies." Instead of vocals, an electric guitar plucks the melody in sync with a heavy-bottom bass. It isn't a catchy melody. There isn't much to it. The tune mostly sets a mood. Under the guitar, brushes make slow circles across a snare drum, and a high lap steel whines its laconic counterpoint, casting a spell, like when heat and blinding sunlight make everything slow and heavy. Although it was recorded by a Tucson, Arizona, group, the song sounds the way summer in Los Angeles feels. The guy who wrote it, Joey Burns, was raised in L.A. and drew the song's title from an East Hollywood restaurant.
I thanked the waitress, and she left me to savor my pie in private.
Opened in the Los Feliz/Griffith Park neighborhood in 1969, the iconic House of Pies is one of the sole survivors of a short-lived chain that spread across greater Los Angeles during the late sixties and seventies, and filed for bankruptcy in the 1980s. It was the brainchild of one Al Lapin, Jr., the creator of the still-thriving International House of Pancakes chain, the one-time owner of Orange Julius, and a man whose favorite pancakes were "the ones that sell."
From the outside, the shop's quirky architecture appears faintly retro without suggesting anything special: a squat, triangular cottage shape, a bit like a flat-sided cupcake, with plain, off-white walls. Between the Leonard Malin "Chemosphere" Residence and the Walt Disney Concert Hall, L.A. is filled with oddly shaped buildings. When measured against the innovative, Googie architecture that developed here during the mid-twentieth century—Space Age structures such as Ship's Coffee Shop and Johnie's Broiler—House of Pies seems as common as an In-N-Out Burger.
The interior isn't anything striking either: tan walls, brownish carpet, slate and lichen-blue seats and trim. The word Bakery is etched into glass near the display case. Glass panes and brass poles separate booths. If these resemble the generic markings of a chain pie restaurant, there is still a welcoming air to the lack of pretension, something both confident and friendly in its simplicity. It's as if its décor is teaching visitors a lesson: when you do something this good, you don't need to dress up.
On an average day, House of Pies has around forty flavors for sale: coconut cream, banana cream, Bavarian chocolate, vanilla custard, lemon meringue, Dutch apple, pecan. A menu hangs on the wall above the register, and a handwritten sign lists seasonal flavors like fresh summer strawberry and sweet potato in fall. My slice is enormous. Cream coats the top, mingling with the strawberries to create a red and white swirl. Tart and sweet, the berries were probably grown in one of California's innumerable berry fields, possibly over by Oxnard, or further up in Watsonville. Eating here always makes me wonder what the food used to taste like in 1969. Was the pie just as good? It seems impossible that anything this delicious could have been better.
Al Lapin knew the restaurant business. After a stint in the Army, he worked for the Federal Civil Defense Administration, where he learned how to deliver vital supplies during emergencies. Back in the civilian world, he recognized that he could make money delivering one of the business world's most vital supplies: caffeine. So he started a coffee cart business called Coffee Time, which sold urns of hot coffee to Los Angeles offices.
During this period, Lapin saw Los Angeles–based fast food ventures like Taco Bell and McDonald's rapidly expand throughout Southern California, so he began planning his own restaurant. After some research, he decided that pancakes and waffles had mass-market appeal, and in 1958 he and his younger brother Jerry invested $25,000 in a pancake joint in Los Angeles's Toluca Lake district. Naming it the House of Pancakes, the brothers selected the location in order to capture overflow from the busy, nearby Bob's Big Boy restaurant. Using the Howard Johnson's restaurants' architecture as a model of eye-catching design—brightly colored with a tall steeple—the House of Pancakes used a chalet theme to stand out. It further distinguished itself by selling unusual items: blueberry, boysenberry, and strawberry syrups, and avant-garde pancakes such as Brazilian banana, Danish Aebleskivers, Kauai coconut, and Tahitian orange-pineapple. To advertise the distinctive menu, the Lapins later added the "International" to the name. They initially tested their recipes in their mother's kitchen.
As IHOP expanded through franchising during the 1960s, Al developed a conglomerate called International Industries, Inc. and expanded his subsidiaries. Headquartered in Beverly Hills, International Industries included retailers such as Michael's Artist & Engineering Supplies, motels, and business colleges, as well as numerous food chains. At varying points in his career, Al owned the Copper Penny coffee-shop franchise, the Dog House hot-dog stands, Woody's SmorgasBurgers, Wil Wright's Ice Cream Shoppes. He even bought Orange Julius. With the lucrative pancake chain funding the parent company's growth, Al decided to capitalize on another singular American dish: the pie. Back then, specialization was all the rage.
During the 1950s and '60s, America's expanding suburbs and highway system fueled the rapid explosion and evolution of restaurants. Americans were driving cross-country now, and commuting to and from the suburbs. They needed convenient places to eat. Rather than offering a little bit of everything like the classic New York diner, many restaurateurs took the opposite tack and focused their attention on one thing. Chains such as Village Inn and the Golden Nugget Pancake House specialized in breakfast. Chains such as Andersen's Pea Soup specialized in "homestyle" dining. Other chains specialized in donuts (Dunkin', Winchell's), fried chicken (Church's, Kentucky Fried) or, like Sizzler and Mr. Steak, beef. Sometime around 1965, Lapin launched the Original House of Pies. Although a pie shop seemed to stand in direct competition with nearly every mother and grandmother in mid-century America, Lapin's sixty flavors gave him the advantage. The formula worked for a while.
By 1968, newspapers ads marketed a type of franchising deal that granted franchisees the rights to multiple locations in a specific city. Stores began opening all over Los Angeles. By 1971, there were thirty-two House of Pies in the greater, metro L.A. area, from the coast to Orange County to the Inland Empire: five in the San Fernando Valley alone. Painted white with pink trim, the little cottage-shaped buildings beckoned customers with tall signs. A simple logo consisted of a house with the symbol for pi in it, alongside the slogan "a unique coffee shop." The chain's promising start didn't last long.
Financial problems and a dearth of investors sealed House of Pies' and its parent company's fate. Lapin sold his interest for $50,000 in 1973, and the pie outlets started closing. When the Hollywood Boulevard store shuttered around 1980, it left the Los Feliz store with the unfortunate title of last Original House of Pies in Los Angeles. (There are a few others still operating in Houston, Texas.) Now, along with its desserts and low-key, throwback charm, it's that singularity which makes the restaurant an icon.
People film movies here. Natalie Portman shot scenes for No Strings Attached in 2010. Irritating paparazzi occasionally photograph celebrities carrying to-go bags out the door. Most customers, though, are just regular Angelenos.
Beside the register, the display case stretches toward the dining room, drawing your eye like an arrow to the "Please Seat Yourself" sign. Rather than an expression of disinterest, the sign's brown, looping script reads as a friendly invitation: Hey there, make yourself comfortable, welcome to your whipped-cream-filled living room. When the weather's nice, you can sit on the patio along Vermont Avenue, and the weather's usually nice. In the morning when I'm trying to wake up, I want conversation and some bustle, something to match the  effect of the caffeine I'm consuming, so I sit in a straight-backed chair at the counter. At night I want quiet, so I take a booth.
Sure, you can get gourmet pie flavors at Pie Hole downtown. You can get better coffee most anywhere. You can find more unusual egg breakfasts right across the street. But the burgers here are fat and delicious, the pies are unmatched. And House of Pies is one of those powerful places where no matter where you're from or how you dress, you can come in and, for the duration of a meal, feel united with strangers, shedding your background and your origins, and just be a person, united with all other people in a shared appreciation of things simple and sweet.
Aaron Gilbreath has written for Kenyon Review, Oxford American, Tin House, Black Warrior Review, and The Threepenny Review.