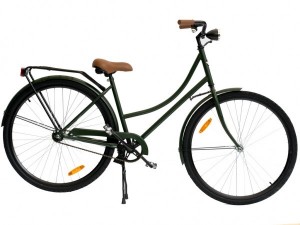 My predecessor George Plimpton was known for cycling around New York  before it was either cool or safe (before, some would say, it was sane). And nowadays, we at TPR are still devoted city bikers; our rides can be found chained up and down White Street. So in celebration of the Tour de France—and thanks to the generosity of Hudson Urban Bikes—we, along with Velojoy, are giving away one of Hudson Urban Bikes' Beater Bicycles Roadster. This classic city bike comes in a men's and a women's model, both of which may be seen in the diabolical and rather enigmatic illustration below.
To win the HUB Beater, tell us what you see in this picture:
in three hundred words or fewer
in the style of (choose one!) Elizabeth Bishop, Ray Bradbury, Joan Didion, Ernest Hemingway, or P. G. Wodehouse
Read The Paris Review interviews for inspiration—and be sure to send in your entries by July 22. Submit to [email protected] The winner will be chosen by the editors of the Review.