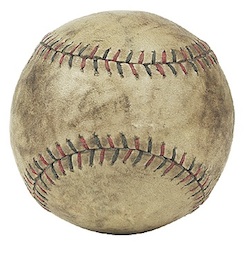 Somewhere a Hadada quietly weeps.
It's been a rough two weeks on the diamond for The Paris Review, culminating in an extra-inning loss to a venerable (cough) Harper's side—a loss that had the ghost of George Plimpton clucking in disapproval. As the calendar flips to July and a once promising season slowly turns to shit, it has become apparent that we are simply not to be trusted. The talent is there, but it's mercurial, slave to whim and whimsy. As a team we've adapted an identity that is generously enigmatic: although capable of lighting up any softball scoreboard in greater Manhattan, lately it seems that we are just trying to get our jerseys on.
Two weeks ago we played The New Yorker in Central Park in what turned out to be a rather lackluster TPR victory. The Small Fry, as TNY inexplicably styles itself (to borrow an old joke, tee hee), gave a turn at the plate to everyone who showed up, diluting their talent with an army of interns, cartoonists, friends, and family. Some were in sandals, some in jeans; some had clearly never swung a bat before. We cheer their sense of sportsmanship, but as one unnamed TPR ringer put it, "I would have been embarrassed to celebrate."
Next up was New York magazine, whom we had to face sans Captain Hiltner. Luckily, reigning home-run champ Jim "JR" Rutman finally made his season debut. The immediate results were positive, as we scored five first-inning runs, including the first of three Rutman long balls. It was a comfortable lead, and although NY managed to scrape together a handful of runs over the course of the game, no one seemed to consider their challenge very serious. At the end of seven we were up and victorious—until, that is, we fell for the oldest trick in the book, an innocent suggestion from the opponents: "How 'bout nine?" We eagerly agreed; TPR is always game to play a full nine, especially in a contest we are confident about winning. So, naturally, the softball gods never failing to punish arrogance, we fell apart in the extra frames. NY rallied to a tie with two outs in the bottom of the ninth before winning on a walk-off home-run hit by some goofball.
And then Harper's, a team, or so I'd been informed, we "never have lost to." Taking place on a sunny Thursday afternoon, this game seemed the logical moment to right our proverbial ship. A patsy opponent with a familiar nemesis (former TPR captain Christopher Cox, who arrived at the game wearing a vintage Paris Review shirt with duct tape over the logo), is a perfect ingredient for a stagnant team. Or so we imagined. Again we jumped to an early lead. Again we let our opponent stick around. And again karma bit us in our smug asses. A handful of costly errors helped them secure extra innings, where they promptly took a one-run lead in the top half of the eighth inning. In the bottom of the frame, it appeared that TPR would avoid embarrassment, getting runners on first and second with only one out. I stepped to the plate, notions of heroism tap-dancing in my head. Before the first pitch, resident strategist Josh Pashman told me, "Whatever you do, don't hit it to third," which would result in a double play, ending the game. I hit it to third, which resulted in a double play, and we lost the game.
So this is where I talk about the silver lining, about finding solace in looking past the scoreboard and retreating to cliches—"It's not if you win or lose but how you play the game." There will be none of that, not here. There's a great Dylan song, "Love Minus Zero, No Limit," with the line "She knows there's no success like failure, and that failure's no success at all." That feels about right.