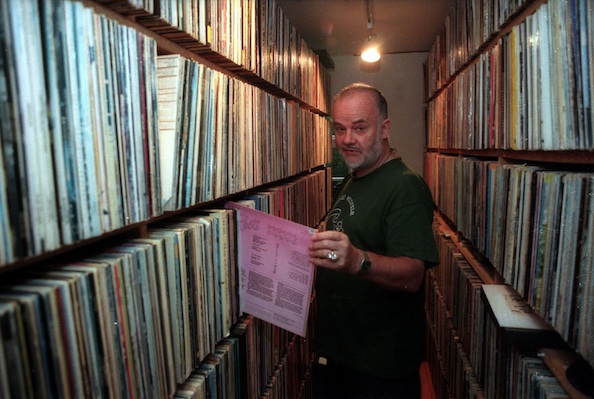 I'm the one who comes on Radio 1 late at nights and plays records made by sulky Belgian art students dying of tuberculosis.
This was how John Peel introduced himself to a family audience, on one of his occasional forays into British television. He can't always have been graying, or bearded, or balding, but this is how most people continue to visualize him. He seemed, to those of us who listened to him, to have been born avuncular. For nearly four decades, until his death in 2004, Peel shared his musical enthusiasms with the ever-changing audience of his late-night show on BBC Radio 1 and made his personal collection into a truly representative historical document, like a latter-day Alan Lomax. Except that in this case, the field came to him: homemade cassette recordings sent from across Britain, and beyond, to Peel's door. This didn't mean that no hard work was involved. Peel listened to them all, working through an avalanche of audio slush, with a heroic commitment to the aesthetically new.
Now, though not for long, we can experience the chaotic variety of Peel's taste. Over the course of the next four months, the first hundred records for each letter of Peel's alphabetized and rigorously ordered collection of 26,000 are to be presented online, replete with their owner's personally devised catalogue number and, occasionally, remarks. The John Peel Archive has been supported by the Arts Council and curated with the assistance of Sheila Ravenscroft, Peel's wife. For each letter, Ravenscroft has selected an artist of special significance to Peel, such as Dick Dale or Fairport Convention, and hosted a short corresponding film. There are links to Spotify as well as to short films, video footage, and audio files from the famous sessions recorded for his show, including an early performance by David Bowie.
Peel resisted fashions, even as he shaped them. While looking out for world-music records—things like David Lewiston's Balinese gamelan anthology, Music from the Morning of the World—I found a surprising number of albums from some geezer called J.S. Bach. There were no apparent rules governing the content of the show. Actually, there was one rule, but it could never be mentioned. In Suffolk Comforts, a fiftieth-birthday tribute film, Peel squirms while trying to describe his taste: "At the heart of anything good there should be a kernel of something undefinable, and if you can define it, or claim to be able to define it, then, in a sense, you've missed the point." Undeterred by the Pavlovian associations that make country, punk, rockabilly, reggae, prog, folk, rave, hip-hop, indie pop, dubstep, grime and grunge all mutually unacceptable subcultural experiences, he prepared playlists that were guaranteed to offend, enlighten, and satisfy in drunken disproportion.
But he didn't do this alone. For twenty years, he was abetted by John Walters, a former schoolteacher from Derby, who produced the show and ventured to gigs on Peel's behalf if there was a chance of Peel being mobbed. Peel later described their relationship as being "like a man and his dog, with each believing the other to be the dog."
Peel's major contributions came out of the countercultural lull of the seventies. He recognized there was a lull, for a start. The young Bruce Springsteen he dismissed for representing "not the future of rock 'n' roll but rather a summary of its past." Peel much preferred the marginal new sounds from across the globe: the Krautrock bands like Faust, Cluster, and Can, the studio alchemy of dub reggae, and the totemic singularity of Captain Beefheart and the Magic Band. This served as a sort of overture to the punk revolution, which Peel and Walters identified early and relished. Out of this ferment came the ultimate John Peel band: the Fall. Helmed by the volatile Mark E. Smith, who can best be described to the uninitiated as a really, really, really pissed-off performance poet, the Fall emerged from postindustrial Salford and sounded like the sonic viscera of the preceding decade and the following combined. Or, rather, like nothing else on the planet. They would go on to record an Olympian 24 sessions for the Peel show.
At the roots of Peel's love for the Fall was a kind of pop classicism. Songs such as "Container Drivers" and "Fiery Jack" seemed to channel the spirit of Gene Vincent and Eddie Cochran, whom Peel saw during his military service in the fifties. This was not nostalgia. Instead, Peel understood that what was so aesthetically radical about rock was the defiant indifference to rules that stood as its originary impulse. It was made by the young, for the young. But Peel was a romantic, too, helplessly beholden to an ideal of innocence. His favorite song, "Teenage Kicks" by the Undertones, another product of punk, was a paean to the earliest stirrings of lust in the human male, beautifully complemented by the plangent simplicity of the chords. At the time of his death, Peel's show claimed the largest proportion of teenage listeners on Radio 1, quite an achievement on that youth-oriented station. But it was also, famously, best savored furtively, beneath the bed sheets and away from the parents.
I have intermittently, over the course of my adult life, had reason to return home and live with my parents. One such occasion was in 2004. I was temping in my hometown of Burton-on-Trent to raise money for a graduate degree and had fashioned for myself a sort of chrysalis out of the old toys, cassettes, and posters I had forgotten to discard. When the adult self is forced to inhabit that Lilliputian world of childhood and adolescence, everything seems furtive. I wanted to cook my own meals, to iron my own shirts, to abide by my own domestic routine. I had set up a parasite household in that of my mum and dad, who thought they had surely seen the back of me but had incidentally betrayed the kid who started off drawing dinosaurs and wound up listening to Sun Ra.
The only thing that had not diminished in scale was the John Peel Show. Peel sounded much the same as he ever did and, it seemed reasonable to suppose, would forever. I listened regularly, in the family kitchen, to what would turn out to be the last few months of his show. I especially remember a session from the New York–based singer-songwriter Nina Nastasia. Taking full advantage of the opportunity afforded by the Peel Session, she embellished the arrangements from her then-latest album, especially suited to the hard-boiled girlishness of her voice, with an ensemble of Mongolian throat singers, Huun-Huur-Tu. It felt entirely and hauntingly appropriate.
How do you perpetuate a taste? It is as difficult to extrapolate a set of principles from Peel's collection as it would be to imagine those records sharing the same acreage of shelving in the first place. There have been rumors of a donation to the British Library, which would be brilliant but somehow not quite right. Peel might have been in the posterity game, but this doesn't mean he was personally invested in securing any sort of monument for himself. His show may have shaped the narrative arc of pop history, but he always presented himself as a fan. "I dread the day, which people say is bound to happen, but I don't see why it should, when things come along that I genuinely don't like, where there's absolutely nothing at all that I want to play on the radio. If that happens, then obviously, I'll shut up shop and become a museum."
Walters explains the cultural significance of the show. "There were no failures. There were no successes. Peel was rather like an important art gallery in the sense that if David Hockney, Damien Hirst, if they'd been coming through the system, they'd have been coming on the Peel show." This was Peel's deceptively faithful interpretation of Lord Reith's mission for the BBC—to instruct, to inform, and to entertain—even if nothing could sound more alien to that spirit than the Pandora's Box that would be routinely opened on Radio 1 weeknights.
The Archive strikes on something about Peel's legacy that is not just worth preserving, but reviving. Peel was the ultimate public servant. His show evinced an impersonal love for his listeners, which didn't mean that he made it easy for them. The point was rather to enable you to cultivate your own taste, which is another way of saying that Peel trusted his listeners in much the same way that we did him. So far as covenants go, it was a pretty good deal. You don't have to love sulky Belgian art students dying of tuberculosis to understand, though I daresay it helps.
Jonathan Gharraie is the British correspondent for The Daily.
[tweetbutton]
[facebook_ilike]