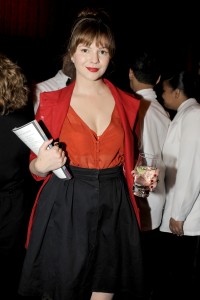 When people hear that one works at The Paris Review, they often assume it's a glamorous affair: parties, champagne, stories of the magazine's early days in France, and famous writers as far as the eye can see. Last Tuesday, they were right.
The Spring Revel isn't just our big fund-raiser. It's also a chance for the old guard to meet the new kids and vice versa. This year, former editor Mona Simpson presented newcomer Amie Barrodale with the Plimpton Prize, and young Adam Wilson—winner of the Terry Southern Prize for humor—paid tribute to Southern himself. Robert Silvers, now in his fiftieth year helming The New York Review of Books, was toasted by the freshest face in the magazine business: Facebook cofounder Chris Hughes, who bought The New Republic a month ago. Zadie Smith described what it's like being a new kid at The New York Review, and Bob remembered being a new kid under George Plimpton. At the end of the night, Lorin connected the legacies of the two Reviews:
The New York Review was not a magazine for people who already loved long, argumentative essays. No, it taught them to love the essay—and we are still reading it today. In the same way, for the past two hundred issues, The Paris Review has been making a case for the imagination. With each new issue, we take aim at the unconverted, not by precept, but by publishing only the things we actually love, the things that laid a claim on us, that took us off the grid.
Festivities continued across the street at the Campbell Apartment, where revelers frolicked until the small hours. Of course, for some of us, it was a working evening, and after so much smart talking there was only one way to end the night: under the neon lights of Gray's Papaya, with a pineapple juice and a hot dog with the works.