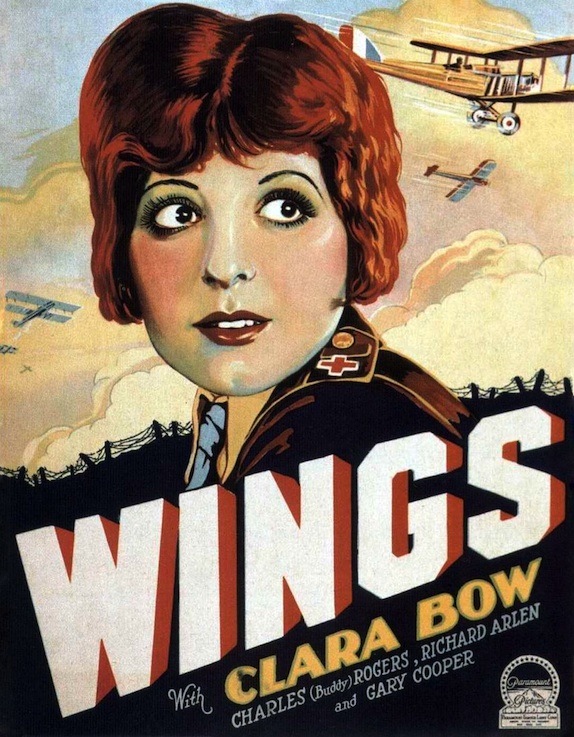 On February 26, approximately forty million people will tune into ABC to watch the eighty-fourth Academy Awards. It was around this time eighty-three years ago that the first winners of the Academy Award of Merit were notified, via telegraph, even though it would be another three months before the ceremony itself took place—an event that drew an audience of only 270 people, each of whom paid five dollars for a private dinner at the Roosevelt Hotel. While guests dined on filet of sole sauté au buerre and half-broiled chicken on toast, master of ceremonies Douglas Fairbanks dispensed with the awards in a mere fifteen minutes. There were no speeches and no cameras. It was the only untelevised Academy Awards in history.
There aren't too many people who are still under the impression that the Oscars shine an unbiased eye on all the films of the year. But, in fact, it was never intended to be an impartial awards ceremony. According to MGM studio head Louis B. Mayer, who created the awards, "the best way to handle [filmmakers] was to hang medals all over them … If I got them cups and awards they'd kill themselves to produce what I wanted. That's why the Academy Award was created." Predictable though they may now be, even the most jaded of cinephiles can't help but get at least a little excited when the nominations are announced each year.
Only this year one not-so-predictable contender was announced: the unlikely audience favorite The Artist swept up ten Oscar nominations, including Best Motion Picture. If it wins it will be only the second silent film in history to win in the category. The other was Wings, a war film by William A. Wellman, which won Best Picture at the very first Academy Awards.
This fact alone is a point of contention. In 1929 the Best Picture award was split into two separate categories, Unique and Artistic Production, which went to F. W. Murnau's Sunrise: A Tale of Two Humans, and Outstanding Picture, Production, which went to Wellman's action-packed WWI aviation adventure. The next year, when the award was consolidated into the single Best Motion Picture, it was Wings that went down in the books as the sole winner and, according to many historians, as the last great silent film. 
At the time, Wings was also the most expensive film ever made. With 3,500 soldiers, 220 aircraft, sixty-five pilots, and thirteen cameramen, it easily went over budget and over schedule. In the end it cost Paramount (then the Famous Players-Lasky) two million dollars to produce—that, on top of the estimated fifteen million dollars in men and services donated by the U.S. government for the expansive air and ground battle scenes. The studio threw everything behind the film. It hired It Girl extraordinaire, Clara Bow, the highest grossing female star at the time, along with two of Famous Players-Lasky's in-house heartthrobs, Charles "Buddy" Rogers and Richard Arlen. But Wellman, the film's director, was, at that time, a complete unknown. He was also a wild card—a heavy drinker who openly disparaged actors and racked up four marriages in just sixteen years. In 1919, the one and only year he worked as an actor, he was fired from his second picture for slapping the leading lady, who also happened to be the director's wife. Later, when he turned to directing, a choice spurred solely by financial considerations, he was repeatedly fired, bouncing from Fox Studio to Columbia to MGM before landing at Famous Players-Lasky.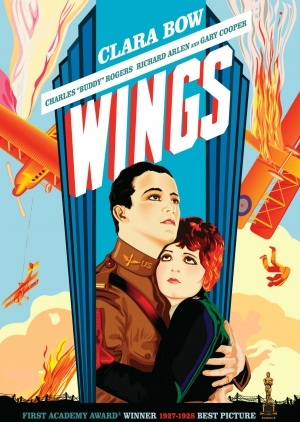 Wellman was born in 1896, a leap year, on February 29. He remembers himself as "a crazy bastard [with] a beautiful boyhood … a hell of a boyhood." The son of a stockbroker and the great-great-great grandson of one of the signers of the Declaration of Independence, his upbringing was traditional Massachusetts upper-middle class. Still, as a teenager he regularly stole cars and went on joyrides at night. His mother was one the country's most respected probation officers for young "wayward boys," but Wellman was kicked out of high school at seventeen for throwing a stink bomb at the principal's head. He floundered from job to job, selling candy and cotton, and then working in a lumber yard where he was fired for accidentally driving a truck into the side of a barn. A talented athlete, he began playing pro hockey while acting at Boston's Colonial Theatre, where, in 1914, a young and as of yet undiscovered Douglas Fairbanks saw him in a play. Fairbanks tried to convince Wellman to come with him to Hollywood, but Wellman turned him down to enlist in the war so that he could pursue his lifelong dream of becoming a pilot.
With the help of an uncle, Wellman joined the French Foreign Legion, where he was made part of the famous Lafayette Flying Corps and quickly earned the nickname Wild Bill for his reckless, daredevil flying style. After he was shot down by the Germans in 1918, the American Army Corps made him an officer and sent him to Rockwell Field in San Diego to teach combat fighting tactics. There, he got back in touch with Fairbanks, now a bonafide star, and flew up to his house in Hollywood on the weekends, landing his plane on Fairbank's polo fields. Even after Wellman's failed attempt at acting, it was Fairbanks again who opened the right doors to get Wellman his start directing films.
Wellman spent six years making a dozen B westerns and romances with names like Second Hand Love, You Never Know Women, and The Boob before he was signed at Famous Players-Lasky, where, in 1926, a studio that always drew from their well of proven directorial talent would stake their bets on a fledgling director whom David O. Selznick's wife would later call "a terror, a shoot-up-the-town fellow, trying to be a great big masculine I-don't-know-what." Wings was Wellman's big break, the project that would test his mettle as a director, lay claim to several film firsts (like man-on-man kissing), launch not only his career but Gary Cooper's, and take the camera where it had literally never gone before—up into the sky.
The plot of the film itself is somewhat trite, the mawkish love story a mere scaffolding for the film's true achievement, a series of emotionally exhilarating battle scenes. Jack (Rogers) and David (Arlen) fall in love with the same woman before they're called off to war. Jack's neighbor, Mary (Bow) is hopelessly in love with him, but he hardly notices her. Jack and David become bosom buddies during the war until [spoiler alert], in a cruel twist of fate, Jack mistakes David for the enemy and shoots down his plane. As David is dying, Jack kneels at his bedside, cradling him in his arms. The two friends gaze into each other's eyes so fiercely you think they're going to kiss—and then they do.
Some film historians call this the first gay kiss on the silver screen; the movie was also the first time Clara Bow appeared topless in a major motion picture. But Wings is best remembered for its technical accomplishments: at the time, no one had approached a WWI film from a plane. "There's only one reason why airplane stuff, as the motion-picture workers call it, usually fails to furnish the interest it is intended to give," Wellman said. "And that is that it has no background … Now realize the physical problem in making airplane scenes. There are three ways in which they can be pictured. First, with the camera on the ground pointing into the air. Second, with the camera stationary in the air, as in a captive balloon. Third, with the camera moving in the air—in another airplane."
Wellman began testing possible techniques by sending up a cameraman and a hand-crank camera, but the planes, which were basically made of canvas and bailing wire, buffeted like crazy. Cinematographer Harry Perry experimented by jury-rigging an electric camera to the fuselage of a plane and sending it up. It was the first time a camera had been mounted to a plane and operated without the aid of a cameraman, and it was the way Perry would shoot almost all of the film's flight scenes. During these scenes, Rogers and Arlen are flying solo, without a director or crew—just a man, a camera, and the open sky. It's all at once terrifying, magnificent, and incredibly personal for silent film, an era typically remembered for its maudlin stories and overly emotive performances.
Luckily, Arlen had some flying experience prior to shooting the film, but Rogers, who had none, had to undergo quick and intense flight training. According to Wellman, Rogers was so nervous he vomited when he landed—not just in the beginning, but every time his plane touched down for the entire shoot. And not only did Rogers and Arlen need to learn how to take off, race above the clouds, dart back down, and fly around for hours during filming, they also had to be their own directors and camera operators, activating the camera with a button, marking the take number, calling cut on themselves, and trying it again if they weren't happy with their performance.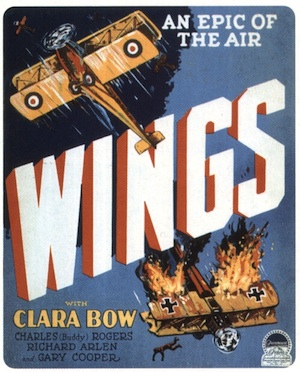 These scenes give Wings a sense of realism heretofore unseen in silent film. To make the battlefield shots equally gritty and lifelike, the crew created a five-acre battleground, complete with trenches and a replica of St. Mihiel, the French town where a major battle took place in 1918. Nine cameramen on the ground and four in towers shot as Wellman himself detonated the explosions during the takes. For the air fights, Wellman hired the best stuntmen working in Hollywood. When you see a plane spiral towards the ground, the camera cutting just moments before it's due to smack into the earth, that's no special effect. That's the work of daredevils like Dick Grace, who injured his neck and spine after taking a nosedive.
Working with a cast and crew of this size quickly shot the budget into the millions, and Wellman's unbending perfectionism began to try the patience of his producers. In order to best showcase the planes, he needed clouds—big, thick masses of clouds to serve as a backdrop—but for thirty-three days there was not a cloud in the perfectly blue skies over the San Antonio airfield where they were shooting. "We waited," Wellman said, "while costs surmounted budgets—for the right kind of clouds … and then we flew above them and beside them and in them. Against the clouds we could see the planes dart at each other. We could see them swoop down and disappear in the clouds. We could sense the plummet-like drop of a disabled plane." It's these scenes that make Wings so thrilling to watch today, even—and perhaps especially—when compared to their modern, computer-generated counterparts.
When Wings opened at New York's Criterion Theatre in August of 1927, just three months after Charles Lindbergh's transatlantic flight, audiences were ecstatic. It played in New York for two years, followed by an unprecedented, fully orchestrated road show. But even though Famous Players-Lasky had a hit on their hands, tension between the studio and Wellman had grown to such a pitch that Wellman wasn't invited to the New York opening and his contract wasn't renewed.
Wellman went on to make more than eighty films, directing stars like James Cagney, Jean Harlow, Clark Gable, Gary Cooper, Gregory Peck, Lauren Bacall, and Jimmy Stewart, among others. Ten years after Wings, he won an Oscar for Best Writing, Original for A Star Is Born, which he also directed. In 1973 he was recognized by the Directors Guild of America with the Lifetime Achievement Award, an honor that has only been given to thirty-two other directors. So why is Wellman all but forgotten today?
Perhaps the answer lies in that first Academy Awards ceremony. He won for the best-produced film, not the most artistic or unique. F. W. Murnau, who died in 1931, just a few years after he made Sunrise, has only twenty films to his name, yet it's Murnau and his "unique and artistic production" that are the subject of film classes now, not Wellman, who, by comparison, was high on production and low on art.
When asked about what he enjoyed most about filmmaking, Wellman said, "The money … I wanted the money. I wanted to get to the point where I'd never have to work again if I didn't want to, [but] when I got to that point, it wasn't as nice as I thought it would be." That's probably because despite Wellman's financial practicality, he had an artist's drive, an energy that The New York Times described as the kind "painters, sculptors and dancers strive for; Wellman, who had no fine-arts background and not much formal education of any kind appears to have had it in his bones."
In 1958 Wellman made his last film, Lafayette Escavrille, about young American pilots flying for France in WWI. He died seventeen years later from leukemia. After he was cremated, his ashes were scattered into the ocean from a plane.
A retrospective of Wellman's films will be running until March 1 at New York's Film Forum.
Perrin Drumm lives in Brooklyn with her cat, Oscar, and a freshly minted master's in fiction. See more of her work at perrindrumm.com.