MONDAY
6:30 A.M. Woke up. Bought coffee at deli.
Read amNewYork on the subway to Queens. Page six: Khloe Kardashian and her giant basketball-player husband wear their pajamas to open Xmas presents.
8:30 A.M. At Queens College illustration class, one of my students turned in a drawing of anthropomorphic poop.
Another presented me with a illustration of a cat holding a keytar.
I did a presentation on mail art, showing lots of slides of Ray Johnson.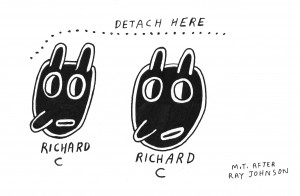 The students are mailing their mail-art projects to me. One student asked if he could send me an envelope with a label on it saying it contains a nuclear bomb. (NO.)
9:00 A.M. Looked at JoJo's Bizarre Adventure manga comic shown to me by my student Demetrius. It was incomprehensible. He showed me another manga about horse racing that seemed more interesting. I like the ones that break down one event—a race or baseball game—into a whole book or even series.
12:30 P.M. On the subway, read Riddle of the Traveling Skull by Harry Stephen Keeler. I've gotten to a good part about Suing Sophie, who sues men she meets on cruise ships—men who, she claims, have proposed to her. It's great, but I fell asleep reading.
12:45 P.M. I woke up and got off the subway to look for Christmas presents. At Urban Outfitters, observed books by Banksy and books that contain the word fuck in their titles. Then I went to Sam Flax. This is a comfortable, old–New York store stuffed with toys and obscure office supplies. Corpselike women with leopard-skin handbags purchased pens with feather-duster ends on them.
2:15 P.M. I went to the Fantasma Magic shop on Thirty-third and Seventh to buy a magic kit for my nephew.
The manager showed me Houdini's original handcuffs on display. I asked him if he knew how David Copperfield had made the Statue of Liberty disappear. He said, "I can't tell you, but it was a very expensive trick."
5:30 P.M. On the subway home I saw a man wearing fleece pajamas with the Smurfs on them.
8:00 P.M. Woody Allen interview on YouTube.
TUESDAY
8:30 A.M. Woke up reluctantly and ate a hard-boiled egg. Looked at Facebook. Eamon Espey's drawing room was profiled on the blog Where They Draw.
9:00 A.M. I burned CD-Rs for my zine, Are Snakes Necessary?, and mailed copies to interview subject J. Chastain and essay subject Daniel Pinkwater.
2:15 P.M. Graphic Novel class: Students started to trickle in with their final projects. As they added their precious minicomics to the pile, I came up with a joke. I would congratulate them and inform them cheerfully that at the end of the class we were going to pick up a can of gasoline from 7-Eleven and set all the projects on fire, as an exercise in "letting go." This made them uneasy.
We watched the 1988 documentary Comic Book Confidential. It gets good when they hit the sixties. Lynda Barry is hilarious, and Jaime Hernandez charismatic, plus there's a friendly eighties Frank Miller. Bill Griffith reminds me of Christopher Walken. Afterward, I asked the students their opinions of the film. L. said, "It was too old."
7:00 P.M. Went to practice with The Drunkard's Wife at their space in Long Island City. Arrived to see Matt Choplick's huge bass saxaphone, an instrument of which Dr. Seuss would approve.
When I was nineteen, I tried out to play drums for Craig Flanagin's old band, God Is My Co-Pilot. I was not a drummer and my audition was pathetic, but they were kind enough to hang out and let me play sax along to some their tunes. Fifteen years later, I am delighted to be allowed to blat along to his new band, which I enjoy and admire. There's not enough fun, joyous, and subversive music left in New York these days.
WEDNESDAY
11:00 A.M. Had a dream about money falling from the sky. People who collected it were instantly attacked by others. The dream was a movie and the the title was Where Is It Falling From?
11:30 A.M. Ate oatmeal and hung out in the studio listening to WBAI.
1:00 P.M. Started work on my weekly INFOMANIACS strip. In this episode, the rap group Amy Shit and the Climate Game-Changers perform their consciousness-raising single "Global Chillin."
2:00 P.M. Listened to cassette called GORGON HI-POWER that my girlfriend, Rebecca Bird, found in a parking lot. It turned out to be a great dancehall-reggae tape!! Listened to Skeleton Warrior/Meager Sunlight split tape, Seasons of Nudity. Highly recommended techno weirdness.
6:00 P.M. Made pizza. Read article on John Jeremiah Sullivan in The New Yorker.
7:00 P.M. Inking … listened to Rainbro tape. Melodious minimal music. WORK WORK WORK.
9:00 P.M. Read about Obama's scary Guantanamo Infinite Detention speech.
11:00 P.M. Read about detention of punks in Indonesia. Watched YouTube video of protesters gassed in Houston. Drone planes being used in the United States.
3:30 A.M. Posted INFOMANIACS strip on PictureBox site.
THURSDAY
9:00 A.M. Terrified about the response to the new INFOMANIACS strip, because it's so long. Instead of eight well-composed panels, it's more like twenty-six little floating rapping heads. I start to stress out that people will be annoyed I am hogging the Internet. Also there are some bad words that I am somewhat embarrassed to be using.
9:17 A.M. Read interview with Tom Neely at The Comics Journal.
12:00 P.M. Read Donald Trump's Wikipedia page after seeing him diss Rosie O'Donnell on Twitter. These Machiavellian figures are an influence on INFOMANIACS, or will be eventually.
1:00 P.M. Wrapping presents, listening to a record Devin Flynn gave me of his old band, Hawd Gankstuh Rappuhs Wid Ghatz. Chaotic absurdist noise rap, I love it! Listened to Peter Gabriel's Security. Pretty boring.
3:00 P.M. Took my presents to the post office. When I came back, three kids—Reon, Juwan, and Miguel—who hang out and draw at our studio sometimes were knocking at our door. Rebecca and I let them draw for a while. They copied tigers out of a Dover book of animals.
4:00 P.M. Rebecca talked me into going with her to the hardware store. She bought a machete. My girlfriend is a badass. She also convinced me that we should buy a Shop-Vac for our dusty home and studio.
6:00 P.M. I assembled the Shop-Vac .
6:30 P.M. Ted Lee from Feeding Tube records wrote to say the Ambergris record is almost ready to be pressed and will come out in early 2012. Whoopee! He wants me to pick out colors for the cover.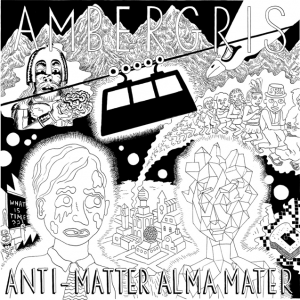 10:00 P.M. Watched the English National Opera production of The Mikado with Eric Idle. Instead of trying to look Japanese, this production is in the style of an English twenties musical and feels very influenced by The Boy Friend by Ken Russell.
Eric Idle can't really sing and is funny, but the production is somewhat Python-ized, which is okay but unnecessary. Gilbert's librettos and the way they are deployed in displays of rhyming prowess are the real point of interest. The lyrics are so complex and the rhymes so rhythmically perfect, the effect is transcendent, not unlike other ultraformal kinds of art like mandalas or arabesques. I've been thinking a lot about rap and Gilbert and Sullivan. Also I like how much this play deals with beheading!
FRIDAY
7:00 A.M. Rebecca and I coteach a drawing and painting class at Parsons. Today, with some difficulty, we went to our last session of the semester. Judgment day! People seemed nervous as we reviewed their best work from the class.
(A painting by Annalise Olsen of her grandfather.)
Teaching is a constant improvisational act … trying to figure out how to express something to fill an awkward silence. Unsure of what to say, you throw yourself on the mercy of your subconscious.
3:45 P.M. The Strand is pretty crazy during the holiday season. I was looking for Bread of Dreams, a book about medieval-peasant hallucinations caused by moldy bread. They didn't have it. No Pantone books either but they have a color-theory section, so I picked out one based on CMYK values.
My own book, 1-800-MICE, was on display in the comics section on a little metal stand, on sale for half the cover price. Whether this is a good or bad sign, I don't know. Regardless, I am pleased someone is offering a better deal than Amazon!
4:30 P.M. Ate with Rebecca at Vanessa's Dumpling House. I'm glad this place opened up in Williamsburg because it's cheap! Finally a rival to Oasis's $3.50 falafel deal!
6:00 P.M. Went home. Didn't consume any culture. Discussed plans for our studio.
8:30 P.M. Headed to Shea Stadium show space to see Mercer West of Quiet Hooves, who had invited me to play during a few songs. I arrived with my saxophone, feeling like a session man
and trying to hallucinate myself into a Steely Dan recording scenario in 1978. I repeat that I cannot play saxophone; I don't even know my notes. The Dreebs played—a weird new NYC band that had a great screechy art-rock sound, kind of like an ESP-Disc' band from the sixties. Later, with the help of several gin and tonics, I expressed my admiration for them in an effusive manner.
The drawing to the left is from the moment just before I got onstage and disgraced myself with tuneless squawking, playing along with songs I couldn't remember. My obligation fulfilled, I quickly slunk home.
SATURDAY
11:00 A.M. Watched the trailer for the African movie 2016.
Read an article in The New York Times by Andrew Rosenthal about the shortcomings of the Durban conference.
12:00 P.M. Cleaned house listening to Lambert, Hendricks & Ross. This incredible band consisted of three people doing scat versions of famous jazz melodies. Sometimes they scat in three-part harmony. Scat is making a comeback—you can hear its resurgence in the nonsense syllablizing of Lady Gaga.
2:30 P.M. Received letter from Mr. Worthy Fist about erectile dysfunction.
3:30 P.M. Finished Traveling Skull. It was the most convoluted mystery novel I have ever read. The wrap-up has nothing to do with any of the clues. Along the way there are some excellent descriptive passages of Chicago parks, trepanning, etc.!
SUNDAY
11:00 A.M. Drove to the Bronx Zoo with my friend Jed Lackritz and four other humans in a Honda Civic. It was a bright cold day. Ilya told me about working for an Internet company that had been invaded by "bots" during his vacation and described a server farm to me.
2:00 P.M. We saw the bird house and Tiger Mountain.
3:00 P.M. We spent a long time in the reptile house.
My favorite animal was a pig-nosed turtle who was swimming around underwater in a seemingly happy manner.
4:30 P.M. Ate in a Spanish restaurant with Arabian glitter-paint decorations reminiscent of a Jack Smith movie set.
7:00 P.M. Back at home, I showed Jed my treasured copy of Stan Mack's Real Life Funnies.
This book is a great glimpse into the seventies. Mack's detectivelike methods for infiltrating different situations to gather dialogue are notable.
10:00 P.M. We were all tired, but we still kept looking at Jed's photos of his new cat. He played us the Fall's "Jingle Bell Rock." We looked up "The Sensual Santa" by Dan Clowes to show Rebecca, who hadn't seen it. I looked up "O Holy Night" by Celine Dion on YouTube for inexplicable reasons. Collapsed and slept.