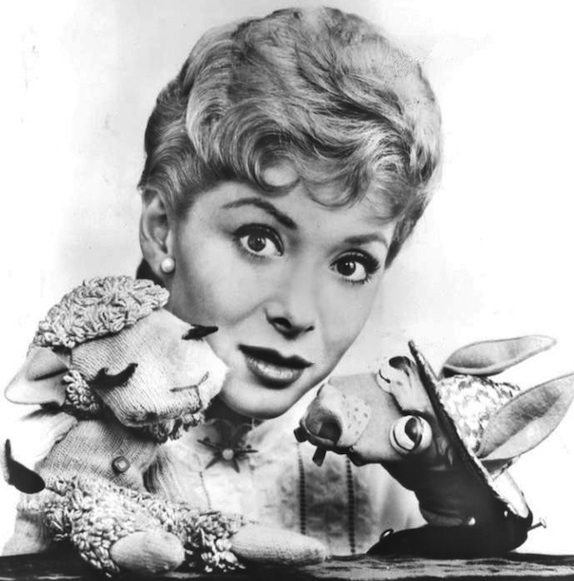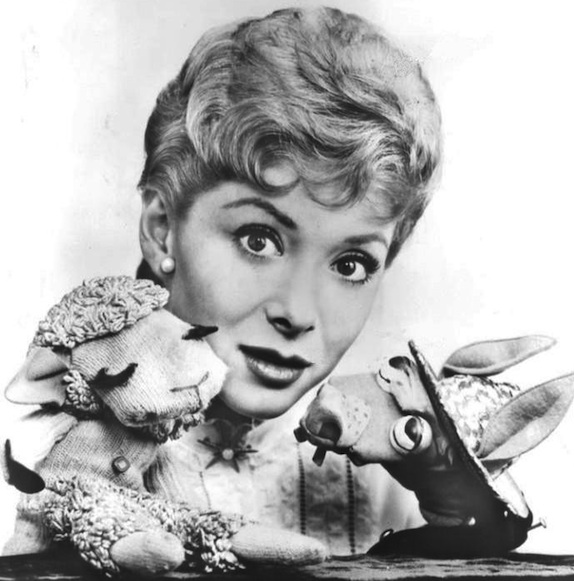 When recently asked his opinion of monogamy, John Waters said, "I don't need another person to make me feel whole. I feel crowded." The line immediately reminded me of ventriloquist Shari Lewis. Lewis wasn't crowded, exactly, with only three enduring creations—Lamb Chop, Charlie Horse, and Hush Puppy—but to me her career is emblematic of the simultaneously crowded and lonely nature of puppeteering. By Lewis's own admission, Lamb Chop's Play-Along, which I grew up watching during its run on PBS from 1992 to 1997, had no educational content. ("My show is not organized to educate," she said. "Sesame Street does that brilliantly.") Instead, Play-Along was a serialized sock-puppet soap opera ("At Home with Lamb Chop") which kept being interrupted by knock-knock jokes, songs, and gags (including an ingenious method of preslicing a banana so that it would tumble to pieces, Jenga-style, when unpeeled). The show was like Borscht Belt boot camp: a toolbox for kids who desperately wanted to be liked, full of little tricks to spruce up their personalities. Even Lamb Chop's laugh—a hesitant, schmoozy laugh that usually comes in response to jokes she doesn't quite understand—hints at her desire to fit in.
The show's emphasis on showmanship stressed me out as a kid, and I preferred the "At Home with Lamb Chop" sequences. They were absorbingly plotted but also had none of the perils of interaction, of trying to woo friends, of trying to follow along at home with your own banana. "At Home with Lamb Chop" offered the comforting suggestion that friends weren't necessary, that one could simply chop one's own personality to bits, and, earthworm-style, the pieces would all sprout heads and start bickering.
Shari Lewis—née Sonia Hurwitz—was raised in the Depression-era Bronx and learned ventriloquism at the knee of an ancient black vaudevillian named John W. Cooper. Her first dummy dated from the turn of the century. Her breed of shtick, in other words, was ancient even when she started out—but it was shtick that continued to delight mainstream audiences. In the forties and fifties, ventriloquist dummy Charlie McCarthy had stars like Marilyn Monroe and Humphrey Bogart on his radio show; when McCarthy costarred in a movie with W. C. Fields, the posters crowed, "At last!"
Lewis's first national television series, The Shari Lewis Show, ran on NBC from 1960 to 1963, and while the show was broadcast on Saturday mornings, surviving episodes have a sophisticated bite. Lewis had studied with Method-acting legend Sanford Meisner (she may have brought puppets to their sessions—it's unclear), and her naturalistic, seemingly impromptu conversations with Lamb Chop entranced adult fans ranging from Errol Flynn to Sammy Davis Jr. Lewis was young and beautiful, too, and the music was arranged for a piano and a xylophone, supplying the show with a boozy lounge-lizard feel. In fact, after her NBC show ended (due, Lewis claimed, to the rise of cheap animated series), Lewis performed a Vegas nightclub act that featured a soused Lamb Chop groping around the stage in search of a martini. In one bit, Lamb Chop hoped to become a Playboy bunny; in another she cracked Nixon jokes. PBS didn't pick Lewis up for almost thirty years, and this was a scrappy, frustrating period for her, during which she conducted symphony orchestras, starred in stock productions of Funny Girl, Bye Bye Birdie, and Damn Yankees, and opened for Jack Benny at casinos.
Lewis's work, however, rarely tipped into seediness, in part because Lamb Chop's voice—her singing voice in particular—is shot through with purity. In Blue Valentine Ryan Gosling's character says, "I can't really sing. I have to sing goofy, in order to sing. Like, I have to sing stupid." That's true for Lewis. While her own singing voice has a metallic, tremulous Judy Holliday quality to it, when singing as Lamb Chop she is singular—producing an adorable little caterwaul with phrasing as crisp as Sinatra's. If that comparison seems presumptuous, it should be explained that on The Shari Lewis Show Lewis's puppets regularly dug into the American songbook, with an emphasis on flippantly woeful ballads: within a single episode, Hush Puppy sang "They Can't Take That Away from Me," and Lamb Chop delivered "I've Grown Accustomed to Her Face."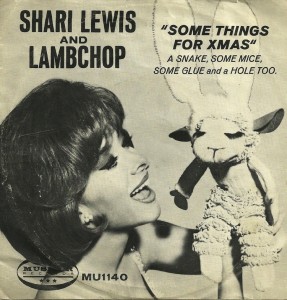 They were beautiful, those songs, though perhaps I have a perverted sense of what's beautiful. Of all the aspects of puppetry that simultaneously muss the illusion and sustain it, there are few I love as much as puppet vibrato. Muppets like Miss Piggy are made of sculpted foam latex, and can only simulate vibrato by rather mechanically clapping their mouths open and shut—but as a nearly unadorned sock, Lamb Chop's face is extraordinarily expressive. Her vibrato shows up as a ripple, a series of split-second fabric bunchings, an Adam's apple that ricochets around her head like a pinball. And yet it's less realistic than a Muppet trill, because in scrutinizing Lamb Chop's face you can pick out a thumb here, a pinkie there. Realism's no priority in ventriloquism, of course—the Man Behind the Curtain is there, and Lewis designed her routines knowing that children were drawn to staring at her clenched teeth, trying to catch her on the plosives. I used to relish this little game, especially in a world of kiddie entertainment where "magic" was laboriously, and often tiresomely, sustained.
And yet the emotions of Lewis's high-strung little socks remained poignant. Film critic David Thomson has written that "the most special effect in movies is always the human face when its mind is being changed." He didn't mention what Shari Lewis gives us: the effect of the human hand changing its mind.
Like Grover and Cookie Monster, Lamb Chop sings willfully, with an insistence on hitting notes she doesn't quite have. So she hits them. Note, also, the subversive guttural chs that Lewis has Lamb Chop use when she's singing "The First Noel," at 7:13 in the video above. It's the giddy usage of a little Jew who's just been taught how to pronounce challah and is overdoing it. (Lamb Chop, with her Yiddishy line inflections, often seems Jewish—and Charlie Horse definitely is, having once referred to himself as "one of the few Palomino Jews.") Although Lewis's family was not observant, she considered herself culturally Jewish, telling a member of the American Jewish Committee, "I certainly am alienated from society. Jews are alienated from society." While conceding that she grew up in a Jewish community, Lewis added, "Once you look out at the outer world you see the rest of them. You become aware of the fact that it's us and them, and that 'us and them' never leaves you, I think." Being a woman isolated Lewis further. "The real difference between Jim [Henson] and me was his power as a team player," she said. "Girls are not brought up that way."
This alienation comes across in her work: the profession of ventriloquism was assurance that Lewis would never have to interact onscreen with anyone other than herself. I recently watched her 1996 guest appearance on Sesame Street; the episode is ostensibly about a kittenish Lamb Chop learning how to meet new people, but what struck me was how furiously Lamb Chop and Lewis kept their eyes on each other throughout. Big Bird, Lamb Chop's "new friend," just stood there like a lug while the two of them sang. A new friend, of course, would throw their rhythm off. Their shtick is self-sufficient.
For a while my friend Sara and I had a running parlor game in which we tried to determine who in our lives qualified as a "tragic figure"—who, that is, had been battered by misfortune and failure to the point that they transcended reality and seemed to exist in enormous, Jocasta-ish proportions. The game faded from our lives, partly because of the gradual realization that we might be tragic figures ourselves, but it all came flooding back when I watched a recording of Shari Lewis's 1993 appearance at the Museum of Television & Radio. It was a blip in Lewis's fifty-year showbiz career, but a revealing blip all the same.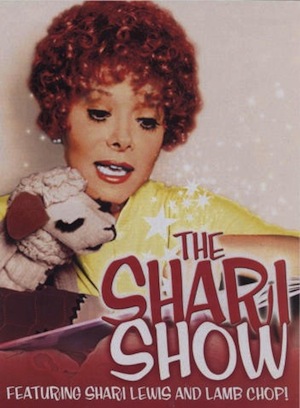 The turnout was mostly children, and Lewis hastily abandoned the planned interview and began prancing about and singing to hold their attention. Less than five feet tall, she seemed to be all pantsuit lapels. There was no sweetened laugh track to leaven her jokes, either, and as gag after gag flopped, Lewis took to doing little burlesque bumps and saying things like, "I need a rimshot!" Her fear of being washed up was obvious. When asked if her show had been renewed, Lewis tentatively replied, "We're going to find out Tuesday at twelve o'clock."
Later in the Museum of TV & Radio appearance, she invited a small child onto the stage. The skittish child tried to retreat, but Lewis coaxed her back, manhandled her onto her lap, and ordered her to tell a knock-knock joke. When the joke turned out to be incomprehensible, Lewis froze for a second, then laughed mechanically to get the audience going—but you could see her nostrils flaring with disgust at the kid's unprofessionalism. That same year, Lewis told the Baltimore Jewish Times, "I am a performer who loves performing." When the reporter prompted her, "And loves children?" Lewis hastily added, "Yeah, oh yeah, I love children." She's not too convincing—and watching the Museum of Television & Radio appearance made her plight obvious: Lewis performed for children because they were the only people still showing up.
She was never particularly into kids as an audience. While touring in a production of Funny Girl in 1967, she told newspapers, "I don't want to be known as a children's performer. I'm an entertainer." She spent decades yenning for a prime-time sitcom. A month before her sixtieth birthday, she boasted to the New York Times, "It's something I've always wanted, and the offers are finally coming my way." No such offer materialized, of course—but Lewis never incorporated her resentment of Lamb Chop (if she had any) into her act.
A small mountain of lore has accumulated on the subject of Lewis's connection with Lamb Chop—it's been suggested that she smuggled the puppet along on her honeymoon and that she insisted producers flying her places purchase a seat on the plane for Lamb Chop—but it's hard to tell how much of it's apocryphal. Lewis herself confessed that after The Shari Lewis Show was cancelled in 1963, she "went to Lamb Chop and cried with her. But it hasn't happened since." Even once seems like a lot, though, and Lamb Chop's Play-Along often seems to be referring to that moment of demented codependency, presenting situation after situation in which Lamb Chop is jonesing to get away from Lewis. Here's a typical exchange:
Lamb Chop: She treats me like such a child. No matter where I go, no matter what I do, Shari is always lurching in the background. It's not healthy.
Shari: Well, what do you want?
Lamb Chop: I think it's time you tried to find some friends your own age. (pause) No matter how long that takes.
It's a winningly abrasive routine, but I think I prefer the yearning, Ramona Quimby-esque Lamb Chop of The Shari Lewis Show. She was still fantasizing about solitude in 1961, but the sentiments were abstract and dreamy: "Sometimes I wish I could go away to a little town where nobody knows me … and tell them about me," she said once.
Of course, Lamb Chop did get her solitude: Shari Lewis died on August 2, 1998, of complications from uterine cancer. Lewis died when I was on the cusp of outgrowing Lamb Chop. If she'd stuck it out for a couple of months, I wouldn't have needed closure, wouldn't have had to dig my cleats into her life as I'm doing now. As it is, even Lewis's televised sign-off fascinates me. It was a little jingle called "Hello, Goodbye," and in its very chintziness it seems to be encoded with the tragic disappointments of Lewis's career. The song was edited to a montage of Lewis's greatest screen triumphs (none of which seem very great, and none of which are as moving as the simple arrival of Lamb Chop's runny-nosed falsetto two minutes in). "Hello, Goodbye" was the last time Lewis appeared on camera. Huddled with the rest of the crew of The Charlie Horse Music Pizza to watch the playback, Lewis fixated on Lamb Chop's televised form, saying, "Isn't she beautiful, isn't she funny, isn't she hysterical?"
Well, yes, she is. But then, I have a perverted sense of what's beautiful.
Matt Weinstock lives in Manhattan.