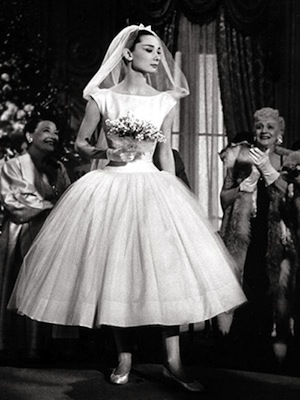 We're out this week, but we're re-posting some of our favorite pieces from 2011 while we're away. We hope you enjoy—and have a happy New Year!
Over the weekend, in preparation for Hurricane Irene, I moved clothes out of the back-room closet in our Brooklyn apartment, which in heavy rain has been known to leak. I moved coats and a few vintage pieces I never wear but which seem too peculiar to throw away. And I moved the large silver garment bag I've carried with me to six apartments in as many years.
You see, when I was twenty-four, I had a wedding dress made. It was—and remains—a beautiful dress, the sort of garment for which "confection" is actually an apt description: sheer Swiss dot overlaying pale pink, a voluminous crinoline, a tea-length skirt. The effect was a bit Funny Face, but not so bridal that I wouldn't, as I told everyone at the time, be able to wear it again. Where I would have occasion to wear such a dress again was an open question. But when I was married, surely, this question would resolve itself like so many others.
From the get-go, I knew I wanted Mary to make the dress. I'd been pressing my nose against the glass of her Lower East Side shop for the better part of a decade and relished having an excuse to walk through the door into the tent-striped interior, which smelled strongly of Votivo's Red Currant candle.
Mary was a strong-minded and somewhat intimidating figure whom I quickly grew to revere. Tall and imposing, she was generally black-clad, sporting a feathery twist of hair, red lipstick, and a pair of severely stylized glasses. She said I was the easiest bride she'd ever dealt with; I think I may have just been so young that I was easy to push around. That, and I didn't have an interfering mother. My mom, who came with me to only a couple of the numerous fittings, was out of her element in the fragrant, feminine space and deferred instinctively to the designer. I didn't want to prolong the process. I was uncomfortable with someone lavishing so much of her time on something for my express use.
On the day of the first fitting, Mary asked me if I had any concerns about my body she should keep in mind. I said that, as long as she was asking, I'd never much cared for the width of my shoulders.
"Everyone has some shit," said Mary, which seemed a bit unjust.
G. and I had met early on at the University of Chicago, teenagers in a romantic landscape of which wags like to say, "The odds are good but the goods are odd." We lived in a dorm, single-sex by floor, with the teenage math prodigies, the various religious types, and a few garden-variety prudes. It was a novelty for me to have a boyfriend, and I couldn't help but feel I was playing an ill-cast role. Small, plain, alternately introverted or—to compensate—wacky in a way that now makes me cringe, I was scared of the world of hormone-fueled hookups and sexual swagger and American Pie.
I liked G., of course, and later I loved him even in the face of widespread bemusement. I liked his belligerence, and his unexpected kindness, his intense interest in Medieval coenobitic monks and absurdity, and our shared love of Scottish bands and old films and local food. Later there was shared suffering and tragedies and apartments. Financial support and moral support. Planned children and retirements. Families merged and entangled. Five years, then six, and then seven. My youthful dreams of a picturesque spinsterhood faded—a long-suffering relationship with a character seemed almost as pleasing and safe a narrative.
It was assumed we would get married, and our engagement seemed the most natural thing in the world. I remember giving vague but sincere prayers of thanks to whomever had allowed me to avoid what I regarded as the sordid quagmire of dating and sexual politics and the finding of oneself. Sometimes, someone older would allude to "experience" or "not settling down too young," and I secretly pitied them their self-justifying illusions.
How did the engagement end? With disillusionment, of course, and heartbreak, and recriminations and self-recriminations. With a sense, almost, of satisfaction at the extent of my own hubris.
"How's it holding up?" G. asked of the dress the other day. I said I thought it was okay. In fact, I knew this to be the case, because every so often I try it on. It's a laborious process, putting on the wedding dress: there's a petticoat so that the crinoline doesn't chafe, and then the tulle underskirt itself, and finally the swiss-dot dress with its halter neck, that's a bit hard to do up without help (and I wouldn't try it on if help were handy). Of course, there's no point trying it on if I don't wear the small ivory corset that I bought at the now-defunct lingerie shop on Sullivan Street, or for that matter the dainty size-37 kitten heels my mother and I were lucky enough to find on sale at the Woodbury Commons outlet mall. Even now, it is still a revelation that the seams conform to my proportions and not the other way around. It still fits, although I worry it's too young for me.
The dress disappeared for a while. While living at home I found it in my little brother's closet, where my mom had evidently tried to hide it from me. I tried it on right then, and was struck by the fact that the dress's beauty, its faint hint of the shop's perfume, triumphed over the sadness that was still so fresh. Over time, I decided I would make a joke of the dress. I brought it up preemptively and made repeated references to Miss Havisham. Once, I even considered wearing it to an event, but I couldn't bring myself to.
When Mary finished the dress, she sewed a tag into the bodice: "Fall, 2005" it said—the date of our wedding. I left her with promises of photographs and Christmas cards. Later, the knowledge of that outdated label weighed on me. I wanted to explain, but I felt my failure too keenly. I told myself she probably didn't remember, or care. For several years I avoided that stretch of the Lower East Side, and then was shocked to see that, during that time, the store had shuttered.
Nowadays, when I allude to my earlier relationship—which I do less and less—I don't mention the engagement. Or I play it off. "We were young." I say, or, "It never really got that far." Then I see the silver garment bag. If you open the bag and bury your nose in the folds of fabric, you can still smell the faint, perfumed note of Red Currant. And again I'm twenty-four, and I think I've managed to get around it all. And then I move the dress carefully out of harm's way.