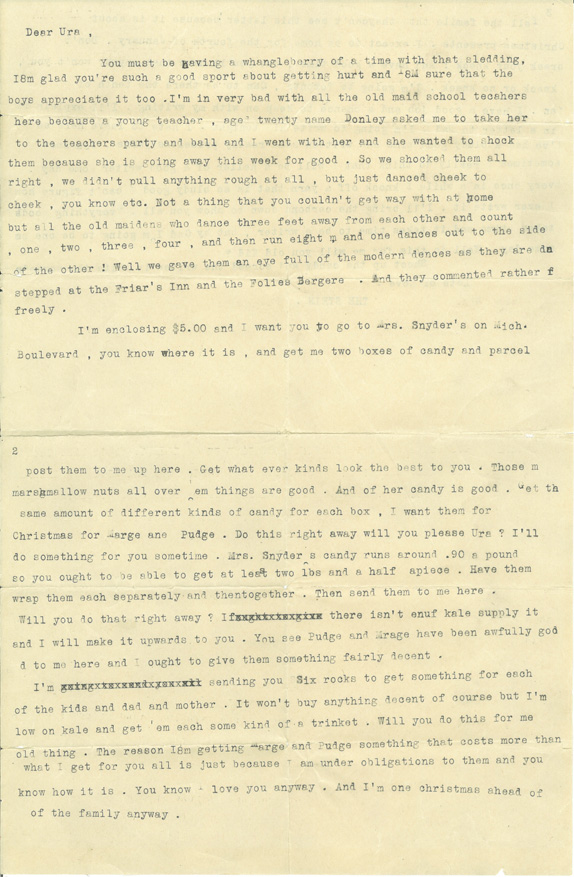 To Ursula Hemingway [ca. mid-December 1919]
Dear Ura,
You must be having a whangleberry of a time with that sledding, I'm glad you're such a good sport about getting hurt and I'm sure that the boys appreciate it too. I'm in very bad with all the old maid school teachers here because a young teacher, aged twenty name Donley asked me to take her to the teachers party and ball and I went with her and she wanted to shock them because she is going away this week for good. So we shocked them all right, we didn't pull anything rough at all, but just danced cheek to cheek, you know etc. Not a thing that you couldn't get way with at home but all the old maidens who dance three feet away from each other and count, one, two, three, four, and then run eight, and one dances out to the side of the other! Well we gave them an eye full of the modern dances as they are stepped at the Friar's Inn and the Folies Bergere. And they commented rather freely.
I'm enclosing $5.00 and I want you to go to Mrs. Snyder's on Mich. Boulevard, you know where it is, and get me two boxes of candy and parcel post them to me up here. Get what ever kinds look the best to you. Those marshmallow nuts all over 'em things are good. All of her candy is good. Get the same amount of different kinds of candy for each box, I want them for Christmas for Marge and Pudge. Do this right away will you please Ura? I'll do something for you sometime. Mrs. Snyder's candy runs around .90 a pound so you ought to be able to get at least two lbs and a half apiece. Have them wrap them each separately and thentogether. Then send them to me here. Will you do that right away? If there isn't enuf kale supply it and I will make it upwards to you. You see Pudge and Mrage have been awfully good to me here and I ought to give them something fairly decent.
I'm sending you Six rocks to get something for each of the kids and dad and mother. It won't buy anything decent of course but I'm low on kale and get 'em each some kind of a trinket. Will you do this for me old thing. The reason I8m getting Marge and Pudge something that costs more than what I get for you all is just because I am under obligations to them and you know how it is. You know I love you anyway. And I'm one christmas ahead of the family anyway.
Tell the famile tht they can't see this letter because it is about Christmas presents. I expect to be home for the fourth of January. Don't break your kneck! And have a good time, but you'll have that anyway won't you, kneck or no kneck. I'm going to Toronto, Can to be there the tenth of Jan. I have a good job and a chance to keep on with my writing. I'll explain it in a letter to Dad. I'm going to write him tonight. I hate to leave here as I've had a bludy good time and written some really priceless yarns. You know sometimes I really do think that I will be a heller of a good writer some day. Every once in a while I knock off a yarn that is so bludy good I can't figure how I ever wrote it. I'll bring the carbons down to show you all. Everything good takes time and it takes time to be a writer, but by Gad I'm going to be one some day. Well do this for me will you old Kid?
Shoot up the candy and screed the writer ir write the screedr
Lots of Love.
THE STEIN.
Excerpted from The Letters of Ernest Hemingway, Volume 1: 1907-1922, edited by Sandra Spanier and Robert W. Trogdon, published by Cambridge University Press. Letter © The Ernest Hemingway Foundation and Society (in the USA) and The Hemingway Foreign Rights Trust (outside the USA). Reproduced with permission.