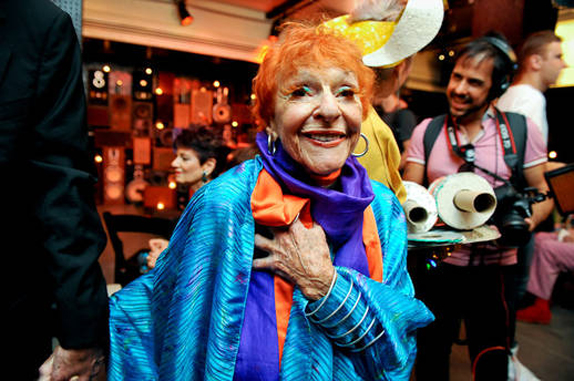 "Yes, there's an elevator," a worried guest was assured on Tuesday night in the lobby of the Ace Hotel. This was no small concern. The event she was on hand to attend, cohosted by Ari Seth Cohen and Tavi Gevinson, was located in the basement. And the crowd was largely over eighty.
The evening was a celebration of Ari Seth Cohen's street-style blog, Advanced Style. As the name suggests, the ladies of the silver-haired set are Cohen's muses; the site contains a mix of known fashion royalty, like Iris Apfel and Beatrix Ost, and strangers whose dashing ensembles catch the photographer's eye. It was both disconcerting and wonderful to see the parade of extravagantly dressed grandes dames enter the aggressively hip Ace, which had been rendered especially youthful by the descent of New York Fashion Week attendees.
Fashion Week parties, as anyone can tell you, are largely about exclusion: lists, velvet ropes, and stony-faced, implacable bouncers. This one was no different, but instead of models and actresses, the women being ushered to the head of the line and pursued by photographers were white-haired, turbaned, and carrying canes. Periodically, organizers scanned the crowded hotel lobby: when they spotted a hat or a caftan, the old lady in question was whisked ceremoniously downstairs to Liberty Hall.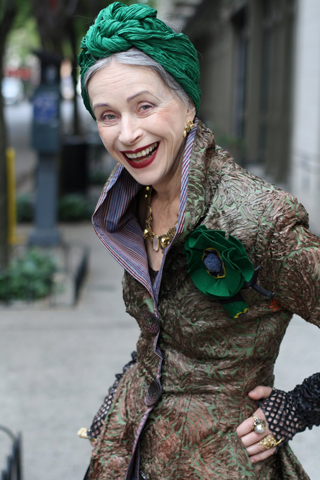 On the walls of the hallway leading to the party were examples of Cohen's work: labeled portraits of women he's immortalized. Some of those pictured are eccentric, some highly fashionable; others are in classic Chanel. The only generalization one can make about his subjects is that they're over sixty-five. If this lumping-together risks coming off as patronizing, such fears are soon put to rest: for one thing, the fashion on display is special enough to deserve its own niche. For another, the young photographer has evident respect for his subjects.
"I adore Ari," said one lady in a cape and turban. "He's a darling."
The clothes on display were, as one might expect, remarkable. There were robes. There were gloves. There were evening gowns. And, naturally, there were hats galore. Much posing, but precious little posturing. The ladies held court on couches and soft chairs in the sepia-toned confines of Liberty Hall while Big Band music played softly in the background. Fashion bloggers and scenesters clustered around them, hung on their every word, rushed to get them drinks. ("I thought there would be canapés," remarked one guest in a seersucker suit.)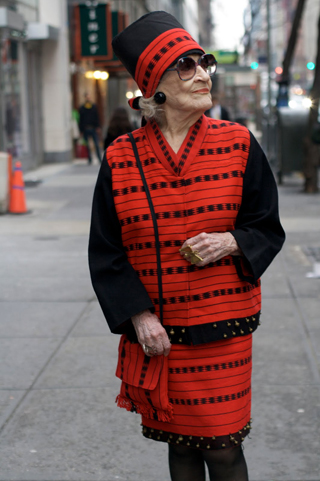 "It's wonderful that people are so interested," observed one lady, who had accessorized with heart-shaped Lolita glasses and a marionette, which danced gaily on her knee.
Tavi, the fifteen-year-old fashion sensation and founder of RookieMag, sported a tiara and perched on a couch beside the ever-regal Ms. Apfel. Her father, Steve, served as something of a generational bridge.
Many guests commented on the unusually relaxed atmosphere of the event. "There was no pressure to dress up, really, because I knew the focus wouldn't be on anyone my age," said a chic-looking woman in her twenties. And, "I haven't seen a single fashion bootie," added her companion.
Not everyone was charmed. "This is macabre," commented one young man grimly.
Later, there was a three-tiered cake and a rousing chorus of "Happy Birthday" for two subjects turning one hundred. They briefly ran out of forks but, as a woman with scarlet hair informed me, "very rich people in England eat with their hands." One youthful attendee wondered aloud if she'd choose to usher in a hundred years surrounded by fashionable strangers; upon reflection, she decided that she would. Then, a performance: cabaret stylings by ninety-one-year-old Ilona Smithkin, resplendent in false eyelashes, the highlight of which was a rendition of "Falling in Love Again" in both German and English. ("I can't hear anything!" one guest complained loudly.)
As the evening went on, the crowds grew: upstairs, a line formed around the block. We were, it was rumored, at "capacity." The room grew warm. The noise level rose. There was something of an exodus by the over-eighty set, and a queue formed at the aforementioned elevator. "It's too loud," explained one woman with a camellia in her hair. "And I'm tired. But for one night, it was worth it."