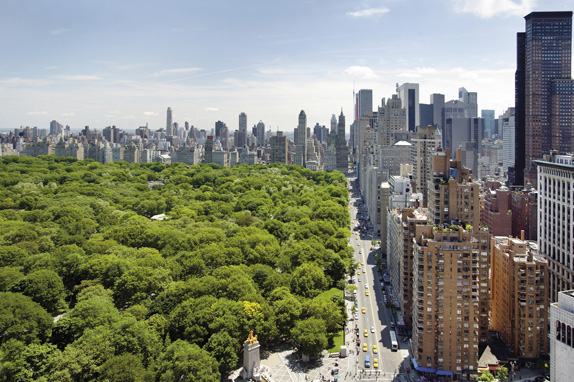 Last we checked, Martin was about to close a deal in New Orleans for a twenty-two-karat rose-gold cuff by Van Cleef & Arpels. He was wearing the trousers of former Parisian Nathaniel Rich after being booted from his hotel room. Martin needs to return to New York so he can resell the cuff and pocket the difference, but he's running out of time. Click here to start from the beginning.
At $11,000 he said, "Mazel." I paid him the cash on the spot, right there in the restaurant, counting out each hundred dollar bill into his moist palm.
"I am giving you this piece, my dear," he said, when he rolled the money in a gray rubber band—he had an even thicker roll from which he'd removed one of the rubber bands—and stuck it into his pocket. "Because I have heard of your troubles. Our friend Nick Mehta speaks of you often, and not without sorrow and concern. If you should ever come back to our business, you know you could find a helping hand there. The gold market in India is booming. All of the software money from Mumbai is going straight into wedding jewelry." Nick Mehta had known me since I was doing the runs at Fort Worth Gold and Silver Exchange when I was fifteen years old. The first time I ate poori bhaji it was made for me by Mrs. Mehta at ten o'clock at night on a dark, icy Friday in December. At that time I was picking up a seven-karat, half-million-dollar ruby for a client that was viewing it at nine the next morning, before we opened the doors for regular business. They officed in one of the big diamond buildings off of 635 in North Dallas, and it would take me two hours, on those winter roads, in my little nondescript Toyota truck (when you're doing the runs in the jewelry business, you don't drive a car that attracts attention) to get back to downtown Fort Worth.
I did not know what stories Drew might be referencing, and I chose not to ask. I paid the check and left him there, finishing the last two inches in that lovely bottle of Roederer, and took a taxi straight to the airport to catch the next flight back to New York.
When I landed in New York I checked in at the Mandarin Oriental—it would only be one night—and called my old buddy and client Selma Morgan, who is a rich widow who has lived in Harlem all her life, and was the best friend of one of my own greatest friends, and loves (nothing racy) the late Lenore Markowitz, who lived in Vienna and in New York and ran bookstores in both places before going into the author-tour business in Dallas. Lenore introduced me to Selma about fifteen years ago, and Selma occasionally bought vintage pieces from me when she came to visit Dallas. She was one of the few women I knew in New York who would feel comfortable just writing a check for a piece of VCA. The Mandarin was for her. I had arrived from La Guardia at three in the afternoon and called—from the hotel phone, not my cellphone—to see if she could join me for dinner. I got her machine and left a message. I called my older brother to see if he had any clients in New York in case Selma was out of town. I couldn't afford to waste eight hundred dollars on the hotel room: I had to put a deal together today. I was beginning to regret not lining up the sale before I checked in. My big brother gave me a few names of dealers who might prove useful if I had to dump it, as well as two solid leads—baseball players from our old days selling to the Texas Rangers, guys who were in the city now—and the surprising but reasonable idea of taking it down to the diamond district to see if I could trade it for a D Flawless round he had a customer for back in Calgary. I started with the ball players when the second line flashed and I grabbed it.
"Selma! I'm in New York for the VCA show. Well yes, I had a hand in putting together the collection. The Cooper-Hewitt. No! Impossible! Well, in that case we have to go together. I'll give you the grand tour. Are you sure you can't make a change? Poached lobster? Lunch, then. I'll send a car for you. Yes I have your address right here, my love. It's been too long. Wear a short dress, I want to see those legs!" I sent a modest but exquisite bouquet of flowers (garden roses, tree peonies, wild clematis, smoke bush, hosta leaves, astrantia, black viburnum) from Emily Thompson in Brooklyn with a card: "To Beauty!" This is why I'd made money in the jewelry business, and why I couldn't do it anymore.
I still had Nathaniel Rich's trousers—revealing themselves to be the luckiest trousers I'd ever borrowed—but I needed a shirt, jacket, tie, the works: the hotel suit had twenty pounds on me and included a hat. I had no socks but Selma might find that unexpected and sexy.
When she arrived I was at the table and I ordered her a Pappy Van Winkle Old Fashioned. We hugged. My arms don't go all the way 'round Selma, never have. She is a lovely woman, with the kind of pomp and picturesqueness of a great white cloud in an enormous sky, the kind of cumulus cloud you see floating alone in Texas, like a sailing ship in a calm sea. She had put on a few pounds since I last saw her and I inspected her wrists nervously. In the nineteen-teens, when that cuff was made, women were smaller than they are today. We talked about Lenore, Lenore's husband—who died before she did—"There is a second life, after your husband dies," Selma added, with a little smile—and their children, and then moved on to the happier subject of Van Cleef and Arpels.
"I thought deco was the thing to have," she said.
"For American pieces other than Tiffany, yes. If we were going to see a Raymond Yard show. But the 1900 Paris exhibition was what really launched the VCA line"—this is true—"and it was all art nouveau. That's where they found their style." This is not quite true: it was Renée Puissant, a daughter of the VCA family, and probably the greatest female jewelry designer yet, who created the most important VCA pieces, which have a style all their own, and she didn't start work at the firm until 1926, well into the art deco period. But the cuff I had bought was pre-Puissant and had only two dozen square stones in the signature VCA mystery setting—the rubies and sapphires seem to be held into the piece without any metal at all, as though they were locked to the gold by magnets—so I had to hit hard on the early period. There were lots of early pieces at the Cooper-Hewitt so I wasn't too worried.
At the show Selma was overwhelmed. I walked her from case to case—noting one cuff that resembled the one I owned but had yet to show her as "among the most important pieces in the collection"—for about an hour before she declared, "I need a drink, honey." We held hands as we walked out of the museum, and the waiting car took us to Selma's private club. After she tried twice to press a glass of very nice burgundy on me—"One glass! You only live once! I believe you're an alcoholic like I believe my granddaddy came over on the Santa Maria!"—and had two more bourbons and a piece of cheesecake, I brought out the cuff. It was wrapped in a reasonably convincing fake Hermes scarf I had bought in Chinatown that morning.
She knew, of course, that I was setting her up for a purchase, but she hadn't expected the cuff. Before she could speak I took her left hand—she wore a fifteen-karat diamond tennis bracelet I had sold her years before on her right—and, bending the cuff wider as gently and discreetly as I could, slipped it over her wrist.
"No!" was all she said, turning her enormous, sold smile from me to the bracelet and back again. It was the "No!" of a woman in love.
Clancy Martin is the author of How to Sell and a contributing editor of Harper's Magazine.