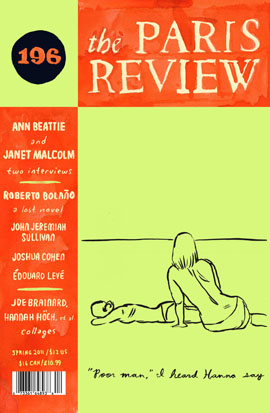 Spring is almost here—and so is our spring issue! It's an especially exciting one: We will be publishing Roberto Bolaño's The Third Reich—our first serialized novel in forty years—with original illustrations by Leanne Shapton.
This is a first edition like none other—a collector's item, and a chance to discover Bolaño's famous lost novel almost a year before it appears in book form. For those of you who aren't subscribers, we are offering a celebratory discount subscription (25% off the cover price domestically; offer good until March 15). Your subscription will also bring you new work by Lydia Davis, David Gates, and Jonathan Lethem, as well as interviews with Samuel R. Delany, Bret Easton Ellis, Yusef Komunyakaa, and much more …
The spring issue features:
A rare interview with Janet Malcolm:
When journalists remember that the interview is a special sort of encounter, and withhold some of their natural friendliness, they don't lose anything by it. The subject doesn't notice. He wants to tell his story. And when the journalist retells the story in a way the subject cannot anticipate, he doesn't feel like such a rat.
A long-awaited interview with Ann Beattie:
My students make fun of me for saying, I've read this carefully now, and you've written it carefully—too carefully. The phone never rings, people get to talk for four pages without interruption. We're used to daily life being the fire truck coming by with its deafening siren. To put that siren in fiction—and not at the convenient moment, but maybe a minute before the convenient moment, or way after the convenient moment—is a kind of acknowledgment to the reader that you're aware there's another life out there that's out of control.
Plus …
Fiction by Joshua Cohen. Photos and prose by Édouard Levé. An essay on cave archaeology by our Southern editor, John Jeremiah Sullivan. Poems by Clare Rossini, Linda Gregerson, Stephen Dunn, and Chris Andrews. Ancient kabbalist verse translated by Peter Cole. A collage portfolio curated by Pavel Zoubok.