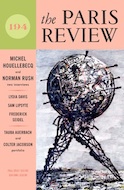 Two days to go before we officially launch the fall issue—and with it, the redesigned Paris Review. We are told that copies have already arrived at a bookstore near us. Maybe also at one near you.
For the curious, the contents include:
interviews with Michel Houellebecq and Norman Rush

fiction by Lydia Davis, Sam Lipsyte, and newcomer April Ayers Lawson

essays by J. D. Daniels and John Jeremiah Sullivan

poems by Carol Muske-Dukes, Dorothea Lasky, Frederick Seidel, John Tranter, Mark Ford, Daniel Bosch, Charles Harper Webb, and the late, great Giacomo Leopardi

artworks by Tauba Auerbach and Colter Jacobsen
We'll be telling you more about these people, and showing you some of their work, over the next few weeks. But … it's never too soon to subscribe!