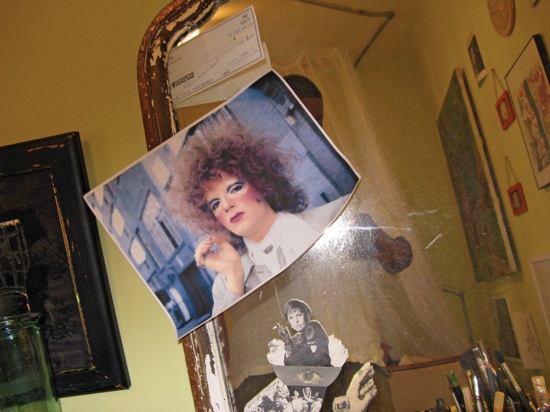 It's the queers who made me. Who sat with me in the automobile in the dead of night and measured the content of my character without even looking at my face. Who – in the same car – asked me to apply a little strawberry lip balm to my lips before the anxious kiss that was fraught because would it be for an eternity, benday dots making up the hearts and flowers? Who sat on the toilet seat, panties around her ankles, talking and talking, girl talk burrowing through the partially closed bathroom door and, boy, was it something. Who listened to opera. Who imitated Jessye Norman's locutions on and off the stage. Who made love in a Queens apartment and who wanted me to watch them making love while at least one of those so joined watched me, dressed, per that person's instructions, in my now dead aunt's little-girl nightie. Who wore shoes with no socks in the dead of winter, intrepid, and then, before you knew it, was incapable of wiping his own ass—"gay cancer." Who died in a fire in an apartment in Paris. Who gave me a Raymond Radiguet novel when I was barely older than Radiguet was when he died, at twenty, of typhoid. Who sat with me in his automobile and talked to me about faith—he sat in the front seat, I in the back—and I was looking at the folds in his scalp when cops surrounded the car with flashlights and guns: they said we looked suspicious, we were aware that we looked and felt like no one else.
It's the queers who made me. Who introduced me to Edwin Denby's writings, and George Balanchine's "Serenade," and got me writing for Ballet Review. Who wore red suspenders and a Trotsky button; I had never met anyone who dressed so stylishly who wasn't black or Jewish. Who, even though I was "alone," watched me as I danced to Cindy Wilson singing "Give Me Back My Man," in the basement of a house that my mother shared with her sister in Atlanta. Who took me to Paris. Who let me share his bed in Paris. Who told my mother that I would be O.K., and I hope she believed him. Who was delighted to include one of my sisters in a night out—she wore a pink prom dress and did the Electric Slide, surrounded by gay boys and fuck knows if she cared or saw the difference between herself and them—and he stood by my side as I watched my sister dance in her pink prom dress, and then he asked what I was thinking about, and I said, "I'm just remembering why I'm gay."
It's the queers who made me. Who introduced me to the performer, Justin Bond, whose various characters, sometimes cracked by insecurity, eaglets in a society of buzzards, are defined by their indomitability in an invulnerable world. Who told me about the twelve-year-old girl who had been raised with love and acceptance of queerness in adults, in a landscape where she could play without imprisoning herself in self-contempt, and who could talk to her mother about what female bodies meant to her (everything), which was a way of further loving her mother, the greatest romance she had ever known, and who gave me, indirectly, my full queer self, the desire to say "I" once again.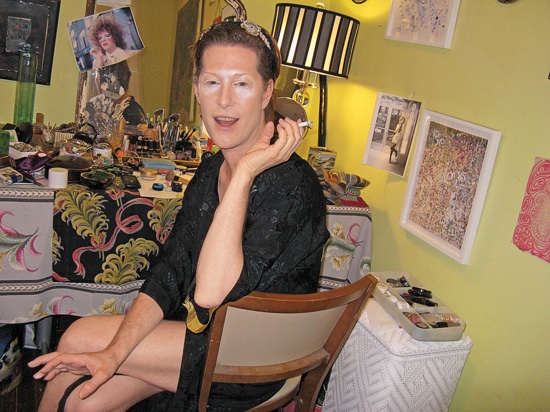 It's my queerness that made me. And, in it, there is a memory of Jackie Curtis. She's walking up Bank Street, away from the river, a low orange sun behind her like the ultimate stage set. It's my queer self that goes up to Jackie Curtis—whom I have seen only in pictures and films; I am in my twenties—and it is he who says, "Oh, Miss Curtis, you're amazing," and she says, in front of the setting sun, completely stoned but attentive, a performer to her queer bones, snapping to in the light of attention and love, "Oh, you must come to my show!" as she digs into her big hippie bag to dig out a flyer, excited by the possibility of people seeing her for who she is, even in makeup.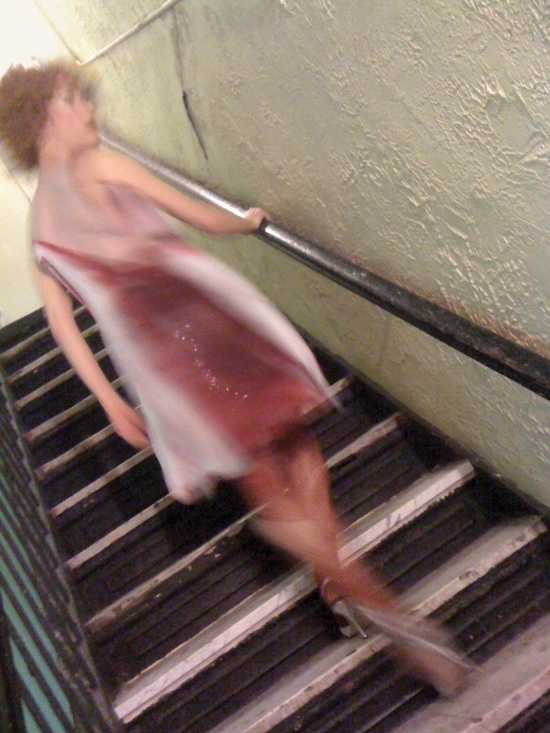 Hilton Als' Justin Bond/Jackie Curtis was recently published abroad and is available in New York at the fine booksellers Three Lives & Company and St. Mark's Bookshop. Photographs by the author.