From the Oresman Collection
What follows is a portfolio inspired by a visit to the Central Park South duplex apartment of Donald and Patricia Oresman, where the walls from ceiling to floor, and those of an adjoining apartment, are covered with over three hundred framed portraits of people reading. The Oresmans, who had been rather eclectic collectors, began focusing on people reading as a subject about fifteen years ago. Mr. Oresman, a distinguished patron of the arts and a longtime Wall Street lawyer with the firm of Simpson, Thatcher & Bartlett, bought a Jim Dine painting of his wife reading a book. Not long after, she bought a Larry Rivers painting of his friend, the poet Frank O'Hara, also reading. From that point on the Oresmans decided to focus on that pastime. Their collection now approaches 1,400 in number—those paintings, prints, lithographs, photographs, and sketches not showing on the wall safely stored in cabinets and drawers.
It is a gainsay to walk through the Oresmans' spacious apartment and not wonder what the subjects in the various representations are reading, and even more what drove them to that particular volume. This experience was put to a number of writers and poets. What came to mind is contained in what follows…
Authors Artists
Margaret Atwood Kathe Kollwitz
Roy Blount, Jr. Kathryn Freeman
Hortense Calisher Gisele Freund
Billy Collins Dave Heath
Don Delillo Louise Nevelson
Jonathan Galassi Roy Lichtenstein
John Guare Paul Cadmus
Allan Gurganus Henri Matisse
Jim Harrison Balthus
Edward Hirsch E.E. Cummings
John Hollander Thomas Hart Benton
John Irving Eloise H. Wilson
Christopher Logue John McDonald Kane
Ben Marcus Helen Levitt
Susan Minot Saul Rabino
Edna O'Brien Jean-Emile Labourer
Robert Pinsky Peter Ilsted
Reynolds Price Katherine Doyle
Francine Prose Benton Spruance
James Salter Bill Brandt
Charles Simic Bascove
Kurt Vonnegut Will Eisner
Jeanette Winterson Roy Lichtenstein
Helen Vendler Paul Cadmus
Charles Wright Pablo Picasso
---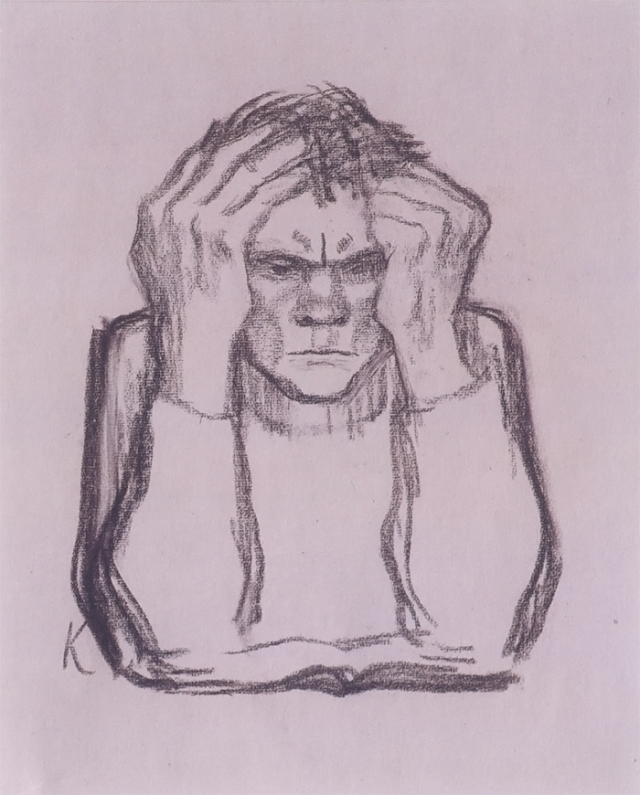 Der Lessened by Kathe Kollwitz, 1917
Charcoal on butten paper
This man is reading Pride and Prejudice by Jane Austen. It's rough sailing. He would rather be reading The Anarchist's Guide to Bomb-Making, but a young lady in whom he is interested has demanded that he read chis book instead, both to prove his love for her—her term—and because it will reveal to him a hidden side of her character.
He's wondering about this hidden side. Does she believe that underneath his brusque, turtlenecked, dirty-fingernailed exterior there lurks a Darcy-like gentleman, with cultured castes, ancestors, and a large estate? Is his admittedly gauche pursuit of her supposed to end with a stroll in the shrubbery and a proposal of marriage?
"If you will thank me," he replied, "let it be for yourself alone. That the wish of giving happiness to you, might add force to the other inducements which led me on, I shall not attempt to deny. But your family owe me nothing. Much as I respect them, I believe I thought only of you."
Is this her game? If so, she won't win it. If she lures him to the altar he will have to give up anarchism—thrilling though this girl now claims to find it—and get a job as a postal clerk. That's the end result of literature of this type. Maybe he should corner her in the back parlor—her family has bourgeois pretensions—and get down to brass tacks, tacks of a kind this Austen person would doubtless fail to acknowledge.
He could give Mr. Darcy a rip or two. To hell with the breathless pleading. A grip on the tit and they wilt in your arms.
Though, on the other hand, maybe it's all about money.
—Margaret Atwood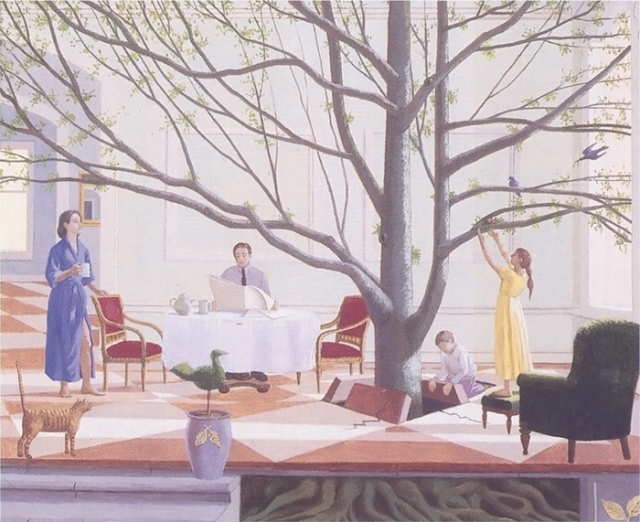 Arbor Day Study by Kathryn Freeman, 1997
Oil on panel
The man: His tie, his coffee, his business section.
The woman: Her feet and part of her leg bare, and there is something not quite right about the leg. If he does not ask about the leg, perhaps she will not ask what he plans to do about the tree. But he knows she will.
Their flesh and blood: Daughter, becoming involved in the life of the tree. She probably shouldn't. Son, trying to plumb the depths of the tree. He probably shouldn't.
The tree: Robust, but scant of leaf. Should probably not be in the home.
Then too, what the man is reading should probably not be in his business section. Unless the man is greatly mistaken he has read it before, in college, not as a news item but as "The Second Coming" by William Butler Yeats:
Turning and turning in the widening gyre
The falcon cannot hear the falconer;
Things fall apart; the centre cannot hold;
Mere anarchy is loosed upon the world…
He should probably not read on. He reads on.
The blood-dimmed tide is loosed, and everywhere
The ceremony of innocence is drowned;
The best lack all conviction, while the worst
Are full of passionate intensity.

Surely some revelation is at hand;
Surely the Second Coming is at hand.
Surely not. He skips ahead.
…somewhere in sands of the desert
A shape with lion body and the head of a man.
A gaze blank and pitiless as the sun,
Is moving its slow thighs…
The cat: Tail up. No help to the man.
…while all about it
Reel shadows of the indignant desert birds.
The birds in the tree: Not indignant.
No one is looking at the man. Not even the topiary duck. He should probably turn the page.
—Roy Blount, Jr.
Want to keep reading?
Subscribe and save 33%.
Subscribe Now
Already a subscriber? Sign in below.