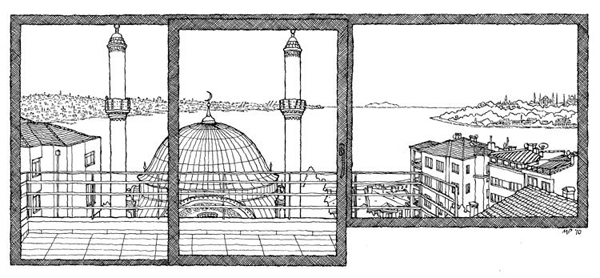 Orhan Pamuk, Istanbul, Turkey
Matteo Pericoli's new book, Windows on the World, features his intricate pen-and-ink illustrations of fifty views from fifty writers' windows, including those of Orhan Pamuk, John Jeremiah Sullivan, and the late Nadine Gordimer. In short essays alongside the drawings, these authors share what they see from their windows—around the world, from Lagos to Berlin—drawing a new map of our imaginations and dreams.
Now you can have your view illustrated by Pericoli, too.
Starting November 1, submit a photograph of the view through your window—including the window frame—along with three hundred words about what you see, to [email protected]. Submissions will be judged by the editors of The Paris Review and Penguin Press, and by Matteo Pericoli. The winner will receive Pericoli's original sketch and have his or her essay published on the Paris Review Daily. Five finalists will receive signed copies of Windows on the World. By submitting a contest entry, you acknowledge that you have read and agree to the contest rules below.
Submissions will be accepted from November 1-15, 2014.
Terms and Conditions.
CONTEST RULES: NO PURCHASE IS NECESSARY. Void where prohibited by law. The Contest is co-sponsored by The Paris Review Foundation, Inc., located at 544 West 27th Street, New York, NY 10001 ("The Paris Review"), Penguin Group Random House Limited, and Penguin Random House LLC (collectively, the "Organizers"). The entry materials submitted by participants in the Contest ("Participants") will be judged by representatives from each of the Organizers and Matteo Pericoli and five (5) finalists and one (1) winner (the "Contest Winner") will be chosen among all eligible entries based [solely] on the craft and creativity of the entry. Odds of winning will depend on the craft and creativity of the entry, limited to one entry. Employees, agents and representatives of the Organizers may not enter the Contest. In order to be eligible, entries must be received by November 15, 2014. Finalists will be announced on The Paris Review's and Penguin Random House's websites and notified via email by November 18, 2014. Finalists' Contest entries will be published on November 18, 2014. The Contest Winner will be announced on The Paris Review's and Penguin Random House's websites and notified via email by November 26, 2014. The Contest Winner will receive one (1) sketch by artist Matteo Pericoli ("Prize"). Other than the Contest Winner, no other Participant will receive any prize or award. The Prize is not redeemable for other products, services or monetary value. Any taxes imposed with respect to the Prize shall be the responsibility of the Contest Winner. The Paris Review reserves the right to amend, modify, supplement or terminate the Contest, or the terms and conditions thereof, at any time and without notice to Participants.
By entering into this Contest, each Participant grants to the Organizers a non-exclusive, perpetual, irrevocable, worldwide, royalty-free, fully paid-up right and license to use, reproduce, publish, distribute, and publicly display the Participant's Contest entry materials, name, hometown, prize won and any other information or materials provided by Participant (excluding any personally identifiable information of Participant, other than as specified above) (collectively, the "Content"), whether alone or in combination with other materials (including but not limited to text, data, images, photographs, illustrations, and graphics, video or audio segments of any nature), on the Organizers' websites and in any Organizer advertising, promotion, publicity or merchandising, in any and all languages, formats, and media now known or later devised, without further permission, review, notice or compensation of any kind.
WARRANTY, INDEMNITY AND RELEASE: Each Participant warrants that his/her submitted Contest entry is original, that he/she is the sole and exclusive owner and rights holder of the entry and that he/she has the right to enter the Contest. Each Participant agrees not to submit any entry that (1) infringes any third-party intellectual property or other proprietary rights, including without limitation, copyright, trademark, trade secret or confidentiality obligations; or (2) otherwise violates applicable law. By entering the Contest, each Participant agrees, to the fullest extent permitted under applicable law, to release, forever discharge and hold harmless the Organizers and their respective affiliates, advertising and promotional agencies, and each of their owners, directors, officers, employees, agents and representatives (collectively, the "Released Parties") from and against any and all claims, damages, losses, liabilities, injury or loss to person or property, costs and expenses, suffered by the Released Parties, arising from or relating to Participant's participation in the Contest, Participant's acceptance, use or misuse of the Prize, or the Released Parties' use of the Content, including, without limitation, any claims based on defamation, violation of publicity rights, privacy rights, personality rights, moral rights, or intellectual property rights, including copyright infringement and trademark infringement.