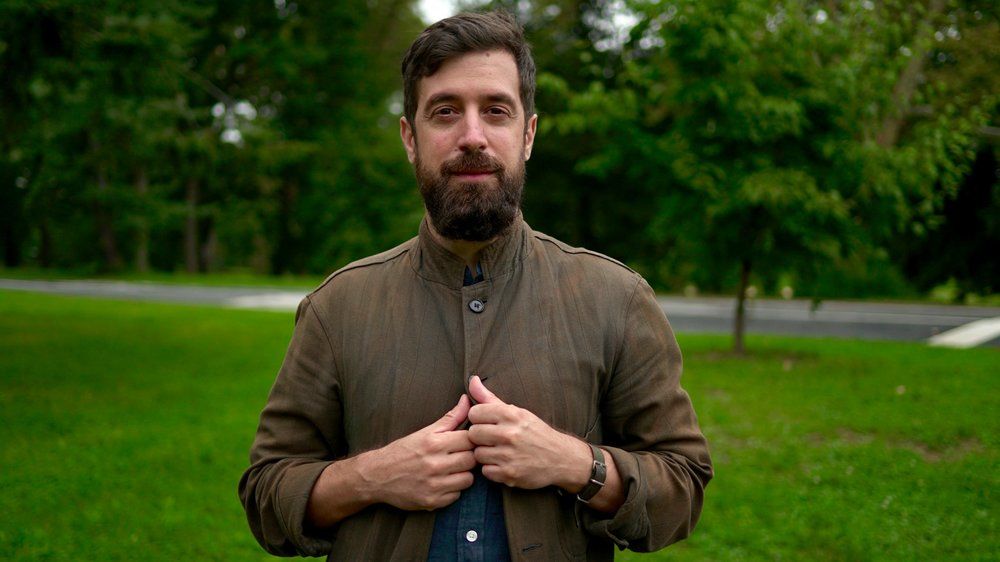 David Cieri is a New York City–based pianist and composer and led the band that created the original music for both Season 1 and Season 2 of The Paris Review Podcast. He has done scoring work on documentaries produced by Ken Burns, the Ewers Brothers, Ark Media, and others. He has recorded collaborative albums with the poet Yusef Komunyakaa, and his next album, An Homage to Carl Th. Dreyer's 1928 The Passion of Joan of Arc, will be released in January 2020. He spoke to TPR's digital director, Craig Morgan Teicher, about the freedom of repetition, the Haken Continuum fingerboard, and his family of bandmates.


INTERVIEWER
How did you go about writing music for the podcast? For instance, how about the main theme music, which you composed for Season 1?
DAVID CIERI
My inspiration came straight from the Review itself—how to point with sound to the ways in which I relate to The Paris Review—its welcomed and delicious irreverence, and freedom, and fun, and deeply sustained and enduring pathos; its willingness to be confrontational with the intent to make and build new ways of reading and therefore of being.

The main theme consists of a montuno, which is the root system fueling so much dance music, especially the music of South America. It has movement, sex, beautiful and necessary transgressions, sadness, gratitude, angels and devils, and the stubborn motion of insistent repetition. The repetitive part of any montuno gives permission to the brain to finally get lost rather than always follow the a-b-c logic of a more rational melody—or story line. That's one of the things I love about the Review—it encourages me to fall into the unlit well.
INTERVIEWER
Can you briefly describe how the scoring session operated? Executive producer John DeLore asked each of the band members to come with a few ideas. Then what happened?
CIERI
When there is that much trust in the room, the music has a chance to grow little wings and become itself. John would prompt us with certain moods—ominous, mournful, abiding, dangerous—that would create the internal weather for the musical sketches and sound ideas. He is so wonderful to work with because, although he has overarching ideas about what will go where in the final podcast, he gives us only a glimpse, which charges the air with crackle and energy. We are trying to insinuate like poets—if we had too concrete an idea of what exactly we were scoring for, we might foreclose the possibility of accidentally finding a wider metaphor.
INTERVIEWER
John was very excited about the Haken fingerboard. Had you used one before? What's so exciting about it?
CIERI
The Haken Continuum! This object has "more clout than lightning," as Captain Beefheart says of the guitar. Playing it for the first time was like finding a window facing the sea. Keyboard players, stuck with their eighty-eight pitches, are so jealous of string players—any player of a fretless instrument, with their ability to play microtonally—to slide, to essentially play with many, many more sound possibilities. I remember seeing Bonnie Raitt on the TV as a kid and thinking, Well, I'll never be able to do that. The Continuum changes this—it's a fluid, piano-ish object, and the raw sounds it creates are truly incredible. For a writer it might be like finding a whole new dictionary.
INTERVIEWER
Can you offer some thoughts about the other musicians in the room?
CIERI
I've played with Mike Brown (bass) for about twenty years—his imagination knows no bounds and his playing is filled with such humanity. Sam Ospovat (percussion) lights firecrackers beneath us—he gives us the earthquake that spurs us into new kinds of balance. Shahzad Ismaily (percussion and bass) has such acute attention to sound that I believe we all are aspiring to his "unmixed attention" (to quote Simone Weil). Emily Wells's musical expressions are breathtaking—the power she releases is empowering—that's how I want to live and play music, with the absolute strength derived from vulnerability. Rob Schwimmer plays Haken Continuum on the first season.

These musicians are my family. They are mostly improvisers, which, in general terms, I am, too, so we are communicating in this language in real time, with real agendas, mistakes, and discoveries happening as we go. When the little sound jewels are unearthed—when a sturdy musical idea takes flight—the moment releases such powerful feeling and energy. I think of it as a small version of splitting the atom, unforeseen energy released through improvising, and musicians and nonmusicians alike know it right away.