Until the mideighties," Luc Sante says, "I was pretty unaware that what was ­going on all around me was specific and special, but I was fed by its vibration . . . New York City kind of ended for me at the same time that my youth did." The following magazine ­covers, collages, and flyers are documents of that lost youth, with annotations by Sante. We are grateful to him for letting us reproduce them here.
—The Editors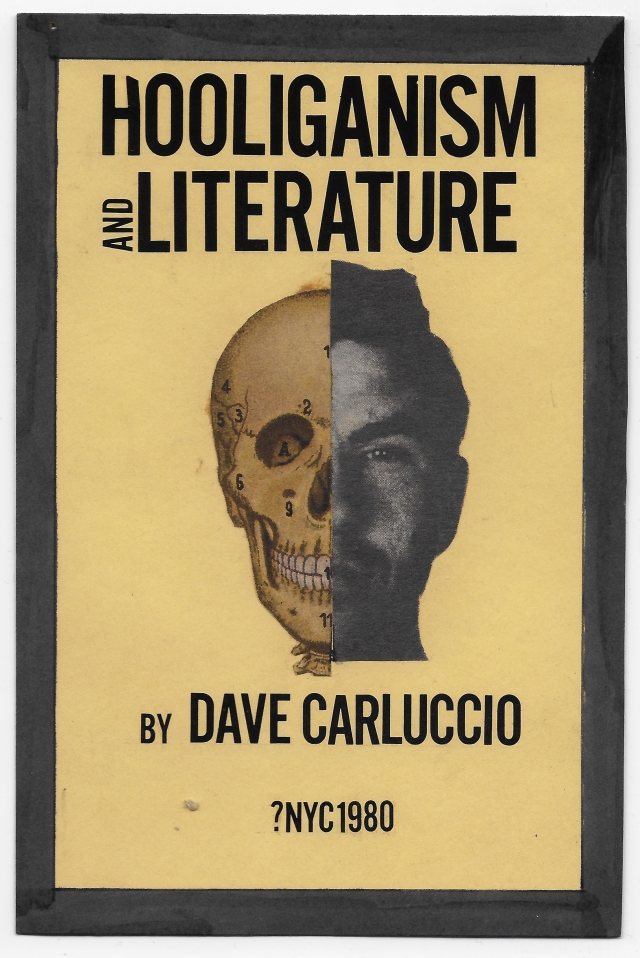 Cover design for unpublished book, 1980. "Dave Carluccio" was my longstanding alter ego. He'd first shown up in a story I wrote in the midseventies, his name combining those of two elementary-school classmates, but eventually took on a life of his own. He wrote letters to the editor, took out fraudulent subscriptions, sometimes answered the telephone, and wrote highly compressed, very abstract works of crime fiction, each about 150 words long. I had enough of those to make up a chapbook but as usual lacked the funds to see the project to fruition. The title and design allude to Against Hooliganism in Literature, a 1926 screed by Aleksei Kruchenykh with cover design by Gustav Klutsis.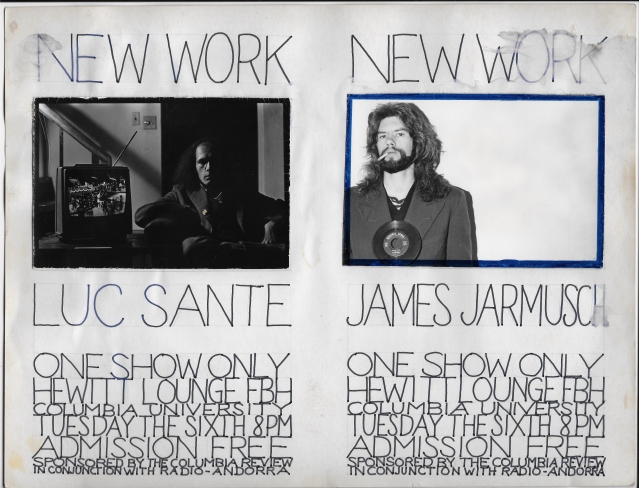 Reading flier, 1976. Photographs by Jim Jarmusch (left) and Matt Kennedy (right). Jim is holding a copy of "Talk Talk" by the Music Machine. "Radio-Andorra" was one of the early names of the abortive magazine eventually called Rongwrong.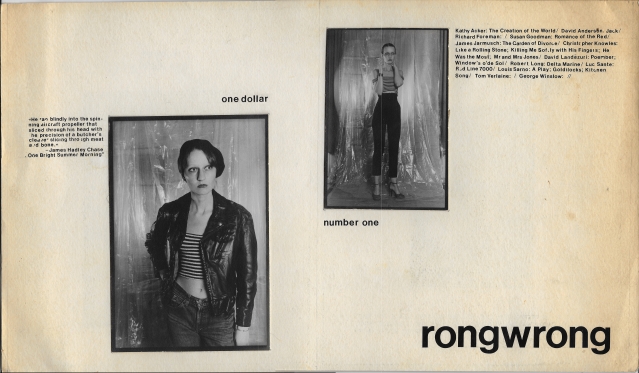 Cover design for Rongwrong, 1976. Photographs by Jim Jarmusch, modeling by Suzanne Fletcher. An ambitious project, undertaken in collaboration with Jarmusch and our other roommate, George Winslow. I solicited pieces from Acker, Foreman, and Verlaine, none of whom I'd met then, as well as Christopher Knowles, a young autistic poet who worked with the playwright Robert Wilson and whose pieces are ecstatic manglings of songs he heard on the radio. I'd discovered the sensational prose of David Anderson, five or six years ahead of us at Columbia, in back issues of The Columbia Review, which I coedited for a time. (See Sante's Art of Nonfiction interview.)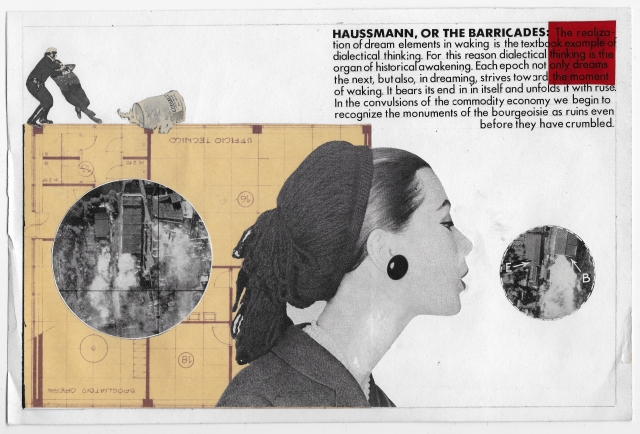 Collage, 1978. The text is by Walter Benjamin, from "Paris, Capital of the Nineteenth Century." One of the few collages I made then that was done purely for pleasure and had no particular purpose. The circular inserts are from a magazine devoted entirely to aerial bombing, published during World War II, issues of which fell into my hands at the Strand. I later covered a lampshade with such images; it may yet exist in someone's home.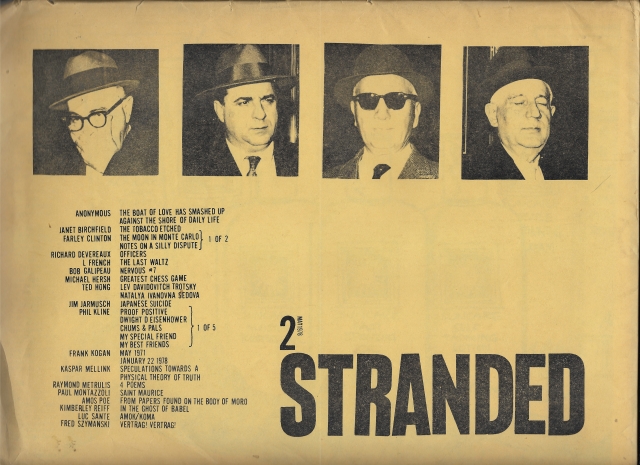 Cover packaging for Stranded, number 2, 1978. Stranded was born out of the unionization struggle at the Strand Book Store (see page 65), but it immediately became a forum for poetry, photocopy art, and suchlike. The zine was put together by a loose band of people that included Frank Kogan and Robin Crutchfield; I designed all the covers. There was no editing involved; everyone who wanted to contribute simply handed us two hundred copies of whatever. After a ­conventionally side-stapled first issue, all the others took different forms; number 2 was a manila envelope. Pseudonyms abounded. "Kaspar Mellink," who appears in every issue, was the writer and future ethnomusicologist Louis Sarno, who since 1985 has been living with the Bayaka Pygmies in the Central African Republic. He briefly worked at the Strand, but not everyone did—Jarmusch, for instance. I recently turned up a list of the bookstores where I put the first issue on consignment: East Side, Eighth Street, West Side, Gotham, Phoenix, New Morning, New Yorker, Papyrus, and Soho. All are gone now, and with them an entire culture.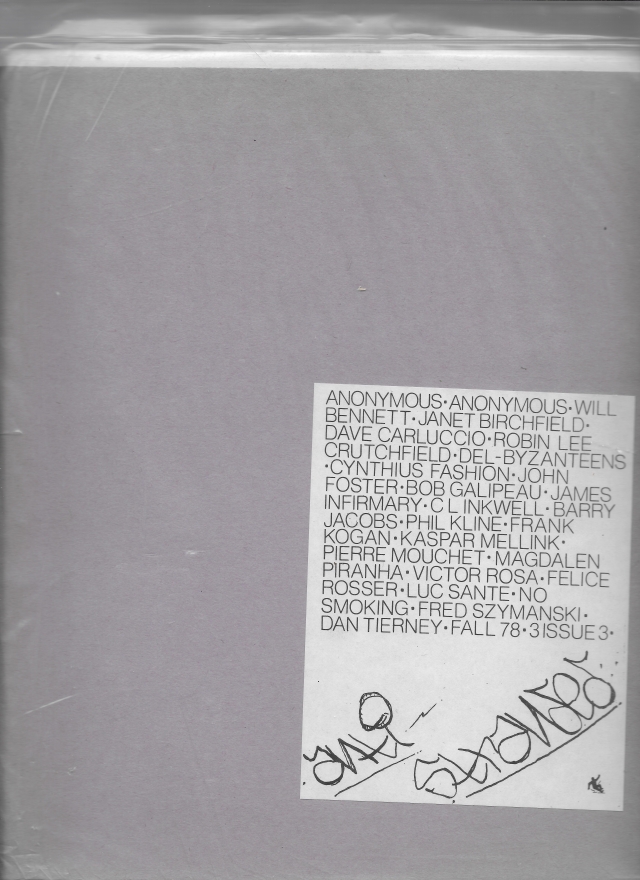 Cover packaging for Stranded, number 3, 1978. This one was a plastic bag, with the credits on a sticker affixed to a randomly colored piece of construction paper. Logo by Chris Parker, credited as "The Kid with the Replaceable Head," the name of the song written about him by Richard Hell. "James Infirmary" was Jarmusch, "Pierre Mouchet" was Adele Bertei, then of the Contortions, and "Cynthius Fashion" was Cynthia Sley, later of the Bush Tetras. Her work didn't actually arrive in time to be included, but appears in number 4.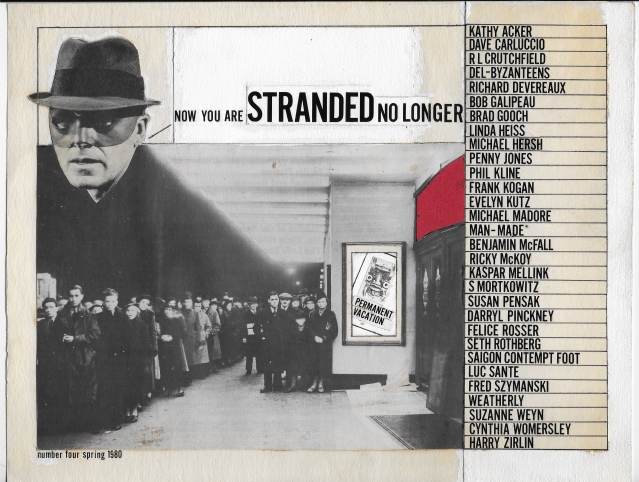 Cover insert for Stranded, number 4, 1979–80. The outer packaging of the issue was by Richard Lilly, who wrapped each copy in a black rubber sheet, secured with yellow duct tape. The title on the poster within, Permanent Vacation, was an allusion to "My Boyfriend's Back," by the Angels. It inspired Jarmusch to give his first feature that title. "Man-Made®" is Jean-Michel Basquiat. It was a transitional pseudonym he briefly adopted after the demise of SAMO.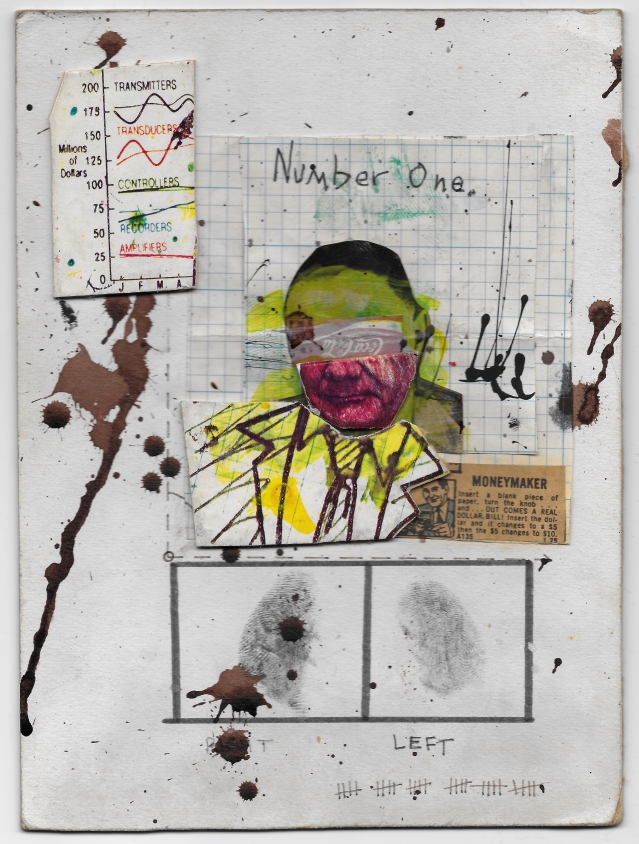 Because Jean-Michel had no money at all then, I offered to foot the bill for photocopying whatever he wanted to submit. He gave me this lovely drawing/collage, but sadly it couldn't be photocopied: the elements in relief caused everything not in relief to blur. I asked Jean-Michel for something else instead, and he tartly handed me another collage, not nearly as good, that he'd seemingly tossed off in ten minutes.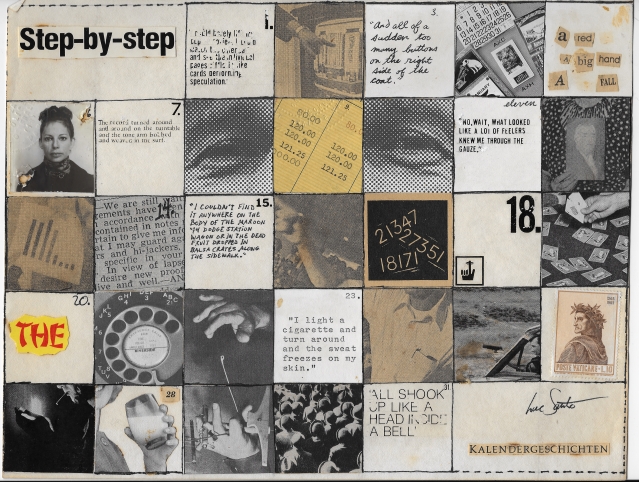 Collage, 1979. My contribution to Stranded number 4, inspired by Brecht's Tales from the Calendar. I did not archive these pieces with the greatest care, but I did take the trouble to put them in envelopes; nevertheless, the years have not been kind to transfer lettering. The bits of text herein are all salvaged from things I had recently written but was about to trash. (The possible exception is "All shook up like a head inside a bell," which I may have heard Tom Verlaine say onstage, or may have made up.) Despite this period having been one of my richest for experience and imagination, it was probably the poorest for writing. But then, writing was not held in high esteem at the time downtown.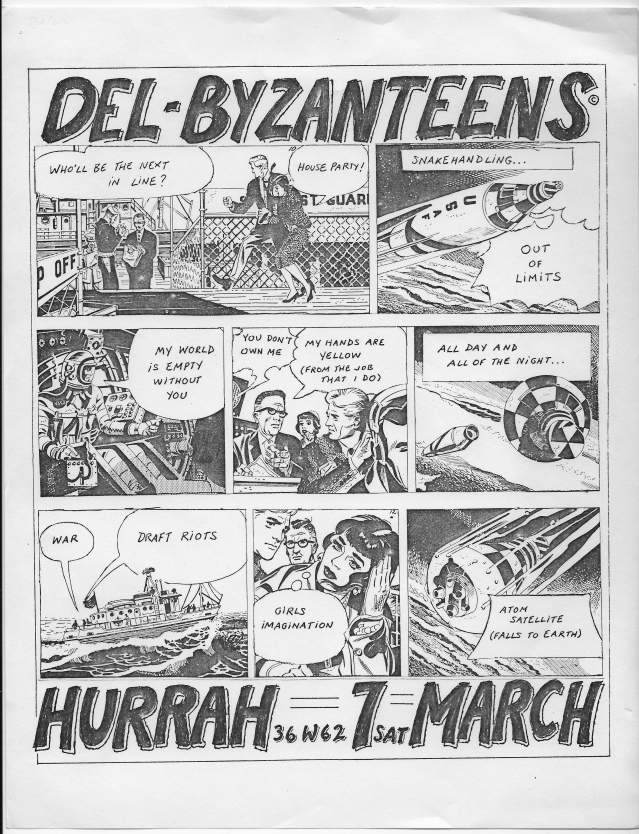 Concert flier, 1980. The Del-Byzanteens, in notional existence as a sort of in-joke since perhaps 1976, were not formally constituted as a band until 1980. The personnel included (composer) Phil Kline on guitar, (filmmaker) Jim Jarmusch on keyboards, (graphic designer) Philippe Bordaz on bass, and (painter and filmmaker) James Nares as the first in a succession of drummers. I hung around, tried to sing a few times, helped move equipment, once or twice announced them from the stage, and wrote a fair number of lyrics. One of them ("Lies to Live By") was recorded; another song ("Girls Imagination"—which, by the way, is not girl's; I swiped the title, ambiguities intact, from a cover of the Temptations' "Just My Imagination" by the Jamaican girl trio 15-16-17) was a prose piece of mine that Phil set to music. Philippe, who had arrived from Paris in 1976, introduced me to the work of the Situationists, among other things. I appropriated their concept of détournement for this flier, although the speech bubbles merely contain the titles of the band's repertoire.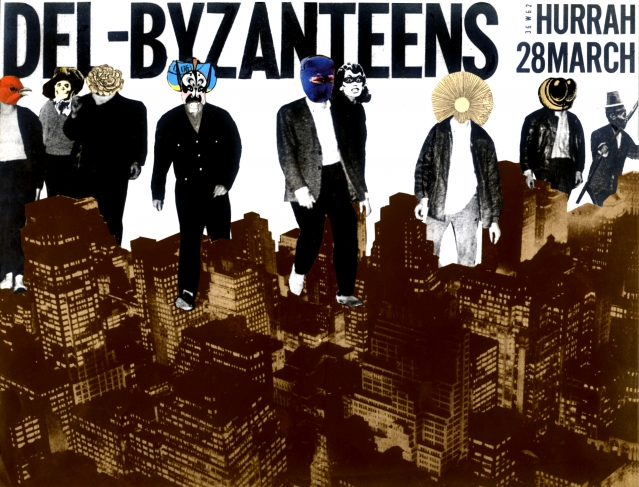 Concert flier, 1981. I only made two fliers for the Del-Byzanteens, because the competition was so much more talented: bass player Philippe, who made the lion's share and designed all the record jackets, and our friend the artist Janet Stein. The band lasted maybe two years, maybe two and a half. They issued three disks—a 45, an EP, and an LP—on Gary Numan's Don't Fall Off the Mountain Records. They did not sell very many copies, although two songs (the two I cowrote) appeared on the sound track of Wim Wenders's The State of Things (1983). We finally collected royalties, a princely $350 or so apiece, about thirty years later.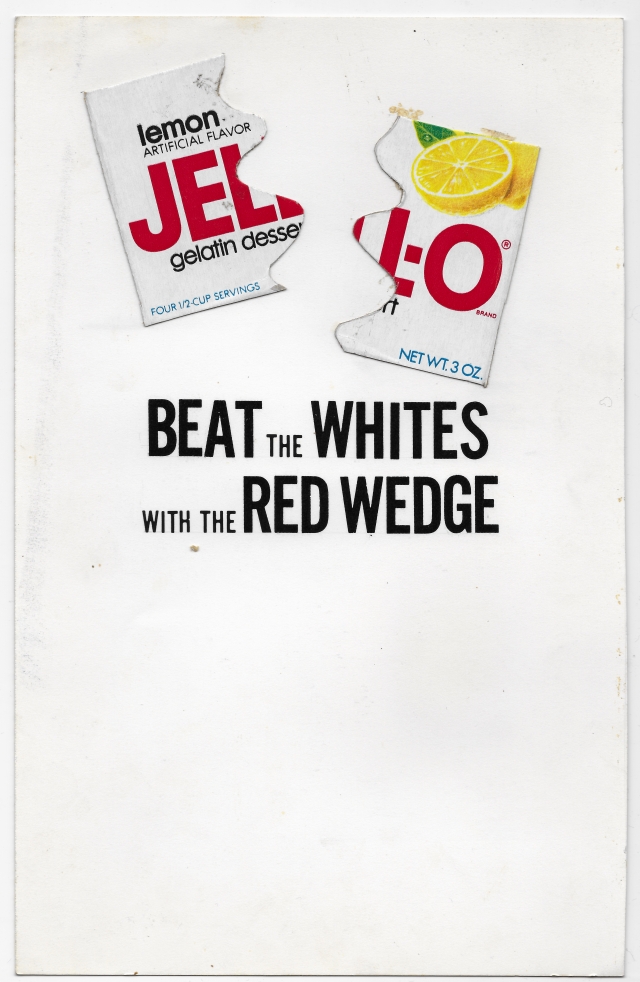 Another collage (1981) made for no special reason, or maybe I've just forgotten. The culinary tone of El Lissitzky's title is here emphasized by juxtaposition with the identification method favored by atom-bomb spy David Greenglass.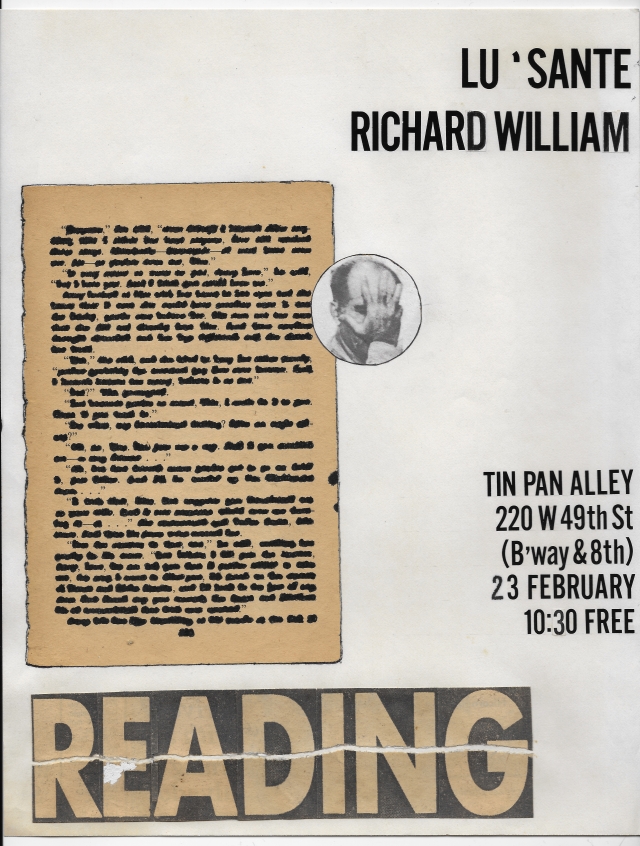 Reading flier, 1982. "Richard William" was the late writer and actor Richard Boes, who only used that pseudonym on the one occasion, for reasons unknown. Tin Pan Alley, in a French basement across the street from the Brill Building, was our principal hangout from roughly 1980 to 1983. Run by Maggie Smith, it reserved the first ten barstools for Times Square street people; the rest was ­usually populated by downtown-artist types. The employees were all women artists: Nan Goldin, Kiki Smith, Jane Dickson, Cara Perlman, and others. It featured readings, occasional concerts, and art installations by the likes of John Ahearn and Rigoberto Torres, as well as a first-rate jukebox and a certain amount of drug dealing in the toilets. Eventually, former employee Ulli Rimkus transferred some of the spirit of Tin Pan to her own bar downtown, the late lamented Max Fish.