Interviewed by Hilton Als
Issue 201, Summer 2012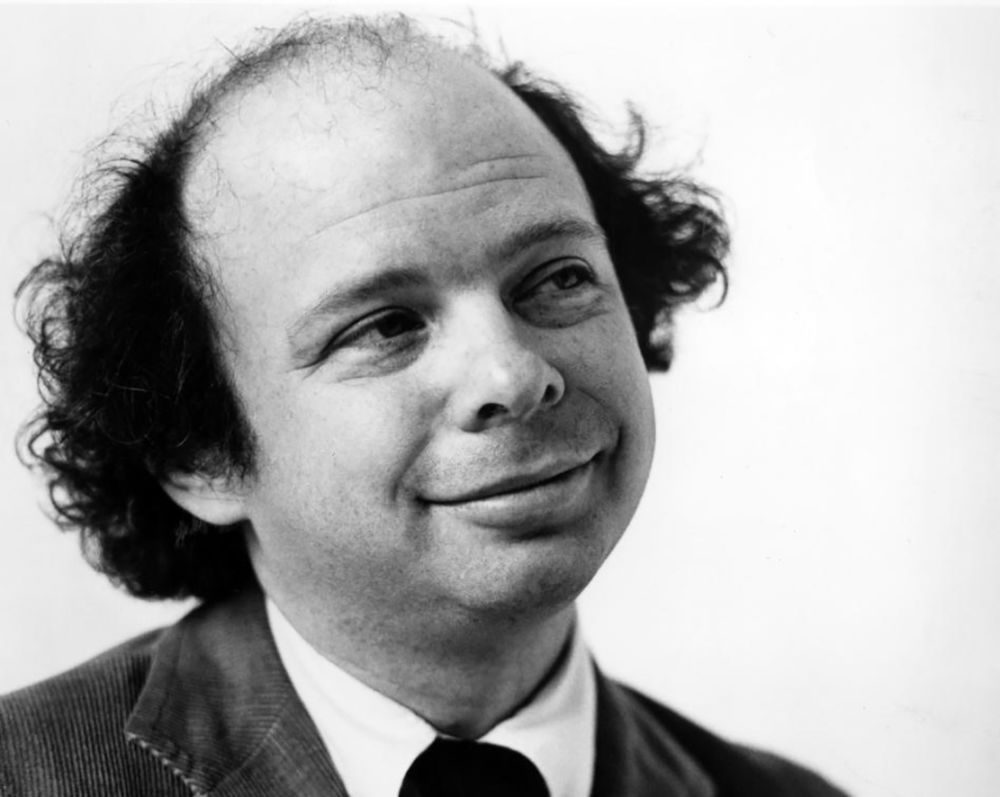 On the set of The Designated Mourner in 2000, with Larry Pine, Deborah Eisenberg, and director André Gregory.
Wallace Shawn is recognizable to most of the world as a character actor: he made a memorable debut in Woody Allen's Manhattan (1979) and, since then, has appeared in movies as diverse as The Bostonians and The Princess Bride and on the popular television series Gossip Girl. He has also starred in two films made with his longtime collaborator, André Gregory: My Dinner with André (1981) and Vanya on 42nd Street (1994), which were directed by Louis Malle.
It is as a writer, however, that Shawn has most influenced the American stage. Perhaps the noted young playwright Rebecca Gilman, citing Shawn as an influence, put it best when she said of his work, "He's the only writer who writes about intellectuals in a complicated and even contradictory way. He's really funny, too." Shawn has written in other genres as well. His latest book, Essays (2009), is just that, a collection of first-person nonfiction that reflects, among other things, his political activism and his interest in other writers (it includes, for instance, an interview with poet Mark Strand that he conducted in 1998 for The Paris Review).
Shawn was born in New York City in 1943. His father, William Shawn, was, for nearly thirty-six years, the editor of The New Yorker; his mother, Cecille, worked for many years as a journalist. His younger brother, Allen, is a composer (they collaborated on the opera The Music Teacher, which had its New York premiere in 2006). Wallace—or Wally, as he is known to family and friends—graduated with an A.B. in history from Harvard in 1965; that same year, he traveled as a Fulbright scholar to India, where he taught English, and then spent two years at Oxford studying philosophy and economics. He returned to New York in 1970 and has lived there ever since.
Shawn's first play, Four Meals in May (1967), was written when he was still at Oxford. He continued to write when he came back to New York, supporting himself at different times as a copier in a copy center, a runner in the garment district, and a schoolteacher. Following a trio of early works—The Family Play (1970), The Hotel Play (1970), The Hospital Play (1971)—Shawn's first professional production came in 1975 with Our Late Night, directed by Gregory. Since then, he has written six plays: A Thought in Three Parts (1976), Marie and Bruce (1978), Aunt Dan and Lemon (1985), The Fever (1990), The Designated Mourner (1997), and Grasses of a Thousand Colors (2008). He has also adapted Machiavelli's The Mandrake (1977) and Brecht's Threepenny Opera (2006), Shawn's first work to reach Broadway.
Our conversation took place in the offices of The Paris Review over a period of three months in 2009 and 2010, during which time it always seemed to be snowing. Shawn's distinctive voice, thoughtful and deliberate, turned a number of his interlocutor's questions inside out, which lead to many interesting digressions and further meditations on Shawn's big subject: the nature of speech and what we mean when we try to say anything at all.
—Hilton Als
INTERVIEWER
Why did you choose to leave the theater to perform The Fever?
SHAWN
Because there was something I actually wanted to say. The Fever is a one-person play. I decided I would perform it myself, and I decided I would not perform it in theaters, because the character in the play says certain things that I meant. I thought, I'm not just trying to entertain somebody, I'm trying to tell somebody something that I mean. And you can't do that in a theater, because if you put a person on a stage in a theater, that person will be interpreted as a character in a story. No matter what happens on that stage, it will be interpreted by everybody as a form of entertainment.
INTERVIEWER
What would be wrong with that? Are you against entertainment?
SHAWN
That's like saying, Are you against pumpkin pie? Pumpkin pie is enjoyable and people enjoy it, but it's in a different category from, for example, penicillin. Enjoyment is important, and pie is important, but pie is not the only thing we need.
I didn't want The Fever to be seen as just another "disturbing" play—"disturbing" being a term of praise for a certain kind of enjoyable or entertaining evening. In an amusement park, you can go on a roller coaster that carries you up and down, or you can go on another kind of ride that whirls you around in a circle. Similarly, there are different sorts of entertaining experiences in the theater. You can go to a play that is enjoyable because it's funny, and then on the next night you can go to a play that's enjoyable because it's "disturbing." For example, in the sixties, there were plays inspired by the black power movement where a guy would come to the front of the stage and yell at the audience, "You are pigs, we are going to get you." And the drama critic would say, "My favorite part of the evening was the thrilling moment when that guy approached the audience and said 'You are pigs. We are going to get you.' " To that drama critic, that was an exciting moment of theater. To the writer of the play—well, he might have meant it. But the critic watching the play didn't really feel threatened, he just thought it was great theater.
The idea that people might react like that to The Fever was nauseating to me. I didn't want to give someone an agreeable feeling of agitation. I was trying to speak as a friend to a friend, from one human being to another. And that isn't possible in a theater, because in a theater, even if an actor has a heart attack and dies onstage, the audience always interprets it as part of the show.
INTERVIEWER
Where else could you stage it?
SHAWN
I decided to do The Fever in apartments, in private homes. In a way, the play was a kind of declaration to my own friends, first of all, and then to my class, the bourgeois class. I was telling my own group that I no longer believed in the various justifications for our existence that I'd formerly found convincing. It was like a secret meeting of the bourgeois class, in which I would speak frankly about what we were.
INTERVIEWER
But eventually you did perform the piece in a theater.
SHAWN
Eventually I thought, I can't keep doing this play for twelve people at a time. I love doing it like that, but I've done it now a hundred times, and only twelve hundred people have seen it! If I could only do it in one of those rooms where there are a lot of seats cleverly arranged, a hundred people could see it at once! So I went back to theater, although I did do the piece in a slightly nontraditional way—I mingled with the audience before the play, I didn't have theatrical lighting or a set or a program, et cetera. Unfortunately, it was pretty brutally denounced.
INTERVIEWER
By critics?
SHAWN
Yes. It was described as something that was almost without any value—a ludicrous display of pomposity.
INTERVIEWER
What did you make of that?
SHAWN
Public humiliation is always quite painful, obviously, because you do feel that everyone on the street has read about you and believed what they've read, and they're all thinking, Ah yes, there's that pitiful fraud I read about. But mainly I was shattered to realize that The Fever would not become part of a public conversation, would not stretch out across the United States and beyond and have the chance to affect people. I was trying to explain to all the nice people out there how it could be possible that from our own point of view we're so nice, and we're so lovable, and we're so cute, and so sensitive, and yet from the point of view of people who are weak and powerless we are an implacable, vicious enemy. I'd found what I knew were the best words I could ever find to say what I wanted to say, and I realized that because of the negative criticism, those words would be heard only by a handful of odd theater fans, not by society as a whole.
INTERVIEWER
Do you enjoy going to the theater?
SHAWN
I love going to plays. There's a subconscious side to it, obviously—some people like to be spanked for XYZ psychological reasons, and I like to go to plays, and I can't entirely explain why. But on the more conscious level, I simply love watching actors act. And I suppose my favorite plays to see are very realistic plays—naturalistic plays in which the actors are able to make me believe that they really are those people and that I'm looking at life. I have an enormous appetite to see life as I know it presented in front of my eyes.
That seems strange—after all, why don't I just walk out into the street? But the thing is that you can't really look at things out in the street, much less in your own apartment or in your friends' apartments. You can look in the theater in a completely different way from the way you can look in life. You're allowed to really look at a play—even stare.
In life, you are a character in the scene. When you're a character in the scene, you can't really look at the scene. If someone's talking to you, you must respond appropriately. You can't just stare at the person. You can't look at life with the degree of attention and focus that you can employ when you look at a play, because you have to participate. And the people you're staring at would find it rude. But if you're sitting in an audience watching a scene, you can focus your entire being on looking at that scene. It's a very special privilege.
I wish there were more plays about a life that is exactly like mine. I would love that! If the program says, "An apartment in Manhattan today," I'm thrilled! And if it says, "An apartment in Chelsea, in Manhattan, today," where I live, I'd be even more thrilled. I'm amazed if I can see an actor imitate someone with a French accent—that's fantastic—and I'm even more excited if an actor can illuminate the psychological state of a person similar to me and the people I know. So I do like naturalistic theater. But I like many kinds of theater.
INTERVIEWER
What else?
SHAWN
Well, to pick something out of the air, Ariane Mnouchkine's Le Théâter du Soleil is for me like a kind of heaven. In their play Les Éphémères, they had a scene where a fisherman and his wife and some other people have taken their children on an outing, and they come home, and they put the kids to bed. The kids are already asleep—they're very young children—and they carry them in asleep, and they put them to bed. It takes probably fifteen minutes, or at least ten. No talking. Now, I have very little interest in family life, in children, et cetera. If you said, We're now going to do a ten-minute scene about putting children to bed, I would be bored before you even finished the sentence. But it was so true and so real and so interesting. It was beautiful, and I was moved by it.
INTERVIEWER
What are your earliest memories of the stage?
SHAWN
The bright lights of the theater at school. I don't know if the theater would have made such an impression on me if it had all been cast in some gloomy candlelight. There was something thrilling about the electric light. And I do remember the incredible intensity of some of the actors I saw as a boy and the way they expressed these passionate feelings. Inherit the Wind—well, poor William Jennings Bryan got so excited that I think he had a heart attack! He was so upset. That was Ed Begley, I believe. And Tony Randall as H. L. Mencken was so intense in his scornful mockery of everybody. Not to mention the frenzy of Paul Newman as the bank robber in The Desperate Hours—he had escaped from prison, and they were going to take him back if his scheme didn't work. It was electrifying. I saw those performances more than fifty years ago, and their intensity stays with me.
It was also a contrast to my daily life. My father was a very quiet man, and even the teachers in school were relatively restrained—Dalton was not a school where people were constantly having tantrums or yelling. There was something about the sheer fact of seeing these grown-ups expressing their feelings so passionately that was quite thrilling.
INTERVIEWER
What did your father think of the theater?
SHAWN
He was not a tremendous fan—of nonmusical theater, anyway. He loved watching Jackie Gleason in those little miniplays on television, but he would never voluntarily go to see a play in the theater without music. One would have to say that his interest in Tennessee Williams or Arthur Miller was, well, zero. I dragged my parents to Long Day's Journey into Night when I was thirteen—I'd already seen it a few weeks earlier—and I guess he had to grant that there was something substantial in that. Thornton Wilder, too, he had to concede—that was pretty good.
You could say my father's life was devoted to keeping himself out of the picture. He didn't show off, and he was against showing off. For instance, if he were still alive, I would have had a very hard time allowing my publisher to put a picture of me on the cover of my book of essays. Even though my father is not alive, and I know that people who are dead are no longer there, I can't help feeling that he is very, very disapproving of that, even horrified, because he felt very strongly that writers should be in the background of their writing and should not put themselves forward personally. In fact, not only would he not have approved of my picture being on the cover of my book of essays, but one would actually have to note, if one were to stop and think about it, that he wasn't really a fan of essays themselves and published amazingly few of them, partly, I'm sure, because he would have thought they called excessive attention to the writer and the writer's personal opinions. And to be honest, I'd have to say, in addition, I'm not even sure he would have approved of a writer doing an interview in The Paris Review, even though so many of his writers did do that. I'm sure he read those interviews and was fascinated by them, but I'm not sure he approved. But obviously, in theater—well, you can't really get involved in theater if you find the thought of putting yourself forward absolutely horrifying.
INTERVIEWER
Did you have a hard time putting yourself forward when you were young?
SHAWN
I was in a play at school when I was five, which was a very, very wonderful experience. When I was around nine, I was in another play, and in that play I made people laugh. That was an intoxicating feeling. I took to it immediately.
When I was ten, I had a teacher who gave me a book. She said, Read this book and write a play based on the book. It was about Socrates, so I wrote a play about the death of Socrates. I don't think she had said it had to be about his death—I think I picked his death scene. In a way it's dramatic, but in another way it has no conflict at all. In a funny way, it was a philosophical play. I played Socrates and drank the hemlock.
INTERVIEWER
Was your family involved in your becoming a performer?
SHAWN
They were totally involved in my almost inevitable drift toward an artistic life. I was terribly close to my parents. Unbelievably close. I dictated what I remember as my first story to my father before I could read and write. I dictated it, and he wrote it down, and I illustrated it. He left space for pictures, and I drew them.
My parents were outrageously encouraging of the things that my brother and I did as children. I've heard many stories from other people that when they were children they would do a drawing and show it to their parents, and their parents would say, No, that is not what a horse looks like, you have all four of his legs coming out of one side of his body. My parents always said, That's fantastic, that's wonderful.
And I went to a very encouraging school, where the teachers, too, would say, That's fantastic, that's wonderful. That was a generation of teachers that had been brought up more strictly—they'd been criticized themselves, and they had come to believe that it was wrong to belittle children or criticize them.
INTERVIEWER
Diane Arbus had a similar experience in school and said she couldn't stand it. She said she discovered photography as a way to keep from being coddled.
SHAWN
Well, obviously Diane Arbus had this revelation much earlier than I did. I just enjoyed it. I felt complimented. These schools were devoted to building up your self-regard and self-esteem, and I just allowed mine to be built up. Then at a certain point—I was around forty—I suddenly thought, Oh, it wasn't really about me, that was just their belief about how people should be educated. They didn't really think my drawing was good. Maybe they weren't even looking at it. Maybe the teachers were lying to me. They were just trying to build up my self-esteem.
INTERVIEWER
It must also have been affirming to grow up around so many interesting and engaged people.
SHAWN
Let's be frank, I was treated as special from birth because of my father. Brendan Gill, former Broadway critic of The New Yorker, referred to me as the Prince of Wales. People were paying attention to me before I did anything to get them to pay attention to me. And yes, of course it was inspiring to meet serious and committed writers like Jean Stafford and Joseph Mitchell. I knew how amazing they were even before I'd read their work. It was obvious.
INTERVIEWER
Did you have a relationship, growing up, with other members of the New Yorker staff?
SHAWN
One of the people who influenced me most was the off-Broadway theater critic Edith Oliver. She was in awe of the theater. She just had a feeling of the sacredness of it. We went to quite a few plays together, and my love of theater was deeply influenced by her. But when it turned out that I wanted to go into the theater professionally, and I was writing plays, she was terribly upset. She said, "But Wallace, you would have been such a wonderful judge."
INTERVIEWER
She didn't like your plays?
SHAWN
We didn't ever discuss it, and I doubt if she ever, even in her own mind, would have articulated what she felt when she read my early plays. But I don't think she saw a talent for drama in what I wrote, and she may well have found my plays embarrassingly pretentious, and the side of theater that was artistically experimental—Maeterlinck, Strindberg, et cetera—was just not the side she most enjoyed. Though she adored Thornton Wilder, who was inspired by that type of theater. And she eventually came to admire Beckett, about whom I had lectured her when I was fourteen, trying to explain to her what a great writer he was.
INTERVIEWER
Those sound like remarkable relationships for a fourteen-year-old to have with his father's employees.
SHAWN
I suppose the line between him and me was very vague in my mind. I didn't quite get that he was him and I was his son. I identified with him to such an extent that I didn't quite know that I wasn't actually working at the magazine.
And I never got the idea that I was a kid and other people were grown-ups. I never understood what that was all about. I always thought, Why am I being treated bizarrely, and why are people telling me I'm not supposed to do something? Where do they get off saying I'm not supposed to do that? I didn't get the idea, You are a kid, and you're living in your parents' apartment, and they're paying for it and you're not. I never understood any of that. I just thought I was another adult.
When I was in my twenties, I was really just a confused young man. I didn't know I was young, I didn't know I was confused. On the contrary, I had quite clear thoughts. And it was natural to me to say to my father about someone I knew, Have you published my friend's writing yet? Why not? They're very intelligent, and I think their work would fit very well in the magazine. I didn't know that I wasn't fifty years old.
INTERVIEWER
Those boundaries didn't exist, in your mind?
SHAWN
In my mind, they didn't. And, in my mind, there was also no boundary between what I thought and what he thought. If he thought something, I sort of thought that I thought it. And if I thought something, I assumed he would think it. None of this was clear to me until I was at least forty.
INTERVIEWER
How did you figure it out?
SHAWN
To tell the story in a short version, a lot of things happened to me during the period when I was repeatedly watching my own play, Aunt Dan and Lemon. I had been acting in it for the first several months of its run, and then the cast changed, and I was no longer in it, and I went to see it a lot.
Aunt Dan and Lemon is about the temptations of authoritarianism, the seductiveness of power. It ends with one of the characters giving a long speech in praise of fascism and Hitlerism. Aunt Dan was performed in 1985, and pretty much up until then I had thought of myself as what used to be called a liberal, but now would be called a centrist Democrat. I voted for Walter Mondale, feeling that voting for Walter Mondale was the most I could do to make the world a better place. I thought the United States was essentially a well-meaning country, though every once in a while it went off in the wrong direction, as in Vietnam. But as I watched my own play, I realized, Wait a minute, the guy who wrote that play is not as calm and relaxed about things as Walter Mondale is. And over a period of a year or two, I changed. I went from being a centrist to being a leftist, from being politically moderate to being, let's say, politically radical.
INTERVIEWER
What had you discovered about yourself?
SHAWN
Until then I hadn't quite realized that I belonged to a particular social class. Henry Kissinger is talked about a lot in Aunt Dan and Lemon, and this is, if I may say so, where Henry Kissinger had a kind of a blind spot as well, intelligent as he obviously was, and is. Most of America has a blind spot on the issue of money and class. If you watch the news on American television, you always see these military men, generals in uniform, standing in the middle of some desolate landscape in Afghanistan and saying, Well, now the enemy is doing blah blah blah, and we're going to combat the enemy by blah blah blah. And it's as if they are talking about two equally strong armies locked in combat with each other. And that's a psychotic way to describe the situation, because actually, it's a story of unbelievably rich people using unbelievably powerful weapons against desperately poor, almost starving people who have only the crudest weapons. But somehow Americans are good at ignoring the issue of money and class, and I started to be able to see myself in the process of ignoring it.
INTERVIEWER
And where did that lead you?
SHAWN
I had never read, for instance, a single word about the relationship between the United States and Latin America. I just didn't know anything about it. And I began to think, Well, I have to read about that. I had read a little Karl Marx in the course of my supposed "good education," but then I actually did read Capital, Volume 1. I started thinking about all sorts of things, and then my girlfriend, Deborah, and I took some fascinating trips, and we went to places where people were killing each other, such as Nicaragua and El Salvador.
INTERVIEWER
And The Fever is a chronicle of those trips.
SHAWN
The Fever is certainly based on my own evolution, although in the play, the character takes a trip and then starts thinking, and in real life, I started thinking, and then I took some trips. I mean, the story of The Fever is made up—nobody left a copy of Das Kapital in a brown paper bag on my doorstep. I don't have a doorstep. People in New York don't have doorsteps. But the thoughts and feelings are basically mine.
INTERVIEWER
In the play, the character says, "Sometimes I was fine. I remember one morning—a marvelous blue sky—I had my hair cut. Gentle hands molded my hair so that it fit over the shape of my scalp like a cap. Then I bought myself a pair of comfortable socks, and then I looked at them carefully, and I bought two more pairs, because it's not easy to find the kind of socks I like! Then I went to a sweet little restaurant and had lunch with a woman in a lemon-yellow suit whom I'd known since I was eight. But then I got into a taxi, and as I was riding across the city, that feeling, that sickness, filled me up again. It seemed to start in my stomach and move out through my legs, my chest. And my stomach was beating, it was just like a heart. A cold sweat on my forehead and neck. I wasn't me. When the taxi arrived, the person who got out of it wasn't me. I was nowhere. The person who paid the driver was actually no one."
SHAWN
When I was a boy, I found the world very amusing. I enjoyed watching the comédie humaine. You could say I was a bit insensitive, perhaps. And I had a teacher in school, a very nice teacher named Peter Buttenwieser—he later became a theorist of education. When I was maybe thirteen, apropos of something that had happened, he told me, Wally, things were not put on earth so that you could be amused by them.
When I say that I changed in my forties, of course I had never been a reactionary or a conservative, I was always a well-meaning person. In other words, I knew that people suffered, I knew there were problems. But I didn't think they were my fault, and I somehow thought there was plenty of time to take care of them, and in the meantime it was interesting and fascinating and rather amusing to be alive, and I enjoyed the fascinating spectacle of it all. And maybe it was just Buttenwieser's words penetrating after, say, thirty years, but at a certain point I noticed that the amusement of it all, that wonderful feeling of enjoying this delightful spectacle, was slowly being poisoned by my new awareness of my own personal role in the spectacle. And I even came to see, as Buttenwieser had tried to tell me, that it wasn't a spectacle. There are people here who are oppressed and beaten and tortured, and these things have been done to them so that I can live my nice life, and these people are actually in agony.
INTERVIEWER
They're not performing for you.
SHAWN
Right—I'm in the play. I'm a member of the privileged class who is benefiting from the horrible things that are being done. And the wars, the killing, whatever, were carried out to preserve a world in which I could lead a nice comfortable life and nice teachers could praise my drawings. So the fun of "isn't it all amusing?" went out of it. And as that had been my normal, daily state of consciousness, it did lead to my feeling, Now I'm nobody. If that's gone, there's nothing there. If I don't have that feeling of comfort and amusement, then I really don't know who I am now. And the more I began to examine my childhood, the more my thick, warm garment of self-esteem, which had been woven with so much care and at so much expense, began to unravel.
INTERVIEWER
But you had been writing plays for quite a while at that point.
SHAWN
I wrote my first real play when I was a student at Oxford. I must have been twenty-three or twenty-four.
INTERVIEWER
Were they philosophical investigations, straightaway?
SHAWN
My first play was called Four Meals in May. It had four scenes. The first scene shows an old man, alone, talking to the audience—so I was doing that from the beginning, direct address to the audience. The second scene shows that old man's son, a rather elegant, charming, almost effete middle-aged man who runs an art gallery. The third scene shows the gallery owner's son, who's become a monk—there are about twenty-five monks in that scene. And then the fourth scene takes place many years later in a restaurant. In that scene the ex-girlfriend of the young man who became a monk is having lunch, and by sheer chance the monk's mother, the wife of the art dealer, is there, too, and they run into each other and have a conversation. The connections between the four scenes are very subtle—they're mostly in your own head, in the heads of the members of the audience.
The play is very gentle, it's very pale. Some of the language is quite elaborate—it's almost in a Henry James sort of universe. To me, as I was writing it, its very peacefulness was a kind of commentary on the Vietnam War, which was still going on. It was supposed to induce a mental state of some kind, a spiritual state. I'm sure Maurice Maeterlinck must have believed that a play could put people into an altered spiritual state. At any rate, I believed it. And I'd read a certain amount of Lao-tzu and Chuang-tzu and what have you in the course of my life. When I was fifteen, a very beloved aunt had given me a book that certain people were reading at that time, Zen Buddhism by D. T. Suzuki. I never got over it—it had an overpowering impact on me. And, with a teacher, I was reading James Joyce's Ulysses at that same time, and both Joyce and Suzuki seemed to be saying that amazing revelations were to be found in the blandest facts of daily life—the kidney that Bloom eats for breakfast, et cetera—and I believed that, and still do. So I wanted my very quiet play to have a spiritual effect on the viewer.
INTERVIEWER
What was the reaction?
SHAWN
Nobody got it. My friends didn't get it, and neither did my parents. Everybody was just completely puzzled. I mean, I showed it to everybody, I was quite aggressive—I not only showed it to people, I submitted it to many different theaters. But nobody appreciated it. I almost didn't know what to make of that. To me, there was something so fascinating on those pieces of paper, and to other people they might as well have been blank.
INTERVIEWER
What had brought you to Oxford?
SHAWN
The Vietnam War. After college I spent a year teaching in India, during which time—1965 to 1966—the number of American soldiers in Vietnam grew enormously. I knew the war was horribly wrong, and I didn't want to be involved in it. I thought about becoming a conscientious objector. I thought about going to prison. I'm sure personal cowardice would have made me try to stay out of the army under any circumstances, but in any case I was totally determined not to go. I'd loved India, and before the war escalated, I had had various ideas about how I could stay in India after my teaching assignment ended, including a probably not very practical idea that I could get a job playing the violin in the Hindi film industry in Bombay. But at a certain point I learned that I would be drafted if I tried to stay in India, but that I could avoid the army if I became a student again. My friend Ved Mehta, who worked for my father, had told me all about Oxford. Ved was about nine years older than me and gave me the wonderful advice that I should go to Oxford but that I shouldn't be a graduate student, I should get another undergraduate degree, in order to experience the tutorial system. I must say, that was one of the best pieces of advice I've ever received.
INTERVIEWER
Were you performing, as well, at Oxford?
SHAWN
No, though I think I actually did try out for one play when I was there. But I didn't ever, for one second, take a serious interest in acting. That never crossed my mind. The idea that I would some day do it professionally never crossed my mind for even a fraction of an instant.
INTERVIEWER
So how did that happen?
SHAWN
When I wrote my first play, I read it to myself, and I immediately thought, Well, writing plays—this is what I want to do for the rest of my life. It's strange that one would ever have such a thought. I don't know why anyone would think that about anything. And then, even when people didn't like that play, I still thought, That's what I want to do. And then I wrote another play, and nobody liked it. And then another. But still, I thought, These people are crazy, I'm going to devote my life to theater. And it seemed like a good idea, if I was going to be writing plays, to learn something about acting, so I went to the HB Studio in New York. I said to the person in the office, I don't want to be an actor, I'd just like to learn what actors do. And she said, There's a person in the basement who is perfect for you.
INTERVIEWER
The basement?
SHAWN
Yes, there was a teacher who taught a class in the basement. She was a wonderful teacher, but her students were not the ones who were most ambitious about immediately starting a professional career, because she believed that they shouldn't try to get a job in the professional theater until they had completed their studies with her. And those studies could take a very long time.
INTERVIEWER
But you made your own debut before too long.
SHAWN
About seven years later. In 1970, I started working as a writer for André Gregory and his acting company. And in those days André's troupe used to teach acting workshops every summer at NYU, so for three summers I participated and sort of informally studied acting with André and his gang. And then in 1977 or so, Wilford Leach got Joe Papp to commission me to translate The Mandrake by Machiavelli. At that time I was totally broke—more than broke. I was enormously in debt, because I basically lived by borrowing money from friends. And when I completed the translation, Wilford said, to my amazement, The other actors and I would like you to be in the play. In the play? How could I be in the play? I'm not an actor! And Wilford said, It'll be easy for you. You'll be the prologue. You're the translator, so that's very appropriate. And then you can be the servant, because he really doesn't do much. He's onstage for the whole play, but he doesn't have many lines. And he said they would pay me a hundred and twenty-five dollars a week. Well, Deborah, Wilford, and I were having dinner when this all came up, and I had been considering becoming a taxi driver. And Deborah said, Do this instead. It's much better. Because you can't really drive.
INTERVIEWER
Was it worth it?
SHAWN
It was only supposed to be for three weeks, but it was a wonderful production, and Joe Papp opened it to critics, and it became an off-Broadway hit—in fact, it may have been the most successful production of The Mandrake in four hundred years. It was one of the high points of Machiavelli's career!
INTERVIEWER
And you enjoyed acting?
SHAWN
Of course. I adored it. I still adore it. I love to act—almost anybody would. Excuse me, but it happens to be incredibly enjoyable to dress up in a costume and pretend to be a creature from outer space. It's actually enjoyable to play anything at all, to try to walk into an ordinary room and say, "Hello, Bob" the way a person would really say it. It's not so easy, so the attempt to do an adequate job, to make some moment believable, is completely absorbing because you rarely succeed.
The director, writer, and actor Tom Noonan has said that directing, writing, and acting are all one thing, and there's a lot of theatrical history that backs up that theory. From Molière to Pinter, a lot of writers for theater have also been actors. When you're trying to communicate something to an audience you almost don't remember whether you're writing or acting. Particularly in working with André Gregory, playing Vanya in Uncle Vanya or Solness in The Master Builder, it sometimes takes me a moment to remember that I didn't actually write those plays.
INTERVIEWER
How had you begun working with Joseph Papp?
SHAWN
The playwright Michael Weller introduced me to Joe Papp in 1973. Then in 1975, Joe had André's company in residence at his theater. And I was working at that time as a shipping clerk and messenger in the Garment District. So one day I ran into Joe on the street near the theater, and we spoke about my Garment District job, and he asked me, How much do they pay you? It might have been a hundred dollars a week, something like that. And he said, Well, I'll pay you that to write a play for me.
INTERVIEWER
How did My Dinner with André get set up, as they say?
SHAWN
After André directed Our Late Night, he decided to get out of theater. Then, three years later, he came back and said, Let's do something else. And I thought, Let's not do a play, let's do a television film of some kind—talking heads, you and me. You'll be you—you'll tell about all these amazing things that you did while you were not working in the theater—and I will be sort of the way I really am, somewhat skeptical, and that will be funny. So we talked on tape, audio tape, for many months, and I wrote a script that was based on the transcriptions of those tapes. And after much discussion of all the world's great directors, André and I decided to send the script to Louis Malle. Amazingly, we reached him quite quickly, through Diana Michener, a mutual friend, and our script must have come at exactly the right moment in his schedule, and apparently it came at the right moment in his life as well, because it rang some bell with him. He read the script almost immediately and then called André and said, Let's do it.
INTERVIEWER
Why Malle?
SHAWN
Louis Malle was a superb storyteller, and we felt he'd bring out the story, the plot of the script, because it has a plot, even though it seems we're just idly talking. Malle also had a great sense of humor. And he had a fearless what-the-hell attitude. Many directors would have been terrified that the audience would become bored, and they would have been tempted to illustrate the various stories with flashbacks or at least to cut away to other events in the restaurant. Louis wasn't frightened of the audience and didn't do those things.
INTERVIEWER
How long was the shoot?
SHAWN
Three weeks. In the first week, though, Louis Malle simply tested out various complicated camera moves. By the end of the week, he'd decided he didn't want to do any of them. So basically we had ten days, and we went methodically from one angle to the next, with one camera, and we shot ten feet of film for every foot we used, as in any normal film.
INTERVIEWER
How did The Designated Mourner come about?
SHAWN
The Fever, which I completed in 1990, took a very hostile, scornful view of art and writing. Basically, it mocked the idea that writing made a valuable contribution to changing the world. Self-aggrandizing artists, I implied, may like to feel that their paintings or poems protesting injustice or portraying misery actually help other people, but really that's an absurd fantasy. My point was that it took concrete action to feed the hungry or to overthrow an authoritarian regime, usually action in which one might risk one's life. I was trying not to fall into self-deception about writing.
Then a little time passed, and I began to think, But my God, without writers, humanity might be trapped in a swamp of idiotic, unchanging provincial clichés. Yes, there are writers who merely reinforce people's complacency, but a writer like Rachel Carson inspired the activism of millions, and writers like Lady Murasaki, Milton, and Joyce have reordered people's brains! And for any writers to exist at all, there must surely be a tradition of writing. Maybe in order for one valuable writer to exist, there must be a hundred others who aren't valuable at all, but it isn't possible at any given moment for anyone to be sure who the valuable one is. In any case, in The Designated Mourner, I wrote more sympathetically about writing.
INTERVIEWER
But it isn't a play that goes down easy.
SHAWN
I'm no judge of that, obviously. I mean, the world that's described is certainly grim and violent, and what happens is distasteful. There are two people telling the audience two different stories about the same events. One of the speakers is charming, in a way, or ingratiating and funny. The other is austere. For most of the play, the characters speak to the audience, not to each other. The premise of most plays from the nineteenth and twentieth centuries is that you have a room, and then things happen in that room—people come into it, they interact, whatever. For some reason, I find this convention—the idea that the audience is listening in on a private scene—very difficult to believe in. I don't seem yet to have found a way to write like that. So in most of my plays, the characters admit they're in a play and speak to the audience, just as the characters do in ancient Greek plays or in Shakespeare. The audience is supposed to adjudicate.
INTERVIEWER
In Grasses of a Thousand Colors, your narrators speak directly to the audience, telling different versions of a distinctly fantastical story.
SHAWN
As a child, I loved fairy tales—many of the puppet shows my brother and I did were based on fairy tales. Of course, fairy tales are stories invented by poor people that have been rewritten by aristocrats who came much later. And I do find that I often love artistic works that combine elements from different worlds. I've always loved Stravinsky's Pulcinella Suite, which is made up of music by Pergolesi that Stravinsky has rewritten in his own way. And recently my brother gave me an incredible recording of Peter Pears and Benjamin Britten performing Britten's arrangements of English folk songs, which is one of the greatest things you've ever heard. And it's unbelievable when you think about what it is—that these are songs written by farmers or sharecroppers, working people, even hunters and gatherers, you might say, and then rewritten by the unbelievably refined Benjamin Britten, whose own sensuality, coming from a totally different direction, complements the rough-hewn sensuality of the original songs in a gorgeous way.
INTERVIEWER
That's a postmodern approach, isn't it?
SHAWN
I don't know. I mean, I've never really—my understanding of the theory of art is—is—well, I just haven't spent much time studying the theory of art.
But I've always loved fairy tales. And I always loved "The White Cat," which is in Andrew Lang's Blue Fairy Book. And at a certain stage when I was writing what turned out to be Grasses of a Thousand Colors, I thought, I am going to see if I can use that story in this play. In "The White Cat" there is a king's son, and he goes to a castle. And it turns out to be a castle full of cats, and the queen of the castle is a white cat. And there's a big dining room, and they're all having dinner. And in the story they do indeed bring the young hero a plate of mice. But when he objects that he can't eat mice in the story, the cooks prepare something special for him that is more suitable. In my play, the man does eat the mice.
INTERVIEWER
The play clearly concerns man's relationship with nature.
SHAWN
I've always been fascinated by the fact that, up until Darwin, most people—not all people, but people in the Western world—thought they weren't a part of nature. They thought there was nature on the one hand and people on the other hand. Nobody talks that way any more, but in our thoughts we're not entirely different from the way we were before Darwin. We still haven't fully incorporated into our souls the idea that we're a part of nature. Not at all.
INTERVIEWER
So what are we?
SHAWN
We're a species that developed some fantastic abilities. The nineteenth century was perhaps the period when humans in the Western world were most exultant about the wonderfulness of those special abilities and the greatness of our species. Then in the twentieth century it became clear that our special abilities made our species capable of something unknown among the other species of the world—we seemed to have the ability to exterminate ourselves. Now, in the twenty-first century, we see that our special abilities enable us to extinguish all living things and life itself. So the period of crowing about the marvelousness of our species has sort of come to an end.
But actually, I think of Grasses as having a lot of outrageously optimistic notes in it. When you read about world leaders discussing climate change, it's hard to feel that the universe contains regenerative powers, because in the contest between the survival of the planet, on the one hand, and the desire of privileged people to preserve their current standard of living for one more day, on the other, the privileged people seem to vote so decisively in favor of preserving their standard of living for one more day. But the play contains examples of love that contradict those human characteristics of short-sightedness and selfishness. The three women, one of whom is not a person, are capable of unconditional love at certain moments. And this gives hope that the planet can survive.
INTERVIEWER
Do you see your plays as confrontational?
SHAWN
My plays do explicitly involve the audience, I guess, because the characters actually address the audience and in a way demand a response from them. And yes, my plays do implicitly criticize both their own author and those who have assembled to watch his play.
INTERVIEWER
Your plays are often structured in a very original way—like Platonic dialogues, a series of related monologues, rather than traditional scenes with the protagonist and antagonist and so on.
SHAWN
I think I've heard about the response of certain painters to comments about their formal choices, or maybe I just imagine that I've heard this. Somebody says, We're all sick of the fact that you always just paint a circle with three smaller circles inside it. Don't you get tired of that? And the painter says, Yes, I absolutely can't stand doing that. And last week I did a square and was really enjoying it, but something just didn't feel right about it. And I began changing some of the edges of the square and it still didn't feel quite right to me. Somehow it ended up as a circle with three smaller circles inside it.
It's not because these painters believe that all pictures should be that, but for some reason, to them, something feels right about that, something you can't even define.
In The Designated Mourner, for example, I might well have wanted to have fewer monologues and more scenes between people, but I didn't have the ability to write those scenes. Or if I wrote them, they were bad. They didn't seem real. So the play is mostly monologues.
INTERVIEWER
Could one say it's even silly to call it a play?
SHAWN
There is a point of view, I guess, that a painting should do things that only paintings can do, and that the greatest paintings are those that do those things. I don't know if I believe that. It seems a little theoretical to me. But sure, I suppose I'd feel embarrassed if someone said to me, Wally, you have to understand that the basic elements of plays are a suspenseful story, fascinating characters who are involved in that story, and great scenes between those characters that advance the story. And you really have no talent for doing those things. You seem to be asking people to pay money to go out, sit in a room, and hear people basically recite pages out of a book that we could perfectly well read to ourselves at home. If someone feels that way, I wouldn't really be able to answer them, and maybe that's why most people don't like my plays and I'm considered pitiful. But I, personally, if pressed, would probably put much more emphasis on the fact that a play is meant to be interpreted by actors and spoken out loud. To see a good actor performing a monologue is nothing like reading the monologue to yourself at home.
INTERVIEWER
Do you compose aloud?
SHAWN
Writing is a very strange activity, and writing plays is about creating these voices that you like to listen to. You're making up people who are talking to you the way you think a person should talk to you, in a way you find pleasing. So you invent the instruments, and the orchestra is composed of instruments you've invented, and they're playing tunes that you like. That's what it's all about, that's what it is. You write a line, and you say, Well, no, that just doesn't sound right.
INTERVIEWER
Are you uncomfortable talking about this?
SHAWN
I realize that the tradition of the Paris Review interviews is that writers describe in detail their process of writing. And I was thinking this morning that probably not many people who've been interviewed for The Paris Review have really been preparing for their interview for fifty or sixty years as I have—because, you know, I read my first Paris Review interviews when I was probably twelve. I'm now sixty-six, and I think I probably did think in some way when I was twelve, I will be a writer one day, and I will be interviewed by The Paris Review. All the same, even though I'm well aware that these interviews often deal with the process of writing, I don't really want to go into that, because I don't want to do anything that would be bad luck, and although I don't believe in superstitions or the supernatural, I have superstitious feelings about talking about what one is working on or, in particular, one's process of writing. What if I still have the ability to write something? I don't want anything to get in the way of that.
INTERVIEWER
What could go wrong?
SHAWN
When I think about my own case, I don't think of writing as a professional skill. I think of it as an odd thing that I feel an impulse to do. You eat chocolate because you feel a desire to do it. You don't develop a technique for doing it. You don't get better at it. And I don't want to think of writing as a skill I have that I habitually exercise according to a certain schedule of procedures. If it had to be that, I'd possibly feel that I'd rather not do it. Actually, I find the idea of writing as a professional skill somewhat sickening.
I'm not religious, but wouldn't a religious person find something sickening about it if he were asked to think of meditation, prayer, or adoration of the universe as professionalized skills for which a method could be codified? I guess I am halfway between saying that writing is too personal, intimate, humiliating, and miniscule to discuss and saying it's too sacred and vast to discuss. And I don't like to think of it as a thing I do in the same way again and again. Who says one instance of writing has anything in common with another instance?
Spontaneity surely is a crucial element of writing and of all artistic activities, the unpremeditated appearance of surprising things that come from who knows where, things that apparently come from somewhere "inside ourselves" but make themselves known as messages from an unknown "Outside." And I think one might well plausibly guess that self-consciousness could possibly be an enemy of spontaneity, so I try to avoid it. Clearly, as it has often taken me five years to write a play and my last play took me ten years, I have a complex back-and-forth relationship with those strange messages from "Outside," and I don't want to casually take any chances with that. Of course it would be called pretentious if someone who wrote successful and popular plays excessively mystified his process of writing them, but how can anyone call me pretentious when the process I'm mystifying is largely a private activity? If someone says, I'm not at liberty to disclose the rituals I perform in regard to folding my socks, how could that be called pretentious?
INTERVIEWER
Do you think of yourself as pretentious?
SHAWN
I do sort of have a belief that certain things are given to me and I must bring them forth into the light of day, not totally unlike that man who founded Mormonism, if I'm remembering this correctly, who said that an angel came to him and dictated things that he wrote on golden tablets. When I write, I don't think I just made up some dumb story. I feel somehow that it was given to me and that it has some reality to it.
It often happens in working on a production of a play that someone will say about a certain passage, This is too long, it ought to be cut. And I have cut it. But then there are moments when I sort of say, No, I can't, I can't cut this. This is an essential part of the story. Well, I'm the guy who supposedly made up the story, so why can't I just cut out any part of it I like? I can't because somehow this is a story I've been entrusted with. It's not made up, it's real.
INTERVIEWER
Does that mean you have a hard time making changes to a script during a production?
SHAWN
I'm not terribly good at that. I may have improved slightly over the years, I'm not sure. When I was younger, I was for sure totally resistant to any changes suggested by a director or an actor, I was very, very defensive. I was much too proud to admit I'd made a mistake, and I almost always felt, But they don't understand why that line is in there. And it's true that I've included the line for a reason, or for five reasons, and I know those reasons. And in an unbearable way I used to be perhaps more pedantic about explaining those reasons than I am today—although I'm not sure my colleagues would agree that I've changed that much.
I guess I have the fear that if I admit my fallibility, if I break the mystique, if I publicly declare that the golden tablets were not dictated by a supernatural being and can easily be altered, then a sort of chaos will ensue, and everyone will have suggestions for improving the play. And that frightens me. And to be honest, I don't believe in it, partly because I think the text was in fact dictated by a supernatural being, but also I actually do feel that the kind of plays I write have to be written by one individual, though of course other kinds of plays are possible and may be wonderful, including improvised plays, plays written by groups of people collectively, et cetera, including work I particularly love, such as the Théâtre du Soleil and the Wooster Group.
I've gotten better over the years at going to a rehearsal and realizing what I myself don't like in my text. And one unexpected benefit of acting in my own plays has been that I can totally change my own part without facing any public humiliation or admitting to anyone else that I was wrong. And now when I act in my own plays I always change my own part a lot. And then after a play has been performed and published, I keep rewriting it. I've rewritten all of my plays a lot, sometimes decades after they were first published, and in some cases I've been fortunate enough to have the newer versions eventually published as well. I do eventually reach a point at which I can say to myself, Well, I never really liked that line, I always hated it, and I now realize that if I hear someone say it, I'll be embarrassed and humiliated, so I'm going to change it. It's easier for me to do that if I'm alone in a room and don't have to abase myself in front of a group of other people. And sometimes I even think of a new and better way to say something in a certain place, a way of saying it that may have eluded me for decades.
INTERVIEWER
You say that you are not really an actor, but your acting seems to have very much affected the way you write.
SHAWN
There's a certain way that a line fills up time and space in a play that you can't really sense accurately if you've never acted. How many words are needed and how many words take a certain length of time to say—this is quite a subtle question. You can't answer it if you don't have the feeling of what it is to stand on a stage and say something. I think if you've been an actor, it's much easier to write a line that has the right number of words in it, or to have an accurate sense of what that line is going to be like when it is unfolded and assembled on stage.
A script is like a score in music. It is telling you quite a bit about what will happen when it is activated. But it's not telling you everything. What the audience ultimately will hear is the way each line of a script sounds when an actor says it. And if you're writing music but you don't know much about the violin, you might be able to write a melody that would be beautiful if you played it on the flute but might not be so beautiful if it was played on the violin. But if you really know the violin, there are magic tricks that can be made out of the four strings of the violin. If you have some idea of what string the notes might fall on, and the very different sounds that those four strings actually make, you can write a melody that uses the different strings, and it's going to be a more thrilling event in the concert hall than the melody written by the guy who just knows that he can write a beautiful melody and that G is the lowest note on the violin. Actors know that there are some things that are just fun to say and sound right, and that there are other things that are going to fall flat.
I love the idea that drama is a form of literature, and I love the fact that plays are published and can be read. But this can create a problem or a conflict. For example, it might be perfectly appropriate for a character in a play to say something like, "Edwin, I've always believed that there are tuna-salad men, and there are hamburger men, and I've always been a bit of a tuna-salad man myself, so I think I'll sit this one out." But it might actually be more effective and better for the actor onstage to say, "No! I won't do that!" Given the right actor, those words might ring out, they might fly across the stage and devastate everyone. The sound of those words, the rhythm of them, might perfectly and beautifully convey the character's hopes, needs, and beliefs. To the spectator sitting in the audience, "No! I won't do that!" might be the most exciting moment in the whole play, even though for the reader sitting at home it might seem like a very flat and uninteresting line.
INTERVIEWER
What does an actor have to pull up in his or herself to simply get out there and perform?
SHAWN
Have you ever watched people checking out the rigging for aerial acts in a circus? Admittedly, a bad moment in the circus can be fatal, and in a play the performer just experiences a horrible feeling, but the actor needs the script to be properly rigged. If there's a line in a play that has no point, a line that is basically incomprehensible or meaningless or completely not believable, the actor saying that line onstage is going to feel miserable. It's a terrible feeling. It's really not fun. And the drive of the actor to feel good onstage is actually enormous, so to go through a moment like that, again and again, night after night—oy, that's awful.
INTERVIEWER
You feel doomed somehow.
SHAWN
You're trapped. You're wasting the time of hundreds of people watching you. It's just awful. Being an actor has given me a very strong sense of that.
INTERVIEWER
In his Paris Review interview, Truman Capote said, "All I want to read or hear is praise."
SHAWN
Well, certainly with a play, that's not really the right attitude, because a play is not a piece of writing. It only exists secondarily as a piece of writing. It's meant to be a guide to putting something onstage. It's a guide to some actual behavior that is going to be taking place. It's not like you've done a painting, and it's sold, and it can't be changed—what would be the point of hearing criticism about it? But with a play, it can and should and must be changed. So there must be criticism—ideally from wise collaborators who are also involved in putting on the play.
But it's a complicated question, because if you're putting on a play, there's a harsh punishment for including anything that the audience doesn't enjoy. If you write a novel, you may never learn if your readers like a given passage or not. But with a play, you can actually feel the dislike or boredom of the audience, and that's very painful, so if they don't like a particular passage, there's a very great temptation or incentive to change it. Sometimes, obviously, you look at the audience and you say, These people are so lazy, so unimaginative that they will not stretch themselves to listen to what is actually very valuable, and a more intelligent audience would listen to that passage, and that would be their favorite passage. And there was a guy there, sitting in the back row, I could see him, he was fascinated by that passage, and I am going to leave it in because of people like him, and everybody else can go fuck themselves. In two hundred years, everyone will realize that that was a great passage. But on the other hand, sometimes you think, If people are bored, they aren't even listening, they aren't even paying attention, they aren't getting anything out of it. So what is the point of that? There is no point in it, and it's awful to have a bunch of people wasting their time like that. And then sometimes you ask yourself, Is it really true that there are some people who are bored, and there's one guy in the back who is not bored? Or is the truth, really, that everyone is bored, including that guy and including me? And at times you do have to force yourself to admit, Yes, I am bored myself by this particular passage. And it can be frightening to allow yourself to think that, because you're always afraid that your next thought could well be, Actually, I'm bored by every single passage in the whole play, and I'm bored by everything I ever wrote, and my whole life has been actually meaningless. But you must take that risk.