Interviewed by David Ryan
Issue 158, Spring-Summer 2001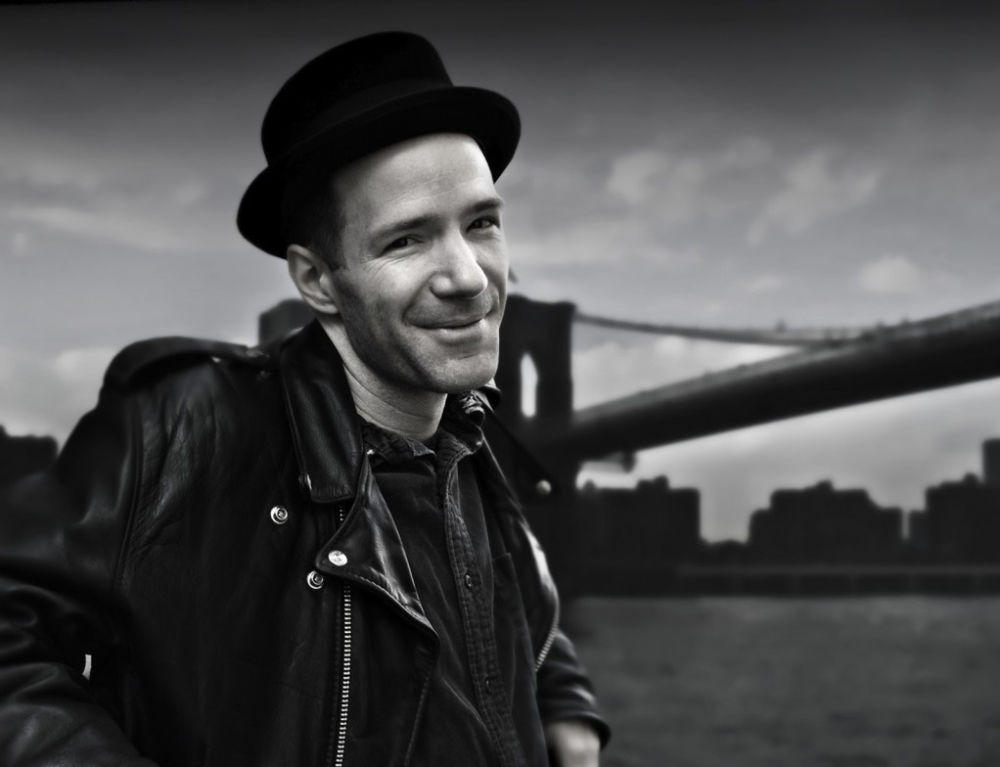 Rick Moody was born in 1961 at New York Hospital in Manhattan. His family moved to Connecticut when he was two, and he spent the bulk of his childhood in various towns around Fairfield County.
Moody received his undergraduate degree in English, with an emphasis in creative writing, from Brown University, under the tutelage of such writers as Robert Coover, Angela Carter, and John Hawkes. Following Brown, he received his M.F.A. from Columbia University.
His first novel, Garden State, appeared in 1991, and was awarded the Pushcart Press Editors' Book Award. In 1994 his second novel, The Ice Storm, was published, and with it Moody proved himself a rising star in American fiction. A short story and novella collection, The Ring of Brightest Angels Around Heaven, appeared in 1995, followed by the novel Purple America in 1997. Here Moody's reputation as a prose stylist began to be cast. Purple America's surgically deft formal construction, its loping, labyrinthine sentences and stunning ear for both the comic and dramatic (often within the same breath) press the reader through a weekend in the life of the Raitliffes, a Connecticut family—foremost, Billie Raitliffe, late-term victim of a degenerative nerve disease and mother of Hex, the alcoholic, stuttering hero. As the novel asserts at the end of the first chapter: "if he's a hero, then heroes are five-and-dime, and the world is as crowded with them as it is with stray pets, worn tires, and missing keys."
The same year as Purple America's release, Moody co-edited, with Darcey Steinke, Joyful Noise, an omnibus of essays by various artists regarding faith and spirituality. Demonology, a short-story collection, was published earlier this year to further critical acclaim. Intelligent and remarkably diverse in style and content, the stories, taken individually and collectively, exemplify Moody's constant interest in language, form, and the human comedy. The evidence of Moody's fiction more often than not renders his oft-stated label as chronicler of suburban angst remarkably inadequate. He's much too interested in prose to "chronicle" anything.
This conversation was conducted initially at the interviewer's fifth-floor walkup in Yorkville, Manhattan's old German-town: a badly planned clustering of tenements and projects, over which hover a growing number of expensive high-rise apartments—the walkup is a few blocks from the hospital where Moody was born. His story collection Demonology had just reached bookstores, and in a few days Moody would embark on a national reading tour.
INTERVIEWER
You often use lists as organizing principles for entire stories: do you find a generative power to this technique?
RICK MOODY
The model is William Gass's work. He's an awesome list maker, and I always love how he does it. I would like to catalogue less often. John Hawkes was very anticatalogue. He used to say, It's too easy, and there's truth to that. But the catalogue is the iteration of characters through metonymy. Instead of saying that your getting up just now and making us tea is going to reveal you, somehow, we could say, metonymically, that it is this incredibly strong mint tea itself that renders your character. That's one sort of reasoning. Or I could list the books on the bookshelf here in your apartment (Philippe Sollers, Thomas Bernhard, Walter Abish), proposing, metonymically, this as an accurate sketch of who you are. There's something really rich and powerful in not talking about what you need to talk about sometimes.
INTERVIEWER
Your short story "Primary Sources," from The Ring of Brightest Angels Around Heaven, does an interesting turn by revealing books from which you've ostensibly drawn in life, by simply listing them bibliographically, occasionally footnoted with bits of detail of their relevance. For this reason, asking you what writers and artists have influenced you seems kind of silly. But do you mind if I drop a few names and ask for your response? William Gaddis, The Recognitions.
MOODY
I love those party scenes in The Recognitions. Oddly, Sven Birkerts said something to me about how much Purple America owed to Carpenter's Gothic, which I don't like, actually—it's my least favorite Gaddis book. In fact, it's the only one I think is not that good. So maybe this was not a compliment. Maybe one day I'll write a book that Sven will compare to JR or Frolic.
INTERVIEWER
How about Thomas Bernhard? Technically what do you think you've pulled from him?
MOODY
Certain rhythmical ideas, or at least certain translated rhythmical ideas, since I don't know what his rhythms are like in German, as I can't read or speak the language. I suppose he's the origin for my italicizing too. I've often wondered what happens along these lines in the German translations of my own work. I've never read a German review of my work that made any connection between my work and Bernhard's, so it must be that in his original tongue it's not so apparent.
INTERVIEWER
What about Stanley Elkin?
MOODY
Amy Osborn, my partner, says that she can never understand all the Cheever and Updike comparisons, because when she reads Elkin, she really sees that work as the preeminent influence.
INTERVIEWER
What do you think of the comparisons to Cheever?
MOODY
I'm a little tired of these comparisons. But I think the Cheevers are a lot more tired of them than I am. I think the comparisons mainly have to do with topography, not with style. I don't write like John Cheever at all. I love his work. But I don't write like him. I would never compare myself to John Cheever.
INTERVIEWER
You've mentioned in other interviews that your childhood was relatively uneventful—do you think there was anything in your childhood that sparked an interest in writing?
MOODY
When I say I had an uneventful childhood, I'm really not exaggerating. I guess it's probably not ridiculous to say that I was pretty vulnerable for a child. I didn't have defenses against the slings and arrows of elementary school life. But who does? Shit would get under my skin, even totally routine stuff. At the same time, I knew a guy who was on Wonderama, a kid's show in New York. I saw the Mets play in 1972. I was in love with the girl across the street, Lisa. It was the same stuff everyone else was doing. What made me good at my job, to the extent that I am good at it, was that I was a reader. Nothing inherently interesting happened. I don't have a skeleton in the closet, anything like that. The only singular thing about me was that I read like a maniac.
INTERVIEWER
What kind of books were you reading?
MOODY
I was reading a lot of the nonsense kids read, but the breakthrough for me was reading The Old Man and the Sea. In sixth grade. In New Canaan. Even then, I had some epiphanic relationship to Hemingway's language. Even at that age it was revelatory. I just went and read everything else by this guy. Probably didn't understand much of it. My friends were reading Encyclopedia Brown and Hardy Boys and I got this bug where I had to read Hemingway, Hemingway, Hemingway. It was more of the same in the years after that, in junior high. I too was reading Tolkien and Robert Heinlein, but I read these books while reading Salinger and Fitzgerald.
INTERVIEWER
Did you start trying to write stories after reading The Old Man and the Sea?
MOODY
It might have been about that time. Within a year or so of reading Hemingway and reading the Odyssey (in some stripped-down kid version), which was also an important experience for me, I started making attempts. I probably liked the Hemingway novel because I was very interested in sharks. That was enough back then, the mere appearance in the story of sharks. Maybe I started writing just because I liked sharks. The really grisly ones. The kind that could bite a man in half.
INTERVIEWER
When was your first story published?
MOODY
My very first published piece was a story called "Gambit Declined." This was in the Antioch Review, in 1987, right before I shipped off for my, uh, mental-health excursion. I'd started a novel at Brown, which I only got four chapters into before abandoning; and I tried to write a novella in graduate school, which went nowhere and which nobody liked. So I decided I was just going to be a short-story writer—you could actually be a short-story writer then in ways that I don't think you can be right now.
INTERVIEWER
"Mental-health excursion"?
MOODY
I was at a psychiatric hospital for a short while. Not a subject worthy of much attention.
INTERVIEWER
What are the differences between the prospects for story writers then and now?
MOODY
It seems that the market doesn't favor short-story writing right now. Or maybe it's the culture that doesn't value it. I mean, think of that moment in the middle eighties when Amy Hempel's Reasons to Live came out, and Lorrie Moore's Self-Help; David Leavitt's first book, Richard Ford's Rock Springs, Where I'm Calling From . . . Back then, short stories were the gold standard.
INTERVIEWER
Where did you get the seed of the idea for Garden State?
MOODY
Notwithstanding my earlier feeling that I was only going to write short stories, somewhere in the end of 1986 I started to imagine this cast of wastrels. The idea, in its simplest expression, was to write about people who came back from college without any idea what they wanted to do. Of course, it also had a lot to do with where I was living, Hoboken, NJ. The Hoboken music scene; Maxwells and those bands that were around then—the very early Yo La Tengo, Db's, Individuals, Golden Palominos. All that stuff. So that was the idea, to do a weird, slightly surreal version of the People's Republic of Hoboken.
INTERVIEWER
It seems like nothing can extricate the characters in Garden State from their situations. They blew their chance. They're diminished. They're a little bit hopeful, but that's the best they can be.
MOODY
A major depression articulated itself in me back when Garden State was begun. I wrote the novel just before things really began to unravel, and I think its Old Testament determinism—these kids just don't have a chance—reflects my own thinking at that time; I believed I would never be successful as a writer, I was doomed, I had always been doomed, might as well just drink and relax into mediocrity and lassitude.
INTERVIEWER
How did alcohol contribute to or detract from your writing in those days?
MOODY
The delusion under which I was operating then was that alcohol would open me up and make me more insightful as to human psychology, but just the opposite turned out to be the case. It ended up being a real hindrance as far as writing goes. It blunted me, it made me self-centered, anxious, avoidant, unable to understand or identify the motives of others. And I think that's been true of other writers, too—Exley, Fitzgerald, Faulkner, Yates, Hemingway, Burroughs, Kerouac. There are many, many examples. You can see alcohol beginning to endanger what was valuable about the work of these writers, until, ultimately, the work reflects only its abuse.
INTERVIEWER
What got The Ice Storm started?
MOODY
I had a friend in those days who was a writer for The Voice. And I had given her Garden State to read, and she read it and remarked, You don't know anything about the working class, so you should quit writing about the working class. Which I think was an unusually harsh thing to say to a friend. But it had a beneficial aspect, which was that I decided I was going to write a book about a place I really knew well, of which nobody would be able to say that I wasn't, you know, an exemplar. Meanwhile, I had been reading a lot about American policy in Cambodia, because I sometimes get really obsessed with public-policy issues and historical difficulties. I had read I think three or four books on Cambodia in a row and I was reading Sideshow by William Shawcross, this really tremendous book about Nixon's immoral policy over there. I decided that if I was going to write a book about the early seventies in Connecticut, I might somehow indicate, too, the immense hypocrisy of the Nixon administration, as it trickled down into a group of people. I already had the cast in mind and I had the landscape, but I was looking for an angle. What would make this story go? Turned out it was the so-called sexual revolution, which, when it finally got to the suburbs, looked exactly like Nixon policy in Cambodia, after a fact. Both were founded on deceit and hypocrisy.
INTERVIEWER
Did you find it easier or harder to write what you know?
MOODY
I'm resistant to any kind of traditional wisdom with respect to craft, so I always resist the old saw about writing about what you know. Any time I'm told there's a rule, I want to prove the opposite. Therefore, I wrote about a lot of stuff on which I was completely uninformed when I was younger. It took me a long time to see that it's wasteful not to use material close to home. Now I'm happy to spill all of my secret knowledge on the page. This spillage confers on me the language of authority, if not outright authority. In the meantime, I think that as you get older and more sympathetic about other people, you get better at imagining. So the paradox is that I can now write pretty well about things I know nothing about (nuclear power, contemporary psychiatry, Hawthorne criticism), even as I better understand the wisdom of writing about what I know.
INTERVIEWER
The Ice Storm is loaded with found objects—it's full of very representative items of the period. The pop psychology of the time, for instance. How did you prepare for that book?
MOODY
At the time, I didn't really know how to be faithful to history without cultural detritus. So I had to have all that seventies junk in there. I read every book mentioned in The Ice Storm. I reread Games People Play and I'm Okay, You're Okay, all that shit. And I went to the library and read newspapers and magazines from the seventies and I watched Electra Glide in Blue and Billy Jack. One tangent I pursued was strictly superstitious: in order to channel 1973, I reread Gravity's Rainbow, which was published that year. Because to my way of thinking, Gravity's Rainbow, along with Watergate, was the most important historical event of that year. I think there are only two references to it in the entire novel, and they're very obscure—you'd really have to be hardcore to get them. But I felt like I wanted to have that book in my consciousness while I was writing The Ice Storm.
INTERVIEWER
What about for "The Ring of Brightest Angels Around Heaven"? Did you really visit sex clubs like the Ruin?
MOODY
The Ruin was based on the Vault, and in all honesty I never went to the Vault because I have trouble staying up late. The Vault doesn't really get going till way after midnight. But I did some sleaze research for it, I made the rounds.
INTERVIEWER
What were the origins of "The Ring of Brightest Angels Around Heaven?"
MOODY
That story began all at once. I was hanging around one afternoon with a bunch of friends in midtown, all of them sex addicts. They each had stories about going to the old sex clubs before HIV, and while we were talking they really got into those tales of the past. Can you top this, and so forth: Oh yeah, when I was at the Manhole that time, or the Mineshaft, or the Toilet. Lots of these stories. And it seemed to me that, obviously, I knew something about this, had had similar experiences with addiction in my own life. It seemed to me that all addiction stories were the same, especially in New York. All addiction stories seemed to say something about New York City at a certain time. This was the starting point for the novella, and then the strategy that drove the narrative was this idea about how New York stories are often parallel and simultaneous, so wherever you go there's a whole life story happening nearby, in the very space you occupy. You walk by that person there and miss this whole parallel web of incidents by a quarter of an inch. Or less.
INTERVIEWER
Do you think New York is a good place for a writer to live? Writers seem to be of different minds on the subject.
MOODY
I had trouble writing in New York City, after a point. In fact, I'm not sure I ever wrote all that well in New York. It's a great place to have a reputation as a writer—New York City, more so than any other American city, seems to value writing and writers—but it's also too overwhelming to make the composition of sentences easy. You get distracted here. I have always written better outside of New York. But I also believe I could never live fruitfully without easy access to this metropolis. I love New York City, all of its complexities and contradictions, I love what it means, the way it works. The more schismatic and hysterical it gets, the better I like it.
INTERVIEWER
It seems "The Rings of Brightest Angels" was a turning point for you.
MOODY
For my money, that's when I figured out what I could really do, or so it seems today. That was the moment. The breakthrough was probably immanent in The Ice Storm, but actual in that novella. I broke out of my apprenticeship.
INTERVIEWER
Did you know this as you were writing it?
MOODY
I did. There was something about the subject matter, its inherent drama, that asked for a language that was more ambitious than what had characterized my earlier work. New York City, the landscape for the story, needed an ambitious language. Of course, I didn't know if the work was any good, but I knew that I wanted it to reach more, try more. I wanted it, at least, to fail better than my earlier work. I don't really go back and read my stuff at all, though, so again these perceptions are from many years later. There are parts of the books that I haven't seen since I corrected galleys. But "Ring of Brightest Angels" is a story I'm really proud of, and I have dipped into it a couple of times since the middle nineties to see if it stands up. I think and hope that it does.
INTERVIEWER
Was the structural conceit—the way you interwove the three parallel narratives—planned out in advance?
MOODY
No, not really. I've never done a lot of planning for anything I've written. I prefer strategies more flexible and reactive than mere premeditation. The best work, for me, has to come from organs that are removed from the brain: liver, pancreas, pituitary gland. So the prose was first, and then I realized what I was getting at, and refined the structure to cohere with where the prose seemed to want to go itself.
INTERVIEWER
Your writing after "The Ring of Brightest Angels" reminds me of something you said about Stanley Elkin—that his prose deals in units of breath, rather than the sentence or phrase.
MOODY
The interesting differences, I think, if I can rely on a musical metaphor, is that Stanley is all bebop or klezmer, and that I'm the post-1965 avant-garde wing of jazz. Don Cherry. Lester Bowie. Or maybe Paul Bley. Stanley's rhythms had the Jewish tradition behind them, the orality of the Jewish tradition, whereas mine really don't. The differences are along those lines. But I learned an immense amount from reading his books. I'll never be as funny as he was, I'll never have that kind of comic intensity, but the way he constructed paragraphs, that was very fundamental for me. When I initially read The Magic Kingdom, the first book I read by him, the top of my head got blown off. The cat could play.
INTERVIEWER
What traditions are behind your writing?
MOODY
The modernist notion that anything is possible, the postmodernist notion that everything is exhausted, the post-postmodernist notion that since everything is exhausted, everything is permitted.
INTERVIEWER
You mention in the introduction to Garden State that music "taught me a lot of whatever I know about prose, about the way prose should sound." Specifically, what is it that music taught you?
MOODY
How to listen. Thinking about how the stuff's going to sound, instead of how it looks. My contention is that almost all contemporary American fiction is oriented towards observation, how things look. I don't have a very good memory for appearances, but I have a good memory for how things sound.
INTERVIEWER
Do you think this has to do with your training on the piano?
MOODY
I never was any good at the piano . . .
INTERVIEWER
But don't you think that practicing the rudiments of music—scales, phrasing patterns—at a young enough age burns something into the hardwiring of your brain that wouldn't exist otherwise later on?
MOODY
Well, the truth is that everyone in my family was very musical in some way or another, and my mother was very involved in music, so there was always music around, and that was always a very big part of my life as a kid. It's true I'm a frustrated musician. When I came to this thing that I can do well, literature, my quaint musical ambition was somehow invited in to share the space with the job of telling stories and narrating. So, for me, making music and narrating go hand in hand.
Which is the case, I think, for many writers. Bernhard was a piano player; same thing with Lydia Davis. Beckett was too. George Saunders is a very good guitar player. Bradford Morrow is a very good guitar player. You are a very accomplished drummer. Music is great training for writing. As is most of being alive. Love, cereal, taxes, tragedy, jazz, all good for writing.
INTERVIEWER
Do you have a daily schedule you try to stick to when you're working?
MOODY
No. I'm against schedules. Write when you feel excited by the prospect. Otherwise, don't bother. Break your deadlines, default on your due dates, wander in the streets, go to the movies, eat lavishly, fornicate, blaspheme, bless a street urchin, browbeat a civil servant, and when you're done with these things, if you feel excited by what you've seen and heard, then go write.
INTERVIEWER
When you sit down to work, what is generally your writing process? Do you have any organizing principle to begin with?
MOODY
There's no process, there's no organizing principle, there's no tendency, there's no premeditation. I defer to all principles that are without me, all the big principles swirling around in the heavens, in the ether, in the collectivity of consciousness. The schedule, the instant it gets named schedule, always changes, the mix of forces speaking through me changes, the time of day changes, the room changes, the setting changes, and I'm driven to try something else. However, I print out each draft on heavy weight bond, which I buy in ream boxes, and then I correct the hard copies by hand, reenter the corrections on my Dell Inspiron 7000, equipped with MSWord, Adobe Photoshop, Quicken, America Online 6.0, Acrobat Reader 4.0, ACID Style, etcetera. I almost always use a blue fine-point Uni-ball pen to correct the drafts, because I'm left-handed, and otherwise the ink smudges, which drives me crazy. And I like to correct drafts on the subway. It's peaceful and there is no phone there and no e-mail. I always write with music on, I often write with the phone turned off, I often write and drink seltzer water, I often write with the blinds down, I sometimes write in bed, like Proust did, I sometimes nap in the middle of working, I sometimes have to meditate before starting work, to make sure there is the potential for calm.
INTERVIEWER
I'm just wondering if there's any point in common at each piece's origin, some trick you use to "get it out."
MOODY
Not really. Pleasure is my guide, and it is the least fallible of guides, as Auden said.
INTERVIEWER
When you revise, is the process generally additive or reductive?
MOODY
It's both additive and reductive.
INTERVIEWER
Do you show early drafts to anyone? How important are their opinions?
MOODY
It's important for me to have someone read the work who won't let me get away with things. A bullshit detector. Essential to the process. The person who fulfills this role has varied from book to book. But there's always one or two of them for each manuscript. I showed the first hundred pages of Purple America to Donald Antrim, and he gave me a condolence speech, in the gentlest way, suggesting that the book was a bit of a mess, and I began anew. I kept only an early version of the opening chapter—threw out all but the bath scene.
INTERVIEWER
What did you do differently when you started over?
MOODY
The compelling difference between the first attempt and what came later was that the initial draft was in the first person. And it just didn't work in the first person at all.
INTERVIEWER
Why didn't it work in the first person?
MOODY
The first person seems like it's going to permit easy access to a confessional style, but it turns out to be much more confining than that. For instance, you can't work your way all the way around a conversation with only one point of view available, unless you are phenomenally agile (as Clemens was, say, in Huck Finn). I am much more inclined toward the collision and separation of consciousnesses over time, and this seems to favor the third person. And so all my novels, with the exception of a few moments, have been in the third person. Second person, to me, meanwhile, is just a parlor trick. It has been done a few times well, as in Rick Barthelme's stories, but mostly it ends up sounding like someone's conscience yammering. The second person is only good in love songs, wherein you find it hard to tell if the narrator is talking to the lover or to him or herself.
INTERVIEWER
So, once you dispensed with the first person, how did the process of writing Purple America compare to what you'd written up to then?
MOODY
I'd written The Ice Storm really fast, faster than I've written anything since. I got fired from Farrar, Straus and Giroux and I went on unemployment and so I had these months where I had whole days in which to work as I had never worked before. I'd write a chapter in ten days, and then I'd just write another chapter right away. I guess I figured incorrectly that I would be able to write Purple America the same way, because of the way the last novel had been written. But this was completely stupid because I'd come to a different idea of how my prose worked, so I couldn't do that old thing anymore, just vomiting stuff up. I was now writing these paragraphs that were big, looping, intuitive, and they needed to be rewritten dozens of times before they made any sense. Anyway, I had the bath scene and I knew who the characters were, and pretty soon after that I knew how the novel would end—I knew that the nuclear family was genuinely nuclear in Purple America. Interestingly, once I made the decision to write really slowly, the book gave up its mysteries as I went along. It wasn't a case where I knew what the middle of the book was going to be.
INTERVIEWER
What was the inspiration for the mother's affliction, the degenerative nerve disease, in Purple America?
MOODY
My mother is obsessed with the Hemlock Society, or she was for a while. There was an interval when she was often heard saying, If anything should happen to me, you know where the Phenobarbital is, and so forth. At a certain point I had to say, Mom, please stop talking about this.
INTERVIEWER
Was it difficult writing about a mother in that context?
MOODY
When I was on tour people would say, I'm so sorry about your mother, as if the work was transparently autobiographical. But my mother is in the pink, and grateful for many things, except for the fact that she has a writer for a son. You're correct that writing about sons and mothers is deeply demanding and complex, and in my experience it does make you feel kind of uncomfortable. But if you find you need to write about subjects like this, you have no choice but to commit entirely. You can't get part way in and then try to be dainty, you know?
INTERVIEWER
Stephen Dixon once said he often tends to take events in his own life to a kind of imaginary logical conclusion, in the worst-possible-case-scenario sense. His wife may have a mild flu, but he imagines she has some terminal illness, and then uses this as a generative device in his fiction. Do you ever follow through in this way?
MOODY
That kind of irrational thinking is a part of my life too. And it's a good habit for writers to get into, because I think one needs to push fictional people into dramatic situations where the conflicts in their lives are most evident, you know? So it's not enough just to have Hex Raitliffe have a mother who has MS. The story has to take place on a day in which her illness is utterly central to her entire life, a day in which her illness conjoins with Hex's own difficulties in a manner that is immense and overpowering. That's drama. I want the reader, once wading into this bath scene at the beginning, to be unable to look away, so that his or her only choice is to travel relentlessly into the further complexities of the situation.
INTERVIEWER
Hex is forced to play God and decide between Billie's potentially hellish, drawn-out illness in life, or her swift death in peace. Did you consciously approach this aspect—as a way of heightening the drama?
MOODY
It came out in the process of composition. Again, premeditation might be a great idea for other writers, and it might simplify the process of writing were I smart enough to undertake it, but it just isn't native to me at all. While the simple dramatic structure you're implying in Purple America does seem to be there, I never gave it a thought, really. I knew by the end of the book that Hex Raitliffe was going to have to decide whether or not to help his mother end her life, but that just became logical based on what had come before. I want all the demons of my subconscious to have full flower, to have the run of the house, because they are what it means to be human; I want these demons to know that I would never censor their most whimsical impulse, nor their most destructive. The most efficient way to skew or misrepresent or blunt the energy of these demons is to try to plan the course of their days. God howls with laughter at earthly plans, you know?
INTERVIEWER
Would you categorize Purple America as the hardest book to write?
MOODY
No, The Black Veil trumps all my other books for that. The Black Veil has been a siege, or a pestilence. Just very, very hard work. I probably would have selected dental surgery instead, if I'd known.
INTERVIEWER
What is The Black Veil about?
MOODY
When I was a kid my grandfather used to boast that we were related to this guy, this ancestral personage, Handkerchief Moody, who wore a veil in public, and who turned out to be the basis for a Hawthorne story, "The Minister's Black Veil." There's a footnote about Joseph "Handkerchief" Moody in the original version of the Hawthorne story from Twice-Told Tales. Handkerchief allegedly shot and killed his best friend when he was nine, and then later in life, after a nervous collapse of some kind, started wearing the veil all the time. The idea of the book is just to sort of trace my family's interest in this guy, to go all the way back to him, you know, to see what the relationship is. Or, to put it another way, the idea of the book is that families imagine mythological origins for themselves, and then live out the ramifications of these mythologies. While the story of the veil is a story my grandfather told and a story that Hawthorne told and, ultimately, a story that I have lived out in my life, I think it's really a story that American civilization has told through me, as it tells similar stories through us all. To put it another way, questions about what I imagine I'm writing about presuppose that I am the sole generator of the work, which may be true occasionally, or on some limited scale, but it's a romantic construct that I find has limitations. I don't want to be hemmed in by this notion of the writer in a garret with his or her individual talent. I think it's more true to say that certain ideas and themes and structures are required by culture or required by philosophy or required by God. According to this argument, I'm just an instrument, and maybe only a temporary instrument at that.
There's all kinds of stuff going on in The Black Veil. It's a mock turtle soup. There's a lot of autobiographical stuff in it, there's a section about being in the psychiatric hospital, which also has a long digression about "Goodbye Yellow Brick Road" by Elton John. There's a good recipe for the proper preparation of the lobster roll. There's a discussion of UFO sightings in Exeter, NH. Everything in The Black Veil leads to something else, everything is its own obverse, and it's all related, in that it all probes toward the meaning of that difficult adjective—American.
INTERVIEWER
What does American mean to you? Do you consider yourself an American writer?
MOODY
What else could I be? I guess to be an American writer means, uh, that I have dined multiply at drive-through windows and that I have no choice but to occasionally darken the inside of a shopping mall, and that I come from a country of former slave-owners, and that I feel the Manhattan Project as a blot on my conscience that I will never expiate, and that there is something in baseball that I think is close to my heart (it was once a Native American game), and it means that I daily have contact with guys who think that our government exists only in order to hinder the magnanimous philanthropic work of large corporations, and it means that there's constant vacillation in my head between the ethical messages of Judeo-Christianity and a desire to cast off these messages entirely, and it means, hmm, that I like artificial cheese food products, and it means that I conceive of nature as an expanse of space, and it means that I believe that spirituality is best experienced in landscapes emptied of human beings, and it means that I like to spin the dial on a television set, just can't stop myself from spinning that dial, and it means that I only speak one language well, and it means that I don't mind listening to people on the street talking incessantly about stock prices, and it means that I look to Europe for a definition of the high arts, and it means that I sometimes can't tell the difference between high and low arts, and it means that the sentimental reiteration of family as the origin of all good is never far from my mind, even though I resist this idea entirely, and it means I know a lot about cars, and it means that I can talk for half an hour about the best kind of computer, and it means that I have a lot of opinions about the best operating system for a computer, and it means that I prefer music with guitars to music with electronic keyboards, and it means that I think ketchup is a vegetable, and it means that I am to some degree or other worried about my weight, and it means I believe strongly in ministorage and the ministorage way of life, and it means I can't imagine anyone would disagree with all these American things. Guess it means a lot of things, huh?
INTERVIEWER
Did you feel any difficulty working with nonfiction material, which you can't manipulate the way you can fiction?
MOODY
It is a big responsibility, the truthful part of The Black Veil, and that's probably why it's been hard to write. Insofar as there's memoir in it, there have been times when I have shrunk from writing the book. On the other hand, I think the idea of The Black Veil takes off from the end of Demonology and really moves farther out on the rocky promontory that is battered on one side by fiction and on the other by nonfiction. I mean, I suppose The Black Veil will have to be shelved as though it were nonfiction, but it's clearly by the same writer who wrote Demonology and Purple America, and it will be lonely on the shelf without those compatriots. Interestingly, since I haven't had the same license to fabricate dramatic instants to drive the narrative forward, The Black Veil has assembled itself in a completely singular way—I wrote it out of sequence, which I've never done before.
I was finally able to do something that I always really wanted to do as an artist, which was to deal with structure exactly like a jazz musician or a painter. You know, Teo Macero at the Bitches Brew sessions: Well, I'm just going to glue five minutes from the Monday session onto five minutes from Tuesday—and it's up to the audience to find the meaning and significance of that structure. The present order of The Black Veil makes sense to me perfectly, now that it's cooled, but I'm gratified that the book involved collage.
INTERVIEWER
How different are fiction and nonfiction?
MOODY
Although I'm dumb about science, allow me a scientific analogy. The whole drive of the grand unified theory is to try and push physics back to the moment of the big bang, with the idea that the four fundamental forces, which are gravitation, strong and weak nuclear forces, and—I can't remember what the fourth fundamental force is—but anyway the whole idea of the grand unified theory is that, if you can get within a millisecond of the big bang, the four forces are all one force. Before there were particles, before there was light, before there were the ten thousand things, the binding force of the universe was unitary, singular. My feeling is that literature, or the sort of specialization in genre that we experience now in literature, is like the cooling down of the universe. When language was first used to try to entrap human experience and render it, this gesture was before genre. When Montaigne called what he had done essays, there was no word yet for it, until he applied that word, ex post facto. Did Plato understand the suppleness of trying to make philosophy known through the dialogue form, did he know that he was mixing genres, did he really care that his form was different from what Horace or Ovid were doing, or was it simply natural and organic to him? Maybe he was using intuition and language and letting the Greek tongue go where it would go. Sure, as the literary universe cools towards its absolute zero, there is genre . . . and using different genres to do different things is appropriate and exciting. Each genre is a relief from the other. But the anticategorical truth is more complex. I want to be back at the big bang. I want to evade naming and hierarchies. So, I don't even think of my poems as poems, and I'm sure there are a lot of poets who don't think of them as poems either. They're just things that I started doing that made me laugh. I don't think of The Black Veil as nonfiction. These tendencies, which appear various, are therefore one tendency—delight in language. Let taxonomists figure out what it means.
INTERVIEWER
What is it about language that you feel is so important?
MOODY
Language pleases. It's there and it's astounding and beautiful, so we should use it, right? Theoretically, the hallmark of American naturalistic fiction is a kind of skepticism about whether language in itself is of much interest. I mean, you look at Frank Norris or Theodore Dreiser or Jack London, and you suspect that they weren't spending enough time on how their sentences were cast, because they're sort of icky sentences, you know? The contrary argument would probably be that too much attention to language is perverse. It represents an obsession with structure that is counterproductive. Maybe this obsession with language is neurotic, in fact. And yet, on the other hand, I'm not sure there is a writer who would be willing to proclaim this aesthetic of the antistylists. Every writer, no matter who he or she is, uses language on some personal level and believes that their language is genuine. Carver and Hemingway are both really good examples because they both really made an antistyle sound like poetry. Like that old line about Hemingway being unthinkable without Stein—his plain speech has avant-garde origins. So there's no such thing as writing without style, and my style is just a little more decadent.
INTERVIEWER
You've told me your father was an American literature major. How does he respond to your success as a writer?
MOODY
Well, he's become a lot more interested in contemporary literature. Which is the keenest sort of honor so far as I'm concerned. I think that when he was busy working at various banks, he was distracted. Now he reads vigorously in the contemporaries. He's passionate about James Salter, Richard Yates, Cormac McCarthy, among others. Hopefully that doesn't mean that I look entirely pale by comparison. He collects modern firsts, too. He owns the copy of The Things They Carried that Tim O'Brien signed for his own parents.
INTERVIEWER
You mention in the preface you wrote for the present edition of Garden State that in retrospect you could never write a novel as "naked" as that one again. To what extent do you see yourself as an autobiographical writer?
MOODY
It varies. For example, Purple America hasn't really any autobiography in it. It's just made up. That was a concrete decision I made while writing that novel—to try to be compassionate to imaginary people in the same way that I had attempted to be compassionate about characters I really knew. "Ring of Brightest Angels" has patches that are pretty autobiographical and then some stuff that's just totally fabricated. Obviously, "Demonology," the title story of the new book, everyone pretty much knows it's autobiographical, or many readers do, but there's much more material in the book that's imaginative. The whole second half of "The Carnival Tradition," for example, derives from a story I heard about a Halloween party in New Canaan in the seventies. It just doesn't have anything to do with my own life.
INTERVIEWER
Could you talk about the moment that triggered "Mansion on the Hill?"
MOODY
I was walking on the Upper West Side with my friend, the writer Elissa Schappell, one afternoon. In early autumn. We saw a guy wearing a chicken mask and a sandwich board. Walking back and forth in front of some restaurant. Right away, I had to know. Who was he? Did he hate his job? And so forth.
INTERVIEWER
There seems to be a natural development in your fiction from book to book among certain recurring issues—addiction, family, loneliness . . . and fundamentally, the various ways the act of communication is frustrated. Do you find yourself regarding these things differently than you did back during the writing of, say, your first novel?
MOODY
I think I'm trying so hard to fashion language and structure in ways that interest me that I never really bother to think about what I'm actually trying to say. I take it as an article of faith that each book has some specific set of thematic concerns and so forth, but I don't really care all that much what they are. Eventually I sort of do, but most of the time I'm trying to work out issues of voice and language. Ultimately, I expect that my subconscious will do the thematic work. I did sort of wake up in the middle of Purple America and realize that in many ways I was writing about things very central to Garden State—pollution and postindustrial America and so forth. And the similarities with respect to family dynamics in The Ice Storm and Purple America are self-evident. Anyone can see that those books are by the same writer. But I don't sit there and say to myself, OK, I have to issue myself a new thematic challenge now. I imagine my challenges are about language, voice, style, tone.
INTERVIEWER
Which reminds me of John Hawkes, one of your teachers at Brown, who spoke often of his interest in language and the formal context of his novels. Is this something he impressed upon you?
MOODY
It's certainly true that if you said, in Hawkes's class, I wanted to write a story about the scourge of divorce, he'd say, Well, why don't you write an essay about it, because it's a really awkward thing to write a story about anything. Fiction that was essayistic was, according to his argument, ill-conceived, tendentious. This is obviously an art-for-art's-sake idea about how to use fiction, and Hawkes was utterly consistent about it. In answer to your question, though, I figure I was probably preformatted as to the influence of Hawkes. It was a good match of teacher and student. He was absolutely the right guy at the right time, and this preeminence of aesthetics was one of the Hawkesian ideas I drank up thirstily.
INTERVIEWER
What other things about Hawkes do you think made the two of you compatible?
MOODY
Hawkes was on the rampage at that time, maybe all the time, about what he called "surface comedy." Jokes for their own sake. He hated this aspect of apprentice writing. Avoid whimsy, he was heard to repeat often. This mistake was central to my work and who I was, whimsy was central to who I was, and Hawkes went to great lengths to purge the problem from my work. Thank God. I was vain and irritating in class, and I needed someone who was willing to beat up on me a little. It was a big help to me.
INTERVIEWER
How do you feel your writing has developed since you started out?
MOODY
I got better. Other than that, as to the specifics of the differences, I'm happy to yield to more impartial critics. I don't really want to appear to favor one approach to my work over others. But I will say this: when I try to write a book I use my whole personality. All I have are some characters and some images and a lot of hopes for how things are going to come out. So while I could tell you, well, there are stories I wish I hadn't put in Ring of Brightest Angels, while I can look at The Ice Storm and say to myself that I did a lot better with it than I did with Garden State, while I might say that the turning point for my writing was the story "The Ring of Brightest Angels," this would all amount to the fool's game of retrospection. Don't take my remarks as any kind of definitive commentary.

Author photograph by Nancy Crampton.