Interviewed by Olga Carlisle
Issue 26, Summer-Fall 1961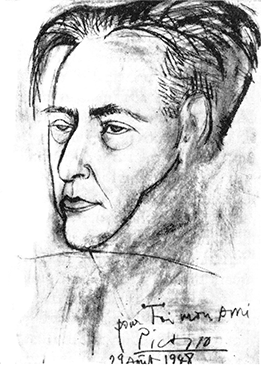 Drawings by Olga Carlisle, 1961.
I telephoned Ilya Ehrenburg on my second day in Moscow, hoping to call on him, and perhaps to obtain an interview. I was adding one more request to the many he receives each day. "Ilya Grigoryevich has to be 'avaricious' with his time," his secretary said when I called. "He is so occupied … but I shall convey your request to him." Later, just as I returned to the Metropole, chilled but dazzled from a first walk along the windswept quays of the frozen Moskva River, the secretary called back to say that Ehrenburg had agreed to see me briefly. A date was set for the following week. I had good luck: Ehrenburg was in Moscow for a session of the Supreme Soviet, although he was soon due in Stockholm.
Ehrenburg lives and has his office on Gorky Street, four or five blocks from the Red Square, right in the center of town. Gorky Street, once well known as the Tverskaya, is Moscow's major thoroughfare. It is a wide, straight, commercial street where many of the city's principal stores stay open late into the evening. Ehrenburg's apartment is high up in a large modern building. Several other writers and artists live at the same address. The first floor of the building is occupied by a bookstore. On one side the store opens onto a tiny square where pigeons, seemingly undisturbed by the cold weather, surround a black bronze statue of Yuri Dolgoruki. They perch irreverently all over the modern oversized representation of the mythical founder of Moscow. In the middle of the small square he is riding a huge horse, his helmeted head bent. Across the square there is a café with a pink neon sign over the entrance—a good place to meet someone for lunch without getting involved in the slow service of the big Moscow hotels.
When I went to see Ehrenburg for the first time, there was a crowd of people both inside and around the bookstore, although it was quite late in the day. A book on Impressionism had gone on sale that week. The thick volume, with a Renoir lady holding a fan on the cover, was displayed in the store window.
Bookstores are numerous in Moscow but usually very informally run and overcrowded. The books are piled everywhere in seeming disorder and avid shoppers press against counters laden with volumes. I had seen classics sold from makeshift tables on the snowy sidewalks. Crowds of modestly dressed Muscovites would line up in the sub-zero weather to purchase newly published volumes still smelling of printer's ink.
But the bookstore on Gorky Street was more elaborate. Large and well-lighted, it had displays of books against a background of brightly painted pegboard. Inside, the various counters were clearly marked—Education, Sciences, Art—and the store was provided with an adequate number of salespeople. A vast assortment of art postcards filled an entire corner of the store. Most of them were genre paintings out of Russian museums. There were many all-time favorites, familiar even to me despite my alien education: Shishkin's Morning in a Pine Forest, and Princess Tarakanova perishing in her prison. (She was an unfortunate rival of Empress Elizabeth II, drowned in the Peter and Paul fortress by a spring flood of the Neva. She is shown in her dungeon cringing on her bed in terror as the waters rise around her.) But I also noticed several reproductions of Impressionist work. The Impressionists, no longer considered "decadent" by the authorities, are becoming increasingly popular in the Soviet Union. The magnificent French canvases from the Moscow and Leningrad museums are now proudly displayed. Groups of viewers gather in front of the brilliant Monets and Gauguins and stand there for a long time, looking sometimes in bewilderment but more often in rapture.
When I left the store, I realized that it was later than I had thought. It was already the time set for the appointment. The sun was setting on Moscow.
Number 8 Gorky Street is a compound of buildings rather than one house. The layout is typical of Moscow, with several doorways off an inner courtyard. The courtyard was unlit and deserted, with only a few small paths dug through the snow, leading to several unmarked doors. A wall topped by an old rusted grillwork enclosed one side of the courtyard. I had a glimpse of a panorama—invisible from Gorky Street, like so many views of Moscow which one finds by accident—at the end of an old alley, between high fences. There were snowy roofs, tall reddish brick walls and suddenly an old log house, a vestige of another age. All this in irregular clusters broken by white spaces, houses set at strange angles, a feeling of casualness special to Moscow.
As is customary in this city, there was no listing of tenants or apartments to be seen anywhere. If one happens to know the number of the apartment for which one is looking, chances of finding it are fair. Otherwise one has to turn to the women wrapped in shawls who doze, sitting in the darkness, near the elevator. These somber old women seem deliberately to forget the names of the tenants. They are, or pretend to be, deaf to one's questions. They refuse either to be wakened from their slumber or interrupted in their knitting. Perhaps their withdrawal is a vestige of earlier, darker days when people wanted to preserve their anonymity as much as possible. Or was it my slight foreign accent that put them on their guard?
If one does not know the stairway number of a particular apartment the best thing to do is to go out and telephone. Otherwise the search may turn into a Kafkaesque dream—dark stairways, cold unkempt landings, wrong doors, broken bells, crawling ancient elevators which these melancholy women in their many-layered grey shawls unwillingly operate with a special key.
I searched for the right entrance, distressed at the thought of being late at Ehrenburg's. He had the reputation of being one of the busiest of all the Muscovite writers. I had not allowed enough time for the usual search.
Taking a desperate guess, I selected at random one stairway entrance. To my relief, it turned out to be the right one, and soon a maid was letting me into Ehrenburg's warm apartment. An irascible small dog inspected me and retired, after barking once or twice.
I found myself in an apartment whose decor was totally unlike the typical Moscow dwelling. It was simple, airy, and reminded me of the home of a well-to-do artistic Parisian intellectual. It was unencumbered, the furniture comfortable and inconspicuous. The drawings and paintings were mostly French. They bore friendly inscriptions to Ehrenburg from the artists. There were many black-and-whites by Picasso which gave the place an overall luminosity. Here and there a Chagall, a Léger, added a note of vibrant color, matched by the brightly patterned scatter rugs and the cushions on the sofa which were covered with handwoven folk materials—purple, deep blue, yellow. The pictures covered the walls of the living room and continued on into a hall and an adjoining room seen through a half-open door.
Mme. Ehrenburg, Lyubov Mikhaïlovna, greeted me. She is statuesque, dark-haired, and still beautiful, and was dressed with an understated elegance which is rare in Moscow. She is affable but reserved, and slow in her movements. She received me with friendliness. Years before, she had met my father in Berlin and remembered him as a handsome poet with black hair. Known for her painting, Mme. Ehrenburg once studied with the Russian "constructivist" Rodchenko. The two small canvases which she later showed at my insistence were painted not too long ago in an Expressionist manner and were quite charming. Sensing my interest, she led me around the place most readily. She took a few additional works out of a closet, several Léger lithographs from the series "Les Constructeurs."
Compared to Moscow's wintry existence, with its soft diffused light and its lack of visual richness in clothes and furnishings, these works looked sparkling. The French workers in bright blue overalls carrying yellow and red rafters; Picasso's fauns and nude girls dancing—one could almost hear the tambourines and hoofbeats. Ehrenburg had several drawings and lithographs of the master's unsurpassed series of the early nineteen-fifties. A thoughtful Gypsy, a Spaniard draped in a dark cloak, a playful monkey, looked down from the wall. I had a sudden yearning for the lightheartedness of the Latins, and also for their serenity; in my few days in Moscow I had become aware of the moody Russian intensity—people deeply concerned with the future of their country and of the world, filled at once with high hopes and high indignation. The Picasso girls—an Infanta in a big white collar, a young mother—looked so at one with the world, so completely at peace. There were also Russian works here and there. I noticed an early Chagall self-portrait, severe and incisive, painted in Russia during the artist's early and strongest period. In the small bedroom Mme. Ehrenburg showed me a later Chagall, a small nude, more luxuriant in color. Its pinks were complemented by a beautiful icon. I remembered how moved Matisse was by icons when I saw next to it an imaginary portrait of Ilya Ehrenburg as a child, joyous as only a Matisse can be.
Mme. Ehrenburg took obvious pleasure in showing me some Picasso jewelry made of clay, her collection of scarves designed by Léger, Matisse, and Picasso in commemoration of various political rallies. She told me the story of a fragment of sculpture standing in the living room. It was found by a student, a friend and protege of her husband, shortly after the revolution in the vicinity of the Zubov wing of a well-known eighteenth-century palace. A crowd of little boys were kicking the stone around, and the student rescued it. Later, despite Ehrenburg's efforts to save him, this student died of tuberculosis. Ehrenburg inherited the sculpture. It has a Greek inscription on one of its sides but Ehrenburg had never found time to have it examined by an expert. While a sad memory is linked to it, he is especially fond of this sculpture. It has a classical air which blended with the Mediterranean atmosphere of the place.
We talked about collecting—what a strong impulse it is, especially among Russians, and despite the crowded conditions in which so many of them live. Mme. Ehrenburg told me of several art collections that she had seen recently, of works modern and old, assembled by people in modest circumstances. She mentioned some of the problems of preserving and displaying her husband's collection. Gorky Street, one of the city's main bus routes, is a heavily traveled street in Moscow. Parades frequently march up Gorky Street on the way to Red Square, trucks shake the walls of the buildings. The walls are thin, and the plaster sometimes falls off in big pieces. Paintings tumble down, their glass and frames shattered into pieces. Mme. Ehrenburg had recently devised a system for supporting them safely: a thin tubing, painted the same white as the walls, is attached to the ceiling and runs all around the room. The pictures are hung from it, sometimes in clusters of two or three black-and-whites on top of each other. Indeed they were assembled with taste, and marvelously suited to each other. The collection of old Russian and Ukrainian ceramic toys on a shelf resembled the Picasso fauns. It brought small whimsical animals right into the room: brightly striped rams with immense curved horns, small horses, imaginary beasts, all hoofs and horns. Soon Ehrenburg's secretary came in. He was ready to see me for a while—not for long, as he was expecting someone else soon. I overheard the name of Boris Slutzky, a well-known Soviet poet.
Ilya Ehrenburg is rather tall, slightly bent by age, with a mop of hair which was well-known in his Montparnasse days (he once had a postcard safely delivered to him at the Rotonde with only "To the man with his hair uncombed" as an address). His hair is now a dark gray with white streaks. It was late in the day and he looked tired. His eyes were exceedingly sharp and yet somehow incurious. As I stepped into his study I saw a drawing of him on the far wall. It was a pencil portrait, inscribed: Pour toi mon ami, Picasso 29 août 1948. Small as this sketch was, both Ehrenburg's intelligence and his coldness were captured. A few pencil strokes, and everything about Ehrenburg was there: a slightly brooding expression, what the French call le regard lourd, something also of a bird of prey. Picasso had caught him in a moment of inner concentration, but there is nothing introverted or Talmudic about Ehrenburg. Rather he looks like a hardened old warrior, as one would imagine the chieftain of a Caucasian mountain tribe described by Lermontov.
It is a strange feeling to have a person's very essence displayed thus on the wall, to be able to check with it as the acquaintance progresses. Once or twice during our conversation I looked towards the portrait. I began to feel that there were three people in the room: Ehrenburg, myself, and this other Ehrenburg, Picasso's, a younger man, perhaps more of a cynic.
Actually there is something attractive in Ehrenburg's hauteur: he does not smile, there is no display of friendliness or interest on his part, no hostility either. I sensed that he found me an inexperienced conversationalist, but he was patient. I was intimidated, but progressively my uneasiness vanished. I became absorbed in observing my host.
It seemed to me that I understood the significance of a man who until then was mostly a name to me, a name I had often heard mentioned since childhood. I had read his novels without quite being able to form an image of their author. Suddenly I thought I knew how Ehrenburg, without a profusion of artistic gifts but with exceptional intelligence and critical sense, came to be an important writer. He has far surpassed the role of man of letters; he has that self-confidence, that arrogance perhaps, which makes a man presumptuous enough to believe that he has something to say to the world, not through an occasional flash of creativity but through persistent effort, long enough to build a life's work. Ehrenburg is not a great writer, probably because his imagination is limited, but he is a very serious writer. He has understood and lived the ideas and the events of his epoch, and has persevered in recording them.
The conversation turned to the interview which Ehrenburg had given Norman Cousins, the editor of the Saturday Review, shortly before my visit to Moscow. I had read it with interest. It revolved around the relationship of writers with their readers, both in the United States and in the USSR. Ehrenburg's interest in his readers is well known. Alfred Kazin remarked recently that "it was in the spirit of tv popularity," to boost his own ego, that Ehrenburg emphasized the extent of his following among the Soviet people. In actual fact, far from frivolous, Ehrenburg's reference to his readers is a calculated attempt to create a new force in Russia besides the established political and academic channels. He is trying to encourage the public to form opinions, to make itself heard, in letters, in newspapers and in meetings. Perhaps it takes a Russian to measure how sincere and how well-advised the pedagogical impulse is among the majority of Russian writers.
Lamps were turned on in Ehrenburg's study. It was a small comfortable room located on the courtyard side of the apartment, the quieter side. Two windows looked high over Moscow. There were books everywhere, and a wide blue couch along one of the walls. Ehrenburg sat in a deep, green chair near the desk. I settled on the edge of the couch. I was looking at Ehrenburg's profile, his slightly stooped massive figure against the window behind him, through which the bluish snowy late day was still visible.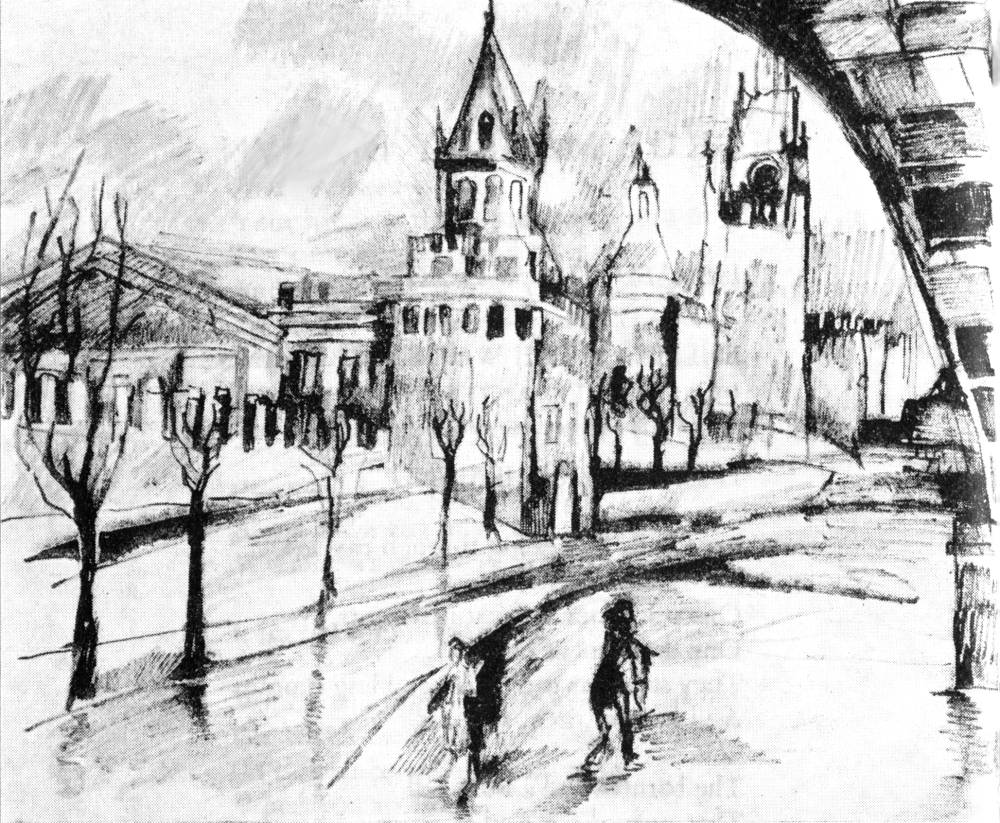 Our conversation during this first visit revolved mostly around Russian painting. The subject of a writer's political and social responsibility, linked in my mind with Ehrenburg's whole career, was not touched upon. I was under the spell of the artworks which I had just seen. I was charmed with what I saw of Ehrenburg's collection. I had been in Moscow long enough to realize that it was often impossible to communicate with Russians on matters of art appreciation; people whose taste in books or music was very akin to my own spoke a different language when it came to painting. But then, Ehrenburg had witnessed in Paris the most important developments in the art of our century. His taste is of a kind acquired only in painter's studios, through intimate association with the painters themselves. At one time, in Paris, he had painted a little himself.
I looked around Ehrenburg's study—a room even more French than the other rooms, with rare leather-bound editions and white French editions of the Nouvelle Revue Française mixed with the hardbound Russian volumes all around the walls (Ehrenburg owns an edition of Ronsard published in 1579). There were two paintings of Paris hanging near the desk, a small Marquet representing the quays of the Seine, and a street scene by Robert Falk—painted in soft, nostalgic colors. Ehrenburg told me that almost all the works he owned were presents from the artists, and that he had more paintings in his country house. I mentioned my lack of knowledge of Russian contemporary art. He recommended I see a show of portraits then being held by the Painters' Union. It was a "closed" show; only members of the Painters' Union and a few invited guests were admitted. It had been assembled "for purposes of study for the members of the Union."
Ehrenburg gave me at random the names of the painters whose works I should look for while visiting museums and collections. He took me around the apartment to give me a chance to examine once more the Russian works he owned. In addition to the two Chagalls I admired a romantic portrait of a girl in a big hat by Alexander Tyshler, somehow reminiscent of Eugene Berman. (Like Berman, Tishler is well known for his stage sets. Tyshler is originally from Kiev, where there was a lively school of painting in the early '20s. Subsequently several of its members worked for the theater.) I saw a lovely head by the sculptress Sarah Lebedeva, whom Ehrenburg suggested I see in her studio. Next, Ehrenburg unrolled an unstretched, red cubistic composition by David Shterenberg, a friend of his during the Montparnasse years. It was a characteristic cubistic still life, a fish and a wire panier à salade, but it had a Russian, exuberant sense of design. I then stopped near the Parisian scene by Robert Falk, another Paris-trained Russian painter. Ehrenburg said that Falk's soft, luminous paintings of nature, his lyric still lifes, look their best in the country, surrounded with greenery and flowers in bloom; Ehrenburg's country house has a heated verandah, and year-round gardening is one of his favorite pastimes.
He also spoke about Sarian, an Armenian painter whom he particularly liked, and about a whole group of artists working in Armenia, mostly colorists inspired by the landscape and the southern light.
I asked Ehrenburg whether he could tell me anything about the younger painters in Moscow. Did he know of anybody with outstanding talent? He led me back to his study and sat again in the green chair. "Unfortunately, young Russian artists are in a difficult position today," he said, in his articulate, patient manner. "Painting, like all other arts, rests on a continuity of experience. More than anything, young painters and sculptors need to know the works of their immediate elders. Such a continuity does not exist here to a sufficient degree in the visual arts. The once flourishing Russian school of painting suffered from too many upheavals. Thus our younger artists lack a tradition which is essential to their growth. It is imperative that our better artists be exhibited more widely for the sake of their younger colleagues. I am happy to say," he went on, "that there were recent showings of Robert Falk, of David Shterenberg, of the watercolorist Von Vizin. Everything should be done to present more good foreign art to Soviet audiences. I feel that one great contribution in this direction was made by the large Picasso show held in Moscow in 1956. But as far as the painters of your generation are concerned, too often I find their works tentative."
There was a muted shuffling and the noise of barking in the hall. Evidently, my host's next visitor had arrived. His secretary entered the room. I stood up. Ehrenburg must have seen the look of disappointment on my face. He knew I had come to talk to him about literary techniques—a subject we did not have time to touch on. He said he would give me, if he could, some more of his time. I thanked him for his kindness. We shook hands and I left.
Outside his apartment the evening was dark blue and cold.
The bookstore was still full of animation, but the pigeons had deserted Yuri Dolgoruki, a dark mass against the sky. I walked to the café across the square and ordered a supper of tea, caviar and oranges.
The promised interview was postponed several times—Ehrenburg was especially busy because of the Supreme Soviet. As days and weeks elapsed I began to fear that it would not take place at all. In the meantime I tried to find out just what my Muscovite acquaintances thought about Ehrenburg. I soon realized that he was almost universally respected among the painters and the poets for the excellence of his taste. As a writer he seemed better liked for his essays than his novels, although those who had read Julio Jurenito greatly admired it. His role as a cultural intermediary with France was well known and his influence in this domain believed to be strong and highly beneficent—as it reflects the profound Russian empathy for France. But Ehrenburg had a wider audience, about which I heard for the first time from students at the University of Moscow. I was told that shortly before my visit to Moscow a tremendous controversy had rocked Soviet public opinion—in fact, it was still going on here and there in newspapers. In October 1959 Ehrenburg published an article in the Komsomolskaya Pravda. (The Komsomolskaya Pravda is a daily newspaper devoted primarily to the Soviet youth, that is, to the Komsomols, the young people who undertake the first step towards becoming Party members by joining the Communist youth organization. In recent years to become a Komsomol has lost some of its political significance as the number of Komsomols has vastly increased. Today the 3,400,000 readers of the Komsomolskaya Pravda are recruited among all layers of Soviet society. One of the most popular features of this newspaper is the lively column of letters it prints from its readers.)
Ehrenburg's article dealt with the relationship between the arts and the sciences and quoted a letter which he had recently received, signed "Nina." An anonymous young woman had just broken up with Youri, her fiancé, because he criticized and mocked her interest in the arts. He was himself a scientist, tolerant only of sciences. She was asking Ilya Ehrenburg's opinion: Was her passion for art an error? Is art as important as science? Does it have a place in a modern society? Ehrenburg's answer was of course that Youri was misled, that art was as alive and as needed as ever … It was a good instance of Ehrenburg's pedagogical role. His article started a gigantic polemic: the Komsomolskaya Pravda received thousands of letters, with only ten to fifteen percent of the readers on Youri's side. Nina became something of a symbol. The overwhelming majority of the readers felt that Youri had wronged her, that he was narrow-minded and misinformed. There were public meetings organized to discuss the problem. At one of them, held in a workers' club on "Avenue of the Enthusiasts" in Moscow—a throughfare leading east, to Siberia—named for the Revolutionaries who in czarist times started their journey to exile by way of this road, Ehrenburg successfully confounded a well-known professor of the Moscow Institute of Cybernetics who spoke in favor of Youri's point of view. There were more letters, and in January Ehrenburg wrote another article to close the debate—triumphantly—for the humanistic point of view. The scope of the debate, its naïveté and its earnestness, were so Russian I thought that it might be interesting to ask Ehrenburg about it. When Ehrenburg's secretary called me to say that he could see me the next day, on the eve of his departure for Stockholm, I prepared a few questions revolving around this theme. I was tempted to approach the interview spontaneously, without questions prepared in advance, but remembering Ehrenburg's reserved manner I decided against it. It might have been a mistake; should I have been less formal myself the ice might have been broken. But it wasn't.
The interview took place on the morning before his departure. We sat in the living room among all the Picassos. Ehrenburg was visibly preoccupied but he gave precise, rapidly spoken answers to my questions. I took notes as he went along. His secretary, a lovely, cultivated, woman subsequently helped me transcribe my notes. He wanted his words recorded with complete exactness. The interview was interrupted by phone calls—one of them was from Ehrenburg's doctor. This was at the height of the Moscow plague scare: he had to be duly vaccinated before leaving the USSR. But every minute before his departure was accounted for, it seemed almost impossible to fit a doctor's appointment into his tight schedule. I felt that the hour that he devoted to me was a generous gesture on his part.
QUESTION
What is your point of view in the discussion which followed your article in the Komsomolskaya Pravda?
ANSWER
This point of view is clear. I didn't at all raise the question as to whether the arts were dying out with the development of the exact sciences. In the past, there has never been any antagonism between art and science. There were periods when the exact sciences were more developed than the arts, as in Hellenistic times. There were other periods when arts preceded science such as the Gothic period, or the early Renaissance. Then there were periods when both the arts and sciences flourished, as in the high Renaissance. Arts and sciences have never fought each other. The problem I was concerned with is that of excessive specialization. I have seen it among American technicians. My article was written to warn our youth about the dangers of one-sided growth. The role of the arts in society I would link closely with the problem of educating the sentiments—of Education Sentimentale. I must tell you that before my article was published there was a movement among our youth to try to round out their education in this respect. A couple of years ago I attended the inauguration of the first Moscow "University of Culture" at one of the advanced technical institutions here. Young people studying electrical engineering assembled to form a club—the so-called University of Culture—to find out more about painting, music and the other arts. Such clubs are now being formed in every university.
In the Komsomolskaya Pravda I presented the letter of a young student who wrote that her friend, a young physicist, was cold to her and to his mother. He didn't understand her feelings for art. This letter, moving in its naive way, I prefaced with some of my own thoughts concerning the necessity of a many-sided development for the young. The great majority of letters brought about by this article—there were more than 8,000 sent to the Komsomolskaya Pravda—defended the necessity of harmonious education, but the opposite point of view—that the arts belong in the background in our times—was also presented.
In my last article, entitled "The Education of Sentiments," I spoke of the need of developing the aesthetic sense in our youth so that the new Soviet man would be able not only to know much but to feel deeply.
QUESTION
How do you reconcile the activities of a writer with those of a political figure?
ANSWER
This is closely related to your first question. I feel that in our time a poet should have an understanding of nuclear physics and a physicist should enjoy poetry. Of course science has become so advanced that a Goethe or a Leonardo, specialists in both the arts and sciences, are unfortunately inconceivable. But I cannot imagine a writer these days who would write a novel shut up in his study. I know they do exist. I think that they show how fruitless literary craft is unless the author actively experiences what happens to his hero. There is Flaubert's view (this in his youth): "If you want to describe courage, do not become a soldier; a lover, do not fall in love; a drunkard, do not drink wine." There is also a brilliant refutation of this theory: Stendhal. He was a soldier, drank and made love, and was marvelously successful at describing a variety of human passions. I do not draw a line between my literary work and my political activity because I defend the same ideas in both. My public activity is directed toward the cause of peace and cultural collaboration between countries. I cannot understand why the defense of man against atomic death should be left to professional diplomats. It's as much a writer's concern, who is responsible to his readers for all the books written before him as well as those which will be written after him. I also do not understand why some feel that cultural exchanges should be put in the hands of political leaders who already have too much to attend to.
To tell you the truth, I find your question strange. I would like to ask you—or rather ask American writers: do they find it possible to "just be writers" at a time when it is necessary to both create and defend literature?
QUESTION
But isn't it practically difficult to conciliate writing with public service?
ANSWER
We are coming back to our first question. Some people assert that a present-day engineer cannot read novels or listen to music—he does not have time for those things. I want to remind you of a man whom I knew—you knew him too, I understand—and who has left his mark on modern science. I am thinking of Frédéric Joliot-Curie. He was able to write his last work about radioactivity from the notes of Pierre Curie, to direct the construction of a scientific research center, to be the president of the International Peace Council, to paint, to enjoy music—all in the same years. Evidently, our notion of time—of hours and days—is relative. Time narrows or expands according to how we approach it. It varies with a man's breadth, with his heart. There is that American saying—time is money. Time can be many other things—it can be the immortality of the individual. His short mortal life may broaden not only in time but in space—as it expands into the life of society itself.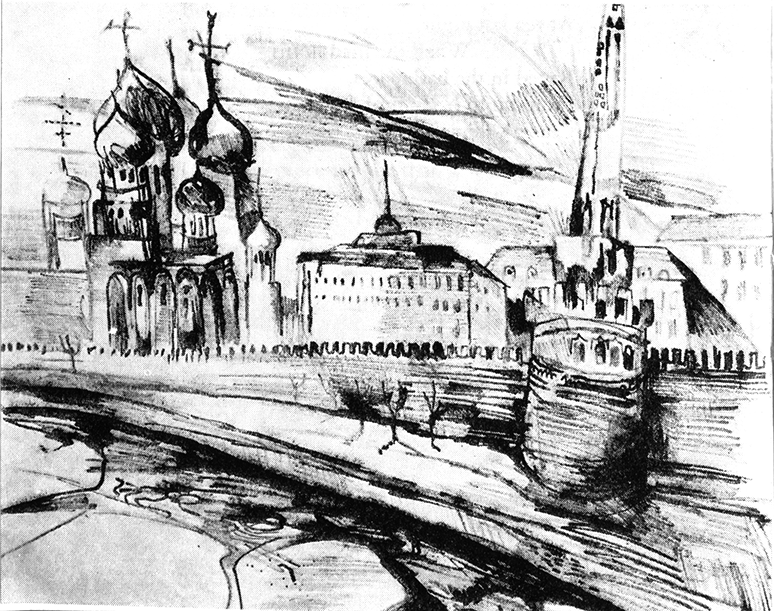 QUESTION
What do you think of the novel as a literary form—of its future?
ANSWER
It seems to me that the novel is very much alive as a form. Without any question, every epoch has its own forms, and the novel nowadays cannot resemble that of the nineteenth century. In this domain all experiments are justified, and it is better to write something new clumsily than to repeat the old brilliantly. In the nineteenth century, novels dealt with the fate of a person or of a family; this was linked to life in that period. In our time the destinies of people are interwoven. Whether man recognizes it or not, his fate is much more linked to that of many other people than it used to be. This modifies the architecture of the novel, where, as in the film, there is a succession of close-ups and of crowd shots. I have tried to approach novels in various ways, leaving the old notion of building up a character, on which traditional novels are based. I have written a satirical novel—which is made partly of an essay, partly of a survey, Julio Jurenito. Some of my other novels are conceived as chronicles of our times—but humanized chronicles, unlike chronicles by historians or sociologists. Such is my novel The Second Day.
In others, I have tried to approach my subject matter as a poet would do. In such cases, most important for me was not the fate of individual heroes, but rather a certain situation, a mood. Such are the Summer of 1925 and The Thaw. But even in those novels which are more like classical novels—like The Fall of Paris and The Tempest—my attention was not concentrated on given heroes, but rather on those central elements which are the real heroes of those novels—Paris in the case of The Fall of Paris, the war in The Tempest. I have already told you that in my opinion the most important thing for the writer was an ability to live the experiences of his heroes—to "co-experience" them. We must abandon the notion that a writer is only an observer—he is not a camera. He is expected to present that which is invisible at first. He must reveal the inner world of man, and that is possible only if the writer has experienced something similar to what he described. This is the only way for him to really understand his heroes. I hope this is not the case with your interviews, but unfortunately most undertakings of this kind are more concerned with tracing the prototypes of various characters of novels than with the psychology of creation. As an example, take Flaubert. Specialists of Flaubert have discovered eleven women who are supposed to be the prototypes of Emma Bovary, without stopping at the statement that "Emma is me" which Flaubert makes in one of his letters to his friend Kahn. More knowledge of the psychology of writing would enable readers to understand better the books they read.
QUESTION
Which will be in your opinion the new themes in Russian writing? War has been a main subject for many years. Do you foresee any changes?
ANSWER
I hope that there will be more novels about peace. But actually good books are always about man and it's not the subject matter which is important, but how an author approaches it.
As Ehrenburg went on dictating the answers to my questions, speaking slowly and distinctly, he became more elliptic, glancing from time to time at his watch. It was clear he felt the pressure of time. To questions about writers he liked he gave only the briefest of replies—Stendhal and Chekhov his favorites among the classical writers, Hemingway among the contemporaries. I closed my notebook. It was apparent the informal interview was impossible. Four or five questions were what he expected, and had answered, as detached as a teacher giving dictation class. And yet afterwards, when I had said good-bye and left 8 Gorky Street for the last time, I found myself impressed by the directness of his answers, his attitude of deep conviction. His voice is not unlike his writing—cerebral, direct, factual, instructive. It is true that his manner—somewhat chilly despite his long-dated acquaintance with my father—prevented me from really communicating with him. And yet despite the fact that I had been presented only with one facet of the writer—polished and hard—I could sense the greatness in him. He is, after all, almost the only writer from his Revolutionary generation left—shaped by the fight against czarism, by exile and two world wars. Aside from his gifts as a novelist, perhaps his greatest distinction will come with the publication of his memoirs, People, Years, Life, which began appearing in the literary journal Novy Mir shortly after my meeting with him. The success of these memoirs is enormous in the Soviet Union. For readers who are his contemporaries, Ehrenburg recreates the atmosphere and the ideas of their youth. The memoirs are studded with eloquent pages defending the memory of Ehrenburg's contemporaries: Marina Tsvetayeva, Mandelstam, Pasternak, Babel, Meyerhold, Tatlin. For the younger Soviet reader Ehrenburg opens up a new world of pre-Revolutionary struggles, of Montparnasse bohemia, of modern art, and he brings to long-deprived readers whole segments of today's sensibility: Stendhal, Picasso, Modigliani, Apollinaire, Pasternak. To the non-Russian, Ehrenburg gives the most vivid picture to date, even if fragmentary, of the making of the last Revolutionary generation. The work has the unexpected universality that a subjective but deeply felt account sometimes can acquire.
The importance of this fact of Ehrenburg's seeming obligation to share his own life—rich in events and interesting friendships—with Soviet readers cannot be stressed too much. Russians, especially the younger ones, tend to be alienated from two aspects of life which we take for granted: a knowledge of the past and a knowledge of foreign countries. Ehrenburg's sense of artistic responsibility towards his readers can do much to alleviate such a condition. Philip Toynbee, in a recent review of Ehrenburg's novel The Spring, wrote, "I suspect that he knows what he is doing. I suspect that he is writing quite deliberately as an educator; that he is sacrificing his own talent for the sake of the future. And if this is the case should we who live in a society where artistic freedom is taken for granted mock or despise his attempts to bring greater freedom to his own country? I don't think we should …"