Interviewed by Barbara Kevles
Issue 52, Summer 1971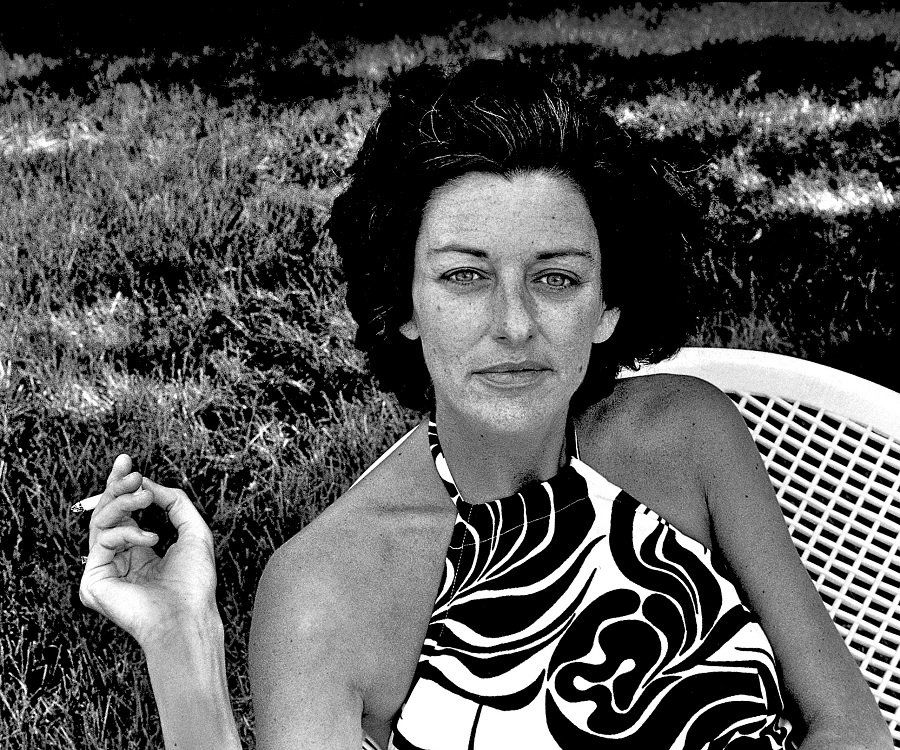 The interview took place over three days in the middle of August 1968. When asked about dates of publications or other events, Anne Sexton kept saying, "Let me think, I want this to be accurate," and she'd use the births of her children as reference dates to chronicle the event in question. Sometimes her distinctions between real and imagined life blurred, as in scenes from Pirandello. Often, her answers sounded like incantations, repetitious chants that, if pared down, would lose something of their implications, and so, for the most part, they are preserved in their entirety. Even when replying from written notes, she read with all the inflections and intonations of—as she described her readings—"an actress in her own autobiographical play."
INTERVIEWER
You were almost thirty before you began writing poetry. Why?
ANNE SEXTON
Until I was twenty-eight I had a kind of buried self who didn't know she could do anything but make white sauce and diaper babies. I didn't know I had any creative depths. I was a victim of the American Dream, the bourgeois, middle-class dream. All I wanted was a little piece of life, to be married, to have children. I thought the nightmares, the visions, the demons would go away if there was enough love to put them down. I was trying my damnedest to lead a conventional life, for that was how I was brought up, and it was what my husband wanted of me. But one can't build little white picket fences to keep nightmares out. The surface cracked when I was about twenty-eight. I had a psychotic break and tried to kill myself.
INTERVIEWER
And you began to write after the nervous breakdown?
SEXTON
It isn't quite as simple as all that. I said to my doctor at the beginning, "I'm no good; I can't do anything; I'm dumb." He suggested I try educating myself by listening to Boston's educational TV station. He said I had a perfectly good mind. As a matter of fact, after he gave me a Rorschach test, he said I had creative talent that I wasn't using. I protested, but I followed his suggestion. One night I saw I. A. Richards on educational television reading a sonnet and explaining its form. I thought to myself, "I could do that, maybe; I could try." So I sat down and wrote a sonnet. The next day I wrote another one, and so forth. My doctor encouraged me to write more. "Don't kill yourself," he said. "Your poems might mean something to someone else someday." That gave me a feeling of purpose, a little cause, something to do with my life, no matter how rotten I was.
INTERVIEWER
Hadn't you written limericks before that?
SEXTON
I did write some light verse—for birthdays, for anniversaries, sometimes thank-you notes for weekends. Long before, I wrote some serious stuff in high school; however, I hadn't been exposed to any of the major poets, not even the minor ones. No one taught poetry at that school. I read nothing but Sara Teasdale. I might have read other poets, but my mother said as I graduated from high school that I had plagiarized Sara Teasdale. Something about that statement of hers ... I had been writing a poem a day for three months, but when she said that, I stopped.
INTERVIEWER
Didn't anyone encourage you?
SEXTON
It wouldn't have mattered. My mother was top billing in our house.
INTERVIEWER
In the beginning, what was the relationship between your poetry and your therapy?
SEXTON
Sometimes, my doctors tell me that I understand something in a poem that I haven't integrated into my life. In fact, I may be concealing it from myself, while I was revealing it to the readers. The poetry is often more advanced, in terms of my unconscious, than I am. Poetry, after all, milks the unconscious. The unconscious is there to feed it little images, little symbols, the answers, the insights I know not of. In therapy, one seeks to hide sometimes. I'll give you a rather intimate example of this. About three or four years ago my analyst asked me what I thought of my parents having intercourse when I was young. I couldn't talk. I knew there was suddenly a poem there, and I selfishly guarded it from him. Two days later, I had a poem, entitled, "In the Beach House," which describes overhearing the primal scene. In it I say, "Inside my prison of pine and bedspring, / over my window sill, under my knob, / it is plain that they are at / the royal strapping." The point of this little story is the image, "the royal strapping." My analyst was quite impressed with that image, and so was I, although I don't remember going any further with it then. About three weeks ago, he said to me, "Were you ever beaten as a child?" I told him that I had been when I was about nine. I had torn up a five-dollar bill that my father gave to my sister; my father took me into his bedroom, laid me down on his bed, pulled off my pants, and beat me with a riding crop. As I related this to my doctor, he said, "See, that was quite a royal strapping," thus revealing to me, by way of my own image, the intensity of that moment, the sexuality of that beating, the little masochistic seizure—it's so classic, it's almost corny. Perhaps it's too intimate an example, but then both poetry and therapy are intimate.
INTERVIEWER
Are your poems still closely connected to your therapy as in the past?
SEXTON
No. The subject of therapy was an early theme—the process itself as in "Said the Poet to the Analyst," the people of my past, admitting what my parents were really like, the whole Gothic New England story. I've had about eight doctors, but only two that count. I've written a poem for each of the two—"You, Doctor Martin" and "Cripples and Other Stories." And that will do. Those poems are about the two men as well as the strange process. One can say that my new poems, the love poems, come about as a result of new attitudes, an awareness of the possibly good as well as the possibly rotten. Inherent in the process is a rebirth of a sense of self, each time stripping away a dead self.
INTERVIEWER
Some critics admire your ability to write about the terror of childhood guilts, parental deaths, breakdowns, suicides. Do you feel that writing about the dark parts of the human psyche takes a special act of courage?
SEXTON
Of course, but I'm tired of explaining it. It seems to be self-evident. There are warnings all along the way. "Go—children—slow." "It's dangerous in there." The appalling horror that awaits you in the answer.
INTERVIEWER
People speak of you as a primitive. Was it so natural for you to dig so deeply into the painful experiences of your life?
SEXTON
There was a part of me that was horrified, but the gutsy part of me drove on. Still, part of me was appalled by what I was doing. On the one hand I was digging up shit; with the other hand I was covering it with sand. Nevertheless, I went on ahead. I didn't know any better. Sometimes, I felt like a reporter researching himself. Yes, it took a certain courage, but as a writer one has to take the chance on being a fool ... yes, to be a fool, that perhaps requires the greatest courage.
INTERVIEWER
Once you began writing, did you attend any formal classes to bone up on technique?
SEXTON
After I'd been writing about three months, I dared to go into the poetry class at the Boston Center for Adult Education taught by John Holmes. I started in the middle of the term, very shy, writing very bad poems, solemnly handing them in for the eighteen others in the class to hear. The most important aspect of that class was that I felt I belonged somewhere. When I first got sick and became a displaced person, I thought I was quite alone, but when I went into the mental hospital, I found I wasn't, that there were other people like me. It made me feel better—more real, sane. I felt, These are my people. Well, at the John Holmes class that I attended for two years, I found I belonged to the poets, that I was real there, and I had another, "These are my people." I met Maxine Kumin, the poet and novelist, at that class. She is my closest friend. She is part superego, part sister, as well as pal of my desk. It's strange because we're quite different. She is reserved, while I tend to be flamboyant. She is an intellectual, and I seem to be a primitive. That is true about our poetry as well.
INTERVIEWER
You once told me, "I call Maxine Kumin every other line." Is that a slight exaggeration?
SEXTON
Yes. But often, I call her draft by draft. However, a lot of poems I did without her. The year I was writing my first book, I didn't know her well enough to call that often. Later, when she didn't approve of such poems as "Flee on Your Donkey"—that one took four years to complete—I was on my own. Yet once, she totally saved a poem, "Cripples and Other Stories."
INTERVIEWER
In the early days, how did your relatives react to the jangling of family skeletons?
SEXTON
I tried not to show my relatives any of the poems. I do know that my mother snuck into my desk one time and read "The Double Image" before it was printed. She told me just before she died that she liked the poem, and that saved me from some added guilt. My husband liked that poem, too. Ordinarily, if I show him a poem, something I try not to do, he says, "I don't think that's too hotsy-totsy," which puts me off. I try not to do it too often. My in-laws don't approve of the poems at all. My children do—with a little pain, they do.
INTERVIEWER
In your poems, several family skeletons come out of the camphor balls—your father's alcoholic tendencies, your mother's inability to deal with your suicide attempt, your great-aunt in a straitjacket. Is there any rule you follow as to which skeletons you reveal and which you don't?
SEXTON
I don't reveal skeletons that would hurt anyone. They may hurt the dead, but the dead belong to me. Only once in a while do they talk back. For instance, I don't write about my husband or his family, although there are some amazing stories there.
INTERVIEWER
How about Holmes or the poets in your class, what did they say?
SEXTON
During the years of that class, John Holmes saw me as something evil and warned Maxine to stay away from me. He told me I shouldn't write such personal poems about the madhouse. He said, "That isn't a fit subject for poetry." I knew no one who thought it was; even my doctor clammed up at that time. I was on my own. I tried to mind them. I tried to write the way the others, especially Maxine, wrote, but it didn't work. I always ended up sounding like myself.
INTERVIEWER
You have said, "If anything influenced me, it was W.D. Snodgrass's 'Heart's Needle.'" Would you comment on that?
SEXTON
If he had the courage, then I had the courage. That poem about losing his daughter brought me to face some of the facts about my own life. I had lost a daughter, lost her because I was too sick to keep her. After I read the poem, "Heart's Needle," I ran up to my mother-in-law's house and brought my daughter home. That's what a poem should do—move people to action. True, I didn't keep my daughter at the time—I wasn't ready. But I was beginning to be ready. I wrote a disguised poem about it, "Unknown Girl in the Maternity Ward." The pain of the loss ...
INTERVIEWER
Did you ever meet Snodgrass?
SEXTON
Yes. I'd read "Heart's Needle" in The New Poets of England and America. I'd written about three quarters of To Bedlam and Part Way Back at the time, and I made a pilgrimage to the Antioch Writers' Conference to meet and to learn from Snodgrass. He was a surprising person, surprisingly humble. He encouraged me, he liked what I was doing. He was the first established poet to like my work, and so I was driven to write harder and to allow myself, to dare myself to tell the whole story. He also suggested that I study with Robert Lowell. So I sent Mr. Lowell some of my poems and asked if he would take me into the class. By then I'd had poems published in The New Yorker and around a bit. At any rate, the poems seemed good enough for Lowell, and I joined the class.
INTERVIEWER
Which poems did you submit to Lowell?
SEXTON
As far as I can remember, the poems about madness—"You, Doctor Martin," "Music Swims Back to Me" ... about ten or fifteen poems from the book.
INTERVIEWER
Was this before or after Lowell published Life Studies?
SEXTON
Before. I sent him the poems in the summer; the following spring Life Studies came out. Everyone says I was influenced by Robert Lowell's revelation of madness in that book, but I was writing To Bedlam and Part Way Back, the story of my madness, before Life Studies was published. I showed my poems to Mr. Lowell as he was working on his book. Perhaps I even influenced him. I have never asked him. But stranger things have happened.
INTERVIEWER
And when was your first book, To Bedlam and Part Way Back, published?
SEXTON
It was accepted that January; it wasn't published for a year and a half after that, I think.
INTERVIEWER
Where was Lowell teaching then?
SEXTON
The class met at Boston University on Tuesdays from two to four in a dismal room. It consisted of some twenty students. Seventeen graduates, two other housewives who were graduates or something, and a boy who had snuck over from MIT. I was the only one in that room who hadn't read Lord Weary's Castle.
INTERVIEWER
And Lowell, how did he strike you?
SEXTON
He was formal in a rather awkward New England sense. His voice was soft and slow as he read the students' poems. At first I felt the impatient desire to interrupt his slow line-by-line readings. He would read the first line, stop, and then discuss it at length. I wanted to go through the whole poem quickly and then go back. I couldn't see any merit in dragging through it until you almost hated the damned thing, even your own poems, especially your own. At that point, I wrote to Snodgrass about my impatience, and his reply went this way, "Frankly, I used to nod my head at his every statement, and he taught me more than a whole gang of scholars could." So I kept my mouth shut, and Snodgrass was right. Robert Lowell's method of teaching is intuitive and open. After he had read a student's poem, he would read another evoked by it. Comparison was often painful. He worked with a cold chisel, with no more mercy than a dentist. He got out the decay, but if he was never kind to the poem, he was kind to the poet.
INTERVIEWER
Did you consult Robert Lowell on your manuscript of To Bedlam and Part Way Back before you submitted it to a publisher?
SEXTON
Yes. I gave him a manuscript to see if he thought it was a book. He was enthusiastic on the whole, but suggested that I throw out about half of it and write another fifteen or so poems that were better. He pointed out the weak ones, and I nodded and took them out. It sounds simple to say that I merely, as he once said, "jumped the hurdles that he had put up," but it makes a difference who puts up the hurdles. He defined the course, and acted as though, good racehorse that I was, I would just naturally run it.
INTERVIEWER
Ultimately, what can a teacher give a writer in a creative-writing class?
SEXTON
Courage, of course. That's the most important ingredient. Then, in a rather plain way, Lowell helped me to distrust the easy musical phrase and to look for the frankness of ordinary speech. Lowell is never impressed with a display of images or sounds—those things that a poet is born with anyhow. If you have enough natural imagery, he can show you how to chain it in. He didn't teach me what to put into a poem, but what to leave out. What he taught me was taste—perhaps that's the only thing a poet can be taught.
INTERVIEWER
Sylvia Plath was a member of Lowell's class also, wasn't she?
SEXTON
Yes. She and George Starbuck heard that I was auditing Lowell's class. They kind of joined me there for the second term. After the class, we would pile in the front seat of my old Ford, and I would drive quickly through the traffic to the Ritz. I would always park illegally in a "Loading Only" zone, telling them gaily, "It's okay, we're only going to get loaded." Off we'd go, each on George's arm, into the Ritz to drink three or four martinis. George even has a line about this in his first book of poems, Bone Thoughts. After the Ritz, we would spend our last pennies at the Waldorf Cafeteria—a dinner for seventy cents—George was in no hurry. He was separated from his wife; Sylvia's Ted [Hughes] was busy with his own work, and I had to stay in the city for a seven P.M. appointment with my psychiatrist ... a funny three.
INTERVIEWER
In Sylvia Plath's last book, written just before her suicide, she was submerged by the theme of death, as you are in your book, Live or Die. Did you ever get around to talking about death or your suicides at the Ritz?
SEXTON
Often, very often. Sylvia and I would talk at length about our first suicide, in detail and in depth—between the free potato chips. Suicide is, after all, the opposite of the poem. Sylvia and I often talked opposites. We talked death with burned-up intensity, both of us drawn to it like moths to an electric lightbulb, sucking on it. She told the story of her first suicide in sweet and loving detail, and her description in The Bell Jar is just that same story. It is a wonder we didn't depress George with our egocentricity; instead, I think, we three were stimulated by it—even George—as if death made each of us a little more real at the moment.
INTERVIEWER
In a BBC interview, Sylvia Plath said, "I've been very excited by what I feel is the new breakthrough that came with, say, Robert Lowell's Life Studies ... this intense breakthrough into very serious, very personal emotional experience, which I feel has been partly taboo ... I think particularly of the poetess Anne Sexton, who writes also about her experiences as a mother; as a mother who's had a nervous breakdown, as an extremely emotional and feeling young woman. And her poems are wonderfully craftsmanlike poems, and yet they have a kind of emotional psychological depth, which I think is something perhaps quite new and exciting." Do you agree that you influenced her?
SEXTON
Maybe. I did give her a sort of daring, but that's all she should have said. I remember writing to Sylvia in England after her first book, The Colossus, came out and saying something like "If you're not careful, Sylvia, you will out-Roethke Roethke." She replied that I had guessed accurately. But maybe she buried her so-called influences deeper than that, deeper than any one of us would think to look, and if she did, I say, "Good luck to her!" Her poems do their own work. I don't need to sniff them for distant relatives: I'm against it.
INTERVIEWER
Did Sylvia Plath influence your writing?
SEXTON
Her first book didn't interest me at all. I was doing my own thing. But after her death, with the appearance of Ariel, I think I was influenced, and I don't mind saying it. In a special sort of way, it was daring again. She had dared to do something quite different. She had dared to write hate poems, the one thing I had never dared to write. I'd always been afraid, even in my life, to express anger. I think the poem "Cripples and Other Stories" is evidence of a hate poem somehow, though no one could ever write a poem to compare to her "Daddy." There was a kind of insolence in them, saying, "Daddy, you bastard, I'm through." I think the poem "The Addict" has some of her speech rhythms in it. She had very open speech rhythms, something that I didn't always have.
INTERVIEWER
You have said, "I think the second book lacks some of the impact and honesty of the first, which I wrote when I was so raw that I didn't know any better." Would you describe your development from the second book to the third and from your third to the fourth?
SEXTON
Well, in the first book, I was giving the experience of madness; in the second book, the causes of madness; and in the third book, finally, I find that I was deciding whether to live or to die. In the third I was daring to be a fool again—raw, "uncooked," as Lowell calls it, with a little camouflage. In the fourth book, I not only have lived, come on to the scene, but loved, that sometime miracle.
INTERVIEWER
What would you say about the technical development from book to book?
SEXTON
In Bedlam, I used very tight form in most cases, feeling that I could express myself better. I take a kind of pleasure, even now, but more especially in Bedlam, in forming a stanza, a verse, making it an entity, and then coming to a little conclusion at the end of it, of a little shock, a little double rhyme shock. In my second book, All My Pretty Ones, I loosened up and in the last section didn't use any form at all. I found myself to be surprisingly free without the form which had worked as a kind of superego for me. The third book I used less form. In Love Poems, I had one long poem, eighteen sections, that is in form, and I enjoyed doing it in that way. With the exception of that and a few other poems, all of the book is in free verse, and I feel at this point comfortable to use either, depending on what the poem requires.
INTERVIEWER
Is there any particular subject which you'd rather deal with in form than in free verse?
SEXTON
Probably madness. I've noticed that Robert Lowell felt freer to write about madness in free verse, whereas it was the opposite for me. Only after I had set up large structures that were almost impossible to deal with did I think I was free to allow myself to express what had really happened. However in Live or Die, I wrote "Flee on Your Donkey" without that form and found that I could do it just as easily in free verse. That's perhaps something to do with my development as a human being and understanding of myself, besides as a poet.
INTERVIEWER
In Live or Die, the whole book has a marvelous structured tension—simply by the sequence of the poems which pits the wish to live against the death instinct. Did you plan the book this way? Lois Ames speaks of you as wishing to write more "live" poems because the "die" poems outnumbered them.
SEXTON
I didn't plan the book any way. In January of 1962, I started collecting new poems the way you do when a book is over. I didn't know where they would go or that they would go anywhere, even into a book. Then at some point, as I was collecting these poems, I was rereading Henderson the Rain King, by Saul Bellow. I had met Saul Bellow at a cocktail party about a year before, and I had been carrying Henderson the Rain King around in my suitcase everywhere I traveled. Suddenly there I was meeting Saul Bellow, and I was overenthusiastic. I said, "Oh, oh, you're Saul Bellow, I've wanted to meet you," and he ran from the room. Very afraid. I was quite ashamed of my exuberance, and then sometime, a year later, reading Henderson the Rain King over again, at three in the morning, I wrote Saul Bellow a fan letter about Henderson, saying that he was a monster of despair, that I understood his position because Henderson was the one who had ruined life, who had blown up the frogs, made a mess out of everything. I drove to the mailbox then and there! The next morning I wrote him a letter of apology.
Saul Bellow wrote me back on the back of a manuscript. He said to me, "Luckily, I have a message to you from the book I am writing [which was Herzog]. I have both your letters—the good one which was written that night at three A.M. and then the contrite one, the next day. One's best things are always followed by apoplectic, apologetic seizure. Monster of despair could be Henderson's subtitle." The message that he had encircled went this way, "With one long breath caught and held in his chest, he fought his sadness over his solitary life. Don't cry you idiot, live or die, but don't poison everything." And in circling that and in sending it to me, Saul Bellow had given me a message about my whole life. That I didn't want to poison the world, that I didn't want to be the killer; I wanted to be the one who gave birth, who encouraged things to grow and to flower, not the poisoner. So I stuck that message up over my desk and it was a kind of hidden message. You don't know what these messages mean to you, yet you stick them up over your desk or remember them or write them down and put them in your wallet. One day I was reading a quote from Rimbaud that said, "Anne, Anne, flee on your donkey," and I typed it out because it had my name in it and because I wanted to flee. I put it in my wallet, went to see my doctor, and at that point was committed to a hospital for about the seventh or eighth time. In the hospital, I started to write the poem, "Flee on Your Donkey," as though the message had come to me at just the right moment. Well, this was true with Bellow's quote from his book. I kept it over my desk, and when I went to Europe, I pasted it in the front of my manuscript. I kept it there as a quotation with which to preface my book. It must have just hit me one day that Live or Die was a damn good title for the book I was working on. And that's what it was all about, what all those poems were about. You say there's a tension there and a structure, but it was an unconscious tension and an unconscious structure that I didn't know was going on when I was doing it.
INTERVIEWER
Once you knew the title of the book, did you count up the "live" poems and count up the "die" poems and then write any more poems because of an imbalance?
SEXTON
No, no, that's far too rigid. You can't write a poem because of an imbalance. After that I wrote "Little Girl, My Stringbean, My Lovely Woman." Then I wrote a play, then "A Little Uncomplicated Hymn" and other poems. Some were negative, and some were positive. At this time I knew that I was trying to get a book together. I had more than enough for a book, but I knew I hadn't written out the live-or-die question. I hadn't written the poem "Live." This was bothering me because it wasn't coming to me. Instead of that, "Cripples and Other Stories" and "The Addict" were appearing, and I knew that I wasn't finishing the book, that I hadn't come to the cycle, I hadn't given a reason. There's nothing I could do about this and then suddenly, our dog was pregnant. I was supposed to kill all the puppies when they came; instead, I let them live, and I realized that if I let them live, that I could let me live, too, that after all I wasn't a killer, that the poison just didn't take.
INTERVIEWER
Although you received a European traveling fellowship from the American Academy of Arts and Letters, there are, to date, very few poems published about your European experience. Why?
SEXTON
First of all, poems aren't postcards to send home. Secondly I went to Europe with a purpose as well as with a grant. My great-aunt, who was really my best childhood friend, had sent letters home from Europe the three years that she lived there. I had written about this in a poem called "Some Foreign Letters." I had her letters with me as I left for Europe, and I was going to walk her walks and go to her places, live her life over again, and write letters back to her. The two poems that I did write about Europe mention the letters. In "Crossing the Atlantic," I mention that I have read my grandmother's letters and my mother's letters. I had swallowed their words like Dickens, thinking of Dickens's journals in America. The second poem, "Walking in Paris," was written about my great-aunt, how she used to walk fourteen or fifteen miles a day in Paris, and I call her Nana. Some critics have thought I meant Zola's Nana, but I didn't any more than I meant the Nana in Peter Pan. However, the letters were stolen from my car in Belgium. When I lost the letters in Brussels, that was the end of that kind of poem that I had gone over there to write.
INTERVIEWER
You were to go abroad for a year, but you only stayed two months. Do you want to comment on that?
SEXTON
Two and a half months. I got sick over there; I lost my sense of self. I had, as my psychiatrist said, "a leaky ego" and I had to come home. I was in the hospital for a while, and then I returned to my normal life. I had to come home because I need my husband and my therapist and my children to tell me who I am. I remember, I was talking with Elizabeth Hardwick on the phone and saying, "Oh, I feel so guilty. I couldn't get along without my husband. It's a terrible thing, really, a modern woman should be able to do it." Although I may be misquoting her, I may have remembered it the way I needed to hear it, she said to me, "If I were in Paris without my husband, I'd hide in a hotel room all day." And I said, "Well, think of Mary McCarthy." And Elizabeth Hardwick said, "Mary McCarthy, she's never been without a man for a day in her life."
INTERVIEWER
From 1964 to 1965, you held a Ford Foundation grant in playwriting and worked at Boston's Charles Playhouse. How did you feel writing something that had to be staged?
SEXTON
I felt great! I used to pace up and down the living room shouting out the lines, and what do they call it ... for walking around the stage ... blocking out the play as I would go along.
INTERVIEWER
Was the play [Mercy Street] ever performed?*
SEXTON
There were little working performances at the Charles Street Playhouse when we had time. It was pretty busy there. Now and then they would play out a scene for me, and then I would rewrite it and send it in to the director special delivery. He would call me up the next morning and say, "It's not right," and then I would work on it again, send it to him that evening, and then the next morning, he'd call, and so on it went. I found that I had one whole character in the play who was unnecessary because, as they acted it, the director had that person be quiet and say nothing. I realized that that dialogue was totally unnecessary, so I cut out that character.
INTERVIEWER
Did you find that the themes in your poetry overlapped into your play? Was your play an extension of your poetry?
SEXTON
Yes. Completely. The play was about a girl shuffling between her psychiatrist and a priest. It was the priest I cut out, realizing that she really wasn't having a dialogue with him at all. The play was about all the subjects that my poems are about—my mother, my great-aunt, my father, and the girl who wants to kill herself. A little bit about her husband, but not much. The play is really a morality play. The second act takes place after death.
INTERVIEWER
Many of your poems are dramatic narratives. Because you're accustomed to handling a plot, was it easy for you to switch from verse to scene writing?
SEXTON
I don't see the difference. In both cases, the character is confronting himself and his destiny. I didn't know I was writing scenes; I thought I was writing about people. In another context—helping Maxine Kumin with her novel—I gave her a bit of advice. I told her, "Fuck structure and grab your characters by the time balls." Each one of us sits in our time; we're born, live and die. She was thinking this and that, and I was telling her to get inside her characters' lives—which she finally did.
INTERVIEWER
What were your feelings when you received the Pulitzer Prize for Poetry for Live or Die in 1967?
SEXTON
Of course, I was delighted. It had been a bad time for me. I had a broken hip, and I was just starting to get well, still crippled, but functioning a little bit. After I received the prize, it gave me added incentive to write more. In the months following, I managed to write a poem, "Eighteen Days Without You," in fourteen days—an eighteen-section poem. I was inspired by the recognition that the Pulitzer gave me, even though I was aware that it didn't mean all that much. After all, they have to give a Pulitzer Prize every year, and I was just one in a long line.
INTERVIEWER
Do you write a spate of poems at one time, or are you disciplined by a writing schedule?
SEXTON
Well, I'm very dissatisfied with the amount I write. My first book—although it took three years to complete—was really written in one year. Sometimes ten poems were written in two weeks. When I was going at that rate, I found that I could really work well. Now I tend to become dissatisfied with the fact that I write poems so slowly, that they come to me so slowly. When they come, I write them; when they don't come, I don't. There's certainly no disciplined writing schedule except for the fact that when a poem comes a person must be disciplined and ready, flexing his muscles. That is, they burst forth, and you must put everything else aside. Ideally it doesn't matter what it is unless your husband has double pneumonia, or the child breaks his leg. Otherwise, you don't tear yourself away from the typewriter until you must sleep.
INTERVIEWER
Do the responsibilities of wife and mother interfere with your writing?
SEXTON
Well, when my children were younger, they interfered all the time. It was just my stubbornness that let me get through with it at all, because here were these young children saying, "Momma, Momma," and there I was getting the images, structuring the poem. Now my children are older and creep around the house saying, "Shh, Mother is writing a poem." But then again, as I was writing the poem, "Eighteen Days Without You"—the last poem in Love Poems—my husband said to me, "I can't stand it any longer, you haven't been with me for days." That poem originally was "Twenty-one Days Without You" and it became "Eighteen Days" because he had cut into the inspiration; he demanded my presence back again, into his life, and I couldn't take that much from him.
INTERVIEWER
When writing, what part of the poem is the prickliest part?
SEXTON
Punctuation, sometimes. The punctuating can change the whole meaning, and my life is full of little dots and dashes. Therefore, I have to let the editors help me punctuate. And, probably the rhythm. It's the thing I have to work hardest to get in the beginning—the feeling, the voice of the poem, and how it will come across, how it will feel to the reader, how it feels to me as it comes out. Images are probably the most important part of the poem. First of all, you want to tell a story, but images are what are going to shore it up and get to the heart of the matter—but I don't have to work too hard for the images—they have to come—if they're not coming, I'm not even writing a poem, it's pointless. So I work hardest to get the rhythm, because each poem should have its own rhythm, its own structure. Each poem has its own life, each one is different.
INTERVIEWER
How do you decide a length of line? Does it have something to do with the way it looks on a page as well as how many beats there are to a line?
SEXTON
How it looks on a page. I don't give a damn about the beats in a line, unless I want them and need them. These are just tricks that you use when you need them. It's a very simple thing to write with rhyme and with rhythmic beat—those things anyone can do nowadays; everyone is quite accomplished at that. The point, the hard thing, is to get the true voice of the poem, to make each poem an individual thing, give it the stamp of your own voice, and at the same time to make it singular.
INTERVIEWER
Do you ever find yourself saying, "Oh, yes, I've explored that in another poem," and discarding a poem?
SEXTON
No, because I might want to explore it in a new way ... I might have a new realization, a new truth about it. Recently I noticed in "Flee on Your Donkey" that I had used some of the same facts in To Bedlam and Part Way Back, but I hadn't realized them in their total ugliness. I'd hidden from them. This time was really raw and really ugly and it was all involved with my own madness. It was all like a great involuted web, and I presented it the way it really was.
INTERVIEWER
Do you revise a great deal?
SEXTON
Constantly.
INTERVIEWER
Do you have any ritual which gets you set for writing?
SEXTON
I might, if I felt the poem come on, put on a certain record, sometimes the "Bachianas Brasileiras," by Villa Lobos. I wrote to that for about three or four years. It's my magic tune.
INTERVIEWER
Is there any time of day, any particular mood that is better for writing?
SEXTON
No. Those moments before a poem comes, when the heightened awareness comes over you, and you realize a poem is buried there somewhere, you prepare yourself. I run around, you know, kind of skipping around the house, marvelous elation. It's as though I could fly, almost, and I get very tense before I've told the truth—hard. Then I sit down at the desk and get going with it.
INTERVIEWER
What is the quality of feeling when you're writing?
SEXTON
Well, it's a beautiful feeling, even if it's hard work. When I'm writing, I know I'm doing the thing I was born to do.
INTERVIEWER
Do you have any standard by which you judge whether to let an image remain in a poem, or be cut?
SEXTON
It's done with my unconscious. May it do me no ill.
INTERVIEWER
You've said, "When I'm working away on a poem, I hunt for the truth ... It might be a poetic truth, and not just a factual one." Can you comment on that?
SEXTON
Many of my poems are true, line by line, altering a few facts to get the story at its heart. In "The Double Image," the poem about my mother's death from cancer and the loss of my daughter, I don't mention that I had another child. Each poem has its own truth. Furthermore, in that poem, I only say that I was hospitalized twice, when in fact, I was hospitalized five times in that span of time. But then, poetic truth is not necessarily autobiographical. It is truth that goes beyond the immediate self, another life. I don't adhere to literal facts all the time; I make them up whenever needed. Concrete examples give a verisimilitude. I want the reader to feel, Yes, yes, that's the way it is. I want them to feel as if they were touching me. I would alter any word, attitude, image, or persona for the sake of a poem. As Yeats said, "I have lived many lives, I have been a slave and a prince. Many a beloved has sat upon my knee, and I have sat upon the knee of many a beloved. Everything that has been shall be again."
INTERVIEWER
There Yeats is talking about reincarnation.
SEXTON
So am I. It's a little mad, but I believe I am many people. When I am writing a poem, I feel I am the person who should have written it. Many times I assume these guises; I attack it the way a novelist might. Sometimes I become someone else, and when I do, I believe, even in moments when I'm not writing the poem, that I am that person. When I wrote about the farmer's wife, I lived in my mind in Illinois; when I had the illegitimate child, I nursed it—in my mind—and gave it back and traded life. When I gave my lover back to his wife, in my mind, I grieved and saw how ethereal and unnecessary I had been. When I was Christ, I felt like Christ. My arms hurt, I desperately wanted to pull them in off the Cross. When I was taken down off the Cross and buried alive, I sought solutions; I hoped they were Christian solutions.
INTERVIEWER
What prompted you to write "In the Deep Museum," which recounts what Christ could have felt if he were still alive in the tomb? What led you to even deal with such a subject?
SEXTON
I'm not sure. I think it was an unconscious thing. I think I had a kind of feeling Christ was speaking to me and telling me to write that story ... the story he hadn't written. I thought to myself, This would be the most awful death. The Cross, the Crucifixion, which I so deeply believe in, has almost become trite, and that there was a more humble death that he might have had to seek for love's sake, because his love was the greatest thing about him—not his death.
INTERVIEWER
Are you a believing nonbeliever? Your poems, such as "The Division of Parts" and "With Mercy for the Greedy," suggest you would like to believe, indeed struggle to believe, but can't.
SEXTON
Yes. I fight my own impulse. There is a hard-core part of me that believes, and there's this little critic in me that believes nothing. Some people think I'm a lapsed Catholic.
INTERVIEWER
What was your early religious training?
SEXTON
Half-assed Protestant. My Nana came from a Protestant background with a very stern patriarchal father who had twelve children. He often traveled in Europe, and when he came back and brought nude statues into his house, the minister came to call and said, "You can't come to church if you keep these nude statues." So he said, "All right, I'll never come again." Every Sunday morning he read the Bible to his twelve children for two hours, and they had to sit up straight and perfect. He never went to church again.
INTERVIEWER
Where do you get the "juice" for your religious poetry?
SEXTON
I found, when I was bringing up my children, that I could answer questions about sex easily. But I had a very hard time with the questions about God and death. It isn't resolved in my mind to this day.
INTERVIEWER
Are you saying, then, that questions from your children are what prompted you to think about these poems—that doesn't sound quite right.
SEXTON
It isn't. I have visions—sometimes ritualized visions—that come to me of God, or of Christ, or of the saints, and I feel that I can touch them almost ... that they are part of me. It's the same "Everything that has been shall be again." It's reincarnation, speaking with another voice ... or else with the Devil. If you want to know the truth, the leaves talk to me every June.
INTERVIEWER
How long do your visions last? What are they like?
SEXTON
That's impossible to describe. They could last for six months, six minutes, or six hours. I feel very much in touch with things after I've had a vision. It's somewhat like the beginning of writing a poem; the whole world is very sharp and well defined, and I'm intensely alive, like I've been shot full of electric volts.
INTERVIEWER
Do you try to communicate this to other people when you feel it?
SEXTON
Only through the poems, no other way. I refuse to talk about it, which is why I'm having a hard time now.
INTERVIEWER
Is there any real difference between a religious vision and a vision when you're mad?
SEXTON
Sometimes, when you're mad, the vision—I don't call them visions, really—when you're mad, they're silly and out of place, whereas if it's a so-called mystical experience, you've put everything in its proper place. I've never talked about my religious experiences with anyone, not a psychiatrist, not a friend, not a priest, not anyone. I've kept it very much to myself—and I find this very difficult, and I'd just as soon leave it, if you please.
INTERVIEWER
A poem like "The Division of Parts" has direct reference to your mother's dying. Did those excruciating experiences of watching someone close to you disintegrate from cancer force you to confront your own belief in God or religion?
SEXTON
Yes, I think so. The dying are slowly being rocked away from us and wrapped up into death, that eternal place. And one looks for answers and is faced with demons and visions. Then one comes up with God. I don't mean the ritualized Protestant God, who is such a goody-goody ... but the martyred saints, the crucified man ...
INTERVIEWER
Are you saying that when confronted with the ultimate question, death, that your comfort comes, even though watered down, from the myths and fables of religion?
SEXTON
No myth or fable ever gave me any solace, but my own inner contact with the heroes of the fables, as you put it, my very closeness to Christ. In one poem about the Virgin Mary, "For the Year of the Insane," I believed that I was talking to Mary, that her lips were upon my lips; it's almost physical ... as in many of my poems. I become that person.
INTERVIEWER
But is it the fact in your life of someone you know dying that forces you into a vision?
SEXTON
No, I think it's my own madness.
INTERVIEWER
Are you more lucid, in the sense of understanding life, when you are mad?
SEXTON
Yes.
INTERVIEWER
Why do you think that's so?
SEXTON
Pure gift.
INTERVIEWER
I asked you, are you a believing disbeliever. When something happens like a death, are you pushed over the brink of disbelieving into believing?
SEXTON
For a while, but it can happen without a death. There are little deaths in life, too—in your own life—and at that point, sometimes you are in touch with strange things, otherworldly things.
INTERVIEWER
You have received a great deal of fan mail from Jesuits and other clergy. Do any of them interpret what you write as blasphemy?
SEXTON
No. They find my work very religious, and take my books on retreats, and teach my poems in classes.
INTERVIEWER
Why do you feel that most of your critics ignore this strain of religious experience in your poetry?
SEXTON
I think they tackle the obvious things without delving deeper. They are more shocked by the other, whereas I think in time to come people will be more shocked by my mystical poetry than by my so-called confessional poetry.
INTERVIEWER
Perhaps your critics, in time to come, will associate the suffering in your confessional poetry with the kind of sufferers you take on in your religious poetry.
SEXTON
You've summed it up perfectly. Thank you for saying that. That ragged Christ, that sufferer, performed the greatest act of confession, and I mean with his body. And I try to do that with words.
INTERVIEWER
Many of your poems deal with memories of suffering. Very few of them deal with memories that are happy ones. Why do you feel driven to write more about pain?
SEXTON
That's not true about my last book, which deals with joy. I think I've dealt with unhappy themes because I've lived them. If I haven't lived them, I've invented them.
INTERVIEWER
But surely there were also happy moments, joyous, euphoric moments in those times as well.
SEXTON
Pain engraves a deeper memory.
INTERVIEWER
Are there any poems you wouldn't read in public?
SEXTON
No. As a matter of fact, I sing "Cripples and Other Stories" with my combo to a Nashville rhythm.
INTERVIEWER
What is your combo?
SEXTON
It's called "Her Kind"—after one of my poems. One of my students started putting my poems to music—he's a guitarist, and then we got an organist, a flutist, and a drummer. We call our music "Chamber Rock." We've been working on it and giving performances for about a year. It opens up my poems in a new way by involving them in the sound of rock music, letting my words open up to sound that can be actually heard, giving a new dimension. And it's quite exciting for me to hear them that way.
INTERVIEWER
Do you enjoy giving a reading?
SEXTON
It takes three weeks out of your life. A week before it happens, the nervousness begins, and it builds up to the night of the reading when the poet in you changes into a performer. Readings take so much out of you because they are a reliving of the experience—that is, they are happening all over again. I am an actress in my own autobiographical play. Then there is the love ... When there is a coupling of the audience and myself, when they are really with me, and the Muse is with me, I'm not coming alone.
INTERVIEWER
Can you ever imagine America as a place where thousands of fans flock to a stadium to hear a poet, as they do in Russia?
SEXTON
Someday, perhaps. But our poets seem to be losing touch. People flock to Bob Dylan, Janis Joplin, the Beatles—these are the popular poets of the English-speaking world. But I don't worry about popularity; I'm too busy.
INTERVIEWER
At first your poetry was a therapeutic device. Why do you write now?
SEXTON
I write because I'm driven to—it's my bag. Though after every book, I think there'll never be another one. That's the end of that. Good-bye, good-bye.
INTERVIEWER
And what advice would you give to a young poet?
SEXTON
Be careful who your critics are. Be specific. Tell almost the whole story. Put your ear close down to your soul and listen hard.
INTERVIEWER
Louis Simpson criticized your poetry, saying, "A poem titled 'Menstruation at Forty' was the straw that broke this camel's back." Is it only male critics who balk at your use of the biological facts of womanhood?
SEXTON
I haven't added up all the critics and put them on different teams. I haven't noticed the gender of the critic especially. I talk of the life-death cycle of the body. Well, women tell time by the body. They are like clocks. They are always fastened to the earth, listening for its small animal noises. Sexuality is one of the most normal parts of life. True, I get a little uptight when Norman Mailer writes that he screws a woman anally. I like Allen Ginsberg very much, and when he writes about the ugly vagina, I feel awful. That kind of thing doesn't appeal to me. So I have my limitations, too. Homosexuality is all right with me. Sappho was beautiful. But when someone hates another person's body and somehow violates it—that's the kind of thing I mind.
INTERVIEWER
What do you feel is the purpose of poetry?
SEXTON
As Kafka said about prose, "Art should serve as the ax for the frozen sea within us." And that's what I want from a poem. A poem should serve as the ax for the frozen sea within us.
INTERVIEWER
How would you apply the Kafka quote to your new book, Love Poems?
SEXTON
Well, have you ever seen a sixteen-year-old fall in love? The ax for the frozen sea becomes embedded in her. Or have you ever seen a woman get to be forty and never have any love in her life? What happens to her when she falls in love? The ax for the frozen sea.
INTERVIEWER
Some people wonder how you can write about yourself, completely ignoring the great issues of the times, like the Vietnam war or the civil rights crisis.
SEXTON
People have to find out who they are before they can confront national issues. The fact that I seldom write about public issues in no way reflects my personal opinion. I am a pacifist. I sign petitions, etc. However, I am not a polemicist. "The Firebombers"—that's a new poem—is about wanton destruction, not about Vietnam, specifically; when Robert Kennedy was killed, I wrote about an assassin. I write about human emotions; I write about interior events, not historical ones. In one of my love poems, I say that my lover is unloading bodies from Vietnam. If that poem is read in a hundred years, people will have to look up the war in Vietnam. They will have mixed it up with the Korean or God knows what else. One hopes it will be history very soon. Of course, I may change. I could use the specifics of the war for a backdrop against which to reveal experience, and it would be just as valid as the details I am known by. As for the civil rights issue, I mentioned that casually in a poem, but I don't go into it. I think it's a major issue. I think many of my poems about the individual who is dispossessed, who must play slave, who cries "Freedom now," "Power now," are about the human experience of being black in this world. A black emotion can be a white emotion. It is a crisis for the individual as well as the nation. I think I've been writing black poems all along, wearing my white mask. I'm always the victim ... but no longer!
* Editor's note: Mercy Street was eventually produced at New York's American Place Theater in 1969.