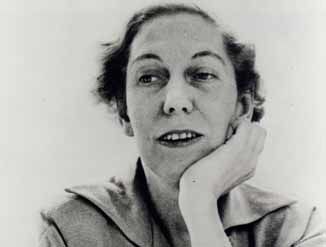 Welty, circa 1962, Wikimedia Commons
I met Eudora Welty in her room at the Algonquin Hotel an hour or so after her train had arrived in Penn Station. She had given me the wrong room number, so I first saw her peering out of her door as the elevator opened. A tall, large-boned, gray-haired woman greeted me apologetically. She was admittedly nervous about being interviewed, particularly on a tape recorder. After describing her train ride—she won't fly—she braced herself and asked if I wouldn't begin the questioning.
Once the interview got underway, she grew more at ease. As she herself might say, she was "not unforthcoming." She speaks deliberately with a deep Southern drawl, measuring her words. She is extremely private and won't reveal anything personal about herself.
INTERVIEWER
You wrote somewhere that we should still tolerate Jane Austen's kind of family novel. Is Austen a kindred spirit?
EUDORA WELTY
Tolerate? I should just think so! I love and admire all she does, and profoundly, but I don't read her or anyone else for "kindredness." The piece you're referring to was written on assignment for Brief Lives, an anthology Louis Kronenberger was editing. He did offer me either Jane Austen or Chekhov, and Chekhov I do dare to think is more "kindred." I feel closer to him in spirit, but I couldn't read Russian, which I felt whoever wrote about him should be able to do. Chekhov is one of us—so close to today's world, to my mind, and very close to the South—which Stark Young pointed out a long time ago.
INTERVIEWER
Why is Chekhov close to today's South?
WELTY
He loved the singularity in people, the individuality. He took for granted the sense of family. He had the sense of fate overtaking a way of life, and his Russian humor seems to me kin to the humor of a Southerner. It's the kind that lies mostly in character. You know, in Uncle Vanya and The Cherry Orchard, how people are always gathered together and talking and talking, no one's really listening. Yet there's a great love and understanding that prevails through it, and a knowledge and acceptance of each other's idiosyncrasies, a tolerance of them, and also an acute enjoyment of the dramatic. Like in The Three Sisters, when the fire is going on, how they talk right on through their exhaustion, and Vershinin says, "I feel a strange excitement in the air," and laughs and sings and talks about the future. That kind of responsiveness to the world, to whatever happens, out of their own deeps of character seems very southern to me. Anyway, I took a temperamental delight in Chekhov, and gradually the connection was borne in upon me.
INTERVIEWER
Do you ever return to Virginia Woolf?
WELTY
Yes. She was the one who opened the door. When I read To the Lighthouse, I felt, Heavens, what is this? I was so excited by the experience I couldn't sleep or eat. I've read it many times since, though more often these days I go back to her diary. Any day you open it to will be tragic, and yet all the marvelous things she says about her work, about working, leave you filled with joy that's stronger than your misery for her. Remember—"I'm not very far along, but I think I have my statues against the sky"?* Isn't that beautiful?
INTERVIEWER
About your own work, are you surprised that Losing Battles was on the best-seller list—a first for you, I believe?
WELTY
It occurred to me right at first it must be a fluke—that whoever had that place on the best-seller list had just got up and given me his seat—let the lady sit down, she's tottering. Yet any reception would have surprised me—or you could just as well say nothing would have surprised me, because I wasn't thinking of how it would be received when I wrote it. I thought about the opinion of a handful of friends I would love to have love that book, but not about the public.
INTERVIEWER
Do you write for your friends?
WELTY
At the time of writing, I don't write for my friends or myself, either; I write for it, for the pleasure of it. I believe if I stopped to wonder what So-and-so would think, or what I'd feel like if this were read by a stranger, I would be paralyzed. I care what my friends think, very deeply—and it's only after they've read the finished thing that I really can rest, deep down. But in the writing, I have to just keep going straight through with only the thing in mind and what it dictates.
It's so much an inward thing that reading the proofs later can be a real shock. When I received them for my first book—no, I guess it was for Delta Wedding—I thought, I didn't write this. It was a page of dialogue—I might as well have never seen it before. I wrote to my editor, John Woodburn, and told him something had happened to that page in the typesetting. He was kind, not even surprised—maybe this happens to all writers. He called me up and read me from the manuscript—word for word what the proofs said. Proofs don't shock me any longer, yet there's still a strange moment with every book when I move from the position of writer to the position of reader, and I suddenly see my words with the eyes of the cold public. It gives me a terrible sense of exposure, as if I'd gotten sunburned.
INTERVIEWER
Do you make changes in galleys?
WELTY
I correct or change words, but I can't rewrite a scene or make a major change because there's a sense then of someone looking over my shoulder. It's necessary, anyway, to trust that moment when you were sure at last you had done all you could, done your best for that time. When it's finally in print, you're delivered—you don't ever have to look at it again. It's too late to worry about its failings. I'll have to apply any lessons this book has taught me toward writing the next one.
INTERVIEWER
Is Losing Battles a departure from your previous fiction?
WELTY
I wanted to see if I could do something that was new for me: translating every thought and feeling into action and speech, speech being another form of action—to bring the whole life of it off through the completed gesture, so to speak. I felt that I'd been writing too much by way of description, of introspection on the part of my characters. I tried to see if I could make everything shown, brought forth, without benefit of the author's telling any more about what was going on inside the characters' minds and hearts. For me, this makes almost certainly for comedy—which I love to write best of all. Now I see it might be a transition toward writing a play.
INTERVIEWER
Did you know what you were going to write before you put it on paper?
WELTY
Yes, it was there in my head, but events proliferated as I went along. For instance, I thought all the action in the novel would be contained in one day and night, but a folder started to fill up with things marked "Next A.M." I didn't foresee the stories that grew out of the stories—that was one of the joys of working the novel out. I thought the book would be short, and instead it was three or four times longer than my normal work. There's no way of estimating its original length because I had great chunks of things in paper clips, which weren't numbered until they went to the printer. And I must have thrown away at least as much as I kept in the book.
INTERVIEWER
Did you learn anything new about writing dialogue?
WELTY
I believe so. In its beginning, dialogue's the easiest thing in the world to write when you have a good ear, which I think I have. But as it goes on, it's the most difficult, because it has so many ways to function. Sometimes I needed to make a speech do three or four or five things at once—reveal what the character said but also what he thought he said, what he hid, what others were going to think he meant, and what they misunderstood, and so forth—all in his single speech. And the speech would have to keep the essence of this one character, his whole particular outlook in concentrated form. This isn't to say I succeeded. But I guess it explains why dialogue gives me my greatest pleasure in writing. I used to laugh out loud sometimes when I wrote it—the way P. G. Wodehouse is said to do. I'd think of some things my characters would say, and even if I couldn't use it, I would write the scene out just to let them loose on something—my private show.
INTERVIEWER
Where does the dialogue come from?
WELTY
Familiarity. Memory of the way things get said. Once you have heard certain expressions, sentences, you almost never forget them. It's like sending a bucket down the well and it always comes up full. You don't know you've remembered, but you have. And you listen for the right word, in the present, and you hear it. Once you're into a story everything seems to apply—what you overhear on a city bus is exactly what your character would say on the page you're writing. Wherever you go, you meet part of your story. I guess you're tuned in for it, and the right things are sort of magnetized—if you can think of your ears as magnets. I could hear someone saying—and I had to cut this out—"What, you never ate goat?" And someone answering, "Goat! Please don't say you serve goat at this reunion. I wasn't told it was goat I was served. I thought—" and so on, and then the recipe, and then it ended up with—I can't remember exactly now—it ended with, "You can do a whole lot of things with vinegar." Well, all these things I would just laugh about and think about for so long and put them in. And then I'd think, that's just plain indulgence. Take it out! And I'd take it out.
INTERVIEWER
Are you an eavesdropper?
WELTY
I'm not as much as I used to be, or would like to be, because I don't hear as well as I used to, or there's too much other noise everywhere. But I've heard some wonderful remarks. Well, in the South, everybody stays busy talking all the time—they're not sorry for you to overhear their tales. I don't feel in helping myself I ever did anything underhanded. I was helping out.
INTERVIEWER
Do you think this oral tradition, so to speak, accounts for your vigorous use of dialogue?
WELTY
I think it accounts for the pleasure people take in a story told. It's a treasure I helped myself to. I took it for my ways and means, and that's proper and justified: Our people talk that way. They learn and teach and think and enjoy that way. Southerners do have, they've inherited, a narrative sense of human destiny. This may or may not come out in Losing Battles. A reunion is everybody remembering together—remembering and relating when their people were born and what happened in their lives, what that made happen to their children, and how it was that they died. There's someone to remember a man's whole life, every bit of the way along. I think that's a marvelous thing, and I'm glad I got to know something of it. In New York you may have the greatest and most congenial friends, but it's extraordinary if you ever know anything about them except that little wedge of their life that you meet with the little wedge of your life. You don't get that sense of a continuous narrative line. You never see the full circle. But in the South, where people don't move about as much, even now, and where they once hardly ever moved away at all, the pattern of life was always right there.
INTERVIEWER
Would you say that Southerners—Deep Southerners—are more open than Northerners?
WELTY
I think we have a sort of language we all understand and speak—a shorthand of some kind, based on familiarity—but I'm not sure we're more open. We may not tell as much as we think we do, and we may not hide as much as we think we do. We're just more used to talking—as you can see—and the subject doesn't especially cut us down.
INTERVIEWER
And that profoundly affects your fiction?
WELTY
I think that's what gives a pattern to it, and a sense of its shape to me. I do want to say that I'm only speaking for myself when I speak of Southern qualities, because I don't know how other people work. It may be entirely different, especially with a genius like William Faulkner, who had such a comprehensive sense of the whole deep, deep past and more far-reaching, bred-in country knowledge than I have, which is so valuable, besides all the rest of his equipment that I don't need to tell you about.
INTERVIEWER
Did you know Faulkner?
WELTY
Slightly and over a long period of time, but not well. I liked him ever so much. We met at a dinner party in Oxford, just old friends of his and old friends of mine, which was the right way for it to happen, and it was just grand. We sang hymns, and we sang some old ballads—and the next day he invited me to go sailing. If we ever met in New York, we just talked about being in Oxford. He didn't bring up writing, and if he didn't, you know I wasn't going to bring it up! But when he was working in Hollywood, he once wrote me a two-line letter—this was long before we met—and told me he liked a little book of mine called The Robber Bridegroom and said would I let him know if he could ever do anything for me. It was on a little piece of notebook paper, written in that fine, neat, sort of unreadable hand, in pencil—and I've lost it.
INTERVIEWER
Did you feel at all influenced by his presence?
WELTY
I don't honestly think so. It is hard to be sure about such things. I was naturally in the deepest awe and reverence of him. But that's no help in your own writing. Nobody can help you but yourself. So often I'm asked how I could have written a word with William Faulkner living in Mississippi, and this question amazes me. It was like living near a big mountain, something majestic—it made me happy to know it was there, all that work of his life. But it wasn't a helping or hindering presence. Its magnitude, all by itself, made it something remote in my own working life. When I thought of Faulkner it was when I read.
On the other hand, he didn't seem remote to everybody in being our great writer. I know a story about him, though he never knew anybody knew of it, I'd bet. Mississippi is full of writers, and I heard this from the person it was told to. A lady had decided she'd write a novel and got along fine till she came to the love scene. "So," she told my friend, "I thought, there's William Faulkner, sitting right up there in Oxford. Why not send it to William Faulkner and ask him?" So she sent it to him, and time went by, and she didn't ever hear from him, and so she called him up. Because there he was. She said, "Mr. Faulkner, did you ever get that love scene I sent you?" He said yes, he had got it. And she said, "Well, what did you think of it?" And he said, "Well, honey, it's not the way I'd do it—but you go right ahead." Now, wasn't that gentle of him?
INTERVIEWER
Do people give you unpublished manuscripts to read? I mean, women especially tend to write voluminous historical novels, and I wonder if any of them are in Jackson.
WELTY
I wouldn't be surprised. I don't think there's any neck of the woods they're not in. Yes, I get sent manuscripts, but those historical and Gothic novels are really a subject on which I know nothing, and I say so. There is, in point of fact, a good deal of writing talent in general around our state now—a lot of good young ones, serious ones.
INTERVIEWER
Did you ever feel part of a literary community, along with people like Flannery O'Connor, Carson McCullers, Katherine Anne Porter, or Caroline Gordon?
WELTY
I'm not sure there's any dotted line connecting us up, though all of us knew about each other, and all of us, I think, respected and read each other's work and understood it. And some of us are friends of long standing. I don't think there was any passing about of influences, but there's a lot of pleasure in thinking in whose lifetimes your own lifetime has happened to come along. Of course, Katherine Anne Porter was wonderfully generous to me from the beginning. At the time I began sending my first stories to The Southern Review, she read them and wrote to me from Baton Rouge inviting me to come down to see her. It took me, I suppose, six months or a year to fully get up my nerve. Twice I got as far as Natchez and turned around and came back. But I finally did get there, and Katherine Anne couldn't have been more welcoming. Later on, she wrote the introduction to my first book of stories, and I owe her very much for that. We've been friends all these years.
INTERVIEWER
How would you feel about a biography about yourself?
WELTY
Shy, and discouraged at the very thought, because to me a writer's work should be everything. A writer's whole feeling, the force of his whole life, can go into a story—but what he's worked for is to get an objective piece down on paper. That should be read instead of some account of his life, with that understanding—here is something which now exists and was made by the hands of this person. Read it for what it is. It doesn't even matter too much whose hands they were. Well, of course, it does—I was just exaggerating to prove my point. But your private life should be kept private. My own I don't think would particularly interest anybody, for that matter. But I'd guard it; I feel strongly about that. They'd have a hard time trying to find something about me. I think I'd better burn everything up. It's best to burn letters, but at least I've never kept diaries or journals. All my manuscripts I've given to the Department of Archives and History in Jackson as they came out because that's my hometown and the director is a lifelong friend. But I don't give them everything. I must have a trunk full of stuff that I didn't give because I didn't think it was anybody else's concern, or that anybody would even care to see my mistakes and false turns. Like about eating goat and all the million things that I left out.
INTERVIEWER
Why do Losing Battles and Delta Wedding take place back in the 1920s and 1930s?
WELTY
It was a matter of setting the stage and confining the story. These are both family stories, and I didn't want them inhibited by outward events I couldn't control. In the case of Delta Wedding, I remember I made a careful investigation to find the year in which nothing very terrible had happened in the Delta by way of floods or fires or wars that would have taken the men away. I settled it by the almanac. It was a little inconvenient for me because I myself was only a little girl during the era I was writing about—that's why I let a little girl be the observer of part of it. In the case of Losing Battles, I wanted to write about a family who had nothing. A bare stage. I chose the time that was the very hardest, when people had the least and the stage could be the barest—and that was the Depression, of course.
INTERVIEWER
Do you prefer working with a bare stage?
WELTY
In this case, it was in order to overcrowd it with people. I start with ideas about character and situation, and the technique grows out of these as I grow into the work. It's different, of course, for every story. In Losing Battles I wanted to write about people who had nothing at all and yet had all the resources of their own character and situation to do what they could about their lives.
INTERVIEWER
Were you familiar with plantation life when you wrote Delta Wedding?
WELTY
No, but I had some friends who came from there, and I used to hear their stories, and I'd be taken on picnics and visits there. Family visits. The Delta is very rich and visually striking, but completely flat. I would find it maddening after days with nothing but the horizon. Just before you reach it, there are high bluffs, and to get in you plunge down a deep hill, and from then on there's nothing but flatness. Some of the things I saw and heard began to stick. Some family tales and sayings are right in the book, though by now I can't remember which are true and which are made up.
INTERVIEWER
John Crowe Ransom wrote in a review that Delta Wedding might well be "one of the last novels in the tradition of the Old South."
WELTY
I revere Mr. Ransom, but his meaning here is not quite clear to me. I wasn't trying to write a novel of the Old South. I don't think of myself as writing out of any special tradition, and I'd hesitate to accept that sanction for Delta Wedding. I'd hesitate still more today because the term itself, "Old South," has a connotation of something unreal and not quite straightforward.
INTERVIEWER
Your parents weren't from the Deep South originally. Do you think that contributed to your ironic perspective?
WELTY
It may have given me balance. But other factors mattered more. My father's father owned a farm in southern Ohio, and my mother's father was a country lawyer and farmer in West Virginia, and both my mother's parents came from Virginia families made up mostly of teachers and preachers. Some of these wrote for newspapers or kept journals, though none wrote fiction. But the family influence I felt came from the important fact that they all loved to read and that I was brought up with books. Yet my parents would have been the people they were, people of character, no matter where they were from, and I would have been their child wherever I was born. I'm a native Southerner, but as a writer I think background matters most in how well it teaches you to look around and see clearly what's there and in how deeply it nourishes your imagination.
INTERVIEWER
"Where Is the Voice Coming From?" is about the Medgar Evers assassination and must be your only topical story.
WELTY
I'm certain it is. It pushed up through something else I was working on. I had been having a feeling of uneasiness over the things being written about the South at that time because most of them were done in other parts of the country, and I thought most were synthetic. They were perfectly well-intentioned stories but generalities written from a distance to illustrate generalities. When that murder was committed, it suddenly crossed my consciousness that I knew what was in that man's mind because I'd lived all my life where it happened. It was the strangest feeling of horror and compulsion all in one. I tried to write from the interior of my own South, and that's why I dared to put it in the first person. The title isn't very good; I'd like to get a better one. At the time I wrote it—it was overnight—no one knew who the murderer was, and I just meant by the title that whoever was speaking, I—the writer—knew, was in a position to know, what the murderer must be saying and why.
INTERVIEWER
Do real events hinder you in writing?
WELTY
Well, if you write about an actual event, you can't shape it the way you can an imaginary one. In "The Voice" I was writing about the real thing, and at the point of its happening. I was like a real-life detective trying to discover who did it. I don't mean the name of the murderer but his nature. That's not really a short-story writer's prerogative, or is it? Anyway, as events went on to prove, I think I came close to pinpointing the mind, but I went a bit wide of the mark in placing the social background of the person arrested for it. As a friend of mine said, "You thought it was a Snopes, and it was a Compson." However, in some ways, that isn't a very lasting distinction anymore.
INTERVIEWER
Do you see a difference between your early stories in A Curtain of Green and The Wide Net, where you deal more with the grotesque and grim than you do in The Bride of the Innisfallen?
WELTY
It's a difference not really in subject matter so much as in the ways I approached it. In those early stories I'm sure I needed the device of what you call the "grotesque." That is, I hoped to differentiate characters by their physical qualities as a way of showing what they were like inside—it seemed to me then the most direct way to do it. This is an afterthought, though. I don't suppose I did it as consciously as all that, and I didn't know it was the easiest way. But it is easier to show somebody as lonely if you make him deaf and dumb than if you go feeling your way into his mind. And there was another reason for making the boy in "First Love" a deaf character: one of the other characters—Aaron Burr—was a real person. I couldn't invent conversation for him as I could for an imaginary character, so I had him speak in front of a deaf boy who could report and interpret him in his own way—that is, to suit the story. It's instinctive for a writer to show acute feeling or intense states of emotion by translating it into something visible—red hair, if nothing else. But it's not necessary. I believe I'm writing about the same inward things now without resorting to such obvious devices. But all devices—and the use of symbols is another—must come about organically, out of the story. I feel emphatic about that.
INTERVIEWER
Are you also talking here about other early stories like "Lily Daw and the Three Ladies" and "Petrified Man"?
WELTY
Well, when I wrote my first stories, I wrote much faster, and it failed to occur to me that I could write them any other way, and perhaps better the second time. They show all the weaknesses of the headlong. I never rewrote, I just wrote. The plots in these stories are weak because I didn't know enough to worry about plots. In the dialogue stories, they came into being exactly as the dialogue led them along. I didn't realize their real weakness until I began reading stories in public—and my ear told me. They could have been made stronger so easily. Sometimes I fixed them up a little for my readings—cut, transposed—small things, just to see the difference.
INTERVIEWER
What inspired "Powerhouse"?
WELTY
I wrote it in one night after I'd been to a concert and dance in Jackson where Fats Waller played. I tried to write my idea of the life of the traveling artist and performer—not Fats Waller himself, but any artist—in the alien world and tried to put it in the words and plot suggested by the music I'd been listening to. It was a daring attempt for a writer like me—as daring as it was to write about the murderer of Medgar Evers on that night—and I'm not qualified to write about music or performers. But trying it pleased me then, and it still does please me.
INTERVIEWER
Are there problems with ending a story?
WELTY
Not so far, but I could have made mistakes without knowing it yet. It's really part of plotting to know the exact moment you're through. I go by my ear, and this may trick me. When I read, I hear what's on the page. I don't know whose voice it is, but some voice is reading to me, and when I write my own stories, I hear it, too. I have a visual mind, and I see everything I write, but I have to hear the words when they're put down. Oh, that sounds absurd. This is not the same as working with dialogue, which of course is another, specialized, kind of hearing.
INTERVIEWER
Your first stories were about Paris.
WELTY
It's not worth remembering. That was when I was a college freshman, sixteen years old. Oh, you know, I was writing about the great world, of which I only knew Jackson, Mississippi. But part of it stemmed from my sense of mystery in people and places, and that's legitimate and lifelong. As for Paris, I remember a sentence I opened one story with, to show you how bad I was: "Monsieur Boule inserted a delicate dagger in Mademoiselle's left side and departed with a poised immediacy." I like to think I didn't take myself seriously then, but I did.
INTERVIEWER
When you sent out "Death of a Traveling Salesman," how did you know you had ended your apprenticeship?
WELTY
I was just beginning it! I was thrilled to find that out. I hadn't conceived of a story's actually being taken. A boy up the street, an old friend, Hubert Creekmore, who's dead now, knew all about sending stories out. He was a writer who started before I did and published many good novels and poems. I wouldn't let him read anything I wrote but just asked him, "Hubert, do you know where I can send this?"—and he said to John Rood of Manuscript. So I sent it off, and John Rood took it, and of course I was flabbergasted. So was Hubert! I believe I've always been lucky—my work has always landed safely and among friends.
INTERVIEWER
You were lucky to escape the novel-first requirement that publishers seem to impose upon young writers. They're wary of short-story collections.
WELTY
I owe that to John Woodburn, my first editor, who was then at Doubleday, and to Diarmuid Russell, my agent and friend of many years now. I owe it to my nature, too, because I never wrote anything that didn't spring naturally to mind and engage my imagination.
INTERVIEWER
Compared to your stories, I see your novels as looser, freer, happier works that enjoy reconciliations and a final sense of communion.
WELTY
My natural temperament is one of positive feelings, and I really do work for resolution in a story. I don't think we often see life resolving itself, not in any sort of perfect way, but I like the fiction writer's feeling of being able to confront an experience and resolve it as art, however imperfectly and briefly—to give it a form and try to embody it—to hold it and express it in a story's terms. You have more chance to try it in a novel. A short story is confined to one mood, to which everything in the story pertains. Characters, setting, time, events, are all subject to the mood. And you can try more ephemeral, more fleeting things in a story—you can work more by suggestion—than in a novel. Less is resolved, more is suggested, perhaps.
INTERVIEWER
You reserve the short story for the ephemeral and the novel for the resolution?
WELTY
I can only say such things after the fact. If I'd known I was going to finish Losing Battles as a long novel, I don't know that I'd have begun it. I'm a short-story writer who writes novels the hard way, and by accident. You see, all my work grows out of the work itself. It seems to set its form from the idea, which is complete from the start, and a sense of the form is like a vase into which you pour something and fill it up. I have that completely in mind from the beginning, and I don't realize how far I can wander and yet come back. The flexibility and freedom are exciting to me, not being used to them, and they are hard to come by. But no one could have enjoyed more learning those lessons than I did. There's no end to what can be tried, is there? So better luck next time.
INTERVIEWER
Do you think critics have made too much of you as a regional writer, taking off from your own essays on the subject?
WELTY
I don't mind being called a regional writer. It's the critic's job to place and judge. But the critic can't really have a say in what a writer chooses to write about—that's the writer's lone responsibility. I just think of myself as writing about human beings, and I happen to live in a region, as do we all, so I write about what I know—it's the same case for any writer living anywhere. I also happen to love my particular region. If this shows, I don't mind.
INTERVIEWER
Is place your source of inspiration?
WELTY
Not only that, it's my source of knowledge. It tells me the important things. It steers me and keeps me going straight, because place is a definer and a confiner of what I'm doing. It helps me to identify, to recognize and explain. It does so much for you of itself. It saves me. Why, you couldn't write a story that happened nowhere. I couldn't, anyway. I couldn't write anything that abstract. I wouldn't be interested in anything that abstract.
INTERVIEWER
How about the function of place in "No Place for You, My Love"?
WELTY
That story is the one that place did the most for. It really wrote the story. I saw that setting only one time—the Delta of the Mississippi River itself, down below New Orleans where it winds toward the Gulf—one time only. Which smote me. It started the story and made it for me—and was the story, really. At its very least, place is essential, though. Time and place make the framework that any story's built on. To my mind, a fiction writer's honesty begins right there, in being true to those two facts of time and place. From there, imagination can take him anywhere at all.
You can equally well be true, I feel, to an impression of place. A new place seen in a flash may have an impact almost as strong as the place you've grown up in, one you're familiar with down to the bone and know what it's like without having to think. I've written about place from either one extreme or the other but not from partial familiarity or guessing—there's no solidity there.
INTERVIEWER
"Music from Spain" takes place in San Francisco.
WELTY
That's using impression of place. I was in San Francisco for only three or four months—that's seeing it in a flash. That story was all a response to a place, an act of love at first sight. It's written from the point of view of the stranger, of course—the only way to write about a strange place. On the other hand, I couldn't write a story laid in New York, where I've come so many times—because it's both familiar and unfamiliar, a no-man's-land.
INTERVIEWER
Where is Morgana, in The Golden Apples?
WELTY
It's a made-up Delta town. I was drawn to the name because I always loved the conception of fata morgana—the illusory shape, the mirage that comes over the sea. All Delta places have names after people, so it was suitable to call it Morgana after some Morgans. My population might not have known there was such a thing as fata morgana, but illusions weren't unknown to them, all the same—coming in over the cottonfields.
INTERVIEWER
Do you see a similarity between Miss Eckhart in The Golden Apples and Julia Mortimer in Losing Battles, both being schoolteachers who were civilizing agents and therefore outsiders?
WELTY
It doesn't have to be "therefore"—though mine were indeed outsiders. I suppose they are kin, but teachers like those are all over the South and maybe everywhere else, too—dedicated, and losing their battles, but not losing them every time. I went all through grammar school in Jackson under a principal all of us who went there still remember and talk about—Miss Lorena Duling. This isn't to say I based my character on her, but she gave me insight into what it meant to be a great teacher. And so was my mother one. All her teaching was done by the time I came along, but she told me stories about it. She taught in the little mountain schools in West Virginia, riding to her school on horseback and crossing the river in a boat, teaching children older than she was—she started at fifteen. I think it was my mother who made seventeen silver dollars the first month she taught, and after that they never could quite come up to that high a standard—which also happened to Miss Julia Mortimer. The shaping influence of teachers like that stays real for a lifetime.
INTERVIEWER
I see another group of characters forming a pattern in your work. Virgie Rainey, in The Golden Apples, is an individualist and outsider and similar in that respect to Robbie Reid of Delta Wedding and Gloria Short of Losing Battles.
WELTY
In looking back I can see the pattern. It's funny—when I'm writing, I never see a repeat I make in large or small degree. I learn about it later. In Jackson they were recently doing a play of The Ponder Heart when I had just finished writing Losing Battles. The new novel was so fresh in my mind, whereas I hadn't thought of The Ponder Heart for years. But when I sat in at rehearsals, I kept seeing bits and pieces come up that I thought I had invented for Losing Battles, and there they were in another version in Ponder Heart. So I thought, it's sort of dismaying, but there it is. Your mind works that way. Yet they occur to me as new every time.
INTERVIEWER
Do you write when you're away from home?
WELTY
I've found it possible to write almost anywhere I've happened to try. I like it at home better because it's much more convenient for an early riser, which I am. And it's the only place where you can really promise yourself time and keep out interruptions. My ideal way to write a short story is to write the whole first draft through in one sitting, then work as long as it takes on revisions, and then write the final version all in one, so that in the end the whole thing amounts to one long sustained effort. That's not possible anywhere, but it comes nearest to being possible in your own home.
INTERVIEWER
Do you typewrite?
WELTY
Yes, and that's useful—it helps give me the feeling of making my work objective. I can correct better if I see it in typescript. After that, I revise with scissors and pins. Pasting is too slow, and you can't undo it, but with pins you can move things from anywhere to anywhere, and that's what I really love doing—putting things in their best and proper place, revealing things at the time when they matter most. Often I shift things from the very beginning to the very end. Small things—one fact, one word—but things important to me. It's possible I have a reverse mind and do things backwards, being a broken left-hander. Just so I've caught on to my weakness.
INTERVIEWER
You rewrite considerably?
WELTY
Yes, I do. Some things I let alone from first to last—the kernel of the story. You know enough not to touch something if it's right. The hardest thing for me is getting people in and out of rooms—the mechanics of a story. A simple act of putting on clothes is almost impossible for me to describe without many false starts. You have to be quick and specific in conveying that sort of action or fact, and also as neat and quiet about it as possible so that it doesn't obtrude. And I find that very challenging, especially to describe an action that I don't do very well myself, like sewing. I made Aunt Lexie in Losing Battles a poor sewer so that I wouldn't have to describe it too well. The easiest things to write about are emotions.
INTERVIEWER
And yet the most difficult thing would seem to be the hidden reaches of the human heart, the mystery, those impalpable emotions.
WELTY
For a writer those things are what you start with. You wouldn't have started a story without that awareness—that's what made you begin. That's what makes a character, projects the plot. Because you write from the inside. You can't start with how people look and speak and behave and come to know how they feel. You must know exactly what's in their hearts and minds before they ever set visible foot on the stage. You must know all, then not tell it all, or not tell too much at once: simply the right thing at the right moment. And the same character would be written about entirely differently in a novel as opposed to a short story. In a story you don't go into a character in order to develop him. He was born full grown, and he's present there to perform his part in the story. He's subservient to his function, and he doesn't exist outside it. But in a novel, he may. So you may have to allow for his growth and maybe hold him down and not tell everything you know, or else let him have his full sway—make room for a hero, even, in more spacious premises.
INTERVIEWER
Can you talk objectively about your language, perhaps about your use of metaphor?
WELTY
I don't know how to because I think of the actual writing as having existence only in the story. When I think of something, I put it into a narrative form, not in analytical form, and so anything I say would be artificial. Which reminds me of an Armenian friend of mine, an artist, who told me that his dreams all happened in the same place. When he went to bed, he'd imagine himself on a sled going down a steep hill; at the foot of the hill was a little town, and by the time he reached it, he was asleep, and his dreams happened right there. He didn't know why or how. And to go to the ridiculous and yet the sublime, there's W. C. Fields, who read an analysis of how he juggled. He couldn't juggle for six years afterwards. He'd never known that was how it was done. He'd just thrown up the balls and juggled.
* The exact quote reads: "It is bound to be imperfect. But I think it possible that I have got my statues against the sky."
Author photograph by Nancy Crampton